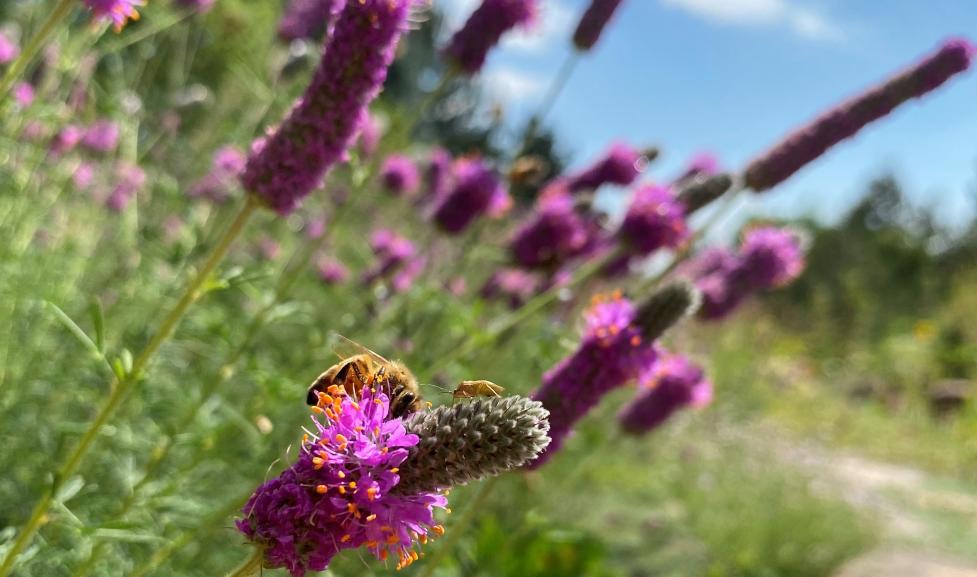 By Stephanie Swartz
Special to Boulder Beat
The plants in these sortable lists are suited for the climate of Colorado's Front Range. They are all perennial, xeric and prefer well-drained soil.
Perennials live for two or more years, as opposed to annuals that live only one year. Xeric plants have low irrigation requirements once established.
Establishment can take a few years, so plan to water more initially and gradually reduce irrigation over the next few years. Well-drained soil means water will percolate through the soil quickly and not pool.
Colorado soils are generally high in clay, sand and/or rock. Sandy soil drains well, but even clay can work for these plants as long as they aren't watered too often.
Since the plants on this list are suited for Colorado soil, you are unlikely to need to add amendments.
You can find a wealth of well-researched information on planting in Colorado on the Colorado State University (CSU) Extension website. Here are a few handy links: CSU Extension website, Garden Notes, Xeric soil amendments.
Sections: Ground cover, Herbaceous Perennials
Ground cover, full sun (at least 6 hours of sun per day)
Photograph
Scientific name
Common name
Native to CO
Height
Spread
Blooms
Attracts
Resists

▉

▉

▉

▉

▉

▉

▉

▉

🦋

🐝

🦌

🐇

Achillea ageratifolia
Greek yarrow
No
24-36″
10-12″
June – August

🦋

▉

Achillea tomentosa
woolly yarrow
No
6-8″
8-12″
June – August

🦋

▉

Anacyclus pyrethrum depressus
Mount Atlas daisy, pellitory, Spanish chamomile
No
4-5″
8-12″
April – May

▉

▉

Antennaria dioica
pussytoes, mountain everlasting, catsfoot, cudweed
No
2-4″
12-18″
May – June

🦌

▉

▉

Arabis caucasica
snowcap rockcress, garden arabis, mountain rock cress
No
4-6″
6-8″
April – May

🦌

🐇

▉

Arenaria montana
mountain sandwort
No
2-4″
10-12″
May – June

🦌

▉

Artemisia frigida
fringed sage, prairie sagewort, pasture sage
Yes
9-16″
12-16″
August – September

🦌

🐇

▉

Artemisia schmidtiana
silvermound sage
No
10-12″
12-23″
June

🦋

Artemisia stelleriana
silver brocade sage, hoary mugwort, dusty miller
No
6-12″
23-29″
Insignificant

🦋

▉

Aurinia saxatilis
basket-of-gold, goldentuft alyssum, rock madwort
No
6-12″
12-18″
April – May

🦋

▉

Callirhoe involucrata
purple poppy mallow, winecups
Yes
10-12″
23-29″
June – August

🦋

🐝

▉

Calylophus serrulatus
sundrops, toothed evening primrose
Yes
6-18″
6-18″
June – September

🦋

🐝

▉

Cerastium tomentosum
snow-in-summer, tomentose chickweed
No
6-8″
23-29″
May – June

🦌

🐇

▉

Coreopsis auriculata
dwarf coreopsis, lobed tickseed, mouse ear coreopsis
No
6-10″
8-12″
June-September

🦋

▉

Delosperma spp. & hybrids
ice plant
No
2-4″
12-23″
May – August

🦋

▉

▉

▉

▉

▉

▉

Eriogonum umbellatum
sulfur flower, sulfur buckwheat
Yes
6-12″
12-36″
May – July

🦋

▉

Glandularia bipinnatifida
prairie verbena, Dakota vervain
Yes
10-12″
38-50″
May – September

🦋

▉

▉

▉

Glandularia canadensis
rose verbena, clump verbena, rose vervain
Yes
6-18″
12-24″
July – September

🦋

🦌

🐇

▉

Oenothera speciosa
pinkladies, pink evening primrose, showy evening primrose
No
9-12″
12-18″
June – October

🦌

Penstemon pinifolius
pineleaf penstemon
No
10-12″
12-18″
June – September

🦋

▉

▉

Potentilla neumanniana
alpine cinquefoil, spring cinquefoil, spotted cinquefoil
No
3-6″
6-12″
May – August

🦌

▉

Saponaria ocymoides
rock soapwort
No
6-8″
12-23″
May – July

🦌

▉

Sedum acre
goldmoss sedum
No
2-3″
12-23″
May – June

🦋

▉

Sedum kamschaticum
kamschatka sedum
No
4-6″
12-18″
July – August

🦋

▉

▉

Sedum spurium
stonecrop
No
4-6″
12-18″
July – August

🦌

🐇

▉

▉

Stachys byzantina
lamb's ear
No
12-18″
12-23″
June – July

🦋

▉

▉

Tanacetum densum spp. amani
partridge feather
No
6-10″
15″
May – June

🦋

▉

Thymus praecox
creeping thyme
No
2-4″
12-18″
June – July

🦋

▉

▉

Veronica liwanensis
Turkish veronica
No
1-2″
18-24″
April-June

🦋

🐝

🦌

🐇

▉

Zauschneria californica latifolia
hummingbird trumpet, mountain California fuchsia, zauschneria arizonica
No
18-24″
36-48″
May – September

🦌

▉

▉

Zauschneria garrettii
orange carpet hummingbird trumpet
No
4-6″
July-August

🦌

▉

▉

Zinnia grandiflora
Rocky Mountain zinnia, paper flower
Yes
4″
15″
August-October

🦋

🐝

🦌

🐇

▉
Herbaceous Perennials, full sun (at least 6 hours of sun per day)
Photograph
Scientific name
Common name
Native
Height
Spread
Blooms
Attracts
Resists

▉

▉

▉

▉

▉

▉

▉

▉

🦋

🐝

🦌

🐇

Achillea filipendulina
fernleaf yarrow
No
36-48″
12-36″
June – September

🦋

▉

Achillea millefolium
common yarrow
Yes
12-24″
12-24″
June – September

🦋

🐝

🦌

🐇

▉

▉

▉

▉

▉

Achillea ptarmica
pearl yarrow, sneezewort, sneezeweed
No
18-24″
18-24″
June – September

🦋

🐝

🦌

🐇

▉

Agastache aurantiaca
hyssop, orange hummingbird mint
No
18-30″
18-24″
July – October

🦋

🐝

🦌

🐇

▉

▉

Agastache cana
hummingbird mint
No
12-36″
12-24″
July – October

🦋

🦌

🐇

▉

▉

▉

Agastache foeniculum
anise hyssop
Yes
24-36″
18-36″
July – October

🦋

🐝

▉

▉

▉

▉

Agastache rupestris
sunset hyssop
No
12-36″
12-24″
July – October

🦋

🐝

▉

▉

▉

Aquilegia caerulea
Colorado columbine, rocky mountain columbine, Colorado blue columbine
Yes
18-24″
12-18″
May – June

🦌

🐇

▉

▉

Aquilegia chrysantha
golden columbine, yellow columbine, southwestern yellow columbine
Yes
36-48″
12-24″
May – August

🦌

🐇

▉

Baptisia australis
false indigo
No
36-48″
36-48″
May – July

🦋

🦌

🐇

▉

Berlandiera lyrata
chocolate flower
Yes
18-24″
18-24″
June – September

🦋

🐝

🦌

▉

Centaurea montana
mountain bluet, perennial bachelor button
No
18-24″
12-18″
June – July

🦋

🐝

▉

▉

Centranthus ruber
red valerian, Jupiter's beard
No
24-36″
24-36″
June – August

🦋

🦌

🐇

▉

▉

Coreopsis grandiflora
dwarf double coreopsis, large-flowered tickseed
No
12-24″
12-36″
June – August

🦋

🦌

🐇

▉

Coreopsis lanceolata
lanceleaf coreopsis, lance-leaved coreopsis, lanceleaf tickseed, sand coreopsis
Yes
12-24″
12-18″
June – July

🦋

🦌

🐇

▉

Coreopsis verticillata
threadleaf coreopsis, fernleaf coreopsis, threadleaf tickseed, whorled tickseed, whorled coreopsis
No
12-36″
18-24″
June – September

🦋

🦌

🐇

▉

Delphinium barbeyi
subalpine larkspur
Yes
24-60″
12″
June – August

🦋

🐝

🦌

🐇

▉

▉

Echinacea purpurea
purple coneflower, eastern purple coneflower
No
24-48″
18-24″
June – August

🦋

🐝

🦌

🐇

▉

▉

▉

▉

▉

Echium amoenum
red feathers
No
12-16″
6-8″
May – June

🐝

🦌

🐇

▉

▉

Erigeron speciosus
Aspen fleabane, showy fleabane, garden fleabane, horseweed, seaside daisy, showy daisy, showy fleabane
Yes
12-30″
12-24″
June – September

🦋

🦌

▉

Eryngium planum
sea holly
No
24-36″
12-24″
June – August

🦋

🐝

🦌

🐇

▉

▉

Eschscholzia californica
California poppy
Yes
6-8″
6-12″
June – September

🦌

▉

Gaillardia aristata
native blanket flower, common gaillardia, great blanketflower, blanketflower, brown-eyed susan
Yes
24-36″
24-36″
July – September

🦋

🐝

🦌

🐇

▉

▉

▉

Gaillardia x grandiflora
blanket flower, Indian blanket
Yes
18-24″
10-12″
June – August

🦋

🦌

🐇

▉

▉

▉

Gaura lindheimeri
whirling butterflies, lindheimer's beeblossom, white gaura, pink gaura, lindheimer's clockweed, Indian feather
No
36-60″
12-24″
July – September

🦋

🐝

🦌

🐇

▉

▉

Gazania linearis
hardy gazania
No
4-6″
6-18″
May – October

▉

Helianthemum nummularium
sunrose
No
8-12″
36″
May – July

▉

▉

▉

▉

▉

Hemerocallis spp.
daylily
No
12-48″
12-24″
June – July

🐇

▉

▉

▉

▉

▉

▉

Iberis sempervirens
candytuft, evergreen candytuft
No
12-18″
12-18″
April – June

🦋

🐝

🦌

🐇

▉

Iris germanica
iris hybrids, German iris, bearded iris
No
8-30″
12-24″
May – June

🦌

🐇

▉

▉

▉

▉

▉

▉

▉

▉

Iris missouriensis
Rocky Mountain iris, western blue flag
Yes
12-24″
10-12″
May – June

▉

▉

▉

▉

▉

Knautia macedonica
knautia, Macedonian scabious, widow flower
No
18-36″
18-24″
June – August

🦋

▉

Kniphofia caulescens
regal torch lily
No
40″
24-36″
July – September

🦋

🦌

🐇

▉

▉

▉

Kniphofia uvaria
torch lily, red hot poker
No
24-48″
24-36″
July – September

🦋

🦌

🐇

▉

▉

▉

Lavandula angustifolia
English lavender, common lavender
No
12-18″
24-30″
May – September

🦋

🦌

🐇

▉

▉

▉

Liatris spicata
blazing star, gayfeather, prairie feather
No
18-36″
12-24″
July – September

🦋

🐝

🦌

🐇

▉

▉

▉

Linum lewisii
prairie flax, Lewis flax, wild blue flax
Yes
18-24″
12-24″
May – July

🦌

🐇

▉

Lychnis coronaria
rose campion
No
18-36″
12-24″
May – July

🦌

▉

▉

Machaeranthera bigelovii
Bigelow's tansyaster, sticky aster
Yes
12-36″
12-36″
August – October

🦋

🐝

▉

Mirabilis multiflora
desert four o'clock
Yes
36″
36″
June – September

🦋

🐝

🦌

🐇

▉

Nepeta spp.
catmint
No
8-36″
18″
May-October

🦋

🐝

🦌

🐇

▉

Oenothera macrocarpa ssp. Incana
evening primrose, bigfruit evening primrose, silver leaf primrose
No
4″
16-24″
April-August

🦋

🦌

▉

Papaver orientale
oriental poppy
No
24-30″
6-24″
May – June

🦋

🦌

🐇

▉

▉

▉

▉

Penstemon grandiflorus
large beardtongue
No
18-36″
12-24″
May

🐝

▉

▉

▉

Penstemon linarioides var. coloradoensis
bluemat penstemon, toadflax penstemon
Yes
8-12″
12-16″
May – June

🐝

🦌

▉

▉

Penstemon rostriflorus
beaked penstemon, bridge penstemon
Yes
12-36″
6-12″
July – September

🦋

🐝

▉

Penstemon strictus
Rocky mountain penstemon
Yes
24-30″
36″
May – August

🐝

🐇

▉

Phlox longifolia
longleaf phlox
Yes
4-6″
12-24″
May – June

▉

▉

Phlox subulata
creeping phlox
No
4-6″
12-24″
May – June

🐝

🦌

▉

▉

▉

Potentilla nivea
snowy cinquefoil
Yes
12″
12″
June – August

🐝

▉

Pulsatilla patens
eastern pasqueflower, prairie crocus, American pasqueflower
Yes
4-6″
3-6″
March-June

🐝

🦌

🐇

▉

▉

▉

▉

Pulsatilla vulgaris
pasque flower
No
6-12″
12″
March – April

🐝

🦌

🐇

▉

▉

▉

▉

▉

Ratibida columnifera
prairie coneflower, mexican hat, long-headed coneflower
Yes
12-36″
12-18″
June – October

🦋

🦌

▉

▉

▉

Rudbeckia fulgida
perennial black-eyed Susan, orange coneflower
No
24-36″
12-24″
July – September

🦋

🦌

🐇

▉

Salvia argentea
silver sage
No
24-36″
12-18″
June – July

🐝

🦌

Salvia nemorosa
woodland sage, blue sage, wild sage, Balkan clary
No
18-24″
24-36″
June – August

🦋

🐝

🦌

🐇

▉

▉

▉

▉

Veronica spicata
royal blue veronica
No
16″
16″
June – August

🦋

🦌

🐇

▉

▉

Viola corsica
Corsican violet
No
6-8″
12″
April-September

▉

▉