'Let's get out': Boulder city council second-guessing $40M hospital purchase in wake of 'staggering' costs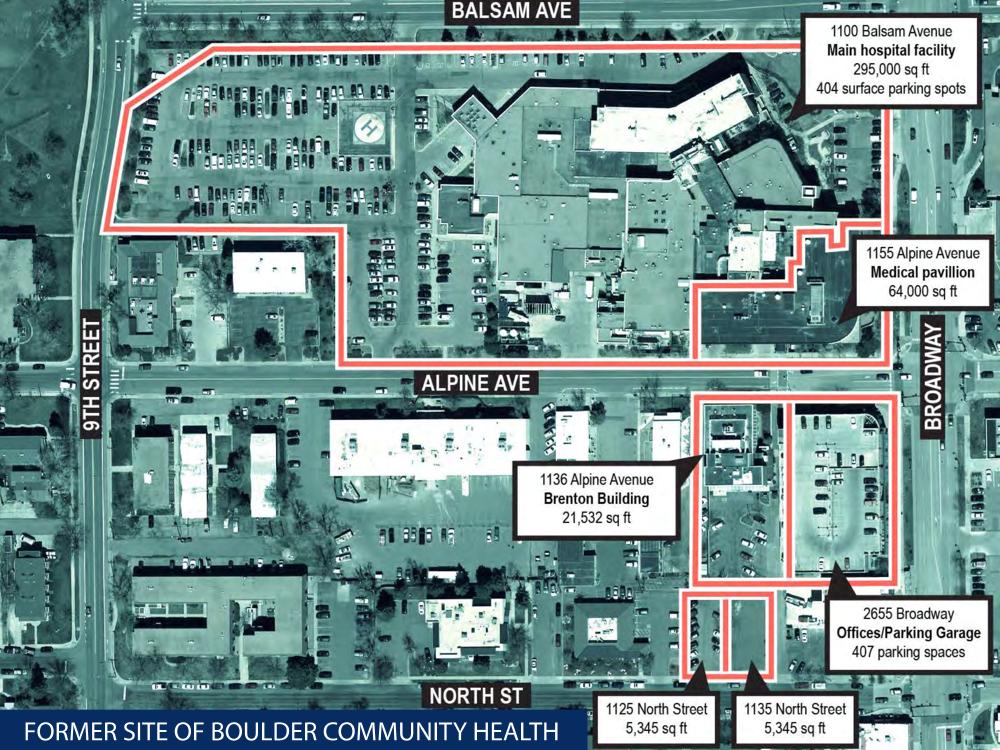 Wednesday, April 10, 2019
Boulder's city council, during a budget discussion Tuesday night, reversed course on plans to build city offices and affordable housing at an 8.8-acre parcel of land it purchased less than four years ago for $40 million, citing the more than $85.2 million needed to simply prepare the land for redevelopment and move roughly 300 employees to the site.
The project is referred to as Alpine-Balsam due to its location between those roadways along Broadway in north Boulder. It was the former Boulder Community Health campus, purchased in December 2015. BCH is set to vacate the property May 1; that's when the city will assume responsibility for the operation and maintenance of the buildings.
May 1 is also supposed to start Phase 1 of the deconstruction of the old hospital. Protecting the site is the top priority: 24-hour on-site security will be employed until a fence can be constructed, cameras installed and first-floor doors and windows fitted with alarms. Murals are supposed to be commissioned and painted on the fence by June, and city workers and contractors are scheduled to "decommission" mechanical and electrical systems.
The cost for Phase 1 is roughly $807,000, according to an information packet released by the city last week.
Council considered preliminary cost estimates for portions of the project in February, requesting a more detailed analysis. Tuesday's look at the latest numbers was served up alongside a comprehensive list of the city's $375 million in unfunded needs. There are $253,315,000 worth of projects, services and programs that need to be paid for within the next five years: More than a third of those costs are related to Alpine-Balsam.
"It's far more than any of us anticipated," began Lisa Morzel. When city council in 2015  — of which Morzel was a member — OK'd the purchase, "I thought we would reuse the hospital and sell off (some of) the land."
Boulder should sell, she said: "I think we call it good and get out. We're digging a hole that we cannot get out of."
One by one, other council members followed suit in detailing concerns.
Cindy Carlisle agreed on the financials of the project, calling it a "shocking number." Next came Aaron Brockett, who said he has become "increasingly concerned (with the) dollar amounts." Then Bob Yates jumped in with a plea to "take a big step back." Mary Young was the last to echo her colleagues: "The numbers are staggering," she said.
"I don't know what the exit path would be," said Brockett, "but I think we should explore it."
Sam Weaver was the first to break ranks. While the price tag produced "sticker shock" among council, he noted that some money will flow back in from partners who co-locate with the city, as Boulder County has expressed interest in doing, or from the sale of buildable lots to developers.
Weaver also defended the 2015 council, of which he was a member, for its decision to buy the land, a decision "not taken lightly."
"There's a few reasons we did what we did," he said. "It was land banking: The whole idea was that we could control the outcome, not only from a design perspective but from an afforability perspective. It was done for good reasons."
Councilwoman Mirabai Nagle held a similar view: "My one concern if we do let go of Alpine-Balsam is control," she said. "I just want to make sure if we do sell it, it doesn't end up being boxes of high-density (housing). That doesn't serve the community."
Neighborhood concern has been steadily growing over the proposed density at the site, though that was not mentioned as a factor in council's Tuesday protestations. Residents of the north Boulder neighborhood showed up in force at the February 12 study sessionA council meeting where members deep-dive into topics of community interest and city staff present r... in which council considered possible housing configurations, clad in lime green shirts that read, "Don't be DENSE Boulder."
Density was an issue for Carlisle and Nagle in February. Cost was, too, at least for Carlisle: "Where is the money going to come from?" she asked.
Two months ago, high-level estimates for a sustainable deconstruction were $12 million. Now, the cost is closer to $15.2 million, not including potential soil abatement. Staff also produced a figure for infrastructure (such as water/sewer, roads and open space) to ready the land for development: a further $12 million.
Even if the city abandons its plan for housing at the site, it is still in need of office space. City employees have to be moved out of two buildings in the high-hazard flood zone, New Britain and Park Central. Both are in need of major upgrades, but the amount the city is able to sink into them is limited by floodplain regulations. It has also been suggested that staff from a third building, on Center Green Drive, be relocated to Alpine-Balsam to save nearly $1 million in yearly rent and utilities.
"Those buildings need to be vacated," said Kady Doelling, Boulder's chief budget officer, of New Britain and Park Central.
Renovation of the Pavilion building to accommodate 260-300 city employees at Alpine-Balsam will cost at least $48 million; $58 million if a proposed fourth story is added.
Staff has contended that the Pavilion renovation will pay for itself in 34 years when compared to the costs over that time to continue renting space for staff in the three buildings. Councilman Yates said that analysis doesn't account for all the costs of repayment on debt that will be needed to finance the project.
"We never actually get our money back," he said.
What might be done with the land is unclear. Morzel believes Boulder should sell "ASAP." Other council members felt that more information and discussion was needed to determine a course of action. Rezoning would be likely needed to make it attractive to buyers, as much of the land is zoned public and therefore restricted in its redevelopment potential.
Critics of the purchase at the time, including Morzel, contended that it was irresponsible to make such a large purchase without a clear plan of what the property would be used for or an analysis of how much it would cost. Nevertheless, Morzel voted in favor in 2015, as did Weaver and now-Mayor Suzanne Jones, who said the parcel was "too important" for the city to not own.
(Jones, who was the most enthusiastic about the project in February, was absent from Tuesday night's discussion.)
The issue would be revisited at a May 7 budget discussion, which will include a public hearingScheduled time allocated for the public to testify or share commentary/input on a particular ordinan.... Council requested that staff prepare a presentation on what a possible sale of the land might look like, along with other options.
To view a Twitter thread of Tuesday's discussion, click here.
— Shay Castle, boulderbeatnews@gmail.com, @shayshinecastle

Want more stories like this, delivered straight to your inbox? Click here to sign up for a weekly newsletter from Boulder Beat.
Journalist