Amid neighborhood pushback, council pushes Alpine-Balsam land use changes to 'future phase'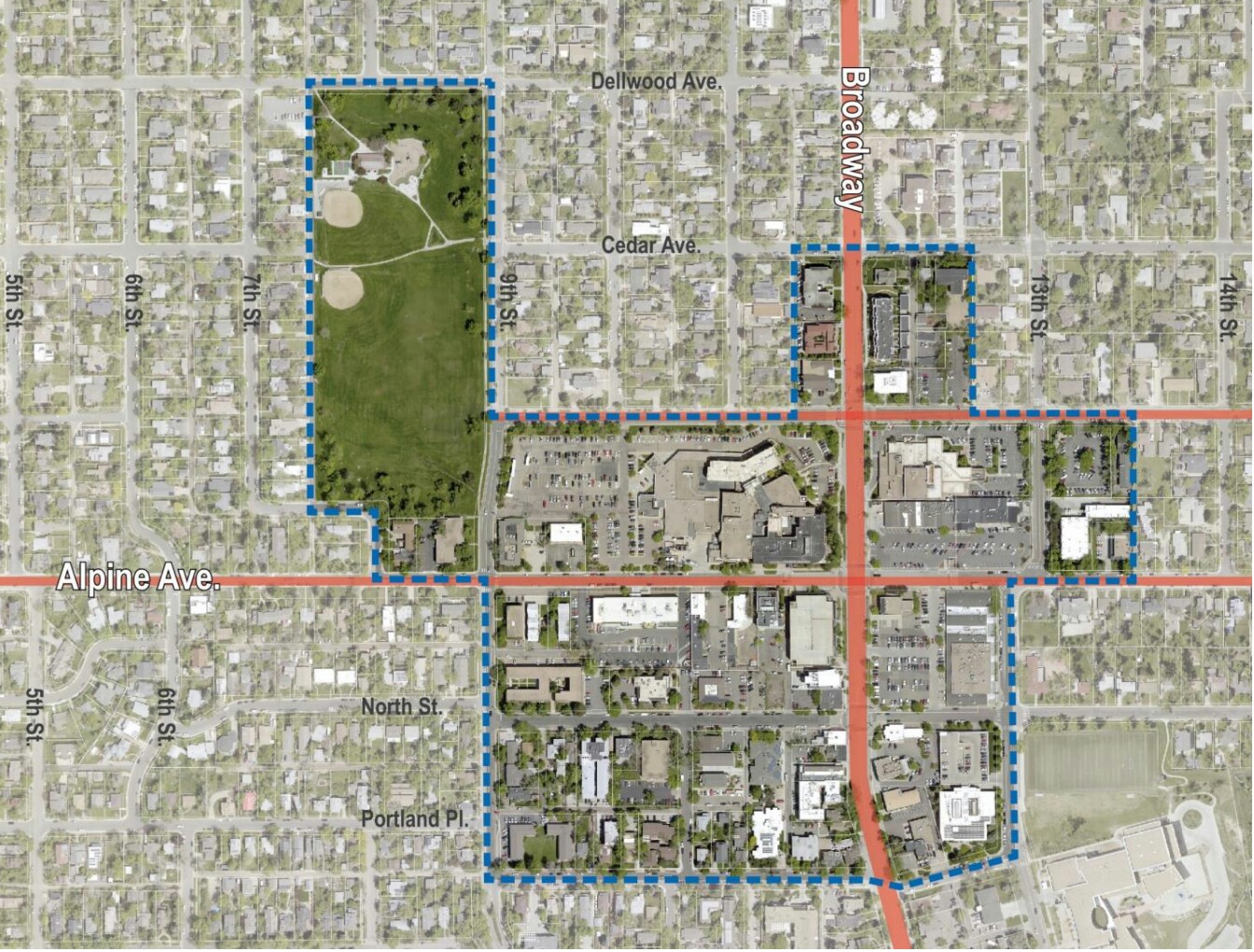 Friday, Aug. 30, 2019
A cautious and, at times, skeptical council backed off proposed land use changes to the 70-acre Alpine-Balsam planning area in the wake of angry and confused neighbors upset over possible — though unlikely — redevelopment. The city will instead focus on the 8.8 acres it owns within the larger area, plans for which have still drawn the ire of some residents.
The city is in the process of implementing an area plan for, roughly, along Broadway from Balsam Avenue to North Street and 9th to 13th Streets. Area plans are meant to guide future development and redevelopment; it's the vision process for how an area will look over a decade or more. What comes next are land use updates — what can go there: housing, retail, offices, etc. —  followed by zoning changes — what will the housing, retail and offices look like; how tall will they be, etc.
Alpine-Balsam's area plan includes land use changes for the entire 70-acre planning area. But the project will now focus on land use changes within the former Boulder Community Health campus.
Staff and council went over those proposals block-by-block during a special Wednesday night meeting. The idea was for council to provide feedback to staff to refine the plan into its final form, in time for a Sept. 24 joint public hearingScheduled time allocated for the public to testify or share commentary/input on a particular ordinan... with Planning Board. Council will vote to adopt the plan Oct. 1.
East block: Civic and Mixed Use 2 land uses, to accommodate reuse of the Pavilion building for city offices. Buildings would be 3-4 stories, allowing heights over 35 feet but under 55 feet only to accommodate a variety of forms, such as pitched roofs. The stretch along Broadway would be a flex space, to accommodate either city offices or mixed-uses such as housing. Council expressed a preference for housing there, with "active" uses along the first floor, such as a senior or community center.
There was some disagreement with the heights in this area. Cindy Carlisle said she would agree to four stories, but not 55 feet, the citywide height limit enshrined in Boulder's charter. Lisa Morzel and Aaron Brockett pointed out that the hospital currently rises in some places to 65 feet, the result of variances granted in the 1990s by Planning Board.
"This is right along Broadway," councilman Sam Weaver said, by way of defending buildings that go up to Boulder's height limit at that location. "This is the most intense part of the development. Everything else is going to get smaller."
Mayor Suzanne Jones agreed that, of everywhere on the site, this was the most appropriate place for "tallness."
"If we build nice buildings," she said, "it will be fine. If we build ugly buildings, it will not be fine."
West block: High Density Residential 1 land use, for 2-3 story townhomes. Council rejected two Planning Board suggestions: That homes facing North Boulder Park reach to four stories and that there be first-floor retail, such as a cafe or ice cream store. The consensus was that height should decrease toward the park.
It doesn't make sense to have retail there, Morzel argued, with an ice cream shop, two coffee shops and multiple eateries just a couple blocks away across Broadway. Brockett agreed. It might be different if the homes abutted the park directly, he said, but as they are across the street, he wouldn't support the proposal
North Center block: High Density Residential 2, to accommodate three-story stacked apartments set back from Balsam.
Center block (except for the northern part): High Density Residential or Public land uses, to accommodate either four-story apartments or Boulder County offices. 
Council was most split on whether or not the county should co-locate here. Morzel was most firmly against the idea.
We bought this site for two reasons, she said: To move city offices and for housing. The potential for 60-90 units of housing would be lost if the county put offices in the block. "That is just not acceptable to me."
She also questioned the amount of space the county has repeatedly said it needs (120,000 square feet) and the amount of parking. Building Services Manager James Butler testified repeatedly Tuesday that a parking study would still be needed, but Morzel insisted that he had previously told council the county needs 320 spots, nearly all of the existing, 400-space parking garage.
Butler said 320 is the number of spaces at the county's Broadway/Iris office, though not all of them are used. Employees are more likely to take transit as they get closer to downtown, he said, noting that "maybe" 30% of county employees at the Pearl Street Mall-adjacent offices drive.
Brockett and Bob Yates were ambivalent about county co-location. They would be in favor only if it resulted in a net gain of housing units at Broadway and Iris. The site can accommodate 50-240 units if the ballfields are not disturbed, according to a preliminary county analysis. Council has made preservation of the ballfields a priority.
Yates' support was also contingent on city ownership of the land and solid financials.
I won't settle for just an "agreement" that "something someday will be built there," he said. "I would want to own Iris and Broadway," and we need to know the costs.
Carlisle took the opposite view. It would be better to have offices there than more housing, she said, citing neighborhood concerns over density. Along with neighbors, she has also stated that increased traffic is one of her top issues with the project, though daily and rush-hour traffic will be greater with office uses than with housing, according to a third-party analysis commissioned by the city.
Jones and Weaver were most in favor of exploring allowing county offices on the site. Said Jones, "Given the potential at Iris and Broadway, we'd be crazy not to look under the hood."
Morzel and Mary Young pushed back. The county is not committed, they argued, noting that it is still in the process of evaluating six other potential sites.
"The lack of process alignment … gives me pause," Young said. They were asked about co-purchasing it together in 2015 and didn't. "We've been talking about it for four years and there hasn't been forward movement."
"If the county was that interested, they would have doo-doo'ed or gotten off the pot by this point," Morzel said. "They're just stringing us along."
Yates proposed a working group with city and county staff, council members — he and Weaver were selected — and a county commissioner to meet every week, if necessary, to figure out if co-location makes sense and develop a deal.
The question of using the Pavilion building for city offices was (mostly) settled, with a majority of council in agreement. Staff will continue gathering information about how the $58 million renovation costs compare to leasing or buying a comparable space, per Yates' request.
In four pages of answers to his questions, staff estimated that it would cost $75-$77 million to build a similar-size office building elsewhere in the city. The document did not include information on sales of comparable spaces.
Council will still move ahead with adoption of the area plan because of the other elements it contains (design standards, connections, flood mitigation, accessibility plan, etc.) but will leave the question of land use out of the discussion — for now. When they might revisit the issue wasn't nailed down; it will be left to, as Planning Director Chris Meschuk said, "a future phase."
Members were similarly split over how quickly to move. Morzel and Young were least comfortable with leaving the decisions over larger area land use to later, due to the extensive process and the potential for redevelopment now.
For example, housing is allowed under current land use and zoning at the two shopping centers, Community Plaza and Ideal Market. The change in land use proposed by staff would also allow housing, but it would encourage mixed-use development. Staff has also suggested that both retail strips are eligible for landmarking, to preserve the facade.
"If something comes in and it redevelops as a four-story office building," said Young, "I'll be the first one to say I told you so."
Stephen LeBlang, who owns the Ideal Market shopping center, testified Tuesday night that there are no plans to redevelop. He spoke against council's deference to area homeowners, saying his employees need housing.
"I've heard a lot about petitions and talking to different people," he said. "Well I've talked to employees, and every single one of them said, 'I would love to live (in the area).'
"If we really love Ideal Market and all the shops, let's help them have a good supply" of employees by providing housing, LeBlang said. "The retail will always be there; that's a non-question."
Council also asked staff about the potential of redeveloping the shopping center parking lots, as has been claimed by some residents. It's not exactly allowed, Assistant City Attorney David Gehr testified. Even with different zoning, there are still standards for setbacks, and community values are considered in the site review process.
"Decision makers have a lot of places to exercise discretion" in site review, he said.
One of the points of the area plan, Weaver said, is so that discretion isn't needed. Having an area plan removes some of the ambiguity and allows for tighter control over outcomes.
Yates, Brockett and Carlisle felt more outreach was needed before making changes outside the city site.
"We just heard from people last night," Yates said, referring to Tuesday night's hours-long public hearing. There's only been "24 hours to digest it."
"No," Morzel said. The pubic has "had years to participate. We want to give staff something to work with. … This is just dragging feet."
To varying degrees, council addressed the widespread misinformation being spread about the area plan and BCH site development. Several thanked staff for the thorough engagement process, despite criticism from neighbors who felt their input wasn't reflected in the plan.
"The misconceptions are enormous," Weaver said. While some are spread unintentionally, "I think some people stir the pot a little bit. I commend you for taking that in stride."
Carlisle, too, praised the city process as "a tremendous effort," but also said more input from neighbors was needed. "Now that we've shaken the giant, we need to have more engagement. … Did we just have one hearing and that was it?"
"We had four years of hearings!" Jones shot back. "We've been leading up to this."
Yates attempted to reconcile council members' praise of staff with their desire to take a step back and listen to neighbors.
"The fact that you worked hard and did a good job and the fact that people are frustrated, scared and confused, are not mutually exclusive," he said. "People are allowed to be frustrated, scared and confused."
For a Twitter recap of council's Wednesday discussion. click here. For a Twitter recap of Tuesday's public hearing, click here.
— Shay Castle, boulderbeatnews@gmail.com, @shayshinecastle
Want more stories like this, delivered straight to your inbox? Click here to sign up for a weekly newsletter from Boulder Beat.
Journalist