With baseline study, Boulder leaves door open to service, boundary expansion in 2025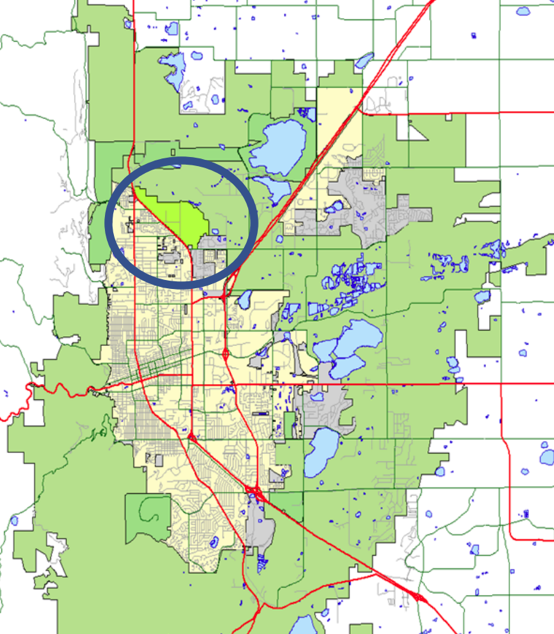 Saturday, Dec. 7, 2019
Per council direction, Boulder is embarking on the long and complicated process of maybe, possibly starting to consider whether or not to expand its physical boundaries by activating hundreds of acres of land reserved for future growth.
The acreage is referred to as the Area III Planning Reserve, approximately 500 acres north of current city limits. Most of the land does not belong to the city, except for roughly 200 acres that are earmarked for park land, having been paid for with city parks and recreation funds.
Area III can be annexed into Boulder with the signify from Boulder's city council and planning board and Boulder County's commissioners and planning commission. Land contiguous to existing city limits would be added first, per state law.
Past proposals, including a 2016 lawsuit, to annex the area have been, unsurprisingly controversial, with some arguing that Boulder's housing crisis necessitates expansion. Others belief that the planning reserve should be left alone until redevelopment potential within city limits are exhausted.
It could be a decade or more before Boulder absorbs this physical space. It will take the next five years simply to fully explore the possibility, staff said Tuesday night.
That's what council wants to start doing now, beginning with something called a baseline services study. It will assess whether or not Boulder can feasibly provide fire, water, police and other city services to a larger area, interim planning director Chris Meschuk said.
The work wouldn't necessarily tee up expansion in 2025. The baseline services study "has a pretty good shelf life (and) still would be very much valid to consider in 2030 or 2035," according to Meschuk.
A services study can be done at any time, but staff is recommending it as part of the midterm update to the Boulder Valley Comprehensive Plan. The BVCP, or comp plan as it is sometimes referred to, is basically Boulder's planning bible, laying out goals and guidelines for city's the natural and built environment. The last full comp plan update was in 2015, though the finalized BVCP wasn't adopted until 2017.
It would be nice to finish an update "in the year it's actually named for," Mayor Sam Weaver joked.
Midterm updates are fairly routine; no big or controversial policy changes are typically considered. Most of the recommended tweaks this go-round include altering land use maps to reflect open space purchases and completions of planning processes, such as the Alpine-Balsam area plan or the open space master plan. Some updates will reflect Boulder's climate initiatives.
The process also allows for public input and recommendations, where some larger ideas may emerge. Completing the update will take most of the year, with adoption in the fourth quarter.
BVCP midterm update schedule


First Quarter 2020

• Finalize the scope and schedule

• Open the public request process

• Begin other tasks as directed by the decision-making bodies


Second Quarter 2020


• Complete screening process for public requests

• Continue work on other tasks as directed by the decision-making bodies


Third Quarter 2020

• Community engagement window

• Analysis on proposed changes


Fourth Quarter 2020

• Complete analysis and recommendations

• Public hearings to adopt changes to the BVCP
If studies and public input are favorable to utilizing the planning reserve, that would become the main focus of the 2025 comp plan update. Community members and elected officials have expressed interest in exploring expansion in recent years as Boulder struggles to add more housing amid continued resistance to increasing density within existing city limits.
This is a "major, major" decision and process for the city, senior planner Jean Gatza said. "If there's continued interest in this, we will explore it over the next couple of years" and be ready to consider in 2025.
Read a recap of Tuesday's discussion here.
— Shay Castle, boulderbeatnews@gmail.com, @shayshinecastle
Want more stories like this, delivered straight to your inbox? Click here to sign up for a weekly newsletter from Boulder Beat.
Journalist