After 13-month 'sprint' to save affordable housing project, 30Pearl breaks ground in Boulder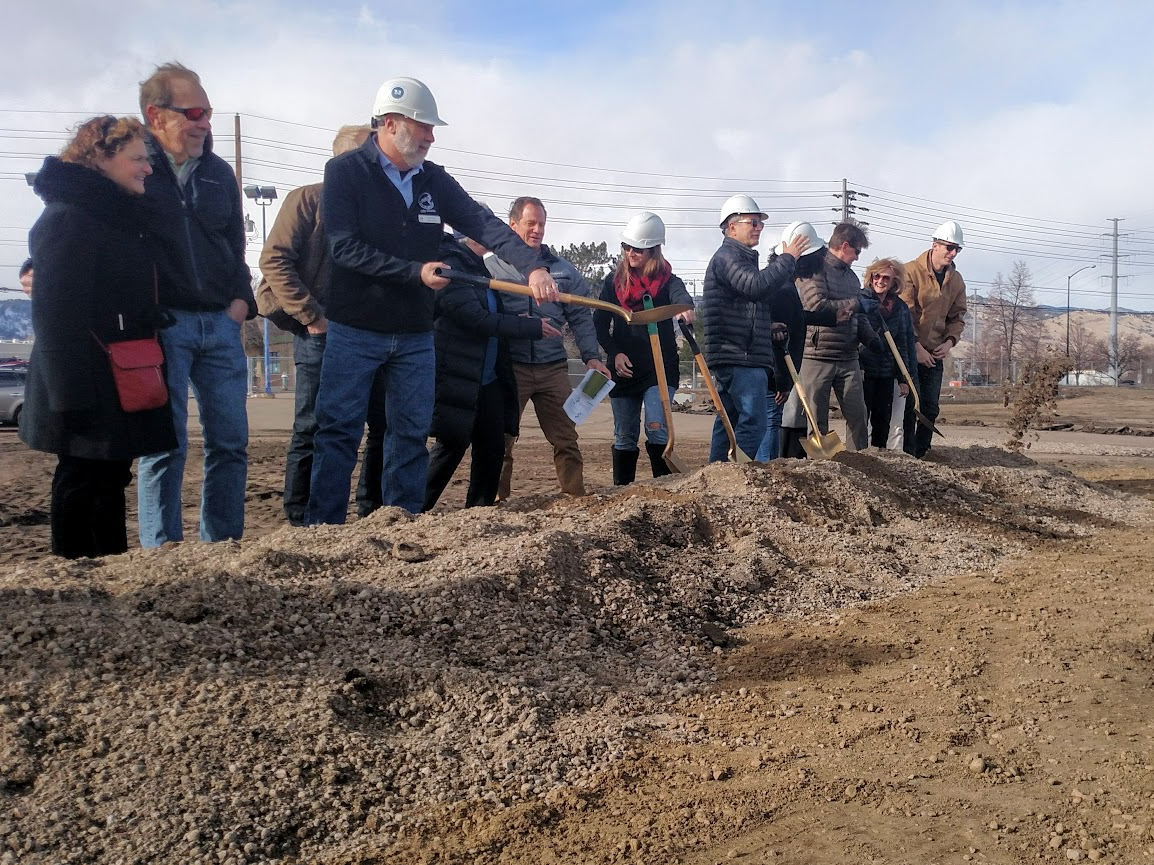 Friday, Dec. 13, 2019 (Updated Dec. 19, 2019)
When shovels hit the dirt Friday morning at the old Pollard motors site, it set a new record in Boulder and ended a yearlong scramble to save the affordable housing and retail that will eventually be built on the site.
The lot on the corner of 30th and Pearl will, in 18 months or so, be home to 120 units of affordable housing. The project, called 30Pearl, was jeopardized when the city's original development partner pulled out of the deal, necessitating a takeover by Boulder Housing Partners and a race against the clock — and the city's notoriously long approval process — to lock down $4 million in federal funding.
"We've been sprinting for 13 months," Kurt Firnhaber, director of housing and human services, said at Friday's groundbreaking.
"There were so many moments it seemed like we wouldn't get there," added Jeremy Durham, BHP executive director, praising the efforts of colleague Laura Sheinbaum, BHP's director of real estate development, for "quarterbacking" the efforts, along with numerous partners in city and state government and the private sector.
It is "unprecendented in the city of Boulder to get (a development of this size and nature) done in less than a year," Durham said.
The 5.4-acre site will hold a mix of affordable rental and ownership units, a park, the city's first rent-capped retail space and the first integrated housing for adults with developmental disabilities. BHP has control of the property for now, but will sell off portions to private developers once right-of-way improvements have been made and an underground parking garage built.
There will also be units reserved to provide permanently supportive housing for formerly unhoused residents. Moving forward, Boulder will require every development receiving city dollars to include such units , Firnhaber said: "We won't be funding projects in the future that don't have PSH development."
30Pearl was the final stop on a tour of a half-dozen affordable housing sites hosted by the city Friday morning. Three newly elected council members attended — Adam Swetlik, Mark Wallach and Junie Joseph — as well as members of Boulder's planning and housing advisory boards and a handful of residents. Mayor Sam Weaver and pro tem Bob Yates joined their colleagues at the groundbreaking.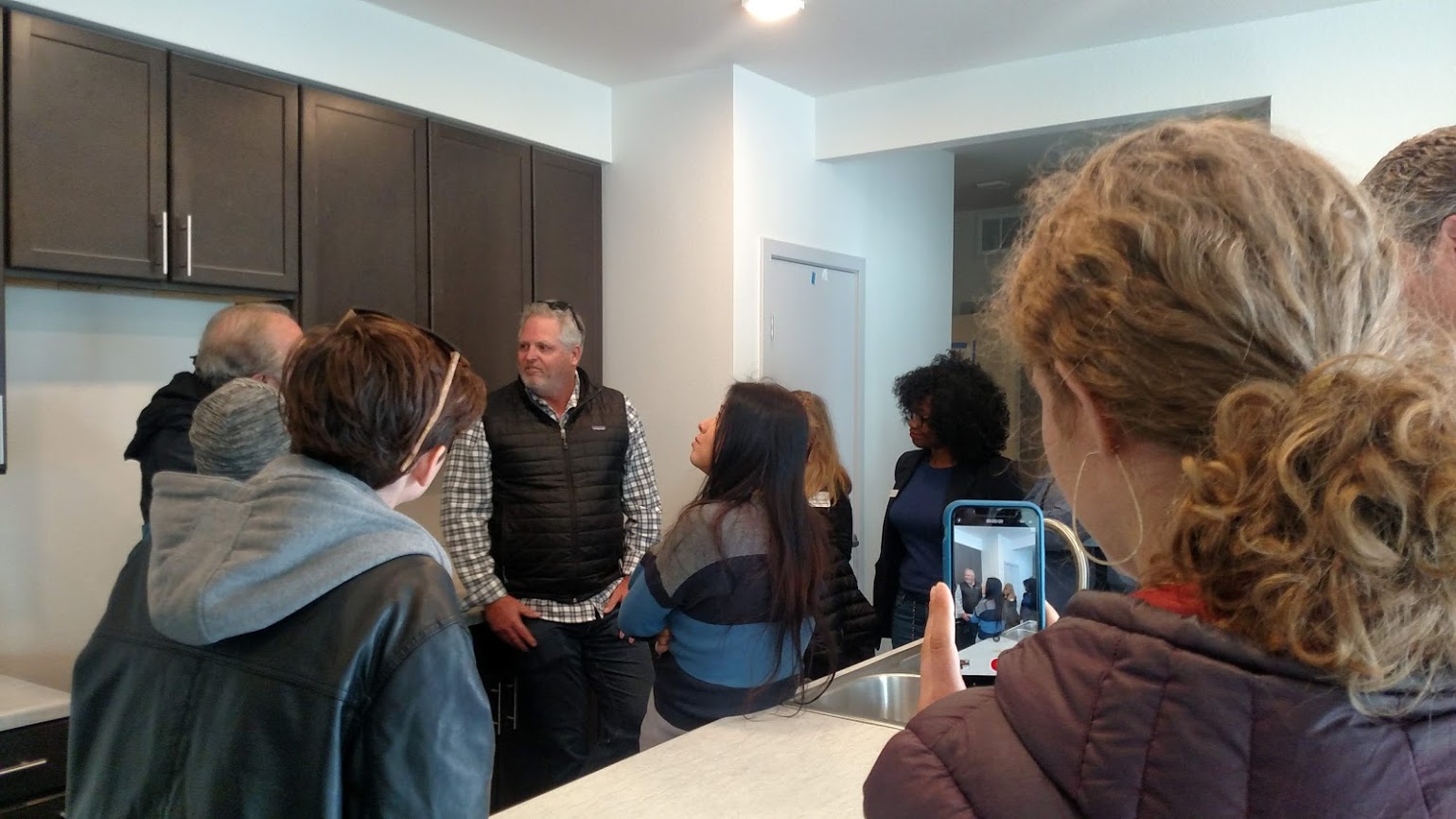 The tour passed by 23 properties but stopped at just six, including the recently completed Attention Homes' project on Pine Street and the still-under-construction Bus Stop Apartments, McKenzie Junction and Ciclo in the S'PARK neighborhood. Developers at each site joined attendees to answer questions about their projects.
Much curiosity surrounded the difficulty of including affordable rentals within market-rate buildings, referred to as on-site. S'PARK was the first rental development in the 18-year history of Boulder's inclusionary housing program to do so, Scott Holton of Element Properties, said Friday.
That's not entirely accurate, according to Zach McGee, spokesperson for the city's housing and human services department. As with all things on-site, the truth is a bit more complicated.
"While the developers classification of Ciclo as being on-site was correct in that the land was originally proposed as a part of the S'PARK development, S'PARK was subdivided and the Ciclo land sold to a tax credit partnership," McGee wrote in an email to Boulder Beat. "The resulting apartment building mixed affordable housing and commercial space and received city subsidy of $97k (sic) per affordable unit and federal funding in the form of tax credits. An inclusionary housing on-site result would not have received city subsidy. This project can be described as an inclusionary housing on-site and city funded hybrid development.
"Essentially, the builder was unable to provide the on-site so they subdivided, paid CIL, and that CIL was used as a subsidy. It accomplished what was intended but is technically not an on-site."
The challenge, as this example shows, is in financing, developer Andy Allison said during the tour. Affordable units use different sources and mechanisms, so it's tricky to sort those out for lenders. Because of state prohibitions on rent control, Boulder has to offer developers the option to pay cash into the affordable housing fund rather than mix units in with market-rate rentals. Critics decry the cash-in-lieu option as promoting segregation, but housing officials praise it as a way to leverage fewer dollars into more housing at lower price points for residents.
Since 2001, cash-in-lieu payments have contributed $66.7 million to affordable housing projects. CIL funds have led to the creation of 440 units in the past five years.
There are 3,631 affordable housing units in the city of Boulder, roughly 8% of its total stock. With 704 units in development, the city will reach 9% within the next couple of years.
Boulder hopes to have 15% of its housing designated as affordable by 2035, a new goal established in April as part of a regional push to address the affordability crisis. Flyers for a new campaign, Home Wanted, were distributed to tour participants.
The county intends to place a funding measure on the November ballot. Polling will begin in February to gauge support, city staff revealed Tuesday night during a city council study sessionA council meeting where members deep-dive into topics of community interest and city staff present r... on long-term budget needs.
Many of the communities on the tour drew opposition from neighborhood groups during their respective regulatory processes, including Palo Parkway and Attention Homes. Some of the most outspoken critics of these projects were in attendance.
Firnhaber acknowledged how divisive housing projects can be toward the culmination of the event on Friday. He encouraged residents to shift their thinking from bricks and buildings to the human element of housing.
"We don't build affordable housing to create units," Firnhaber said. "We do it for the people who will live there. We need to focus a bit more on the people and the community we're trying to create."
By the numbers: Boulder affordable housing snapshot

Councilman Mark Wallach, second from left, tours McKenzie Junction affordable housing development Friday morning. (Shay Castle, Boulder Beat)

6 communities highlighted on Friday's tour

400 total units

Total city contribution: Just over $28.3 million

Average per-unit city subsidy: $70,829

Per-unit subsidies ranged from $62,500 to $97,368 per project

1440 Pine (Attention Homes)

40 units for homeless youth aged 18-24

$2.5M in city subsidy ($62,500 per unit)

Bus Stop Apartments (Thistle)

53 units + community art space

$4.6M in city subsidy ($86,792 per unit)

Palo Park (BHP + Habitat For Humanity)

35 affordable rentals + 9 Habitat ownership homes

$4,031,659 in city subsidy ($91,629 per unit)

McKenzie Junction (Allison Management + Koelbel and Co.)

105 rentals and townhomes

$4M in city subsidy ($78,431 per unit)

Ciclo (Element + BHP)

38 affordable rentals

$3.7M in city subsidy ($97,368 per unit)

30Pearl (BHP)

120 affordable rentals (for the first stage; later stages will create affordable and market-rate rentals and ownership units)

$9.5M in city subsidy ($79,167 per unit)

Projects in development

The above properties account for 394 of the 704 affordable units the city considers currently in development. The others are:

2180 Violet (Habitat for Humanity) 19 ownership homes

3057 Kings Ridge (Habitat for Humanity) 3 ownership homes

311 Mapleton (Gary Berg + Michael Bosma) 8 senior rentals / of 95 total units

90 Arapahoe (Curtis McDonald) 19 ownership units / of 45 total

Canopy at Red Oak Park (BHP) 41 rentals

Casey (BHP acquisition) 6 rentals

Fruehaufs (Berg + Bosma) 106 senior living rentals

Ponderosa (City of Boulder acquisition) 68 mobile homes (being transitioned into modular ownership units)

Twenty37 (BHP acquisition) 26 rentals

Velo Park (Thistle) 14 ownership / of 70 total units

Source: City of Boulder
Author's note: This article has been updated to clarify how on-site affordable units were funded at Ciclo.
— Shay Castle, boulderbeatnews@gmail.com, @shayshinecastle
Want more stories like this, delivered straight to your inbox? Click here to sign up for a weekly newsletter from Boulder Beat.
Journalist