Boulder says no to e-scooters, for now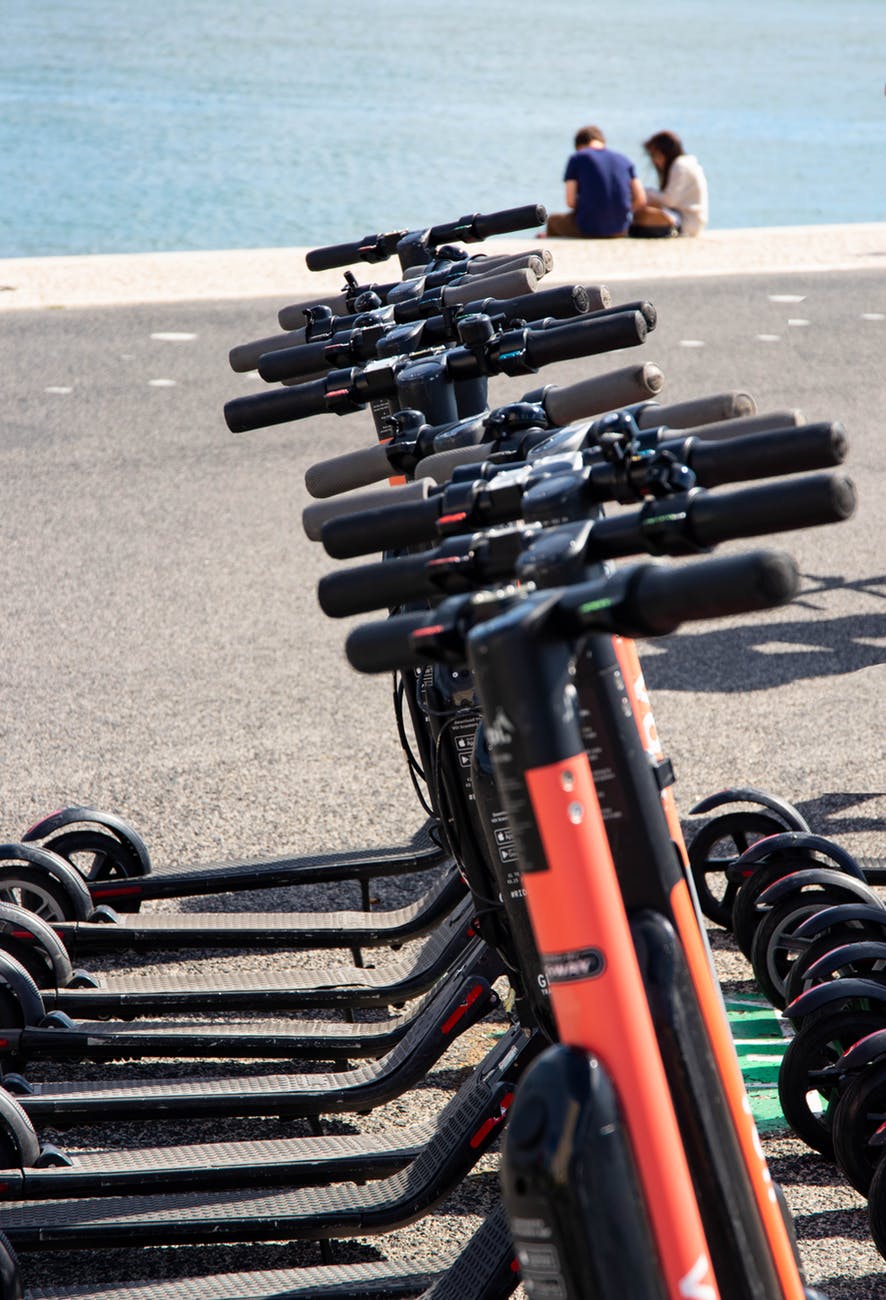 Saturday, Feb. 1, 2020
City council on Tuesday narrowly said no to allowing rentable e-scooters in Boulder, even on a trial basis in limited parts of town. But leaders left the door open to a test run in the future, once the devices — and data surrounding them — has improved.
The eight members (Mirabai Nagle was absent) were split, unable to coalesce a majority for any one path forward. Rachel Friend, Aaron Brockett, Junie Joseph and Mayor Sam Weaver were in favor of launching a pilot program in East Boulder,
Weaver suggested allowing e-scooters everywhere east of Foothills, an area with many jobs, scant housing and limited dining options. He and other council members believe scooters have the potential to get the area's 40,000 employees out of the "lunch desert" without having to drive.
Staff recommended against letting scooters on any of Boulder's streets or sidewalks, citing safety concerns. Council's memo included pages of data collected from across the country.
The data isn't entirely reliable, Transportation Director Carlos Hernandez and Senior Transportation Planner Dave "DK" Kemp said Tuesday night, because of the scattershot way it's being collected. But there's plenty to suggest that scooters are more dangerous than other modes of travel, including their high injury and fatality rates.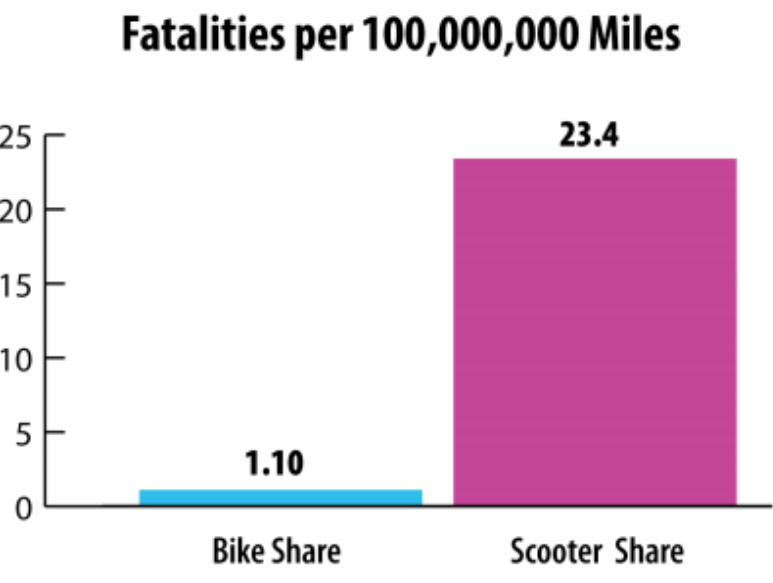 Councilmen Bob Yates and Mark Wallach agreed with staff's assessment.
"I think we need to look at other cities rather than experimenting with our own residents," Yates said. "In my opinion, one death is one death too many. That's why we call it Vision Zero, because our goal is to make it zero. … If other cities want to experiment and give us the data, I'm happy to receive it. But I'm not willing to gamble with the lives of the people of Boulder."
Adam Swetlik and Mary Young were the decisive votes. Both supported a pilot program, in theory, but neither had the appetite for one now. Boulder should wait, they said, to see if more rigorous data counters what already exists. The first-ever study of micro mobility devices — scooters, bikes, etc. — is set for 2020, Hernandez said.
"The best way to get the data is to pilot it here," countered councilwoman Friend. 
She and others felt e-scooters were being held to a different standard than more traditional modes of transit such as cars. Staff repeated numerous times that e-scooters compare less favorably on every measure then e-bikes.
But what we're really trying to do, said Transportation Advisory Board member Mark McIntyre, is get people out of cars. TAB unanimously recommended an e-scooter pilot in East Boulder.
"We don't ask people to explain when their car will magically make up for their climate impact," McIntyre said. "We tend to give cars a pass."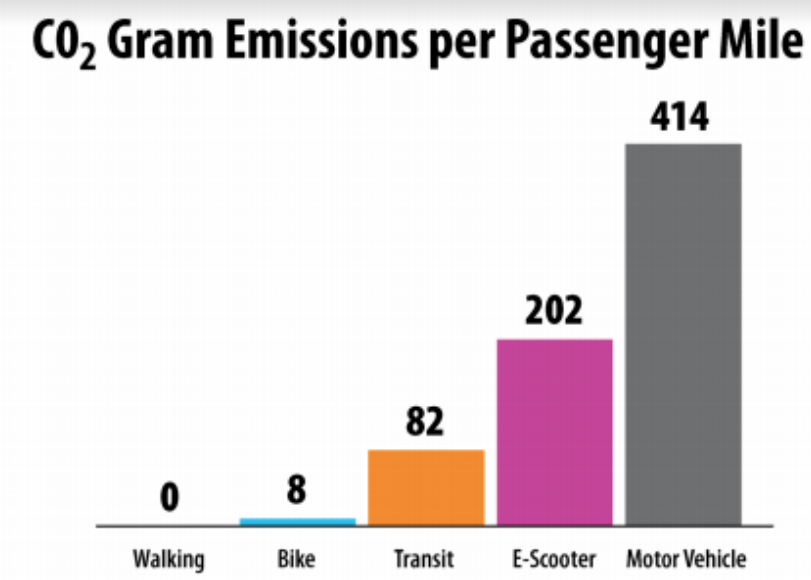 Other members of council (and staff) argued that scooters aren't replacing car trips enough of the time: in surveys of riders across six cities, 37% of users would have taken a ride share or driven, while 55% would have walked, biked or taken transit.
"They're just being taken for joyrides," Weaver said. "Which is not necessarily a bad thing, but it's not solving the connectivity" issue.
Replacing more than one-third of car trips is still "substantial," Brockett said. It doesn't have to be 100% to make an impact, particularly on emissionsIn this context, the GHG that are released into the atmosphere from the burning of fossil fuels to g....
Kemp and Hernandez recognized the tricky position council was in. It's tough to know what the right call is, Hernandez said, given conflicting data and priorities.
"I know this isn't a popular recommendation," Kemp said. "It was difficult to make."
Despite the muddy data, e-bikes emerged as a net positive from a safety and climate standpoint. Boulder will move forward with looser regulations to encourage dockless, shared e-bikes. They have technically been allowed since rules were implemented in 2018, but Kemp said they were too restrictive: No companies have been interesting in doing business here.
Current regulations sunset in August. Council will vote on laxer rules in March, Kemp said.
Council also agreed to step up funding for Boulder B-Cycle. The docked bike system is fast running out of money since losing Kaiser Permanente as a sponsor last year. B-Cycle has relied on sponsorships in the past as its primary source of funding, though the city also contributes $65,000 per year toward operation and maintenance.
Staff requested an additional $100,000 to right the ship and help fund the purchase and/or leasing of e-bikes to add to the fleet. But council preferred that B-Cycle get its financials set before making major changes or investments.
Leaders didn't ultimately settle on an exact amount for increased funding: "whatever it takes" to keep B-Cycle going was the general attitude. The University of Colorado has also pledged to step up its contribution, from $15,000 last year to $110,000.
Students accounted for roughly 42% of B-Cycle riders in 2019. Use in and around CU has increased exponentially since 2016 after docking stations were moved to the campus area.
Read a recap of Tuesday's B-Cycle discussion here.
Read a recap of Tuesday's e-scooter discussions here.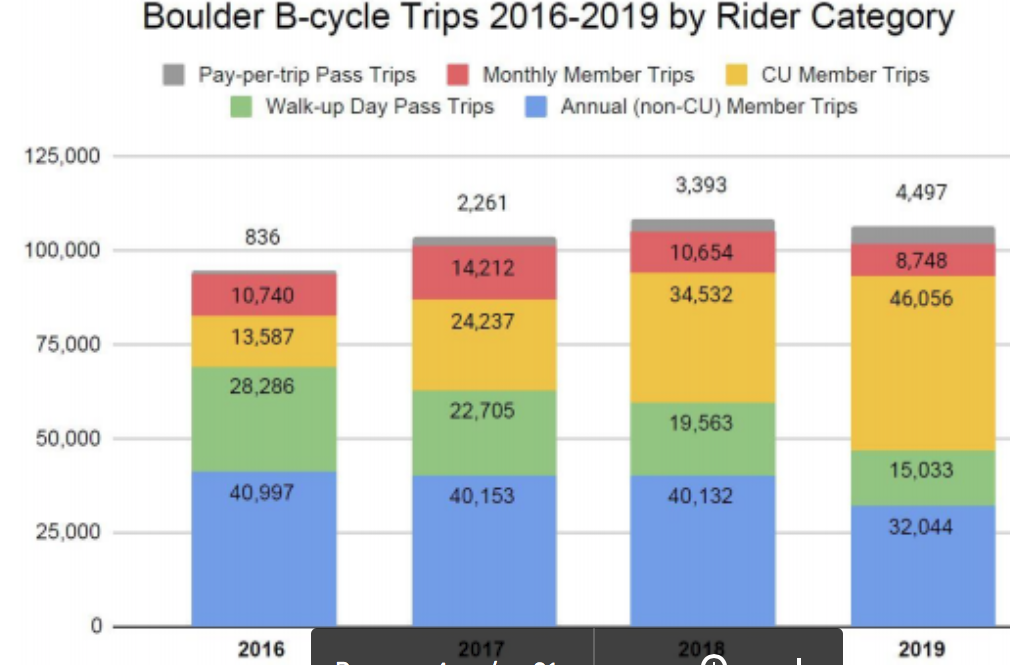 — Shay Castle, boulderbeatnews@gmail.com, @shayshinecastle
Want more stories like this, delivered straight to your inbox? Click here to sign up for a weekly newsletter from Boulder Beat.
Transportation Aaron Brockett bike share biking Bob Yates Boulder Boulder B-Cycle city council city of Boulder CU e-scooter last-mile micromobility pilot program Rachel Friend Sam Weaver survey transit transportation Transportation Advisory Board University of Colorado Vision Zero walking
Journalist