Boulder business open to small crowds on first day of safer-at-home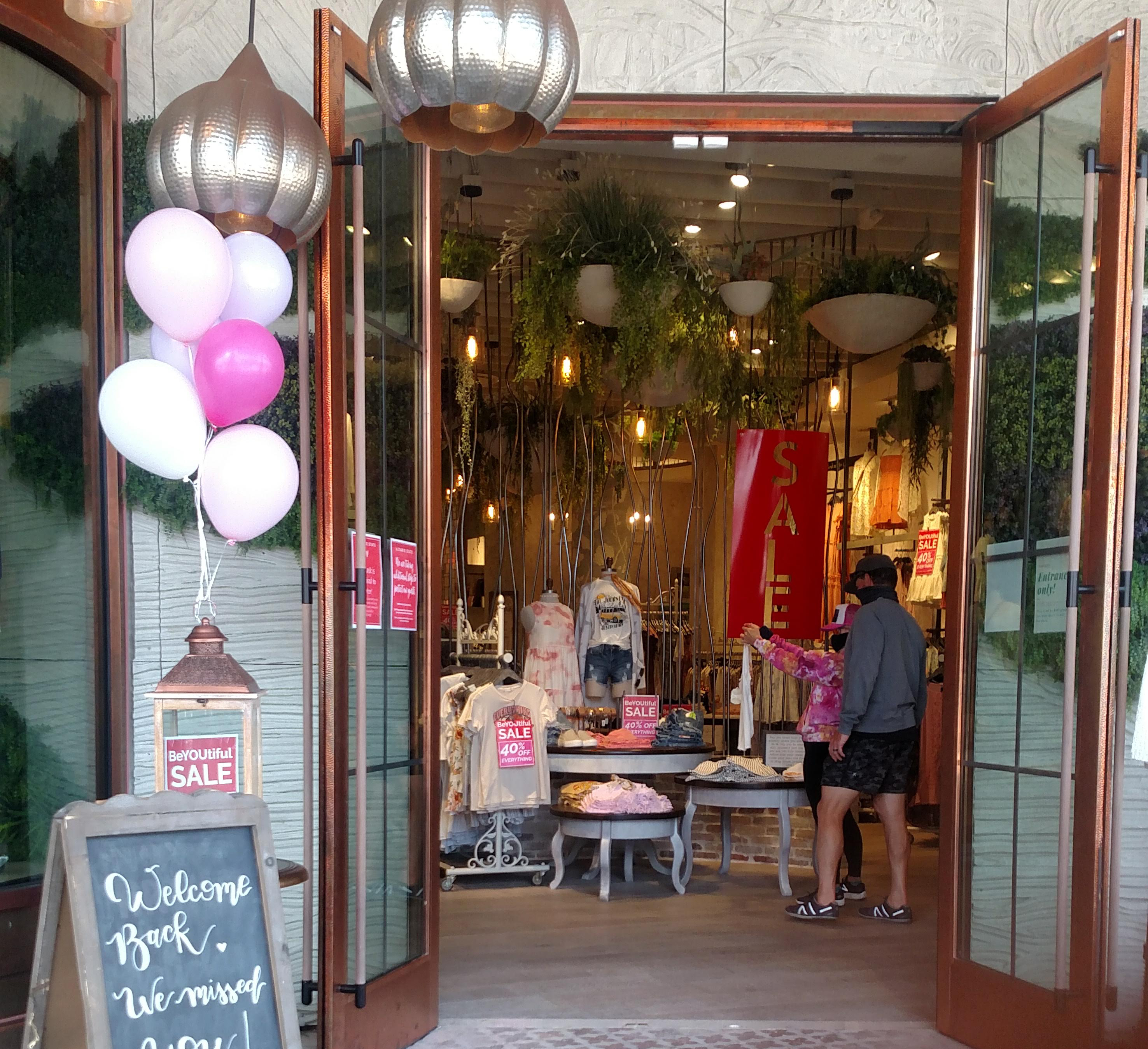 Saturday, May 9, 2020
Saturday was the first day Boulder County residents were free to buy non-essential items like clothes and home furnishings, and plenty of people took advantage of the nice weather and newly opened stores. More than half of retailers at Boulder's busiest shopping spots were ready to receive masked spenders, and crowds were small but steady throughout the afternoon.
Safety precautions were evident everywhere. Under concurrent city and county orders, customers are required to wear facial coverings before entering any place of public accommodation (and outside anywhere six feet of space can't be maintained). Some proprietors flung open their doors and let people wander in at will; others stationed staff by entrances to limit the number of people on premise at any one time.
Women's clothing store Lizard Thicket went further, keeping doors closed to the public and allowing only private shopping sessions, available by appointment. FranchiseA legal agreement between a power provider and customer (in this case, Xcel and Boulder) governing t... owner Tonja Twito said Saturday's slots were all filled.
In deciding what course of action to take, Twito said she thought, "What would I be comfortable with?" Protecting staff was top-of-mind, too.
Twenty Ninth Street mall owners Macerich have been incredibly supportive, Twito said, telling tenants to "open in whatever manner you feel comfortable." More than half of stores remained closed. The mall itself posted signs welcoming back customers, instituted one-directional travel on sidewalks and roped off benches.
'Rip off the bandaid'
The mall sits squarely inside an area known as the Boulder Valley Regional Center — running roughly from Folsom to 30th Street between Pearl and Arapahoe — that is the biggest contributor to city sales tax. Boulder's second biggest tax driver is downtown.
The two retail centers (when including Twenty Ninth Street Mall) accounted for 28.1% and 9.6%, respectively, of Boulder sales tax in February, the most recent report available online. City staff reported last month that sales tax was down more than 5% overall compared to March 2019, representing millions of dollars in lost revenue.
Chloe Gottschalk, who was shopping on Pearl Street Mall with a small group of friends, said she turned out in part to support small businesses. Plus, said another member of their quartet, stores were not exactly packed with people.
"I wouldn't say there's no fear," Katrina Wright said, but "the fact that we were the only people in there, I feel a lot safer."
"You've got to rip the bandaid off at some point," added Savannah Nelson. "We can't live like this forever."
More people are likely to venture out in coming weeks. Multiple shuttered stores bore signs indicating plans to reopen later in the month.
More testing — finally
On Tuesday, health officials said Boulder County would be ready to accommodate increased community movement. More medical workers have been trained to conduct contact tracing investigations, and testing is finally ramping up. The county is performing 150 tests per day, Public Health Director Jeff Zayach said Tuesday, and should be able to reach the target of 500 daily tests within six weeks.
Anyone who is symptomatic should be able to request a test through their provider — BCPH announced this week that drive-thru testing had begun at Clinica's Lafayette facility — and that asymptomatic testing is "not far" behind, according to Zayach.
He warned that positive cases are going to rise as testing expands, but that doesn't mean the public should worry. Instead, health officials will monitor hospitalizations to make sure the system doesn't get overwhelmed.
Boulder County may move back into stay-at-home if hospitals see "surges" or if "we started to exceed numbers of daily cases so that we couldn't do followup investigations," Zayach said.
Though overall cases and deaths continue to climb, Boulder County's five-day rate of cases dropped from 26 on May 1 to 10 this week, Daily Camera reported.
COVID in Boulder County
*As of Saturday at 3:30 p.m.
741 cases
141 hospitalized, to date
285 recovered
133 investigations ongoing
49 deaths
"We know these cases may go up and down in the weeks ahead," he said. "Until we have a vaccine, we know we'll be living in the social distancing scenario."
The county has only been able to move away from stay-at-home orders because people adhered so well to health advice. Continued adherence is vital if residents want to keep moving toward a more open society, rather than back to more restrictive measures.
"It's going to help our businesses stay open, it's going to help us stop the spread of this disease," Zayach said. "I know this has been extremely difficult. It's been horrible not only from the people we've lost, but the people who have had to endure."
Read a thread from Tuesday's COVID update here.
— Shay Castle, boulderbeatnews@gmail.com, @shayshinecastle
Want more stories like this, delivered straight to your inbox? Click here to sign up for a weekly newsletter from Boulder Beat.
COVID-19 Boulder Boulder County Public Health Boulder Valley Regional Center city of Boulder COVID COVID-19 Governor Jared Polis Jeff Zayach Lizard Thicket pandemic Pearl Street Mall Safer At Home sales tax small business stay at home Twenty Ninth Street Mall
Journalist