49 current, former unhoused residents of Boulder County died this year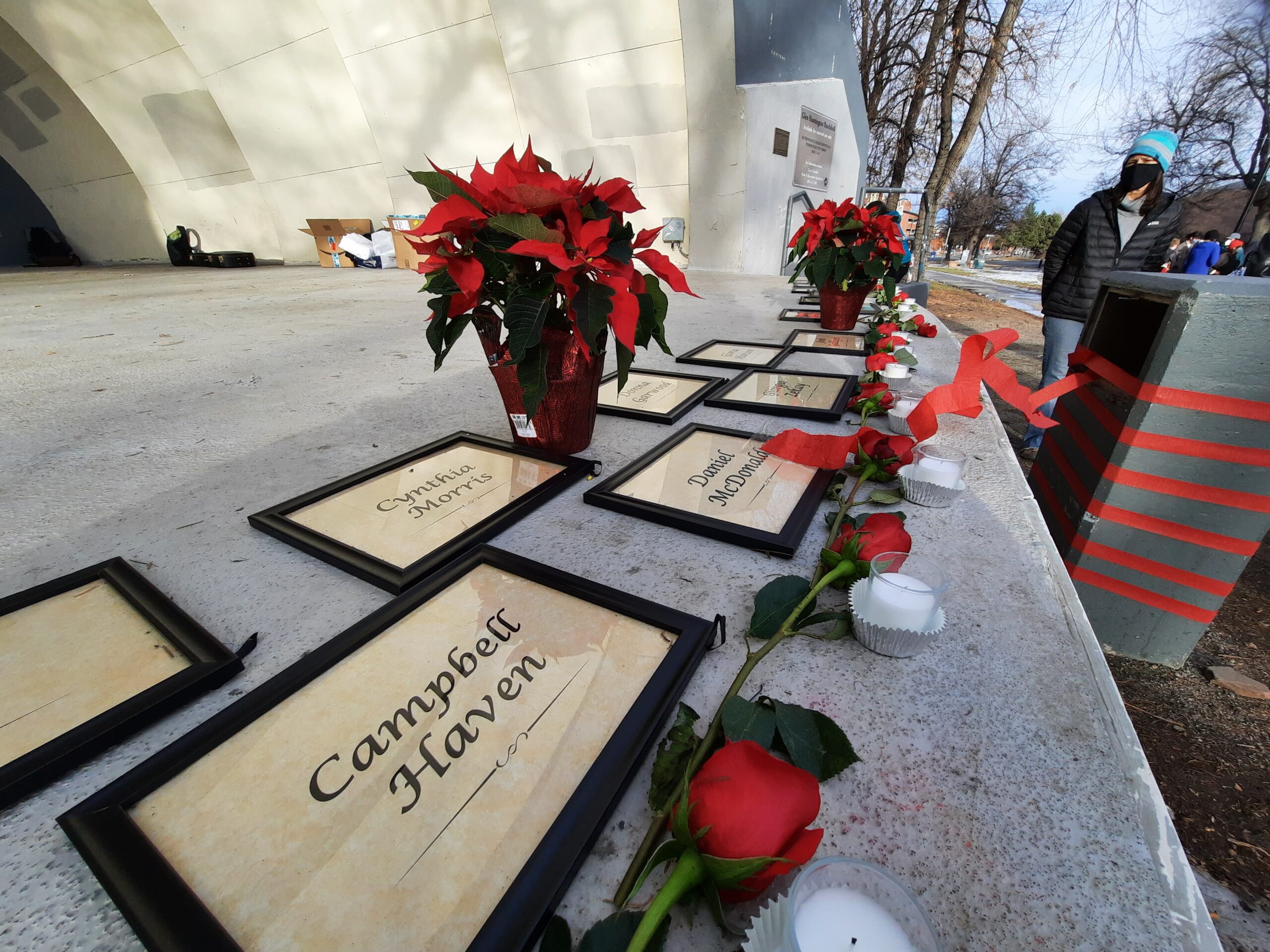 Boulder Beat attempted to find information about each person on this list, including gathering recollections from service providers and friends of the dead. Unfortunately, some remain just a name. If you have a memory to add, please email boulderbeatnews@gmail.com. Thank you.
Unhoused at time of death
Donald Lyon – "I remember him well. Bless his soul. He was late middle-aged gentleman searching to get off the streets. He couldn't turn the corner, so to speak. He was a gentle soul. He was honest in his desire to make it." – Bill Sweeney
Jesus Duran – "Jesus was a victim of the fact that we don't have any services at all." – B.S.
John Aldridge – "Jonathan was the victim of the fact that we didn't have services for him." – B.S.
Johnathan Ian Pare – "He loved the Cubs" – Jen Livovich
"A lovely man with so many deficits. He was a gentle soul but he couldn't for the life of him cooperate with the system. If we asked him to lie down in a bed, he would sit up in a chair. That's just the way his mind worked. He was on the streets for years before he died." – B.S.
Bradley Norman
Brandon Miller
Brenda Cooper
Brittany Lewis
Charles McCulloch
Christopher Havens – "Coroner identifies victim in Boulder murder case" – Daily Camera
Curtis Diruzzo
Edwin Wert
Ella Ahnert
Ellen Willis
Ethan Pitts
Gayle Tshuhako
Jason Fernet
J. Pedro Perez Hidalgo
Kim Patrick Oyer
Levi Gumeson
Mark Johnson – "August stabbing death in Longmont officially ruled a homicide." – Times-Call
Michael Martinez
Philip Casey
Randall Geiger
Retha Querta
Ronald Gerut
Ronnie Brown
Sharon Jankowski
Thomas Kertz
Wayne Cron
Housed at time of death
Allen Walsh – "Loved to play guitar. A student at local community college." – J.L.
Campbell Haven – "Campbell Haven worked for me at BOHO. He was one of the best employees I had. He was always smiling and laughing. I always enjoyed having to work with him." – Shanan Collins
"Had the greatest smile, the gentlest heart."  – J.L.
Cynthia Morris – "Cynthia was homeless her whole life. She came to us in her 60s and said she couldn't make it anymore on her own. She was living in an abandoned trailer shell in the woods. She had been living off the grid her whole life. She was a lovely woman, and a friend to many. She was a friend to her neighbors. Shortly after she was housed, she was diagnosed with cancer and didn't survive."  – B.S.
"Cynthia gave me the most beautiful pair of earrings. After going to an online memorial for her given by St. Andrews, I soon learned that was what she did, gave away her things to those she cared about, or those she felt needed it more than her. That she had given everyone attending that memorial something that they have all held onto." – S.C.
Donna Garwood – "Boy, she was a firecracker." – J.L.
Giorgia Zekay – "Lovely, lovey man. He had lived here 50-60 years. He was well known in the community. He had been a pillar. In his spare time, he researched books on the history of Boulder. They still sell them at the Museum of Boulder. He had been living in a (mobile home) park here in town. He had no resources except his old age pension. His management company told him they were evicting him. They made him a deal of letting him off his debt on his trailer in exchange for taking his trailer away. He went to coordinated entry and CE said, 'You're not evicted until tomorrow, so you're not homeless yet, there's nothing we can do. Go to (severe weather shelter).' We took him in. It took us five months to find him a place at an elder care facility. Their waiting lists were simply longer than his life. We placed him in Denver and about a year after, he died. He was given a funeral by a congregation here." – B.S.
Nadine Leal – "She and her brother both had been part of our community for years. She had her problems with addictions. She had stretches she was able to deal, and stretches where she wasn't." – B.S.
Ruth Wolfgram – "Another lovely woman who worked for me at one time. In and out of jail on a variety of things. A lot of problems with drugs." – B.S.
Terry Shipman – "A lovely, lovely man. Gracious, gregarious, outgoing, fun. He had worked his way out of his addictions and off the street. He was living in an apartment that was paid for by the wages he earned as a manager of (a) store." – B.S.
Bobby Foti
Daniel McDonald
Gloria Hansen — "It's bittersweet to know she's died. She was a good person at heart, and that's really all that matters." – Lauren P.
Josh Gallegos
Kathy Connor
Mark Winner
Patty McParland
Randy Winkler
Roger Rocheleau
Sandy Swanson
Seth Franco
— Shay Castle, boulderbeatnews@gmail.com, @shayshinecastle
Homelessness BOHO Boulder Boulder Shelter for the Homeless Bridge House city council city of Boulder Daily Camera encampments homelessness memorial Mother House obituary sweeps Times-Call unhoused residents
Journalist