CU South annexation: A primer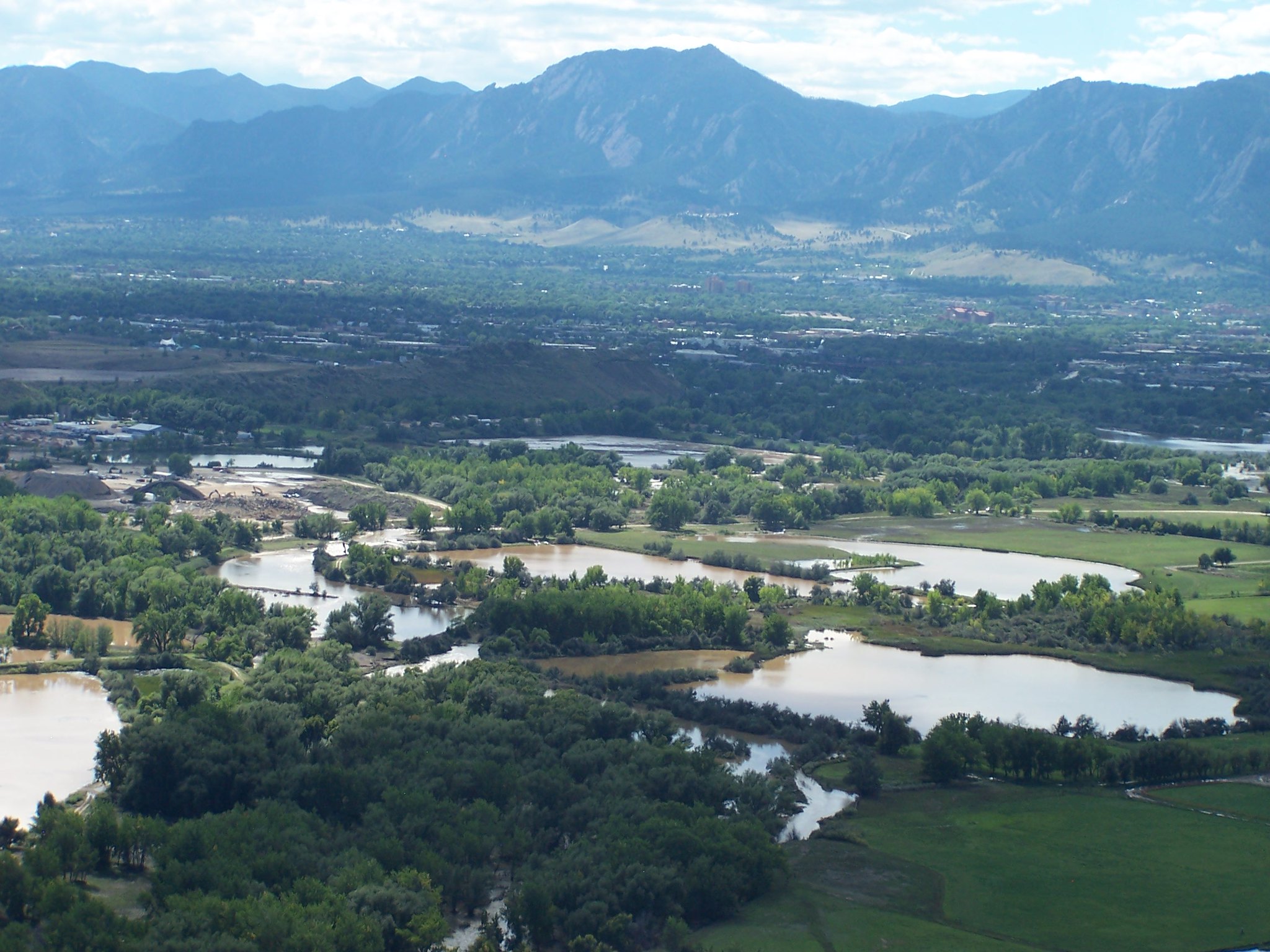 Saturday, April 17, 2021
Boulder city council is set to receive an update on negotiations with the University of Colorado as both parties attempt to agree on terms that will allow the university to build out an eventual southern campus. It's been a long and difficult process — CU first bought the land 25 years ago — with much opposition. Though the city and university are drawing nearer to consensus, some residents remain unmoved.
Ahead of Tuesday's meeting, a beginner-level breakdown of how (and why) Boulder got here in the first place, as well as what's ahead.
What does annexation mean?
Being added to the city so that services (water, sewer, etc.) can be accessed. 
Why is CU annexing?
So they can build out a southern campus: That's been the plan since CU bought the land — a former gravel mine — in 1996. 
Why is the city interested in annexing?
Boulder wants to build a flood mitigation project there. CU is giving the city 36 acres of land to build a dam and detention pond — for free — in exchange for being annexed, as well as 44 acres of open space.
Why are we doing flood mitigation here?
The South Boulder Creek Major Drainageway Plan (also referred to as South Boulder Creek Master Plan, or SBC Master Plan), completed in 2015, identified the area near U.S. 36 as the best place for a dam and detention area. In fact, CU had twice (2000, 2006) requested that Boulder take the first step in an eventual annexation process — changes to the Boulder Valley Comprehensive Plan — for its land, but the city declined until a flood study of South Boulder Creek could be completed. 
This area was chosen because it offers the widest protection: 2,300 residents, 1,100 homes and 260 other buildings will be saved from future flooding by the current mitigation plan. It also makes sense given South Boulder Creek's history of flooding: six times over the past 80 years (1938, 1951, 1952 and 1957, 1969 and 2013) with U.S. 36 being topped by flood waters twice (1969 and 2013).
The results of the SBC Master Plan were accepted by city council on Aug. 4, 2015, and ever since, flood mitigation here has been the goal.
Why is this annexation different from other annexations?
Its size: It's the largest undeveloped piece of land to be added to the city in at least 30 years, according to staff.
Also, CU is a state entity, meaning it doesn't have to abide by the city's rules for development (design, density, height limit, etc.) That means any and all rules for future development need to be laid out in the annexation agreement in order for Boulder to have any say in what gets built there. 
CU has promised some things, like abiding by Boulder's 55-foot height limit for buildings, and decreasing heights on the edge of campus adjacent to existing neighborhoods. The university has also released high-level design guidelines: Buildings will be "clustered, village-style"; academic facilities will be under 175,000 square feet and "human scale"; any sports fields will have capacity of fewer than 3,000 people (so, no football stadiums or basketball arenas).
But the plans don't get as granular as the city normal requires during annexations. CU has argued that it won't know exactly what will go there until it completes a multi-year planning process.
The city will be able to review and comment on the Campus Master Plan, CU South Master Plan and conceptual development plans for CU South. The earliest anything would be built there would be 2026, in line with construction start for flood mitigation.
In fact, the city is working on some safeguards that ensure CU can't develop the land unless flood protection plans are approved. An option to de-annex the land if permitting fails may be included in the final agreement, as well as protections to guard against CU selling the property to someone else.
Other reasons this is a big deal
Some neighbors and residents are concerned about development and all its attendant issues: traffic, noise, growing student population, etc. Additionally, CU has allowed public access to the land for decades. It has become quite popular as an off-leash dog-walking spot; many lament the loss of an amenity they've grown used to having, even if the property was always intended for development.
Public access to the campus will be preserved, per annexation terms. CU is considering a dog park and running track, both Boulder requests. And more than half the property will be open space of some sort,* owned either by the city or CU.
(*Like most CU South issues, it's complicated. See more below under What is Boulder getting?)
What will be built there?
1,100 housing units, give or take a few. The final amount will depend on traffic studies: CU has agreed to a "trip cap." The number of vehicles driving in and out of the site will have to stay under a certain amount. If analysis reveals that 1,100 housing units (or a certain amount of classroom space) would create trips over that limit, development would be adjusted accordingly to stay under the cap.
Per the agreement, housing will NOT be for freshmen or fraternities/sororities. The current breakdown for building is:
550 apartment/condo units for faculty, staff, and graduate student housing

550 graduate student apartment units (assume 2 bedrooms on average)

500,000 square feet of floor area of academic facilities

Recreation facilities/athletic fields (such as tennis courts, which exist on the site today, or the aforementioned running track)
Townhomes or even single-family homes may be built on the edge of the property closest to existing neighborhoods, according to annexation documents: "Detached single family residential may be used as part of a strategy for transitions to adjoining areas."
CU has also agreed that housing will be the predominant use of the site — given the extreme need for housing in Boulder — and that 100 dwellings will be built before anything else. That number, like many things at this stage, is subject to flux.
How much traffic are we talking?
The development outlined above would generate 7,000 vehicle trips per day, with 450 during the morning rush hour and 650 in the peak evening hour.
Whatever the eventual trip cap is set at, CU will be held to it. The university will monitor all vehicle trips and issue regular to reports to the city. Any traffic over and above agreed-upon limits would have to be mitigated; CU would have 90 days to do so. There's even a limit on the number of special events that can be held at the campus and add more traffic: 12 days per year.
Vehicles can access the site from State Highway 93, but drivers won't be able to cut through the campus to get to U.S. 36, per the terms of the agreement. There will also be access from South Loop Drive and Tantra Drive.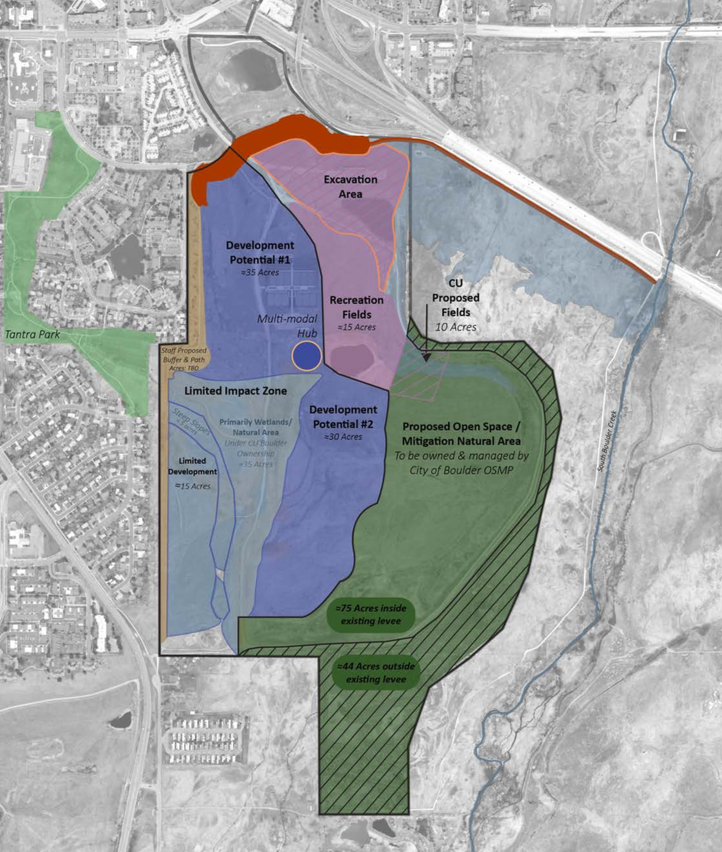 What do the city and CU disagree on?
A few things but, essentially, how much/what the university should give the city in exchange for being annexed. The fundamental question has become whether the benefits to the city (free land for flood mitigation) outweigh the costs and impacts of additional development.
What is Boulder getting?
CU has committed to 82 acres, free to Boulder: 36 for flood detention, 44 of open space and 2 for a future fire station/public safety facility. Estimated value: $2.24 million (According to the city; when asked for its valuation, CU spokesperson Joshua Lindenstein wrote, "We are working to determine current values.")
But Boulder wants all 119 acres of land currently designated as Open Space to be given to the city for free. The university says it will sell additional open space to the city at fair market value.
Since the acreage is designated as Open Space – Other, it can't be developed the way other parts of the site can. But the university could still build solar gardens, some recreational facilities or community gardens there — options it intends to explore if Boulder does not buy or otherwise obtain that land, according to Lindenstein.
If it was in Boulder's possession, the primary objective would be restoration and/or preservation. There are two sensitive species in the area: Ute Ladies' Tresses orchids and the Preble's Meadow Jumping Mouse.
The university also wants ~10 acres of OSO for athletic fields. They are supposed to go on land designated Parks, Urban, Other — where the dam and detention are will go — but CU has stated it needs 30 total acres, and only 12 acres of the Parks land will be suitable and available once flood work is completed.
Boulder is so far opposed to athletic fields being located on OSO.
What is Boulder giving?
A substantial portion of the flood mitigation costs are actually going to CU. Out of the estimated $66 million,* $15 million would be used to reimburse the university for impacts to existing facilities — damaging or outright demolishing existing tennis courts and warehouse, changes to South Loop Drive, etc. — for flood protection purposes and $10 million for fill dirt, to prepare the land for development.
Reimbursing property owners for utilities projects (of which flood control is one) is standard practice, staff have previously testified. Paying for fill dirt may go above and beyond that, though it has been part of the plan for years, according to documents.
"The concept for soil fill was first recommended in the South Boulder Creek Flood Major Drainageway Plan (accepted by City Council in 2015)," the CU South Briefing Book states. "In recognition of multiple property interests related to the project, the recommended flood concept was developed to combine 'excavation and fill to produce a configuration that minimizes the impacts to open space land and CU Boulder's land.' In other words, the recommended plan needed to be acceptable to all the various property interests, including CU Boulder (the landowner). In practice, the soil fill area will provide land that CU Boulder has stated is required for its development."
*Though the costs to CU will likely stay somewhat constant, the cost of flood mitigation ($41 million) could increase by as much as 50%, consultants and staff have repeatedly testified.
Other considerations
As a state entity, CU is exempt from many taxes and fees. Boulder has included in its calculations that it will forego $6.7 million in impact fees,* $4 million to $5.9 million in construction use tax and $200,000 annually in property tax.
The city wants CU to agree to Payment In Lieu of Taxes for at least the missing property tax. CU has never before done a PILOT program for any of its properties, Lindenstein wrote, and has not agreed to one in this instance.
*The actual calculation of impact fees is $10.6 million, but Boulder is subtracting the value of donated land as well as other potential offsets. CU may dispute this figure if it disagrees with the land valuation
What Boulder will do for flood mitigation if it can't build here is unclear. Council members asked this question at two different points in 2019; staff responded that other options were initially analyzed but rejected in 2015 when council accepted recommendations of the South Boulder Creek Master Plan.
Loss of this property would likely send the city back to pre-2015 options, restarting the process of identifying (and possibly acquiring) an appropriate site, designing and then narrowing designs. There's also the possibility that the current design will not be permitted by any one of the dozen agencies with say-so. In that case, further revisions to the design — and annexation agreement — may be needed.
When will a decision be made on annexation?
A public hearing and vote is tentatively scheduled for June. Tuesday's meeting does not include a public hearing, though community members can speak to the issue during open comment.
City council meeting: 6 p.m. Tuesday, April 20. Watch online, on YouTube or Channel 8
— Shay Castle, boulderbeatnews@gmail.com, @shayshinecastle
Want more stories like this, delivered straight to your inbox? Click here to sign up for a weekly newsletter from Boulder Beat.
CU South annexation Boulder campus CDOT city council city of Boulder construction use tax CU South development flood control flood mitigation growth housing impact fees open space PILOT property tax South Loop Drive student housing U.S. 36 University of Colorado
Like what you read? Support Local journalism.

Journalist