Pie, pancakes and love: Longtime owner of Boulder's Walnut Cafe sells to employees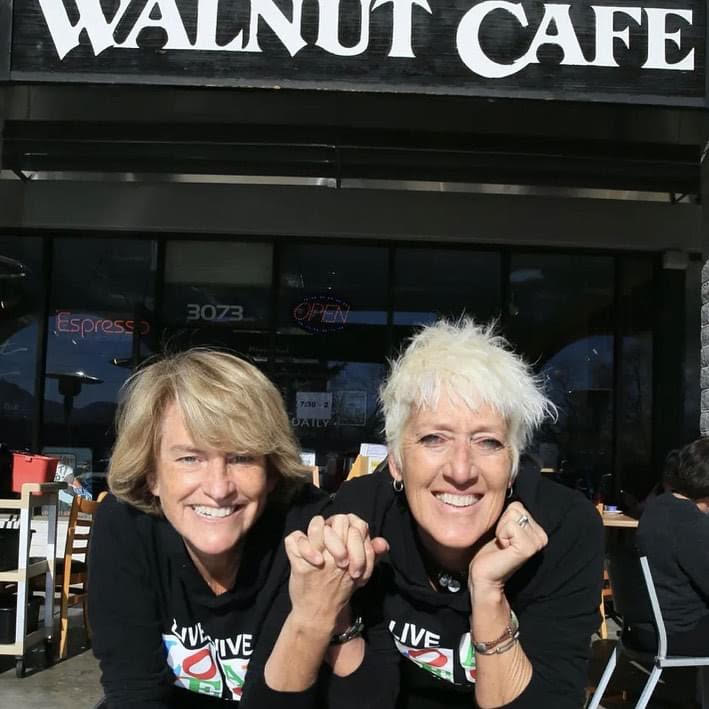 Friday, April 8, 2022
By Glenda Russell
"Politics do not mix with pies and pancakes."
Dana Derichsweiler, owner of the Walnut Cafe, has uttered that maxim enough times that it has become almost an unofficial motto at the business, one that employees repeat with ease. Politics make people uncomfortable, Derichsweiler says, and more than anything else, she wants everyone to feel welcome and comfortable at her restaurant.
It's that philosophy that helped the Walnut become one of Boulder's best-loved local spots over the three-plus decades Derichsweiler has owned and managed it. More than just an eatery, the cafe has been a home and haven to many, including the city's LGBTQ population.
Soon, it will be up to others to carry on that legacy of welcome. Derichsweiler recently signed the papers selling the Walnut to two employees, both of whom started out as servers.
"They know the core values of the Walnut," she said. "I am so grateful that I have two young women who recognize the magic and the value of the Walnut, and they really want to continue that gift to the community."
A place for all
The Walnut has been a quiet cultural institution for the LGBTQ and ally communities ever since Derichsweiler joined then-owners Marc Levinson and Steve Leblang in the mid-1980s. She eventually became the sole owner.
After college, Derichsweiler wanted to be a teacher or a coach. The politics of the day prevented her pursuing those dreams.
"I knew I couldn't be out and be a teacher in 1984," she said, so she went into the restaurant business. It turned out to be "an amazing, fulfilling career."
Before Boulder had much in the way of queer spaces, the Walnut functioned as a de facto community center. Derichsweiler placed posters and pamphlets near the cash register so regular LGBTQ customers could keep an eye out for upcoming events.
Sue Larson, who grew up in Boulder, regarded the Walnut Cafe as a safe place for her as a lesbian. Larson was the sole field organizer for the campaign to defeat the anti-LGB AmendmentChange made to existing documents, resolutions, or ordinances 2 in 1992. After campaigning in rural parts of the state where the reception was often less than welcoming, Larson would come to the Walnut for "cultural nourishment" and the much-needed sight of friendly faces.
Walnut Cafe was Boulder's "queer Cheers," Larson said. "Where everybody knows your name."
Derichsweiler realized Boulder's lesbian couples had no way to gather in public for Valentine's Day without risking harassment or unfriendly stares. She opened the cafe for a special evening meal. The tables had white tablecloths and roses, and the lights were turned low.
Karen Raforth, a psychologist who is also a lesbian, took advantage of this offering. The Valentine's Day dinner, she said, was "a way to make us feel special and our relationships feel supported."
Former Boulder mayor Leslie Durgin remembers conversations about where LGBTQ people and allies in Boulder would be able to gather in the aftermath of the 1996 U.S. Supreme Court's decision on Amendment 2. Not knowing the outcome of the case or even the specific day the decision would be handed down, the place would need to accommodate an unpredictable number of people and even more unpredictable emotional reactions. 
Someone mentioned the Walnut Cafe. Without hesitating, Derichsweiler said she would open up the restaurant and provide free coffee and pie for anyone who showed up. 
People streamed in and out of the cafe for two hours on May 20, 1996, celebrating the fact that the Supreme Court had struck down the referendum blocking any legal recourse for LGB Coloradans who faced discrimination.
Looking back, Derichsweiler said, "it just felt like the right thing to do. Anytime any community is left out, we can become the gathering place. The LGBTQ community was part of the Walnut community and part of the wider community."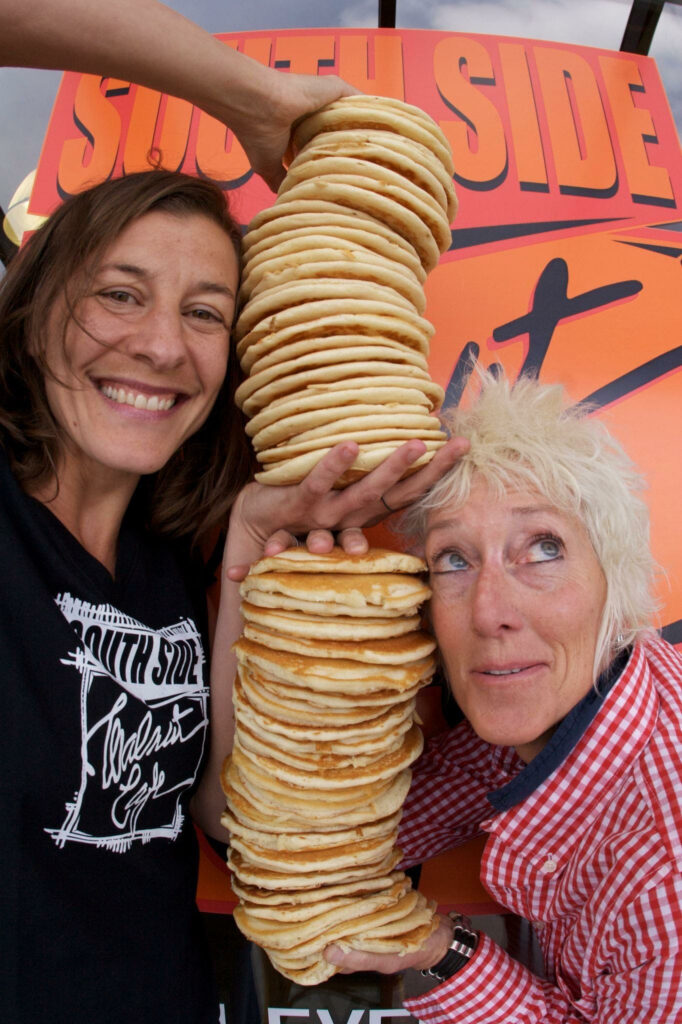 'This is the Walnut'
Years later, the climate for LGBTQ people in Boulder has changed. The need for safe spaces and community has not.
Ashley Parzych moved to Boulder at the end of 2016. One day, while driving for Lyft, she lamented to her passenger about the lack of an LGBTQ community in town. Her passenger was on the way to work a shift at Walnut Cafe, and invited Parzych in.
"It felt safe and welcoming," Parzych said. "I loved the team of it, the family part of it."
She came back within days and applied for a job, working her way up to manager — and now, along with manager Ariel Cooke, co-owner.
Being who you are is central to job interviews at the restaurant. Derichsweiler makes it a practice to tell new employees she is gay, and to let them know that the Walnut is a place where staff and customers can bring their full selves to work. Her wife, Xanthe Thomassen, is a fixture at both locations and in customers' understanding of Derichsweiler and the Walnut.
Dana "honors people being themselves," said Julia Buonanno, Derichsweiler's former business partner. "She lets people shine."
Cooke refers to it as "leading with love."
She and Parzych said it was Derichsweiler's mentorship that prepared them to take on this new role. They plan to continue to run the cafe with the same values that Derichsweiler has used from the beginning. 
"We treat all our colleagues and all our customers with respect," Cooke said, "just as we expect to be treated with respect."
Cooke recalled how Derichsweiler gently but firmly intervened on the rare occasions someone mistreated a Cafe worker.
I was "so proud to work for someone who would stand up for staff," she said. "This is the legacy. This is the Walnut."
'Time of my life'
Derichsweiler and Thomassen have two more days planned at the Walnut, to say farewells before they pursue their retirement plans. Boulder will continue to serve as their home base.
They will be at the Southside Walnut (673 S. Broadway) on Saturday, April 9, and at the original Walnut Cafe (3073 Walnut) on Sunday, April 10. The couple plans to be at each cafe from 9 a.m. to 1 p.m. to greet friends, customers and employees past and present.
"I've had the time of my life" at the Walnut, Derichsweiler said. "So many great experiences. 
"I'm really grateful to the Walnut and the community for letting me be me."
— Dr. Glenda Russell is a writer with a background in psychology who is interested in how people make good choices, as well as a long-time patron of the Walnut Cafe.
Uncategorized Boulder city of Boulder LGBTQ restaurant Walnut Cafe
Journalist