In wake of mass shootings, Boulder County towns pass gun control laws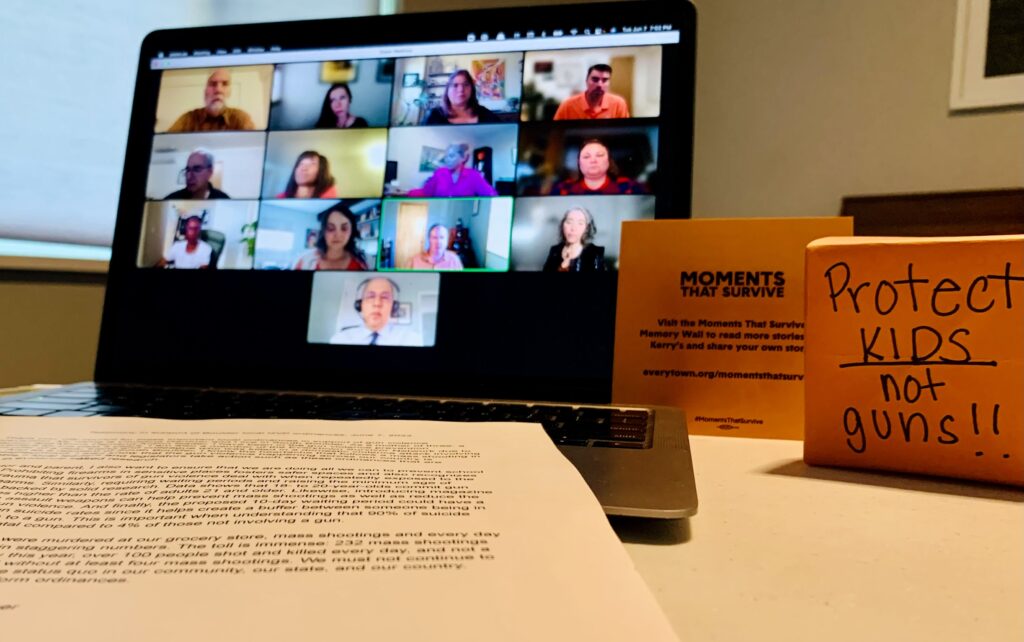 Thursday, June 9, 2022
Three Boulder County towns passed a historic set of gun control laws this week, and three more local governments may join them by the end of the year.
Elected officials in Boulder, Louisville and Superior unanimously passed a suite of regulations into law. Boulder's will go into effect July 1. Lafayette advances its gun violence prevention measures on first reading; another vote is needed to finalize them.
Officials in Boulder County and Longmont indicated their desire to take up the issue as well. County commissioners met in executive session on July 1 to discuss gun control, and Longmont city council members scheduled a preliminary discussion for next Tuesday, June 14.
The coordinated efforts help to create "a safe zone" within the region, Boulder City Attorney Luis Toro said Tuesday night, and send a clear message to state lawmakers that more action is needed from higher levels of government.
"I'm frankly frustrated that it is left to cities" to pass these laws that state governments "could and should be doing," said Boulder councilwoman Rachel Friend.
Because of Colorado's size and diversity, "we have more people we have to get on board before we can get things passed" in the Colorado Legislature, said Representative Judy Amabile. "The state will follow your lead, once we get enough cities telling us, 'You have to act.'"
The package of laws being considered are similar but not identical across the six municipalities. In Boulder, elected officials unanimously passed:
A ban on assault weapons, magazines holding 10 or more rounds, and devices intended to increase the rate of fire;
Raising the age limit for purchasing firearms from 18 to 21;
A ban on 3D printed guns without serial numbers;
A prohibition on the open display of weapons in public (all guns must be in a locked, opaque case);
Restrictions on concealed carry in city facilities, polling locations, and protests, and a ban on concealed carry without permission of the property owner in places licensed to serve alcohol, hospitals, facilities providing mental health or substance abuse services, places of worship, sporting venues, courthouses, financial institutions, day care centers and preschools, and grocery stores;
A 10-day waiting period to purchase a gun, following a background check
Read: A deeper look at Boulder's gun control laws
Many members of the public testified about the importance of a waiting period in preventing suicides, which are typically impulsive acts. One study found that mandatory waiting periods can reduce suicide rates by up to 11%, particular among older adults, and homicide rates by 17%. Moreover, they are widely supported by a majority of Americans: gun-owners and non-gun owners alike.
Rep. Amabile shared that her son, during a mental health crisis, attempted to purchase a gun. She was able to persuade the gun store not to sell to him — his background check being inexplicably and miraculously delayed — but noted that there was no legal mechanism to prevent them from doing so. Parents should not have to rely on the benevolence of strangers to save the lives of their children, she said.
"Even if we saved one kid, I think it would be worth it."
Unlike Boulder's first attempt at an assault weapons ban in 2018, relatively few members of the public participated in the hearing. (Council chambers in Lafayette and Louisville were full, primarily with members of the gun violence prevention group Moms Demand Action.) About two dozen people spoke at Boulder's virtual meeting, and just two were opposed to the measures.
"I want to bring some real common sense to these common-sense gun laws," said Brett Froth, calling the vote "virtue-signaling" and warning that it would make Boulder a target for further gun violence. "You have no right restricting our Second Amendment rights."
Fred Barton, who referred to himself as a responsible gun owner and parent, called for the issue to be put to a vote on November's ballot.
Many of Tuesday's speakers were parents who referenced the fear and impotence they felt in protecting their kids from gun violence. Guns became the leading cause of death for children in 2020, surpassing motor vehicles.
"I do everything I can to keep my children safe, but there is always a place where my reach ends and the community has to take over," said Lisa Sweeney-Miran. "Pass every measure you can."
"We are not powerless," said Leah Fiske, thanking city council for their vote. "You can save lives in our community (and) serve as a powerful example."
"Doing nothing is an endorsement of the status quo," said councilman Matt Benjamin, himself a gun owner and parent. "That's not something I'm willing to live with."
— Shay Castle, @shayshinecastle
Help make the Beat better. Was there a perspective we missed, or facts we didn't consider? Email your thoughts to boulderbeatnews@gmail.com
Governance assault weapons Boulder Boulder County city council city of Boulder concealed carry firearms gun control gun violence prevention high capacity magazines Lafayette Longmont Louisville Moms Demand Action open carry Second Amendment Superior waiting period
Journalist