Tennis is booming in Colorado. Can Boulder keep up?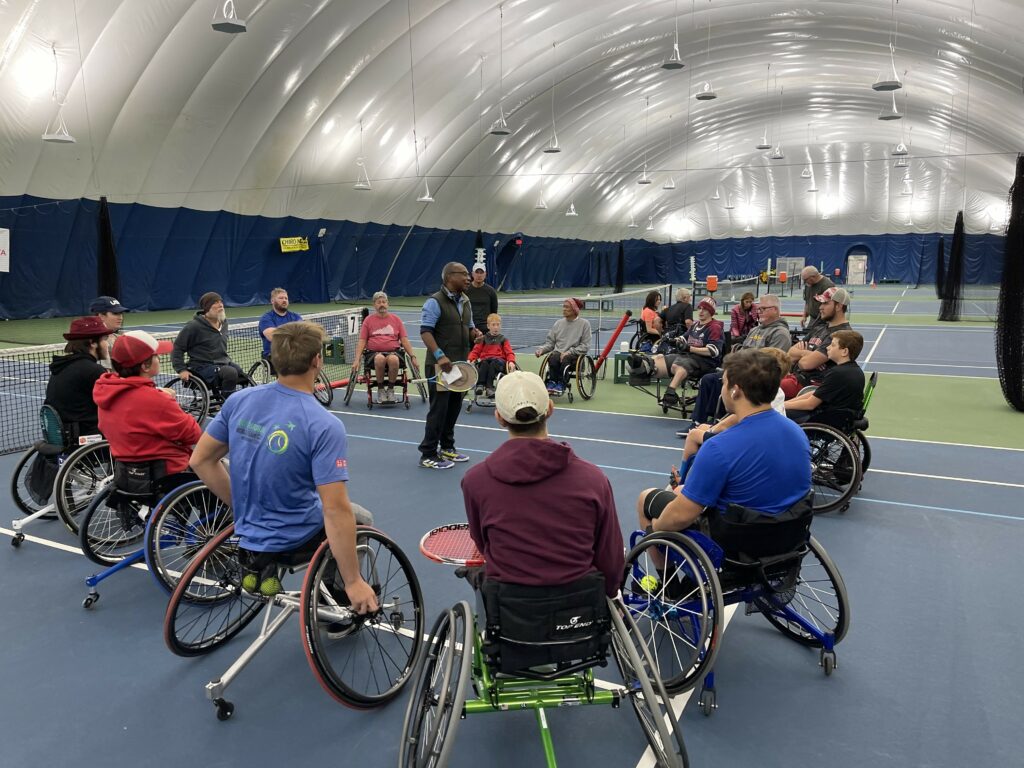 Friday, April 21, 2023
By Michael Xu

The waiting room at the Rocky Mountain Tennis Center (RMTC) tennis bubble is standing room only. There's a small couch, a recycling bin for used tennis balls and a bulletin board with the court schedule posted for the day. The five indoor courts are filled from 6 a.m. to 10 p.m, every day. 
Every 30 minutes or so, players gather around the court entrance, keenly watching the clock, waiting for their time, then scurry across the five indoor courts, exchanging pleasantries with fellow tennis players and hurrying into their warm ups. For these lucky few that can get court time in the bubble, this experience is magical, a way to stay active in the winter and an important social event.
Recently, the conversation at RMTC hasn't been about forehands or backhands, but about the upcoming Millennium Hotel redevelopment that will force the club to close — resulting in the loss of 15 courts and Boulder's biggest nonprofit provider of tennis programs for junior and wheelchair players. More than 500 people, members and non-members, will soon be searching for a new place to play.
Combined with the impending loss of courts at CU South as the property is redeveloped into a southern campus, plus increasing competition for courts with pickleball at the city's rec centers, Boulder is looking at the effective loss of 35 tennis courts in the span of a few years. 
Boulder's only other tennis clubs — Boulder Country Club and The Meadows — are on a three-year and a seven-year wait, respectively. The situation in Boulder has become such that even those with financial resources to afford a private club are out of options. 
"More people are getting kicked off courts due to reservations, or being unable to complete matches because courts are so busy," said Sam Swift, a CU student. "What's happening is so unfortunate, especially because Boulder has the people and the potential to be an amazing tennis town."
For tennis players that play on Boulder's public courts, the situation has deteriorated over the past decade. Time on the few well-maintained courts now requires reservations — if you can get them. Wayward bounces and potentially dangerous cracks have led some neighboring tennis league teams to refuse to come to Boulder to play. 
"It's just really hard to get a decent court now, especially for leagues," said Linda Levy, a Boulder resident who has been playing leagues for 30 years. "Our team moved to Louisville because there were significantly more courts, in better condition."
Tanya Cumalat, the Fairview High School girls tennis coach, said Boulder's promising crop of junior players now drive to Westminster, Arvada and Longmont in search of court time, especially in the winter. 
"There isn't a junior I know that doesn't drive to neighboring towns to get enough tennis time."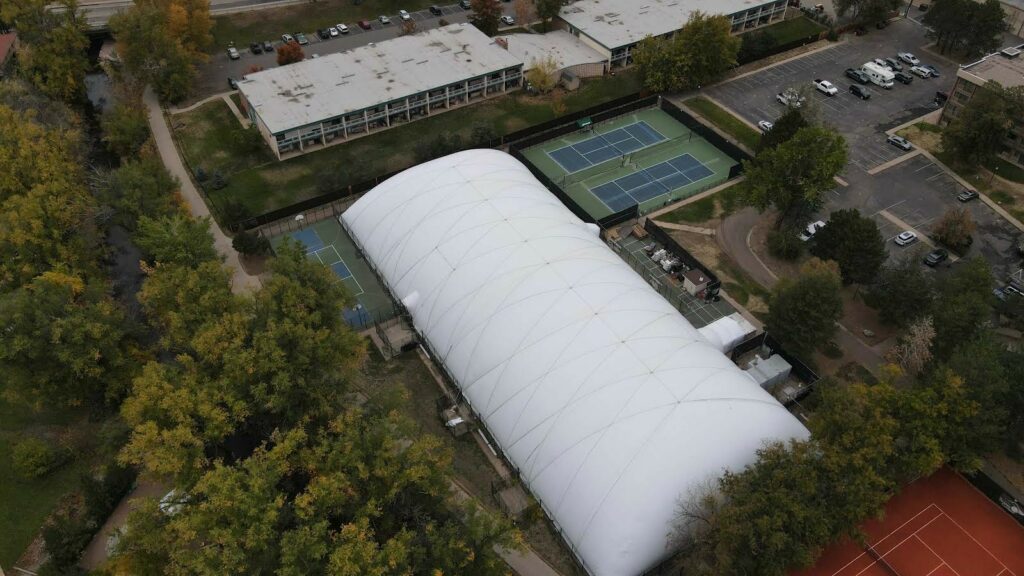 Colorado tops in tennis growth
Fritz Garger, executive director of USTA Colorado (United States Tennis Association), said in a recent interview that the nationwide 20%-plus growth of tennis during the pandemic has been especially noticeable in Colorado. USTA Colorado's league play participation has led the nation in three of the past four years, even outnumbering traditional tennis strongholds like Atlanta.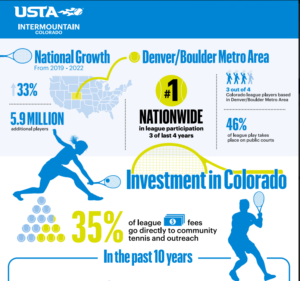 Garger notes that Colorado's Front Range, and especially the Boulder-Denver corridor, is the epicenter of this renewed interest and participation from tennis players across all age groups, skill levels and demographics. He sees tennis court availability as a key concern going forward; some forward-thinking municipalities in Colorado have already moved to meet this demand with tennis centers that feature indoor facilities. 
"These new tennis facilities have repeatedly shown themselves to be financially sustainable, with high rates of usage and an immediate economic driver that attracts residents and visitors alike," Garger said. "Wherever possible, communities are already considering expansion plans, or at least wishing they had planned to do so."
In Boulder, it's unclear if relief for tennis players is coming. Boulder's Parks and Recreation department set aside $200,000 in its $35 million budget for resurfacing courts in 2023. While this is an improvement over previous years, these funds are shared with pickleball and would only cover a handful of courts. 
Ali Rhodes, the director of Parks and Rec, said the department is aware of the situation. She is optimistic for tennis in Boulder. 
"We believe we can identify appropriate funding to take care of the courts that we have," Rhodes wrote in an emailed statement. "In 2023, we are conducting a court study that will help us make balanced decisions about if and how we might be a part of a potential new racquet facility and any public/private partnerships."
A year of uncertainty
Chris Decicco, president of the Boulder Tennis Association, hopes that the results of the study, which will come at the end of 2023, will be favorable. 
"A central tennis facility would be able to finally provide indoor tennis, the ability to once again host leagues and events and enable better utilization of courts instead of the pocket parks distributed throughout the city right now," he said. "Boulder simply doesn't have a decent public tennis facility that can be a home for our sizable tennis community, especially compared to other Colorado towns."
Other towns in Colorado — Steamboat, Denver, Parker and Arvada — have invested in new indoor facilities in the past few years. The City of Littleton studied, approved and started construction on a $11 million replacement tennis facility in less than a year, without private funding. 
CU recently commissioned and completed a third-party independent study on the state of tennis in Boulder. While the report has yet to be released, Jason DePaepe, Deputy Athletic Director, said preliminary data confirms what many in the tennis community already know — the need is clear for better tennis facilities in Boulder. 
For Boulder's tenacious, ball-chasing, racquet-wielding types, this tennis season will be one filled with uncertainty about what their tennis venue will be next year, as well as apprehension about the fate of their tennis community.
Said Duke Paluch, co-founder of the Rocky Mountain Tennis Center, "2023 will be an interesting year."
Michael has lived in Boulder since 2010. He approached and joined the all-volunteer Boulder Tennis Association board in August 2022, out of concern for the future of tennis in Boulder. Michael recently completed Citizen Journalism training with Boulder Beat. 
Governance Boulder Boulder Tennis Association budget city of Boulder CU South Fairview High School indoor courts Millennium Harvest Hotel Parks & Recreation pickleball redevelopment Rocky Mountain Tennis Center tennis tennis bubble tennis courts United States Tennis Association USTA Colorado
Journalist