Authorities: Marshall Fire caused by Xcel Energy power line, reignited junk burn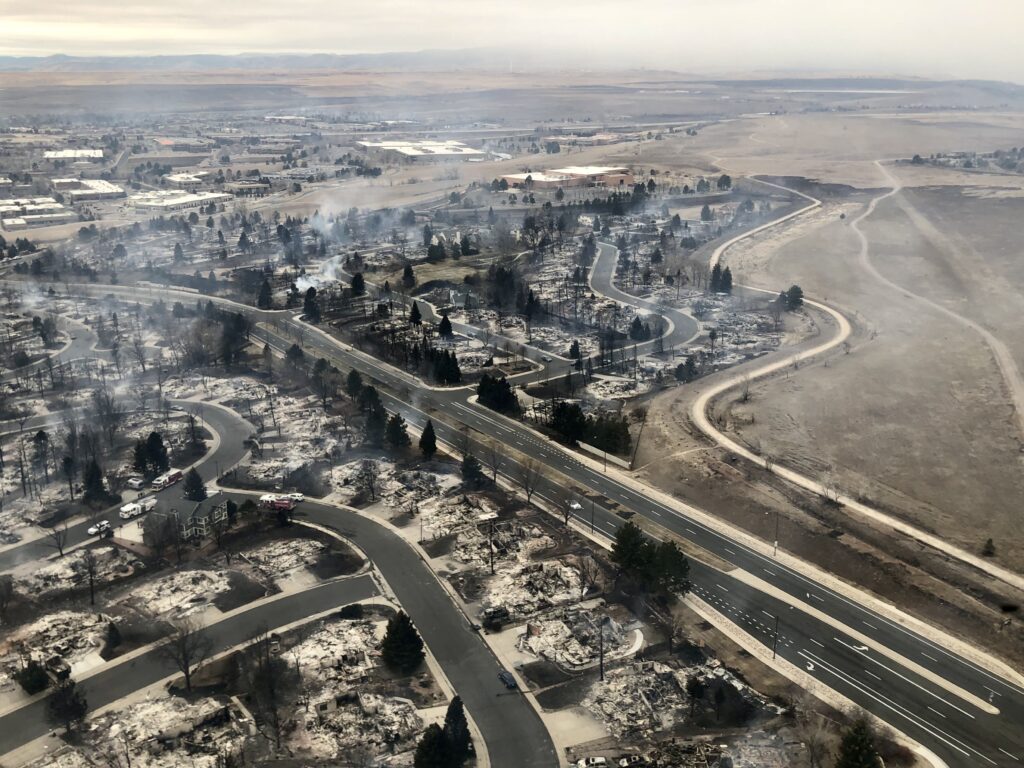 Saturday, June 10, 2023
(This story was originally published Thursday, June 8, by Colorado Newsline)
By Sara Wilson
Colorado Newsline
The Marshall Fire in Boulder County was caused by two distinct ignitions, one sparked by an unmoored Xcel Energy power line and another from embers of a week-old trash fire at the nearby Twelve Tribes property, that eventually merged into the larger fire, investigators announced Thursday.
The Marshall Fire began on Dec. 30, 2021, amid intense high winds and quickly became the most destructive fire in Colorado history, burning over 6,000 acres, damaging more than 1,000 homes in Boulder County, Louisville and Superior, and killing two people.
The Boulder County Sheriff's Office, in conjunction with the Boulder district attorney and other agencies, concluded its investigation nearly 18 months later.
"I recognize that the investigation into the cause of origin of the Marshall Fire has taken a significant amount of time to complete," Boulder County Sheriff Curtis Johnson said at a Thursday press conference. "While it took time, I can confidently say that we know what happened and why."
District Attorney Michael Dougherty said that no criminal charges will be filed against Xcel or Twelve Tribes residents.
One of the fires responsible started at the Marshall Mesa Trailhead, likely due to sparks from a sagging Xcel power line that cast hot particles onto surrounding dry vegetation. The investigation found that the high winds caused the power line to disconnect from its pole and contact other lines.
Johnson said underground coal fires can't be ruled out as a cause, but the "unmoored" power line is likely to blame.
In the days after the Marshall Fire, Xcel reattached the line to its crossarm despite an Xcel-issued "do not repair order," to restore power during a freeze. Investigators didn't find evidence that Xcel repaired the line in order to hide evidence or wrongdoing.
Dougherty said investigators found no evidence of criminal recklessness or negligence by Xcel.
"This is a different discussion and a different decision, if that wire was worn or shoddy or they had maintenance issues in the past. There was no such record of that, no indication of that," he said.
Xcel disputes the claim that its power line caused the ignition.
"We strongly disagree with any suggestion that Xcel Energy's power lines caused the second ignition, which according to the report started 80 to 110 feet away from Xcel Energy's power lines in an area with underground coal fire activity. Xcel Energy did not have the opportunity to review and comment on the analyses relied on by the Sheriff's Office and believes those analyses are flawed and their conclusions are incorrect," an Xcel spokesman said in a statement Thursday. They said that after reviewing maintenance records, they believe everything was properly maintained.
There is still the possibility of civil charges against Xcel.
"The information we've shared today and conclusions we've reached could certainly play a role in civil litigation," Doughery said.
The other ignition point was at 5325 Eldorado Springs Drive, the site of the property owned by the Twelve Tribes religious group.
Investigators say residents at the property started a fire there on Dec. 24, 2021, to burn old fencing material, tree branches and other junk. Firefighters responded to the property that day, but they were unconcerned with the legal, intentional fire and were satisfied with the residents' plan to let the fire burn out and extinguish it by burying it. The conditions on Dec. 24 were rainy, damp and cool. The winds were calm and there wasn't a "red flag" warning in effect.
Less than a week later, however, winds picked up drastically and uncovered smoldering material from the old fire. That ignited a new fire, about an hour before the fire at the trailhead began 2,000 feet away, investigators say. Winds were blowing east on the day of the Marshall Fire. Though the trailhead fire began after the Twelve Tribes fire, it is located south and west of the property. Eventually, the two fires merged, though investigators can't pinpoint when or where.
Investigators did not find evidence that residents at the property were criminally reckless or had knowledge that their legal, controlled burn on Dec. 24 would reignite and cause the Marshall Fire.
"This fire was terribly destructive and traumatic for so many people. We make our decisions on criminal charges based on evidence, not based on emotion," Dougherty said. "If we were to tell you that we were filing charges, it would be wrong and it would be unethical."
Since the Marshall Fire, Boulder County has changed its fire burning ordinance to say that fires should be extinguished with both water and dirt, not just dirt, as the Twelve Tribes residents did.
"I know personally the last 18 months have been hard and not having answers creates stress and challenges that we don't need," Johnson, who lost his own home in the fire, said. "And I hope that now we can focus on rebuilding our lives and getting back to our homes and our community."
The investigative summary and other documents related to the Marshall Fire are posted on the Boulder County Sheriff's website.
Colorado Newsline is part of States Newsroom, a network of news bureaus supported by grants and a coalition of donors as a 501c(3) public charity. Colorado Newsline's content is available for republishing via a Creative Commons license agreement.
Climate Boulder County Boulder County Sheriff's Office civil litigation Colorado Colorado Newsline criminal charges District Attorney lawsuit Louisville Marshall Fire Michael Dougherty power line Superior Twelve Tribes wildfire Xcel Energy
Journalist