Good as new: Embracing Boulder's thriving thrifting culture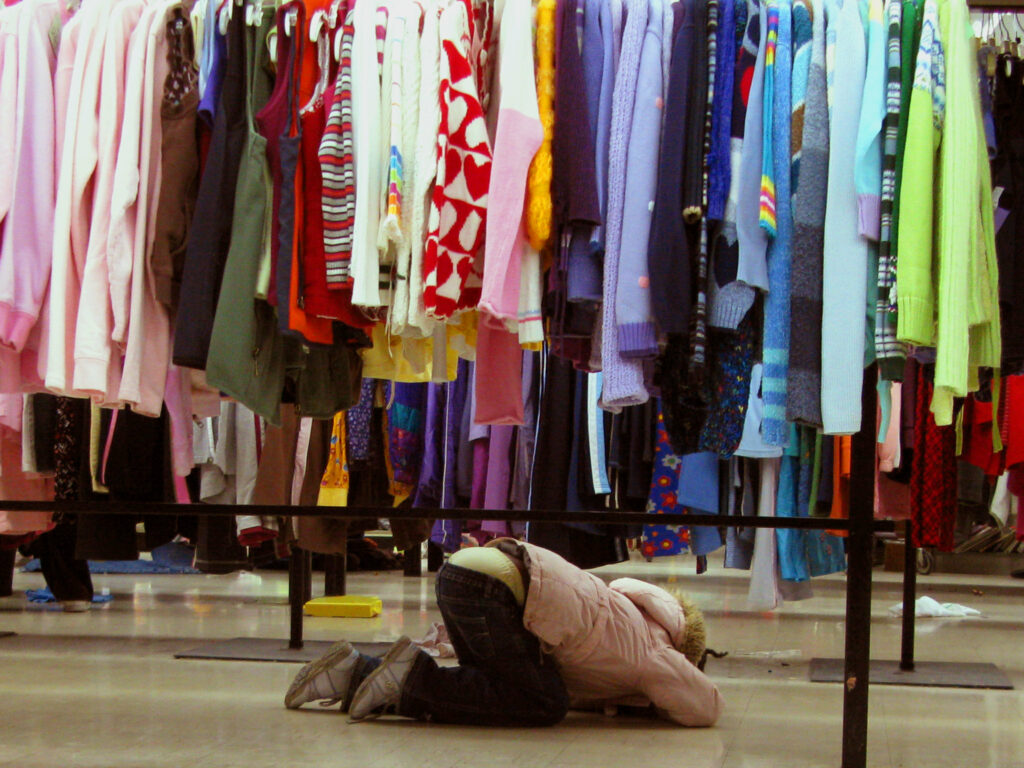 Saturday, Sept. 2, 2023
(Originally published Aug. 24. This article is available through AP StoryShare)
The negative impact of fashion consumption and mass-produced goods from stores like SHEIN, Zara, and H&M can't be overstated. The most recent data from the Environmental Protection Agency reports that 11.3 million tons of 
textile waste
 — mainly discarded clothing — ended up in landfills in 2018.
Crucially, buying 
goods from fast fashion retailers
 is supporting unethical labor. The fast fashion industry employs approximately 75 million workers worldwide, according to FashionUnited. Less than 
2% of these workers
 earn a living wage, as reported by The Lowest Wage Challenge.
"Thrifting cuts down on current consumption and fast fashion, which is a growing problem — the statistics are mind-blowing," said Victoria Sofias, owner of 
Heck Yes Vintage
. "If I can go to the thrift store a few times a week and bring home two big bags full of stuff, that's contributing significantly to that problem."
Recognizing the value of thrift shopping over supporting Big Box retailers by default can lead to a mindset shift, thrifting enthusiast Sarah Howlett said. Rather than viewing thrifting as an alternative, it's a go-to for her and many other shoppers in the area.
"[Thrifting] has become something I see more as a first option than a last option," Howlett said. "If you do it enough, your brain starts to shift, and you start thinking, 'Oh, I need a new colander, I'll just go to the 
Tru Hospice Thrift Shop
 and see if I can find one there.'"
Over the past several years, thrift shopping has experienced a surge in popularity, emerging as a sustainable and prudent choice for consumers. According to OfferUp's 2022 
Recommerce Report
, 82% (272 million) of Americans now buy or sell secondhand items. The report also predicts that the secondhand market will grow five times faster than the overall retail market by 2027.
Shoppers in the Boulder County and North Metro region are no exception to the growing thrifting trend, with thrift shopping appealing to locals in the area for a variety of reasons — environmental, ethical, and financial.
"I try to devote my time to [thrifting] because the prices are so much lower, especially with things people tend to overbuy, like clothes. It's become a passion of mine to keep them out of a landfill and give them a second, third, even fourth life," Howlett said. "It's important for me to teach these values to my kids and, hopefully, influence others to see how many perfectly good items are already out there."
Supporting charities and those in need
Many of Boulder and the North Metro region's best thrifting spots have the added appeal of supporting worthy causes. 
HOPE's Storehouse
 in Longmont is a perfect example.
Owned by 
HELP International
, HOPE's Storehouse is a non-profit thrift store with everything you could want or need — clothes, antiques, kitchenware, furniture, toys. Proceeds from the store fund two schools in Uganda as well as provide aid for countries like Haiti and Ukraine.
HOPE's Storehouse does plenty to help the local community as well. The thrift store has a no-questions-asked food pantry full of essentials for anyone in need.
"We wake up every day and know we're going to help someone or make them smile, whether it's getting them a pair of shoes for their feet or a free cup of coffee at the thrift store," said CeCe Winbigler, manager at HOPE's Storehouse. "That's just what we're out to do — we're out to spread love."
Winbigler said the thrift store has experienced a rise in popularity since the COVID-19 pandemic, showing no signs of slowing down. Her clientele includes people from virtually every walk of life whose appreciation of thrift stores brings them together.
"I have people who resell stuff, single moms shopping for their kids, people with no money at all who need shoes on their feet, people from women's shelters who are trying to get out of a tough situation, and I have people who come from Windsor wearing diamonds bigger than my head — it's so across the board," Winbigler said. "I think everybody just loves a good deal."
Celebrating the timeless appeal of vintage
Sofias said she's noticed a resurgence of vintage fashion, furniture, and decor, especially from eras like the 1960s, 1970s and 1990s. Some of her favorite thrifted finds are a pair of wide-leg, mod-print bellbottoms from the 1960s and a vintage magenta silk jumpsuit.
"A lot of what's popular right now are things that were really trendy in the past," Sofias said.
Much of the appeal of thrifted vintage clothing is their craftsmanship and durability. The quality of vintage goods is especially alluring to younger generations who grew up during the rise of fast fashion, Sofias said.
"I love seeing how garments were constructed, not only in terms of their style but in the quality of the materials that were used — 60 and even 20 years ago, everything was made to last versus now if you buy something trendy, you have to replace it within a year," Sofias said. "It's really cool to find those staple closet pieces someone had 30 years ago that still have another 30 years of life in it."
Furniture and decor were created with more artistry and care in generations past, compared to items from big-box retailers today, said Jeannine Erlhoff, owner of 
Noble Treasures Antiques
 in Lafayette.
"People studied furniture making back in the day, and they made things to last, not to fall apart," Erlhoff said. "They put much more time and skill into making things."
Adding a touch of uniqueness
Something many thrifters cherish is the ability to wear garments that feel unique and special, Sofias said.
"I think a big part of it is being able to say, 'Oh, thanks for the compliment, it's vintage!'" Sofias said. "No one else can just go out and get the exact same thing."
Vintage and thrifted goods enhance individuality not just in fashion but in home decor as well, Howlett said. She sources plenty of home decor and furniture both for herself and her friends from thrift stores all over Boulder.
"When you incorporate secondhand and vintage stuff, your home ends up looking unique and not like a page from a catalog," Howlett said. "They make an interior space look eclectic, intentional, and more interesting."
People looking to renovate or remodel should consider browsing places like 
Resource Central
 in Boulder before purchasing expensive materials, Howlett said.
"Sometimes they'll have entire kitchen cabinet sets, coffee tables, electrical components, even pieces of tile they resell for very cheap, diverted from landfills," Howlett said.
Exploring new interests
Thrift shopping serves as a gateway to affordable exploration of different brands and hobbies, Winbigler said.
"When you visit a thrift store, you can usually find brands that you wouldn't normally be able to afford, which is a huge plus," Winbigler said.
Secondhand art supply stores like 
Art Parts Creative Reuse Center
 in Boulder encourage creativity and personal growth by lowering the barrier to trying new things, said executive director Megan Moriarty.
The store is full of donated creative materials like paints and paint brushes, fabric and sewing machines, woodworking tools, and crayons and markers for kids. The wide range of inventory at low price points make it easy for someone to start a new art project or hobby, Moriarty said.
"There are some hobbies that are super expensive to try, like weaving," Moriarty said. "We get looms and yarn all the time that are completely affordable, so folks can get started and try it out. Before making a huge purchase or investing in really expensive supplies, you can stick your toe in and see if it's the right fit."
Thrifting in Boulder
There are a few reasons why Boulder is one of the best places to thrift in Colorado, Howlett said. The city has a strong commitment to sustainability, meaning more people donate and buy thrifted items. Furthermore, many people in Boulder have the resources to purchase high-quality items and donate them later on, which contributes to the excellent inventory in many shops all over town.
"A lot of people here spend their money on nice items — like clothes and gear from Patagonia — that can last and last and last and be repaired and reused," Howlett said. "When those nice, high-quality items trickle down into secondhand shops, there's still tons of life left in them."
Getting into thrifting
For those new to the thrifting game, Sofias recommends prioritizing closet staples.
"Start with basics — there's such a good amount of high-quality, secondhand, and vintage pieces like simple black cardigans, jeans, and t-shirts that were made to last," Sofias said. "Start simple, then find those fun statement pieces that really jump out to you on the rack."
Thrift shopping — especially at stores with massive inventory — can be intimidating. Howlett suggests maintaining an open mind throughout the hunt.
"You can take a list of things you're looking for or just go with an open, creative mind," Howlett said. "Look on the lower shelves, behind rows of things like picture frames — you never know what you might find by going a little bit deeper."
Howlett urges thrifters not to be discouraged if an item found at a thrift store isn't in mint condition. Many items Howlett has thrifted — bikes, toys for her kids, winter coats — just need a little TLC before they're good to go.
"I love seeing the potential in things that just need a stitch, a stain removed, or a scrub down. Things don't need to be discarded just because they're not perfect."
Climate Boulder Boulder County climate change clothing Goodwill Greenwood Wildlife Thrift Shop Lafayette Longmong Pig + Pearl Rags Consignment recycle reduce Resource reuse Salvation Army secondhand textiles thrifting Tru Hospice Thrift Shop used Yellow Scene
Journalist