Boulder County Ballot Issue 1B: Affordable Housing Tax Extension and Revenue Change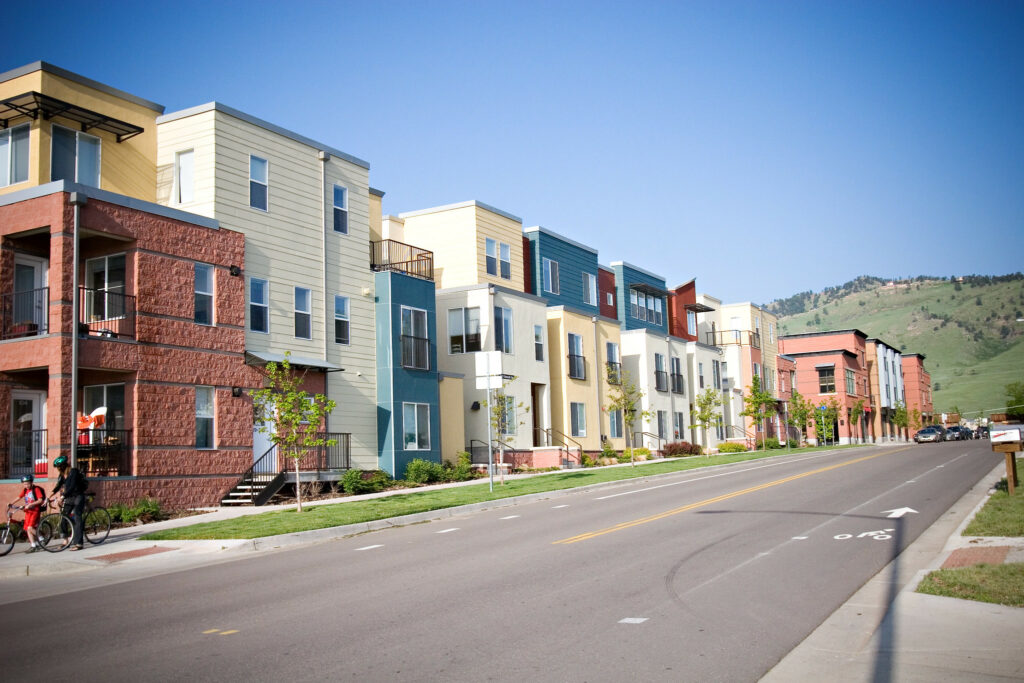 Wednesday, Oct. 11, 2023 (Updated Friday, Oct. 26)
Ballot language
WITH NO INCREASE IN ANY COUNTY TAX, SHALL THE COUNTY'S EXISTING 0.185% SALES AND USE TAX APPROVED IN 2018 PURSUANT TO RESOLUTION NO. 2018-76 BE EXTENDED FOR FIFTEEN (15) YEARS FOR THE PURPOSES OF FUNDING AFFORDABLE AND ATTAINABLE HOUSING AND RELATED SUPPORT SERVICES WITHIN BOULDER COUNTY, INCLUDING BUT NOT LIMITED TO: THE COSTS OF DEVELOPMENT, OPERATION, ACQUISITION, PRESERVATION, RENOVATION, MAINTENANCE AND CONSTRUCTION OF FOR-SALE AND RENTAL HOMES FOR LOW AND MODERATE INCOME HOUSEHOLDS AND LOCAL WORKFORCE; SUPPORTIVE HOUSING; SERVICES THAT SUPPORT HOUSING STABILITY; GRANTS TO HOUSING AUTHORITIES, NONPROFIT AFFORDABLE HOUSING PROVIDERS, AND LOCAL MUNICIPALITIES; AND SHALL THE REVENUES AND THE EARNINGS ON THE INVESTMENT OF THE PROCEEDS OF SUCH TAX CONSTITUTE A VOTER APPROVED REVENUE CHANGE; ALL IN ACCORDANCE WITH BOARD OF COUNTY COMMISSIONERS' RESOLUTION NO. 2023-070?
What it means
Should we keep paying a sales tax we're already paying, but instead direct the money to affordable housing efforts (and supportive services) throughout the county?

A bit more about this tax
This tax has been extended and repurposed once before: in 2018, to pay for the county's alternative sentencing facility that broke ground just this summer. (Originally approved by voters in 2014, it previously paid for flood recovery work.)
The tax brings in tens of millions of dollars a year —  $12 million in 2021; $12.5 million in 2022 and a projected $17.78 million this year — making up 15.6% of the county's total sales/use revenue, according to a county spokesperson.
Why you might want to vote for this
It's not a tax increase; you're already paying it.
The affordable housing crisis is well documented, and worsening. The county, and many municipalities within it, have an established goal that 12% of housing should be price-capped in some way by 2035. Housing costs money — through land purchases, construction costs, subsidies or other efforts such as down payment assistance programs. 
This would nearly double the amount of funding available for affordable housing projects, according to a city spokesperson, providing roughly $300 million by 2035. That will still leave the county short (when the goal was adopted, officials estimated it would cost $400 million to reach) but it will get the county most of the way there. (Below, find more details on spending priorities.)
Local money can be used to leverage state and federal funds, whether by paying for staff time to apply for grants or by providing funding that can be directly matched. 
Of special note to City of Boulder voters:
Many within the city have complained that surrounding towns do not provide enough affordable housing, increasing demand and strain on the city's more robust programs. This extension would beef up those regional efforts in a big way, far surpassing what Boulder is able to fund itself.
Boulder City Council sent a letter to the county commissioners asking that they devote at least 25% of the revenue to addressing the homelessness crisis. That could include permanent supportive housing (housing with services), transitional housing for people in recovery from addiction and/or money for emergency sheltering.
There's no guarantee county leaders will honor Boulder's request.
Why you might not want to vote for this
This is not a tax increase, but it's not a decrease, either. Some residents criticize local governments for constantly extending taxes (though, of course, it's the voters who keep approving them — the last local tax voters turned down was actually a 2009 measure that would have funded affordable housing).
Others have argued that state and federal governments should be funding housing, not local ones. While state and federal funding have increased in recent years, it's not nearly enough to fully address the affordability crisis. 
Who is supporting?
This measure was brought forward by the Boulder County Board of Commissioners. 
An official issue committee, BoCo Housing For All, was formed to advocate for passage of 1B. It is led by Annmarie Jensen, director of East County Housing Coalition (ECHO).
Endorsers include Emergency Family Assistance Association (EFAA), Safehouse Progressive Alliance for Nonviolence (SPAN), PLAN Boulder County, Boulder Area Labor Council, Boulder Chamber of Commerce, Boulder Progressives, Daily Camera, NAACP Boulder County, Flatirons Habitat for Humanity, Boulder Weekly, Boulder Housing Partners and more.
Who is opposing?
There is no formal opposition to this measure. Boulder County Republicans have endorsed a no vote. They are opposing all tax measures on this year's ballot.

This news doesn't write itself. Throw us some cash if you've got it, so we can keep this community news source free for all.
What, exactly, will it pay for?
Per a county spokesperson, identified priorities for this funding fall into three categories:
Development
Leveraging additional funding sources

Real property purchase negotiations

Land and/or building acquisition

Zoning

Legal and regulatory costs (like government fees)

Preservation

Renovation

Housing rehabilitation

Construction
Affordable Housing
Rentals

For sale

Home-ownership

Land trusts

Joint ventures

Partnerships

Mobile home communities
Support
Homebuyer coaching services

Assistance programs for seniors, veterans, families, people with disabilities, people at risk of losing their housing, mediation services, navigation support, middle income households and mobile home residents.

Eviction prevention and landlord/tenant dispute resolution services

Mobile home park investment

Housing units and supportive services for individuals and families experiencing homelessness so that people who are unhoused can transition into independent living units.
— Shay Castle, @shayshinecastle
Additional resources
Elections Housing affordable housing Boulder Boulder City council Boulder County Boulder County Commissioners city of Boulder homelessness housing crisis sales tax sales tax extension taxes
Journalist