'I thought I was going to get shot': Naropa student confronted by cops speaks about experience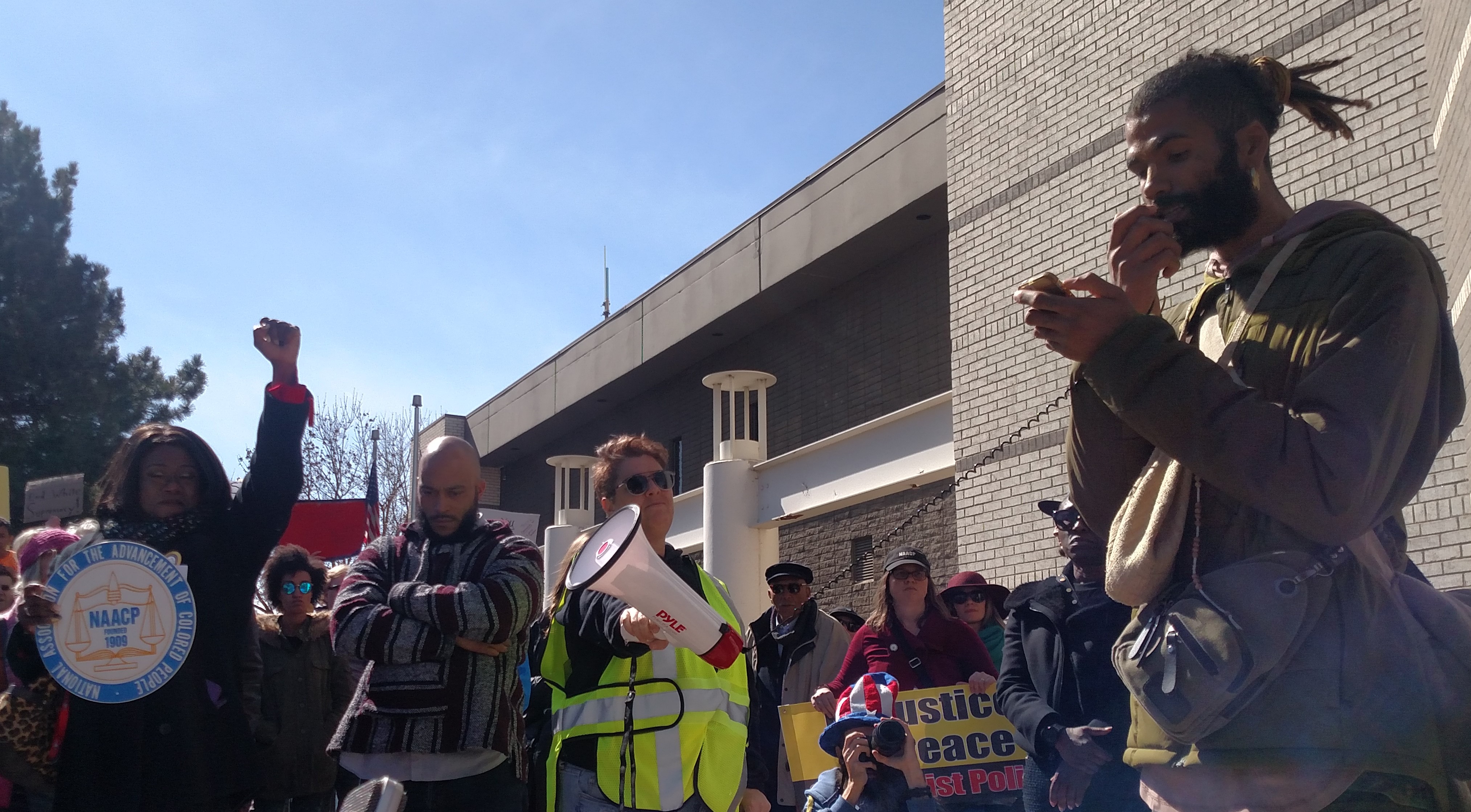 A black student of Naropa University who was confronted by police while picking up trash outside his residence spoke publicly about the incident on Sunday, addressing a crowd of nearly 650 at the March for Police Oversight. Zayd Atkinson, a sophomore majoring in yoga studies, said he would continue to participate in efforts to address racism in Boulder.
What happened to me, Atkinson said in public remarks, "happens every day to our brothers and sisters. It should not happen anymore."
Atkinson recounted the events of Friday, March 1, to members of the press following the rally. He was first approached by one officer, who remains unnamed while the Boulder Police Department conduct an internal investigation.
The officer requested his name and address, Atkinson said, so he handed over an identification card. The officer declined to return it to Atkinson. "That's when I refused to cooperate any further," he said.
Atkinson said he overheard the officer calling in the incident on the police scanner and began to feel "unsafe." He continued to pick up trash, walking around to the rear of the building, located in the 2300 block of Arapahoe Avenue. That was where the officer unholstered his weapon, according to Atkinson.
"It seemed as if he definitely wanted to shoot me."
Other officers then responded to the scene. In a video of the exchange posted to social media, Atkinson counts eight cops; the police department has not confirmed the number of officers, and Chief Greg Testa in remarks to council Tuesday also did not offer an official count. The officer who first made contact has been placed on paid leave, Testa said, but no others, a police spokeswoman told the Daily Camera on Wednesday.
Eyewitnesses reported guns being drawn; Testa confirmed that at least one officer unholstered his handgun (which can clearly be seen in video of the encounter) and that a non-lethal shotgun and shield were also present. Atkinson said that the cops "had their Tasers at the ready."
"I thought I was going to get shot," he said, calling it a "frightening experience" to be "surrounded" by weapons.
None of the officers would provide their names, according to Atkinson. The Boulder police department have similarly refused to release the name of the cop who first made contact, citing the ongoing investigation.
Testa on Friday did offer a public apology via a city press release, repeating his Tuesday statement that Atkinson "did nothing wrong." No members of the police department were present at Sunday's event in an official capacity.
Boulder Mayor Suzanne Jones offered a personal apology to Atkinson following Sunday's rally. Jones and council member Aaron Brockett attended the march. It's unclear if any other council members were there.
"I'm so sorry," Jones said to Atkinson in a face-to-face conversation. "We will see how we can use this to propel forward. I'm so sorry for what you have experienced. Please don't hesitate to call me or us."
Atkinson, who was accompanied by Naropa president Charles Lief, replied that he "definitely" wanted to be involved in the city's efforts to address racism. A special city council meeting has been scheduled Monday, March 18, to continue the "community conversation about racism, community values and what must be done to improve racial equity for all members of Boulder."
Atkinson said that, during the encounter with police, he tried to call upon lessons he's learned at Naropa, which "teaches fearlessness."
"I just tried to be courageous."
— Shay Castle, boulderbeatnews@gmail.com, @shayshinecastle
Want more stories like this, delivered straight to your inbox? Click here to sign up for a weekly newsletter from Boulder Beat.
Police Aaron Brockett Black Lives Matter Boulder Boulder Police Department Charlies Lief city council city of Boulder cops Daily Camera excessive force firearms investigation march March for Police Oversight mayor Naropa University officer misconduct police officer protests racial equity racial justice racism Suzanne Jones use of force Zayd Atkinson
Journalist