City settles with man Tased by Boulder police officer
Saturday, Jan. 2, 2021
The city will pay nearly $1 million to a man Tased by Boulder police officers in an incident that left him with severe injuries and, ultimately, six fused spinal vertebrae. City council is set to OK the settlement on Tuesday.
Christopher Mahan sued the city of Boulder and three police officers, alleging excessive force in his 2019 arrest. The parties agreed to settl out of court for $875,000, according to notes shared with city council, which state that Mahan "suffered severe injuries" and "required significant medical treatments."
Arrest gone awry
According to court records, Mahan entered a vehicle he believed to be his Lyft on March 31, 2019. Mahan was intoxicated; the Lyft driver ascertained that Mahan was not the correct passenger and asked him to leave. Mahan did not understand, according to the complaint filed by his attorneys, and remained in the backseat. The driver then flagged down a nearby cop car.
Officer Benjamin Rappold responded and asked Mahan to exit the vehicle. When he did not, Rappold "opened the passenger door and forcibly removed Mr. Mahan," according to the complaint — "without any warning that he was going to arrest or detain Mr. Mahan." (The city denies this.)
"Defendant Rappold began turning Mr. Mahan around in an attempt to handcuff him," the complaint continues. Mahan broke free and began to run toward a retaining wall. Rappold deployed his Taser, and Mahan fell four feet to the concrete surface below, suffering injuries to his face, head, neck and spine.
"When the probes punctured the lower-back and buttock of Mr. Mahan," his lawyers wrote, "the 5-second electrical shock completely incapacitated Mr. Mahan causing him to lose all control of his motor functions, fall over the wall and impact the asphalt face first."
Images included with the filing show a bloodied and unconscious Mahan. The lawsuit alleges the police officers — Rappold had by this point requested backup — kneeled on his back to handcuff Mahan and did not attempt to stabilize him, despite the potential for spinal injuries. Paramedics who responded stabilized his head and neck.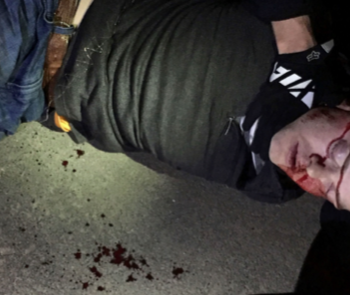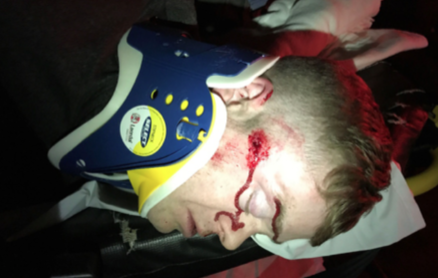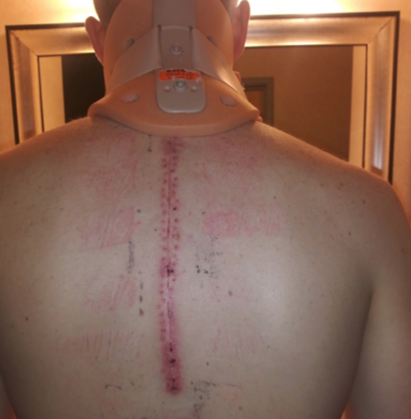 The complaint chronicles Mahan's diagnosed injuries:
bilateral nasal bone fractures;

comminuted orbital wall fracture and occipital condyle fracture;

spinal and rib fractures;

severe unstable compression fracture at T6;

3-column burst fracture (vertebrae crushed in all directions) at T7;

disc herniation at T6-T7;

paraspinous hematoma spanning three vertebrae;

an annular tear;

tinnitus; and

soft tissue injuries
Mahan underwent spinal surgery on April 2, 2019, to fuse six vertebrae. He incurred $580,000 in medical costs and was out of work for four months.
Suit: Lack of training, oversight
Attorneys allege that Rappold violated department policies for deployment of Tasers, including a mandate to use the weapon only when "confronted with a violent or potentially violent person" and, even then, only "when such use is less likely to cause injury to the officer or the suspect."
"The Taser Policy unequivocally states that "[t]he mere act of fleeing of from officers does not justify the use of a [Taser]. Before using a [Taser] on a fleeing subject, officer should consider the nature and severity of the crime committed and the necessity for immediate apprehension."
Also named in the suit were Commander Thomas Trujillo and Deputy Chief Carey Weinheimer, who both reviewed the incident. Mahan's attorneys claimed that both men improperly recorded the facts in an official report.
"Commander Trujillo and Deputy Chief Weinheimer acquiesced to Defendant Rappold's actions by failing to criticize, condemn, or otherwise punish Defendant Rappold for his actions," the complaint stated. "Further, Commander Trujillo and Deputy Chief Weinheimer condoned Officer Rappold's actions by failing to include his severe misconduct in any written report."
The suit also alleges that inadequate training and supervision contributed to Rappold's actions.
Force under fire
In a response, the city denied many of the allegations, including excessive use of force and improper reporting.
"Plaintiff's injuries and damages, if any, were the result of Plaintiff's own negligent, intentional, and/or unlawful conduct," city attorney Luis Toro wrote, or that of a third party. (Mahan was cleared by doctors to be removed from the hospital and taken to jail.)
The police officers are entitled to qualified immunity, Toro argued, a legal policy that has come under scrutiny during the nationwide debate over policing and racial justice.
Colorado this year ended qualified immunity for police officers in cases of civil misconduct. Among other requirements, the legislation mandates that, by 2023, every use of force that results in bodily injury or death will have to be reported to a state entity, and that individual officers can be financially responsible for up to 5% of settlements, or $25,000; whichever is less.
Boulder is undertaking its own reform of police policies and procedures related to use of force and firearms, under the direction of police chief Maris Herold. Herold hails from Cincinnati, where she aided reform of university and municipal police forces.
The department is now operating under the principles of ICAT. Among others, ICAT states that "the least amount of force will be used to gain compliance" and that the suspect's "mental and physical capacity will be considered before use of force."
All uses of force will be subject to internal review. A newly established civilian oversight group and independent monitor will also review any complaints against officers.
Large payout
In opting for a settlement, the city admits no wrongdoing. Boilerplate language accompanied a summary of the settlement in notes to council.
"It is not possible to predict the outcome of a trial," it reads. "Given the projected costs of litigation, the city attorney believes that it is unlikely that the city will be in a significantly better economic position by litigating the case as compared to approving the proposed settlement agreement."
City council has to approve any payout over $10,000. It routinely does, though this is among the larger settlements approved this year. They are often for auto accidents involving city vehicles, including recent payouts of $22,000 (July 21), $10,000 (Sept. 1) and $25,000 (Aug. 20, 2019). The city also recently settled with a former officer in the police department's animal protection division, Allison Jedamus, for undisclosed reasons. Jedaus received $67,464.
Half a million dollars of Mahan's settlement will be paid from Boulder's property and casualty fund. The remaining $375,000 will be covered by Berkley Public Entity, which provides excess insurance to the city.
"This settlement is within the city's anticipated loss planning parameters," staff wrote in notes to council.
City council will likely not discuss the settlement, an item on Tuesday's consent agendaThe grouping of routine items on the city council meeting agenda (e.g. approval of past meeting minu.... If council denies the settlement, the case will proceed to litigation.
— Shay Castle, boulderbeatnews@gmail.com, @shayshinecastle
Want more stories like this, delivered straight to your inbox? Click here to sign up for a weekly newsletter from Boulder Beat.
Police Boulder Boulder Police Department City Attorney city council city of Boulder civilian oversight Colorado cops excessive force injury insurance police officers police oversight police reform policies qualified immunity settlement Taser use of force weapons
Journalist