Boulder hiring supervisor to oversee sweeps of homeless camps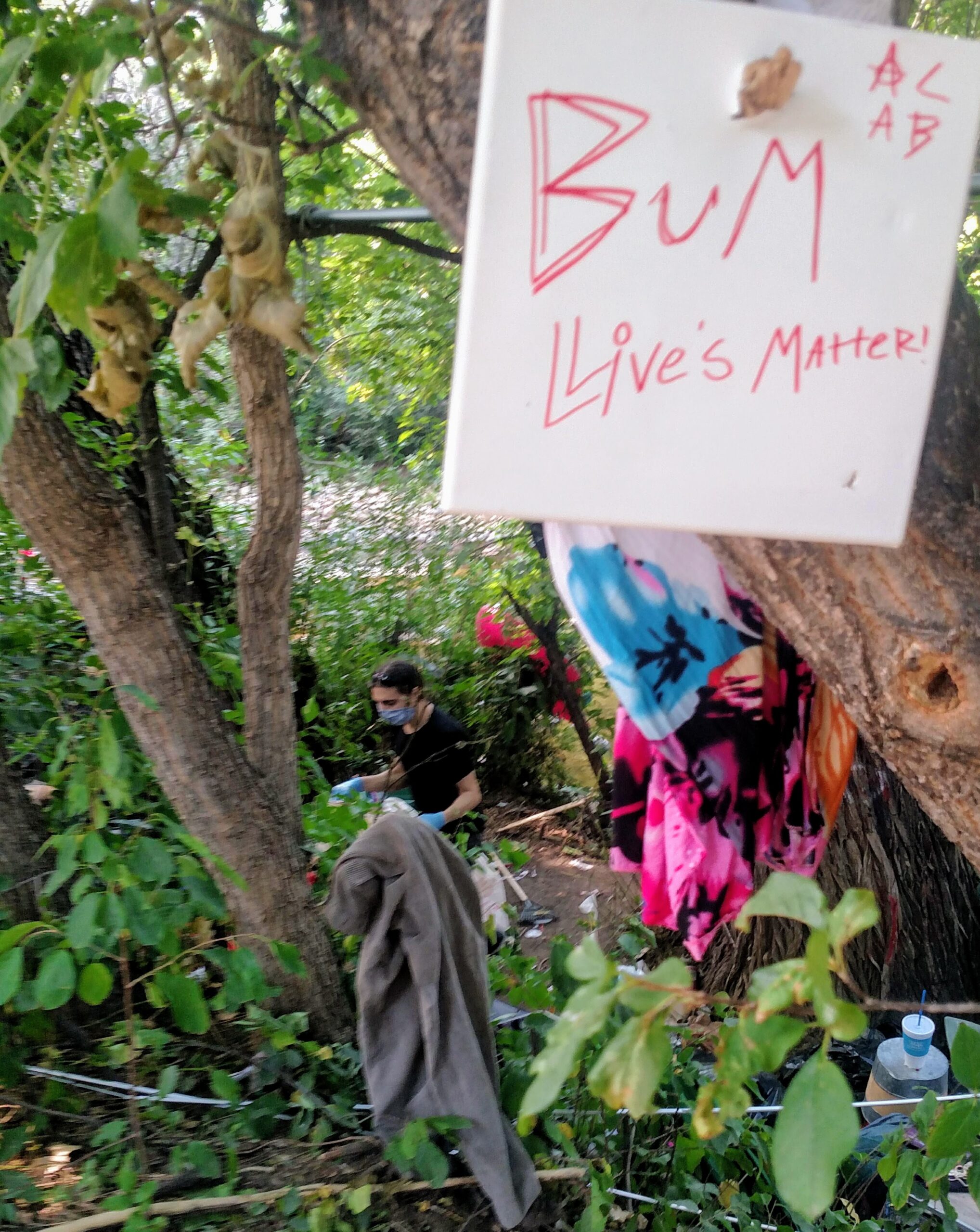 Saturday, Jan. 9, 2020
The city is hiring for a new position to oversee the sweeping of homeless camps in Boulder. The move has been in the works for years, according to staff, but comes just before council is set to discuss encampments and homeless policy overall — and just after the winter sheltering budget was reduced by more than $300,000.
The job — being billed as "Public Space Reclamation Supervisor" — was posted recently on job search sites as well as the city's own job postings site. Responsibilities include directing crews, making "plans, schedules (for) cleanup operations at designated sites, including cleanup site identification, prioritization, public notification, stakeholder messaging, coordination with the Homeless Outreach Team (HOT), oversight of cleanup work performed by City employees and contract laborers and ensuring compliance with quality, quantity, environmental and safety standards and regulations."
Salary for the supervisor position ranges from $70,303 to $93,150, according to the city's posting.
City council in September OK'd a winter sheltering plan that resulted in a $300,000 smaller budget than last year, due to the consolidation of shelter locations ($202,000 of that amount was leasing costs).
Those savings didn't shift to pay for the cost of this position; the two expenditures come from different departments. Sheltering is paid for by Housing and Human Services, which gets money from a variety of sources. The encampment manager will be part of the utilities' public works department.
That's partly because of the functions of the job, according to director Joe Taddeucci, but also because the department also ends up spending the most on cleanup.
"That's because we oversee the flood and drainage ways of the creeks," Taddeucci said. "Those tend to be the locations where cleanups occur."
'Delusional thinking'
There is no requirement that applicants have previous experience with unhoused persons, though the job description does note that the work "frequently interacts with the public in the field, which may include exposure to hostile, offensive language, or interactions with angry, volatile or mentally ill individuals who may be verbally abusive or threatening."
The idea of mandating such experience was discussed, according to Taddeucci, but deemed unnecessary because of the multi-department approach to cleanups. Staffers from housing and human services as well as the police department will always be present.
"As we go through the hiring process and interview candidates, that will be a point of discussion" with applicants, he said. "Making sure the candidates who interview for it have a clear picture of the situation."
Boulder has been planning to hire this position "for several years," Taddeucci said, and approved in a previous budget cycle.
"The need is significant," he said. "It's been such a pervasive thing we really needed to establish a dedicated position that can focus on it."
This year has seen a renewed focus on cleaning encampments. Over 100 were removed between August and September, and Taddeucci said there has been at least one sweep per week. Boulderites, concerned about drug use and crime, reported dozens of camps.
The pervasiveness of encampments — despite continuous cleanups — is held up by critics of the sweeps who say they're not working. Unhoused persons simply move to other locations, increasing the potential spread of COVID, rather than leaving town as officials might hope.
"Nothing good comes from forcing people to leave encampments or arresting people for refusing to leave," said Steve Berg, vice president of the National Alliance to End Homelessness. "It builds distrust between the homeless people and everybody else; it disrupts routines — it's just a huge waste of time and energy."
Berg agrees with local activists and advocates that a camping ban and policy of aggressive sweeps don't encourage unhoused persons to leave a community. "There is long historical experience that that is delusional thinking on the part of the city officials."
Council has ultimate say
Council will revisit encampment clean-up policy at its Jan. 19 meeting. That will include a vote on whether or not the sweeps should continue, according to Mayor Sam Weaver.
If council votes to stay the course, Weaver said, "then we go to how do we want to enforce it," what changes might be needed — including shortening the amount of time between notification and sweeps — "and if not, if we don't want to enforce it, what instructions do we give to human services, the police department, etc." 
At a Monday scheduling meeting, HHS Director Kurt Firnhaber said staff on Tuesday will present "different approaches" to encampments.
"There are at this point five recommendations we're going to be bringing to council around different approaches or perhaps better approaches to encampments," he said.
Council has in the past given explicit direction to resume sweeps — most recently in February of 2020 (in exchange for opening winter sheltering every night through March, rather than being weather-dependent). Sweeps did not occur from February through August, Police Chief Maris Herold told community members in August, but resumed shortly after that meeting despite no official word from city council. The city maintains the sweeps never stopped and that direction came from since-retired City Manager Jane Brautigam.
If council were to vote down enforcement of the city's camping ban, the encampment cleanup supervisor position is structured in such a way that it can easily shift to other duties. Said Taddeucci, "there's work to do either way."  
— Shay Castle, boulderbeatnews@gmail.com, @shayshinecastle
Want more stories like this, delivered straight to your inbox? Click here to sign up for a weekly newsletter from Boulder Beat.
Homelessness Boulder Boulder Police Department Boulder Shelter for the Homeless Bridge House camps city council City Manager city of Boulder encampments hiring homelessness Jane Brautigam National Alliance to End Homelessness public works Sam Weaver sweeps unhoused utilities
Journalist