Homeless providers: Resource fair shows need for centralized services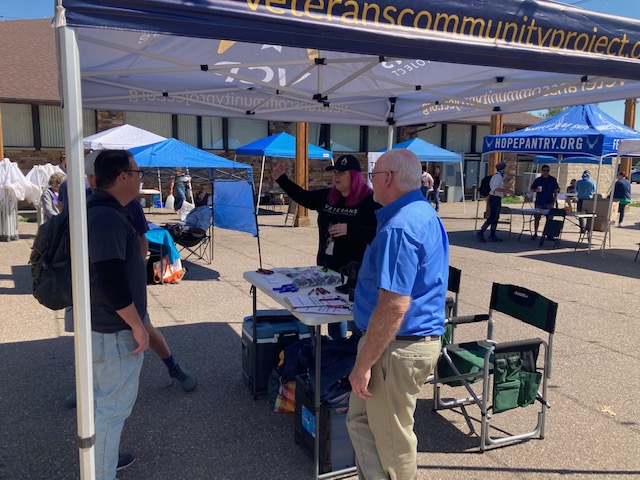 Saturday, July 24, 2021
Every Tuesday, Jen Livovich gathers by the bandshell in Boulder's Central Park. A dedicated team of volunteers, some formerly homeless like Livovich, serves food, sets out clothes and checks in with dozens of unhoused residents they know by name.
She is sometimes joined by a church group or providers of other services. This week, Natural Highs provided acupuncture free of charge. Next Tuesday, Livovich's crew will be powering a charging station and providing haircuts.
Among the 100 or so who come each week, there is so much need. For food, for medical care; there are veterans who could qualify for benefits or housing, people who are on the list to receive housing, if only the right person could find them to finish their paperwork or notify them about what's available.
In this way, Livovich's event is already helping by bringing people together in one place, reliably, each week. It's exactly the approach cities should be taking if they are serious about ending homelessness, experts say.
"One of the keys is offering people one-stop shopping," things that they want, that meet their immediate needs, said Dr. Karen Mahar, former CEO of Miami-based Institute of Homeless Studies, who recently relocated to Boulder. "How many people come and say, 'I need a case manager' even though that's ultimately what they need? They come because they need food or medical care, or for their dog to see a veterinarian."
"That gives a lot more time to develop these relationships, for providers to see what they actually need."
Small successes
Livovich started her nonprofit, Feet Forward, specifically to provide the kinds of offerings missing from Boulder. Even simple things like hot meals and socks are in short supply at the places where people actually live and gather.
In addition to her weekly outreach, Livovich in late June organized and hosted a resource fair, bringing 20 providers together near the Dushanbe Teahouse. Representatives from the food pantry, courts, cops and more were able to reconnect with current clients and meet new ones.
The event wasn't as well attended as Livovich would have liked: about 40 or so unhoused residents. She thinks that's because people experiencing homelessness associate this sort of setup with festivals or farmers markets.
"This community is not used to events specifically for them," she said. "They see tents and automatically think they are not welcome."
How to help Feet Forward

Volunteer

Distribute food, clothes, etc. or help load/unload at weekly outreach events

Donate

New socks

Bus passes

Weather-appropriate adult clothing

Feet Forward is also seeking restaurant or faith-based partners to provide food for 100 people weekly
Despite the small crowd, there were successes.
Court navigators were able to sign three people up for mail service, assisted two individuals in applying for identification documents and discussed already-in-process housing for three residents. Livovich said 25 people were signed up for Boulder Housing Partner's lottery, which provides vouchers for rental units.
The lottery system replaced a waiting list that, in 2011 and 2012, had over 5,000 people on it, according to BHP's Karen Kreutzberg.
"It felt like false hope," Kreutzberg said. "Like, we might get to you in 10 years."
There's still more demand than supply — about 1,800 people applied for the 50 and 75 vouchers given out in February and June, respectively, Kreutzberg said — but those selected in the lottery could receive housing three to six months after they apply.
Having to reapply every time can be challenging for the unhoused. Livovich plans to do another resource fair in September, with a main focus on the BHP lottery.
"You get a voucher," said Ashley Wallis with Longmont-based Veterans Community Project, "and that can change everything." 
'Exactly what we need'
VCP was able to connect two veterans at the resource fair with a VA representative who works out of Denver. It's extremely challenging for unhoused people to get to the nearest service centers in Denver and Cheyenne, Wallis said, so to be able to introduce them directly to the person they need to work with "takes out that huge step."
Wallis likens the process to advice marketers give for website design. Every step between your user and end goal is a barrier to them finishing the task at hand. The more steps, the more people will slip through the cracks and not finish the process.
"Having all those resources in one little area is a huge opportunity," Wallis said. "You want to make it as few clicks as possible to get people where they need to go."
How to help Veterans Community Project

Visit VeteransCommunityProject.org to donate or find volunteer opportunities

VCP is building a tiny home village for veterans in Longmont! Sign up for notifications about opportunities to help.
The fair was also an opportunity for providers to get to know one another, either for the first time or after the long pause of the pandemic.
"Many of the organic opportunities we used to have to connect with other professionals in the field had not been happening" during COVID, said Megan Newton, a court navigator with the city of Boulder. To her knowledge, the court has not participated in a resource fair before.
"Feet Forward's Community Resource Fair was a great success," said Chris Reynolds, an assistant city prosecutor, in a news release. "It allowed us to engage the community alongside other service providers and meet people where they are. We look forward to future such
events and are grateful to have Livovich's leadership and vision working for a better future for all of Boulder."
Boulder County moved toward more coordination among providers in 2017 with the implementation of centralized screening for all unhoused individuals seeking services. But there are still a dozen-plus players who don't necessarily know what other organizations are doing. And some groups are ancillary, not part of the "official" system.
Wallis says VCP has asked that all veterans be referred to them, but it doesn't always happen. She and Lani Gordon, program director for Focus Reentry, said it's not uncommon for providers not to work with or even know one another.
Focus Reentry works with individuals in the Boulder County jail to prepare them for release. Criminal records present additional challenges to people experiencing homelessness when they try to secure housing. Gordon said every one of Focus' clients is initially rejected for vouchers, forcing a lengthy appeals process.
The paperwork alone is "impossible" for unhoused people to navigate, Gordon said. A single missed form can doom their chances, especially if they can't be locate to fix it.
"Jen's intuition for reaching and connecting with the unhoused population is a unique and valuable resource for our community," Gordon said in prepared remarks shared with Boulder Beat by Feet Forward. "At the fair, we made important connections to other organizations, met and provided services for new people who were unaware that we existed, and ran into old clients with whom we had unfinished projects. I
hope to see many more of them for our community."
What Livovich is doing, Gordon said in a followup interview, "that's exactly what we need."
How to Help Focus Reentry

Donate
Men's clothing and shoes (large)
Bikes
Bike locks
Tents
Sleeping bags
Money – focusreentry.org/donate
Relic of the past
The importance of centralized services was also touched on by Boulder's municipal judge Linda Cooke, at a controversial panel on homelessness at the Highland City Club in early May. She noted, for example, how the Social Security office — a necessary stop for securing identification documents — is in Louisville. Coordinated entry is (now) at Arapahoe and 9th near downtown; the Shelter is in north Boulder.
Bus passes are provided by many organizations, but that still doesn't make it easy, Cooke said. There is a "last mile" problem.
Outreach workers have reported that transportation is a significant challenge for unhoused residents trying to make it to and from Boulder Shelter from the Homeless, which closes in the morning. A survey found transportation was the biggest barrier to accessing help.
The idea of a day shelter or service center has been brought up by some elected officials such as Junie Joseph. Boulder hasn't had one since 2017. Proponents say it could provide a hub for service providers to gather, and give unhoused people somewhere to go during the day other than libraries or parks — pacifying the many Boulderites who have growing increasingly vocal about homeless encampments.
That argument worked for Mahar in Miami.
"That's what business owners wanted," Mahar said. "So we went to them and said, 'Give us the money and we'll take care of this for you.'" To the groups that wanted to help, they made the pitch that opening a day shelter would improve lives. Despite the differing motivations, "they all had the same goal: No homeless people on the streets." 
From 1992 to 2021, the number of unsheltered persons dropped from 8,000 to 892, according to the Miami-Dade County Homeless Trust. (Miami recently overturned a 1998 court order protecting unhoused residents from arrest for living outside, and has begun removing camps in response to complaints from citizens.)
Shelters closing for the day is a "leftover from the '80s," Mahar said, when the dominant ideology was that unhoused persons should be out looking for work or assistance. The understanding of homelessness has evolved. Current best practices understand that not only are traumatized people more likely to become unhoused, homelessness is itself a form of trauma. Getting basic needs met is a crucial first step before unsheltered residents can began to tackle larger issues like mental illness, addiction or job training.
Clients in Miami's shelter would sleep for days at a time when they first arrived, Mahar said. "It was probably the first decent sleep they'd had in years." Once they'd recovered, they would start interacting with volunteers and providers.
"You're talking about people with mental illness, addiction, they don't trust the system," she said. "It takes a while to build trust. You need long-term relationships. It works, the studies show it works, if you're willing to set aside your expectations and moral judgements.
"Even with the hardest cases, it can be done and it has been done."
— Shay Castle, @shayshinecastle
Want more stories like this, delivered straight to your inbox? Click here to sign up for a weekly newsletter from Boulder Beat.
Help me make the Beat better. Was there a perspective we missed, or facts we didn't consider? Email your thoughts to boulderbeatnews@gmail.com
Homelessness Boulder Boulder County Boulder County Jail Boulder Housing Partners camping ban city of Boulder coordinated entry court navigators enforcement Focus Reentry homeless homelessness housing jail lottery medical care Miami shelter trauma unhoused veterans Veterans Community Project vouchers
Journalist