Indoor mask use recommended for Boulder County residents — vaccinated or not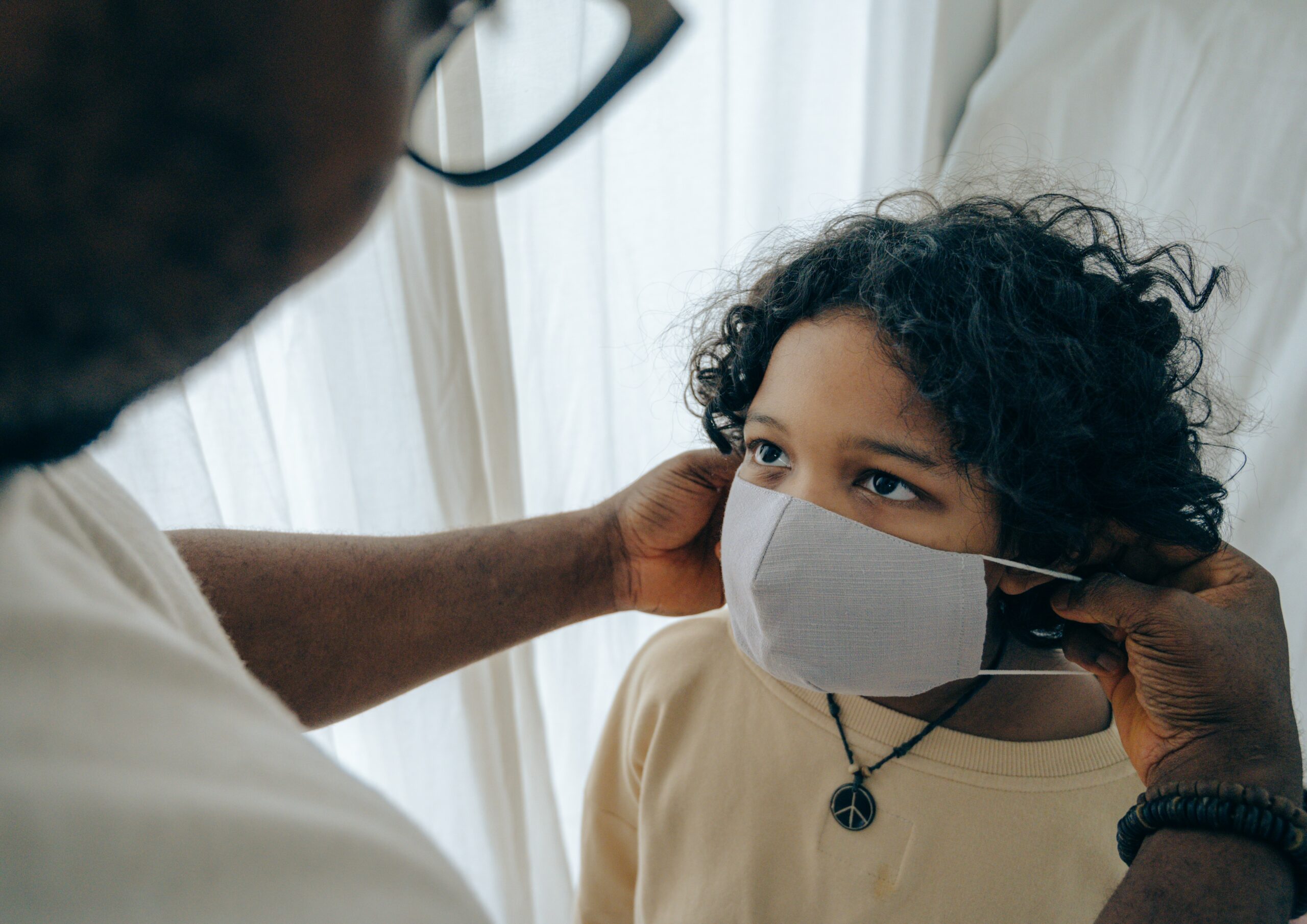 Wednesday, July 28, 2021 (Updated Monday, Aug. 2, 2021)
Boulder County is among the areas where the CDC is once again recommending indoor mask use as COVID cases start to creep back up after months of decline. Nearly all new infections have been in unvaccinated individuals, but several hundred "breakthrough" cases have occurred countywide, officials report.
The Centers for Disease Control on Tuesday issued guidance that vaccinated individuals should wear masks indoors in places where COVID is spreading quickly. Boulder County was initially not on that list, but an updated map released Wednesday showed "substantial" community spread.
New cases have increased 34% since last week, CDC data revealed. According to Boulder County public health data, there were 56.9 new cases per 100,000 residents and 3.3% of tests returned with positive results over the past seven days — higher than at any point since all local government restrictions were lifted in mid-May.
CDC guidance stops short of a mandate. It's unclear if a statewide order will be re-instituted. Governor Jared Polis and state health officials have continued to push vaccines as the best path forward.
"Vaccination is the best protection against COVID-19 including the Delta Variant," wrote CDPHE spokesperson Brian Spencer in response to a request for information. "Colorado has made the vaccine readily available and free. We encourage all eligible Coloradans to get vaccinated without delay."
More than 78% of Boulder County residents have received at least a partial course of the vaccine, and more than 73% are fully vaccinated.
The overwhelming majority of new cases are among unvaccinated people: 95.5% of all infections recorded in Boulder County between April 1 and June 30, according to the Colorado Department of Public Health and Environment.
"We expect to see some vaccine breakthrough cases," Spencer wrote. "No vaccine provides 100% protection against infection."
April 1 – June 30
Total cases: 2,931
Breakthrough: 132 (4.5%)
Unvaccinated: 95.5%

All time
Total cases: 24,521
Breakthrough cases: 295 (1.2%)
Unvaccinated: 98.8%

Source: Colorado Department of Public Health and Environment
Angela Simental, a spokesperson for Boulder County Public Health, said the recent increase in cases "is not a trend yet" and may be due to the July 4 weekend. "We need more time to see if it is a trend," she wrote in response to emailed questions.
Although data was not available, "we know that the majority of cases are from the highly transmissible Delta variant."
Despite the variant being more contagious and capable of being transmitted by vaccinated individuals, "the same guidelines we have used throughout the pandemic still work" — masks, social distancing and, most importantly, getting vaccinated. BCPH has never stopped recommending mask use, Simental wrote via email.
"We still strongly encourage masks, especially to protect those who are no eligible for vaccination yet and those who are immunocompromised," Simental wrote via email Monday, before the CDC's updated guidance was released. "If you are with people who are not vaccinated, indoors or outdoors, we recommend wearing a mask and social distancing."
It's unclear if that advice will morph into a county mask mandate. Local health officials have largely followed the lead of the state in recent months.
City council will receive a briefing from BCPHE on August 17. That meeting was also supposed to include a public hearingScheduled time allocated for the public to testify or share commentary/input on a particular ordinan... and council vote to repeal all local COVID-19 orders, but it has since been removed from the agenda.
Even before the CDC's updated guidance, some Boulder County residents had begun to mask up again, particularly families with young children. A vaccine for children ages 5-12 is not likely to be approved until midwinter, the FDA said last week, and emergency clearance has yet to be granted by the agency for pediatric vaccine trials.
As of last week, COVID was spreading faster among children ages 10-17 in Boulder County than in any other age group.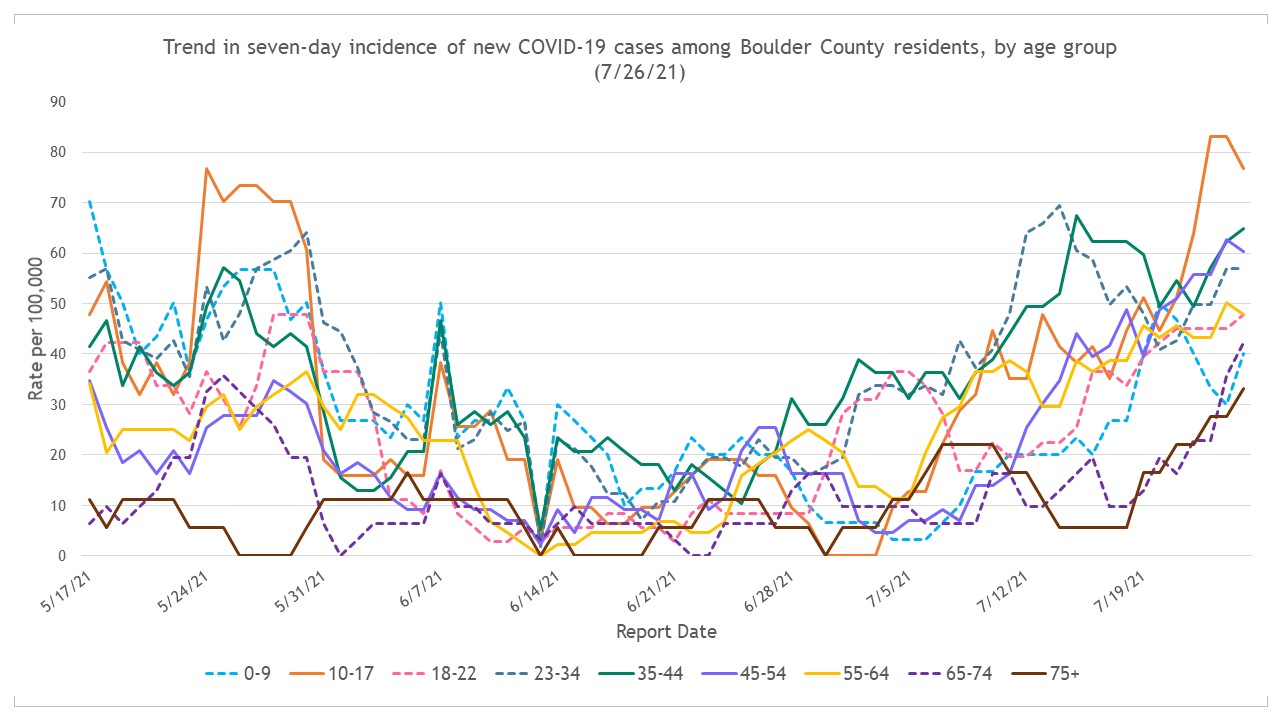 "We've been really concerned about her exposure throughout the pandemic," said Superior resident Abby Mcclelland of her four-year-old daughter. And while Boulder County's high vaccination rate is comforting, the area also draws a lot of tourists.
"Where are they from?" Mcclelland said. "What's their vaccination rate? In the absence of a meaningful system response" — such as requiring proof of vaccination for entry into stores and other public places — "all I can do is my individual response."
Mcclelland and her family also isolate as much as possible, an increasingly lonely endeavor as the rest of the world shifted back to "normal" amid widespread vaccination.
"At the very beginning of the pandemic, there was this major life upheaval and we're doing it together," Mcclelland said. "It no longer feels like we have that community support in going through what we're going through. 
"The pandemic never ended if you have an unvaccinated family member."
Author's note: This article has been updated to further clarify that Boulder County Public Health never stopped recommending indoor mask use for all persons, vaccinated or not.
— Shay Castle, @shayshinecastle
Want more stories like this, delivered straight to your inbox? Click here to sign up for a weekly newsletter from Boulder Beat.
Help me make the Beat better. Was there a perspective we missed, or facts we didn't consider? Email your thoughts to boulderbeatnews@gmail.com
COVID-19 Boulder Boulder County cases CDC CDPHE children city council city of Boulder coronavirus COVID COVID-19 Delta FDA pandemic public health vaccine variant
Journalist