Big changes coming to Boulder's bus routes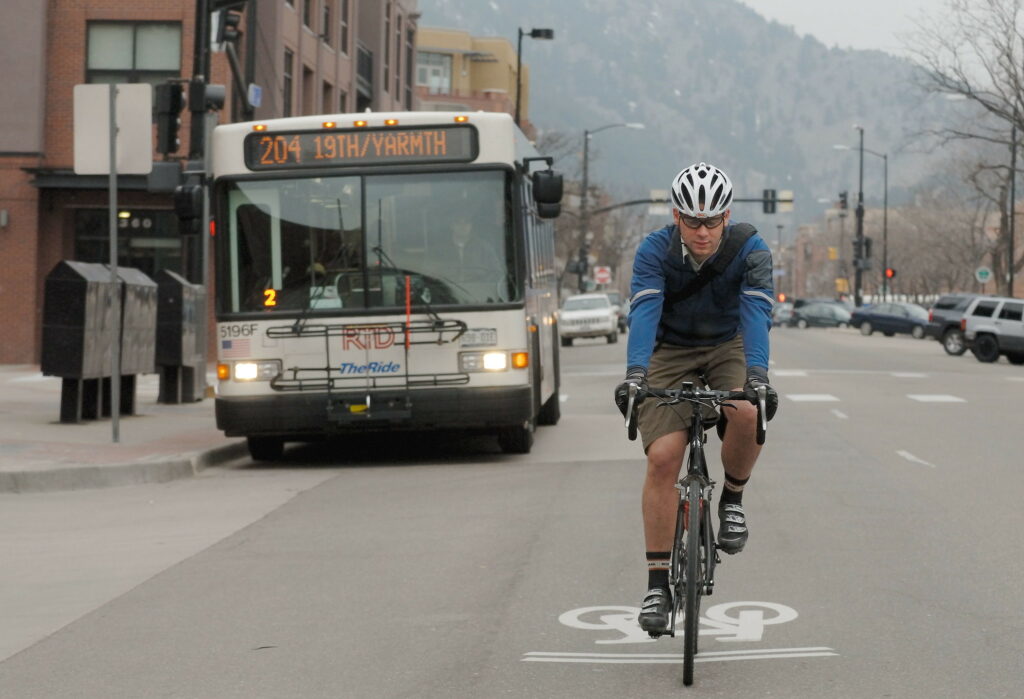 Saturday, May 19, 2022
RTD is looking toward the biggest shift in services since the 1970s, and it may mean fewer buses in Boulder as resources are allocated to more urban areas with lower-income riders. The move will affect more than just transportation, as planning for the future of the city has begun to focus even more heavily on the idea of mass transit and other non-car travel.
It's these routes that stayed more stable during the pandemic, when ridership and revenue declined, and service along with it. Service across the region is still only about 70% of what it was in 2019.
RTD's System Optimization Plan hopes to phase service back in over five years, to 85% of pre-pandemic levels as a district average. But with the proposed cuts in Boulder, the city will reach only 80% of previous service.
The SOP hopes to restore financial stability to RTD by putting routes where they are most used and most needed; typically, urban areas. That means suburban routes are on the chopping block. By the time the SOP is fully implemented in 2027, nearly one-third of the network will have changed, CPR's Nathaniel Minor reported
Read: RTD's planned overhauls means fewer suburban buses. CPR
In Boulder, nine routes are being partially or entirely discontinued, including some that were suspended during COVID:
Routes Being Discontinued
Route FF6 – Flatiron Flyer 6 – Boulder Junction/Union StationAB2 – Boulder Junction/Denver International Airport
Route J – Longmont/East Boulder/CU: Discontinue; consolidate service with BOLT
Route Y- Lyons/Boulder
Route 209 – CU/Thunderbird/Mohawk
Route 236 – Boulder Junction/Table Mesa Park-and-Ride

Routes with Segments Being Discontinued
Route 206 – Fairview/Flatiron: Discontinued segment to/from Boulder Junction; remainder of route unchanged
Route JUMP: Discontinued segment to/from Erie to be replaced by Route 225 and reduced service hours
Route 205 – 28th Street/Gunbarrel: Discontinued segment to/from Lookout Road/75th Street to be replaced with on-demand service

Not all the changes mean reduced service in Boulder. Eight routes are being expanded or restored from their pre-COVID cuts:
Routes Being Restored That Have Been Suspended Since April 2020
Route FF2 – Flatiron Flyer 2 – Downtown Boulder Station/Union Station – Express
Route FF4 – Flatiron Flyer 4 – Boulder Junction/Civic Center Station
Route GS – Golden/Boulder

Routes Being Expanded
Route BOLT – Boulder/Longmont: Expanded service and new routing to CU East Campus
Route DASH – Boulder/Lafayette via Louisville: Expanded frequencies and additional coverage in Lafayette
Route JUMP X: New express route between Boulder and Lafayette
Route 208 – Iris Avenue/Valmont Road/Flatiron: Expanded service
Route 225/225T – Boulder/Lafayette/Erie: Expanded service to/from Erie 
Staff wrote of the proposed changes to city council members this week, noting community concerns about the reductions. Hardest-hit will be Boulder Junction, East Boulder and the University of Colorado.
Boulder Junction — a neighborhood built around an RTD station and designed expressly for transit — will see restoration of only one of its five routes suspended during COVID, and that one route at only 62% of 2019 service hours.
Read: Boulder neighborhood built for buses could lose them. Boulder Reporting Lab
JUMP, which connects downtown Boulder with CU's east campus and eventually Erie and Lafayette, will have 47% service hours than in 2019, and no service to Erie, directly conflicting with concurrent regional efforts to expand transit along Arapahoe. Boulder has nearly completed its planning for East Boulder, which calls for increased housing and retail businesses in the are, supported by a transit station at 55th and Arapahoe.
Corridors like Arapahoe "are envisioned to be the multimodal corridors that connect … urban centers in the northwest, where communities have committed to focusing local development growth in residential and employment," the Northwest Mayors & Commissioners Coalition wrote in its feedback to RTD. "At a minimum, the plan should revisit the drastic 47% reduction in service hours for the JUMP route and should show connectivity to the CDOT I-25/CO 7 transit stop improvements planned to be constructed in 2023 and opened in 2024."
Part of the SOP's planned realignment is to meet RTD's equity goals. Many of the riders on routes that will be sustained or expanded are lower-income. But so are riders along the JUMP, city staff noted:
28% of population within quarter-mile of jump are "minority"

22% are low-income

53% work in essential jobs
"The proposed decreased service levels for the JUMP route are of significant concern considering the critical mobility needs, limited transit options, and transit markets along the corridor and especially in East Boulder," they wrote.
The RTD board of directors is scheduled to vote on the SOP in May. The public comment period has already ended — its short span was also noted by critics — but city staff are still directing community members to provide feedback as the plan is revised before adoption.
"It is recommended that the public continue to provide comments about the SOP to RTD via email at communityengagement@rtd-denver.com or through a voicemail by calling 303.489.7792," city transportation spokeswoman Samantha Galvin wrote in response to emailed questions. "In the meantime, staff continues to work with RTD in relaying community concerns and collaborating on potential revisions to the SOP."
— Shay Castle, @shayshinecastle
Help make the Beat better. Was there a perspective we missed, or facts we didn't consider? Email your thoughts to boulderbeatnews@gmail.com
Transportation Boulder Boulder Junction bus service city council city of Boulder equity routes RTD suburban transit urban
Journalist