Ballot Issue 5A: Boulder Valley School District RE-2 bonds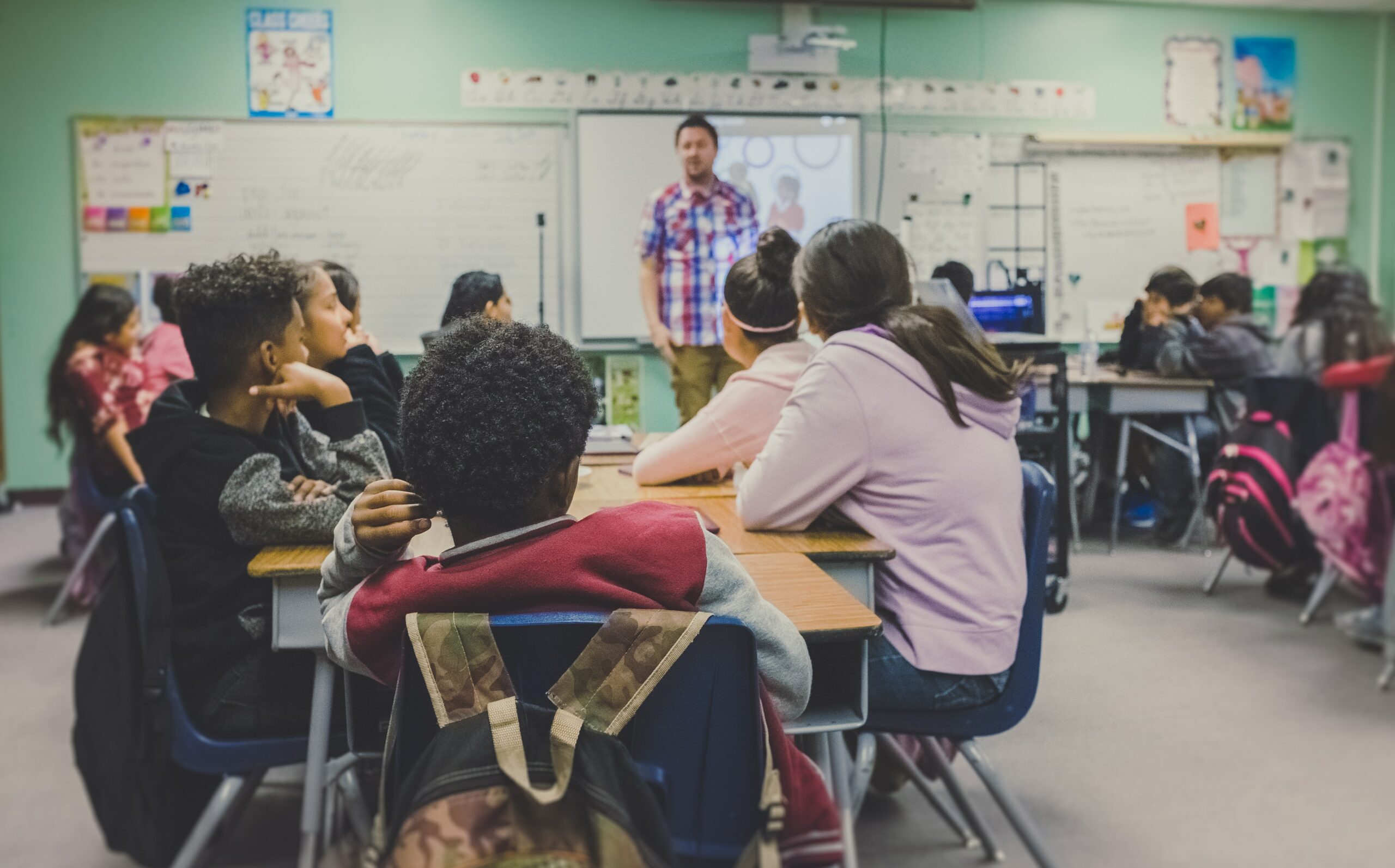 Friday, Oct. 14, 2022
Read all Boulder Beat's Election 2022 coverage — y en español
What's on the ballot?
SHALL BOULDER VALLEY SCHOOL DISTRICT  RE-2 DEBT BE INCREASED BY $350 MILLION,  WITH A REPAYMENT COST OF NOT TO  EXCEED $714 MILLION, AND SHALL DISTRICT  TAXES BE INCREASED NOT MORE THAN $32  MILLION ANNUALLY, BY THE ISSUANCE AND  PAYMENT OF GENERAL OBLIGATION BONDS  ALL FOR THE PURPOSES DESCRIBED IN THE  DISTRICT'S FACILITIES CRITICAL NEEDS PLAN  APPROVED BY THE BOARD OF EDUCATION  AND WILL BE MONITORED BY A COMMUNITY  BOND OVERSIGHT COMMITTEE, INCLUDING  BUT NOT LIMITED TO THE FOLLOWING:
INVESTING IN DISTRICT SCHOOLS, SITES,  AND FACILITIES BY REPAIRING, REPLACING,  AND/OR UPGRADING INFRASTRUCTURE,  BUILDING SYSTEMS AND FINISHES, AND  REMOVING ASBESTOS FOR THE PURPOSES  OF ADDRESSING URGENT FACILITY  DEFICIENCIES, IMPROVING THE LEARNING  AND WORK ENVIRONMENT FOR ALL  STUDENTS AND STAFF, EXPANDING ADA  ACCESSIBILITY, EXTENDING THE SERVICE  LIFE OF BUILDINGS, IMPROVING ENERGY  EFFICIENCY, AND CREATING SAFER  LEARNING ENVIRONMENTS;

ADDRESSING EDUCATIONAL  DEFICIENCIES IN CAREER AND TECHNICAL  EDUCATION (CTE) BY RENOVATING LEARNING SPACES TO CONSTRUCT  INDUSTRY-INSPIRED ENVIRONMENTS, INCLUDING LAB-LIKE CLASSROOMS AT  SECONDARY SCHOOLS AND MODERNIZING LEARNING ENVIRONMENTS AT THE  TECHNICAL EDUCATION CENTER;

REPLACING THE 70-YEAR-OLD NEW VISTA HIGH SCHOOL BUILDING WHICH HAS  REACHED THE END OF ITS SERVICE LIFE, WITH A MODERN, ENERGY EFFICIENT  BUILDING; 

CONSTRUCTING AND EQUIPPING AN ELEMENTARY SCHOOL CAMPUS IN ERIE,  COLORADO TO ACCOMMODATE  ENROLLMENT GROWTH AND RELIEVE  OVERCROWDING AT OTHER DISTRICT  SCHOOLS;  
WITH SUCH GENERAL OBLIGATION BONDS TO  BE SOLD, BEAR INTEREST, MATURE, BE  SUBJECT TO REDEMPTION, WITH OR WITHOUT  PREMIUM OF NOT MORE THAN THREE  PERCENT, AND BE ISSUED AT SUCH TIME, AT  SUCH PRICE (AT, ABOVE OR BELOW PAR) IN  SUCH MANNER AND CONTAINING SUCH  TERMS NOT INCONSISTENT WITH THIS BALLOT  ISSUE, AS THE BOARD OF EDUCATION MAY  DETERMINE, AND SHALL THE MILL BE  IMPOSED IN ANY YEAR AT A MILL LEVY  SUFFICIENT TO PAY THE PRINCIPAL OF AND  INTEREST ON SUCH DEBT OR ANY REFUNDING  DEBT, OR TO CREATE A RESERVE FOR SUCH  PAYMENT, PROVIDED THAT ANY REVENUE  PRODUCED BY SUCH LEVY SHALL NOT  EXCEED $32 MILLION ANNUALLY?
What it means
Should BVSD borrow $350 million for the district's critical needs — including those listed above — and shall the annual cost to borrow and repay such debt not be more than $32 million a year?
How much are taxes going up?
In total, not more than $32 million a year, as described above.
The final amount is TBD, but the district has estimated around $118 per year for a home worth $600,000 and $840 per year for $1 million of commercial property value.
Note: That's the taxable or assessed value, not how much a property would sell for.
What will we get for it?
There are four key areas of investment:
Upgrades to aging facilities — things like HVAC, roofs, safety systems, fire alarm systems, PA systems,

exterior enclosures and electrical systems

($123 million) — and removal of asbestos ($6.5 million)

A new building for New Vista High School in Boulder ($27.7 million)

A new elementary school in Erie to relieve overcrowding ($31.5 million)

Upgrades to playgrounds to make them ADA accessible ($5 million)

Expansion of Career and Technical Education (CTE), which includes things like apprenticeships and internships, industry certifications and training ($36 million)
A note on school funding
You may be well aware of how BVSD gets its money, but in case you're not …
BVSD gets money from local property taxes and the state. In 2021, BVSD collected $342.80 in taxes for each $100,000 of assessed home value. That's $1,714 per year on a home worth $500,000, and twice that for a $1 million home.
While property taxes are increasing, state funding is decreasing amid declining enrollment and a state law that directs funding toward less-wealthy districts. State funding to BVSD decreased 3.7% (or $10.4 million) from last school year (2021-2022) to this one (2022-2023), according to district budget documents. 
Districts may also use something called overrides — additional property tax that does not lead to a decrease in state per-pupil funding. BVSD voters have approved six of these in the past 30 years: in 2016, 2010, 2005, 2002, 1998 and 1991.
With the overrides, BVSD has among the highest per-pupil spending in the state, at $12,085.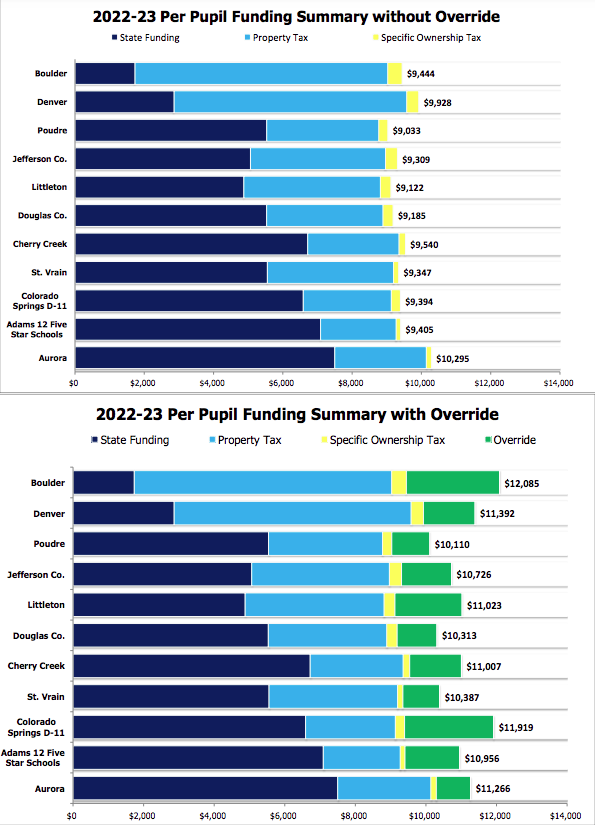 What about declining enrollment?
While district enrollment is declining, it's not evenly spread. Student populations in the western part of the district (Boulder) are shrinking while those in the east (Erie) are growing. 
The pace of decline is also slow. So while there are fewer students using the school buildings in Boulder, there are not few enough to justify big moves like consolidation or sales — at least not yet.
"We still have 28,000 students that need a safe facility," said Bill Sutter, chief financial officer.
The district is aware of the issue and will be developing a plan over the next several years.
"We've established a long-range planning committee," Rob Price, assistant superintendent of operations, said during an Oct. 5 interview. "That committee met for the first time last week. 
"The idea is to develop metrics to help us make decisions moving forward."
Why you might want to vote for this
BVSD's funding is largely operational, while these needs are primarily capital needs. 
"Those are dollars we don't get from the state," Price said. "We do spend millions in building maintenance, but when a new roof comes up, building envelopes, new parking lots, that's why we continue to turn to our taxpayers."
The district's buildings are old: More than half were built more than 40 years ago. New Vista was built in 1953.
"It's called critical needs for a reason," said Susan Cousins, operational services communication manager. "We're at the point where putting off that work will just cause that work to escalate and increase the risk of a failure."
Erie's Meadowlark Elementary is full. Built in 2017, it was designed for 696 K-8 students. Enrollment as of Oct. 3 is 662, and the planned Parkdale development is expected to add 519 elementary and middle school students.
Why you might not want to vote for this
This is a tax increase, and a large one. It's also the second big ask from BVSD this decade (aside from the 2016 override).
In 2014, voters approved the largest school bond measure in state history: $576.5 million for BVSD (the final amount was $677 million, but voters approved the lower figure). The bond was meant to cover some of the same needs voters are being asked to fund this time — including a new school in Erie, upgrades/repairs to school buildings and even money for CTE.
District officials say these needs were always anticipated. A second elementary school in Erie was written into the 2014 master plan. 
"We don't see a need after this in Erie," Price said. "The new elementary school should be able to accommodate" additional growth, as should existing middle and high schools.
Regarding CTE, the programs have proven more popular than anticipated. The tax increase would add programs, add capacity and expand programming to more campuses so that high school students can participate "without spending a couple hours on the bus," Price said.
Critics have questioned the vague ballot language, and the amount of debt that BVSD is taking on. (These bonds will bring the total to over $1 billion; the district may ask voters to raise its debt limit in the future.)
Study on declining enrollment is also incomplete; an advisory committee did not convene after the bond measure was placed on the ballot. Together, these actions could be indicative of BVSD's over-reliance on taxpayers in lieu of long-term planning.
More information: 
https://www.dailycamera.com/2022/08/02/bvsd-school-board-hears-update-on-bond-issue-ballot-measure/
— Shay Castle, @shayshinecastle
Elections Boulder County Boulder Valley School District BVSD education elections enrollment school funding taxes
Journalist