Paul Tweedlie: Boulder's self-proclaimed best fisherman runs for mayor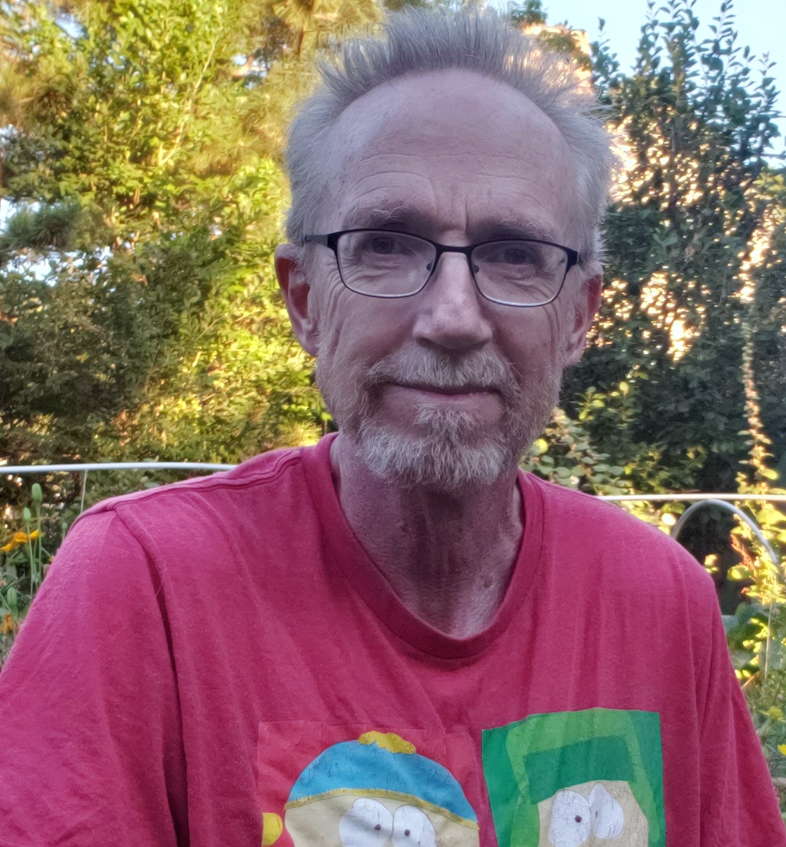 Monday, Oct. 2, 2023 (Updated Friday, Oct. 6)
At one of Paul Tweedlie's first appearances as a candidate for mayor, he said, "You can tell a lot about a man from his garden." He followed this up with an invitation to come to his 4th Street home. 
The garden is beautiful: diverse and abundant and surrounding a charming and modest 1900s-era home. Parked out front is Tweedlie's 20-plus-year-old Toyota pickup, slightly rusty but still running. 
Tweedlie likes old things. That's part of why he's running. The retired aerospace industry software engineer decided it was time to "give back and help preserve the town for future generations."
"I love this historic town," he said. "I love this historic character."
The Scotsman moved here (to the United States) in 1993 and here (to Boulder) in 2000. Since then, he's seen a lot of change. And Tweedlie doesn't like change.
"I'm a conservative," he said. 
Other things that he doesn't like? Long meetings — "Have your meeting, get your ideas, and be done," he said. "Less talking, more action." — and the recent focus on inclusivity and diversity. He's mentioned it at numerous public forums, and in 2017 he wrote a letter to the Daily Camera protesting a domestic violence awareness and prevention campaign at a CU Buffs game.
"It's great hearing from different voices," he clarified in an interview. "What I object to is DEI (Diversity, Equity and Inclusion) programs. It's really a communist philosophy. It's a failed ideology; it's not working. As soon as you apply that to an organization, the organization dies. 'There's not enough Indians, Africans, whatever. We need to hear those voices' and then nothing ever gets done."
This news doesn't write itself. Throw us some cash if you've got it, so we can keep this community news source free for all.
Tweedlie, 61, hasn't had previous experience with Boulder's city government. By his own admission, he lacks the skills of leadership and diplomacy: "I would say I'm not a leader," he said, and, "I've got a few skills, but diplomacy is not one of them."
What he does have is a deep unhappiness with current elected officials, and the desire to do something about it. 
"Are we happy with the direction the city is going in right now? Are we just going to kick the can down the road [and] continue these ideas that aren't working? Or are we going to make some changes?"
"Will I do a better job? That's to be determined."
Plus, he added, with a laugh, "Mayor Tweedlie's got a nice ring to it."
Tweedlie won't be too heartbroken if he doesn't win. It will leave him time to do the things he loves: spend time with his girlfriend, go fly fishing — "I'm the best fisherman in Boulder," he said, "You can print that." — and, of course, keep tending his beloved garden.
Top work plan priorities 
Crime (

more detail below

)

Helping small businesses thrive in Boulder by cutting red tape

Property tax breaks for older adults and families with children (

more detail below

)
Why you might want to vote for Tweedlie
In a self-assessment, Tweedlie said his strength was being a good listener. He's also friendly and personable, with a good sense of humor. 
He affably acknowledged his shortcomings without getting defensive or reactive. 
Why you might not want to vote for Tweedlie
Tweedlie has no experience and very little knowledge about the city's policies, processes or attempted interventions. A sampling of quotes from the campaign trail:
"I have nothing to say about the (Boulder Valley) Comprehensive Plan."

"

I don't know what the policies are." (in response to a question about how the city could improve community engagement)

"Minimum wage: I don't know a lot about it."
"I need to do my homework before I start," Tweedlie admits, but it's highly unlikely he will catch up with the knowledge necessary to effectively govern, let alone match the experience of his three incumbent competitors.
Tweedlie said he will bring "an engineer's perspective" to the job: "It's got to work, it's got to work efficiently, and it's got to be safe."
Besides, he added, there are other people on the City Council who can provide the knowledge, expertise, leadership and diplomacy he lacks. The mayor is "a figurehead."
"We don't need leaders," he said. "We need listeners."
Tweedlie on the issues
Housing + Development
"Affordable housing, you see them popping up all over town. They're unsightly; it's just ugly, box housing and people crammed in there. Does that look good to you? We need to grow as a town, but it used to be managed a lot better."
"You see a housing development. How did that get approved? Money talks. I won't take bribes, and I won't take kickbacks. Don't offer them to me, because I will punch you in the mouth."
Quick q's:

Did you support SB213 (the state bill requiring cities to allow certain types of housing / development and overriding local control)? No

Do you support rent stabilization? No response

Do you support the City Council's recent vote to increase occupancy limits? No

Would you support a ballot measure to undo the recent change to occupancy? Yes
Homelessness
"We can't have the front face of our city be a bunch of homeless camps, the transients invading and camping along the creek and taking advantage of the drug situation. What we've been doing here is a copycat of what they're doing in San Francisco and Seattle and Portland."
Tweedlie is opposed to opening a day center and shelter for the unhoused, calling it a "daycare for homeless drug addicts" in comments to City Council on Oct. 5.
"The transient problem is really a police jurisdiction, largely, I would say. The police need to do their job, but a lot of it is setting the tone, setting the expectations. I think we need leadership from [the] City Council to say, 'Here is the expectation: If you break the law you, go to jail.' 
"Talk softly, but carry a big stick."
Quick q's:

Do you support the Safe Zones 4 Kids ballot measure? Yes

Are encampment removals an effective use of resources to address homelessness? Yes

Should the city dedicate more of its own money to services and/or solutions for homelessness? No

Would you continue the city's current encampment removal strategy? Yes
Public Safety, Policing + Oversight
"The police have a very tough job; the police chief is a great lady. She's not allowed to actually do her job, it sounds like to me."
"Are we doing enough to address the drug problem in Boulder? What are we doing to stop the cartels from coming in here and pushing their drugs in our communities and our kids? We need to have people respect the law."=
"I've looked at the (Reimagining Policing) plan: It's a wee bit floo-floo and inclusive. That's not what people are worried about. They're worried about their children's safety."
Quick q's:

Should the Police Oversight Panel have more say over officer discipline in the case of misconduct? No

Do you support the City Council's vote to remove Lisa Sweeney-Miran from the Police Oversight Panel? No

Do you think the police budget is too high? No
Budget
"If it's a new tax, I'm against it." (With one exception — transportation: "One of the essential jobs of local government is to make sure roads and transit systems are in good condition.")
"If we want to make houses more affordable, look at property taxes. We're losing too many families. I'd like to reverse that trend" with property tax breaks for families with children and older adults: 25% for one child, 50% for two, 75% for three — four children, "you're not paying any property taxes."
To supplement the lost tax revenue, "I would cut spending (and) start to streamline programs that already exist. You hear from progressives [that] we need a new mental health facility. Well, we've already got a mental health facility. Let's use the resources we have."
Quick q's:

Do you support the city sales tax extension and arts/culture funding measure on this year's ballot? No. (Note: At a candidate forum hosted by the arts community, Tweedlie signaled support for this tax. He did not respond to questions about the discrepancy.)

Do you support the City Council's recent vote not to accelerate work on raising the minimum wage to a 2024 implementation from the current 2025 target date? No
Transportation + Parking
"The city's done a great job on the bike lanes. They're doing a great job at transportation. They're doing a great job getting federal funds, state funds, building safer roads, implementing good ideas."
Quick q's:

Do you support eliminating minimum parking requirements for new housing developments? No response 

Would you support a tax or fee to increase public transit frequency and services? Yes
— Shay Castle, @shayshinecastle
Elections Boulder city council city of Boulder Daily Camera elections elections 2023 mayor mayoral election Paul Tweedlie ranked choice voting RCV
Journalist