Boulder will begin negotiations to sell Pleasant Street parking lot to Hill hotel developers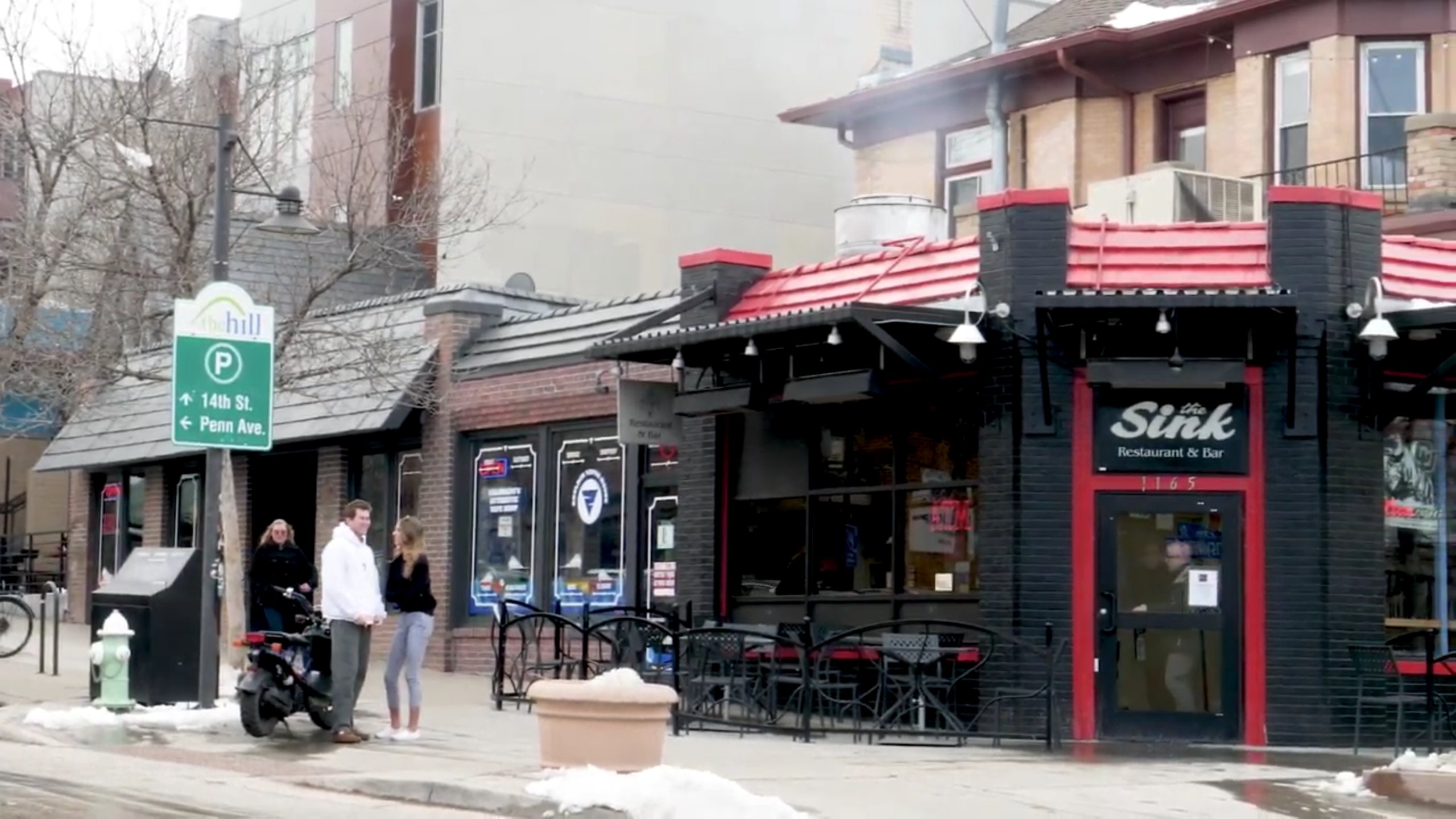 Tuesday, April 23, 2019
Council on Tuesday gave staff permission to begin negotiations to sell a city parking lot to developers of a long-planned hotel on University Hill. There was no formal vote, but the council was generally split 4-3, with those in the minority calling for a smaller project — including a design that did not make use of city land at all.
(Council member Cindy Carlisle was not in attendance.)
The item was a last-minute add to Tuesday's agenda. The issue has been on this council's radar for months, though Hill revitalization has been a priority for a decade-plus. In September, council was set to approve a joint development agreement for a hotel and underground parking garage. That vote was delayed amid a disagreement between the property's owners and cost concerns, then again once the ownership dispute was settled. A planned November discussion was pushed to 2019 due to scheduling concerns.
In January, staff and a University Hill city commission proposed selling the Pleasant Street parking lot to hotel developers and using the proceeds to build a parking garage at another city-owned lot on 14th Street. (Both lots are technically under the purview of the University Hill General Improvement District, aka UHGID.)
As part of that deal, the developers were also asking the city to kick in $3 million for a public plaza, pedestrian connections and bus stop amenities (shelters, benches, sidewalks). Council wasn't keen on the idea, and requested more information before moving forward with a vote.
The questions council asked — a financial analysis of the hotel project, an assessment of the parking lot's value, whether or not affordable housing could go there instead — were not made public. A confidential memo was sent to council, and several members referenced its contents from the dais.
The public learned, for instance, that the design of the hotel has been changed in light of the lack of support for city funds to make public improvements. Those tweaks have eradicated a $6 million funding gap identified by developers in January.
Ahead of Tuesday's meeting, councilman Bob Yates said it is typical for staff to check in with council before spending time on something that elected officials aren't necessarily "aligned" on: "They're being responsible."
City Attorney Tom Carr confirmed that Tuesday with his presentation of the matter. He noted that council support for the project has eroded "entirely." While the negotiation of a property sale is "relatively straightforward, … we're afraid of getting ahead of council on this."
Although fellow councilwomen Mirabai Nagle and Mary Young agreed with her statements, it was Lisa Morzel who was the most vocal opponent of even beginning talks to sell the parking lot. A public hearingScheduled time allocated for the public to testify or share commentary/input on a particular ordinan... should be held first, she said. Her biggest point of contention was the size of the 189-room hotel, which will be the fourth largest by room count in Boulder, though not by actual size.
"I don't know why they need our city land," she said. "If they want to go forward without city land and reduce the size and massing, then I'm open to talk."
Yates and other council members stressed that Tuesday night's decision isn't a rubber stamp for the hotel project. A deal would be brought back to council for approval, and the hotel itself would still have to run the gauntlet of Planning Board and council for design and construction.
"We have lots of bites at the apple here," Yates said.
Mayor Suzanne Jones felt that council owed it to businesses on the Hill to make some progress. The declining economic conditions on the Hill are "starting to feel like a crisis situation," she said.
"Part of good public process is not to fatigue public who has told you that they need a catalyst project. This is the best (one) that has come forward" in a decade. "There's sentiment on the Hill that we're just stringing it along."
Indeed, on Monday, a nonprofit group of business owners promoting the Hill district debuted a video advocating for the hotel. Photos of packed streets and storefronts flash by as longtime residents recounted the area's glory days and its long descent into failure. A scrolling list names 148 businesses that have closed on the Hill over the past three decades.
Those were just the ones we remembered, said Mark Heinritz, co-owner of The Sink, in an interview Tuesday. He,  Cheryl Liguori from Fox Theatre and Andy Schneidkarut of Albums on the Hill put together the closure list, which stretches back into the '80s. The real list is probably longer, Heinritz said. "There's businesses I've forgotten, ones that I literally can't remember the name of."
The video also features restaurateurs Dave Query of Big Red F Restaurant Group (Jax, West End, The Post, etc.) and Kevin Daly of the Mountain Sun brewpubs. Both men said the Hill does not appeal to them as owners of growing businesses.
"It feels neglected up there," Query said in the clip. "It really is not an area where I would want to do business."
"The bottom line is the Hill needs help," Heinritz said. "The inaction is creating the very situation we're trying to avoid, which is the loss of small businesses, a place the broader community doesn't want to engage with."
Members of council and the community have expressed concern about minority owners of small businesses who will be displaced by the project. Developers have set aside a pot of money to help cover those costs, and the city has been actively working to find alternative locations.
One of the property owners where the hotel will go, local real estate developer Jamie St. John, in a Monday letter to city council said the uncertainty around the project has created more harm than a relocation would. The businesses are in "economic purgatory," he wrote.
"The Hill is no longer a viable commercial district and its revitalization is critically urgent," he wrote. "The majority of new Hill Tenants fail and existing Hill Tenants fiercely struggle to make ends meet. If you are concerned about the tenants, do this for them. Create an environment for them in which they can prosper."
Morzel questioned that a hotel would serve the purpose of revitalization, calling for a "third-party analysis of (if) a hotel makes sense."
"We haven't had that," she said. "It's just a feel-good thing."
Councilwoman Young echoed the call for more study, but of whether or not the hotel can be done without the city's parcel. "The way this has progressed," she said, "has not gained trust to me," noting that the $22 million parking garage option was abandoned and the $6 million funding gap also disappeared.
"Things are just sort of… it's almost as if they are…"
"Listening to us?" Mayor Jones interrupted. Plans changed because of a lack of council support, she said. "This is all them trying to (accommodate) what we have been saying."
Morzel countered that the city has reasons not to trust these particular developers: the Nichols Partnership.
"It's not like these guys have never been here," she said. "It's the same guys that did 11th and Pearl. There's not a lot of confidence that they can build a tasteful building that will fit in with the Hill" and that they won't sell it immediately after completion — though council has discussed making that a condition of approval.
Business and property owners on the Hill also talked of a lack of trust, but of city leadership. St. John, in his letter, wrote that he has been part of revitalization talks for a decade.
"In that time, essentially nothing has happened," he wrote. "Council after Council after Council have acknowledged the problem, promised help on multiple occasions, and yet never done anything meaningful for these constituents.
"Taking no action yet again, and letting this opportunity slip away, is in fact taking very directed action – action against the Hill. "
Author's note: This article was updated to include comments from Tuesday's discussion. For a Twitter thread of that discussion, click here.
— Shay Castle, boulderbeatnews@gmail.com, @shayshinecastle
Want more stories like this, delivered straight to your inbox? Click here to sign up for a weekly newsletter from Boulder Beat.
Growth and Development Boulder business city council city of Boulder construction CU developers development hotel parking garage parking lot Pleasant Street Uni Hill University Hill University of Colorado
Journalist