Rejecting recidivism: Defy Colorado bets on business as the way out of a vicious prison cycle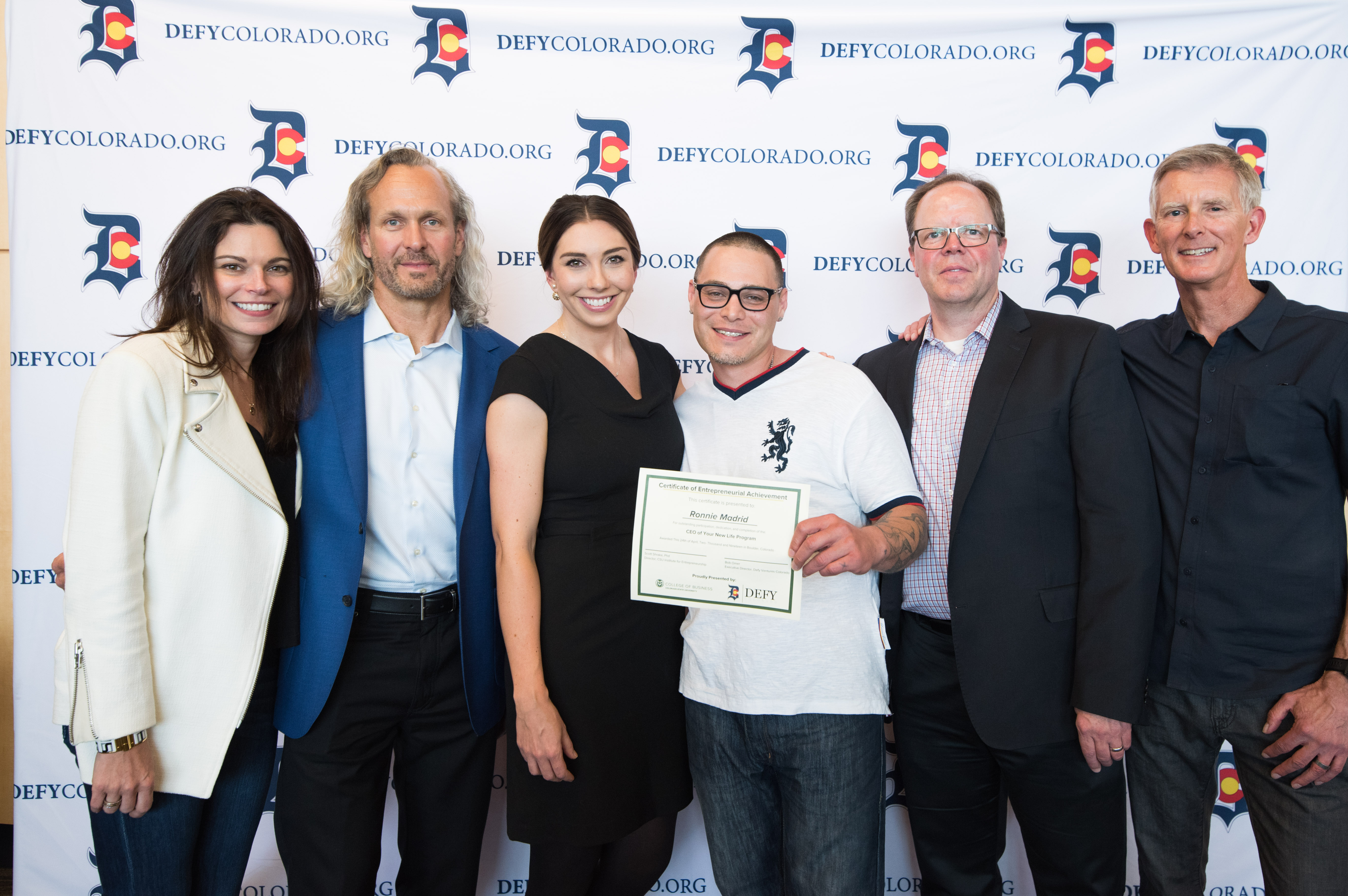 Sunday, April 28, 2019
Another day, another startup pitch event in Boulder, with all the usual trappings: the city's business and tech elite, inspiring speeches, power point presentations, and a panel of experts passing along judgement and advice to would-be entrepreneurs.
The panel's advice to the first startup founder, Ronnie Madrid, for his idea of a food truck serving authentic Latin cuisine called Yummy Yum Yum, was to use his story. The story of his journey into prison, where he spent 13.5 years, and back out with the help of an entrepreneurship-in-training program called Defy Colorado.
"Every time I was up for parole, I was like, 'I'll do this, I'll do that,' Madrid said from the stage during a fundraising event this week. "They knew I was bullshitting."
It was his family that inspired Madrid to change. Seeing what his lifestyle of drug dealing and gangs was doing to his family "shook me to my core." He knew he had to change for his kids, Madrid said in a followup interview.
When he was ready to commit, Defy was there for him. The nonprofit group provides eight months of entrepreneurship training, teaching inmates to apply their sometimes illegally acquired skills and knowledge into more acceptable pursuits.
"There is a tremendous amount of creativity and ingenuity in prison," said Buck Adams, a Defy participant pitching an e-commerce site for artwork created by prisoners. "An Etsy for inmates," as Adams called it.
"The acceptance and support" that Defy provides "has been absolutely huge," Adams said.
Defy's goal is break the cycle of recidivism. And it's working: Nationally, fewer than 5% of Defy participants return to prison. In Colorado, 54% of those released from the prison system return within five years. The sample size of Defy participants in the state (five) is too small to draw numbers from just yet, but so far, no one is back behind bars.
"Everybody in confinement wants to do better; they just don't know how to do better," Madrid said. "Actually they do know how to do better, but to actually speak it into existence" can be terrifying.
"In the world, lots of times when you're trying to do something good, there are people trying to pull you down," said Steve Owens, warden of the Colorado State Penitentiary in Cañon City. "That's especially true in prison."
Inmates were suspicious of the first Defy program, Owens said. The attitude of early participants was, "What are you trying to make us do?" The success of that cohort changed things completely.
The second time around, Owens said, inmates said "I want to be a part of that. I want to have the opportunities they have."
"Hope and goals are critical to the process of change."
Defy is now in two Colorado men's prisons, with a women's facility coming online soon. The program hopes to graduate 200 inmates next year. It costs $1,300 for one inmate to go through the program; 82 cents of every dollar goes directly to program expenses.
An informal fundraiser followed the presentation from Defy. In a matter of minutes, attendees pledged more than $72,000 (Author's note: According to a count by the Beat. The official day-of total was $70,500). Another few minutes, and new computers had been promised to Adams and Madrid. Attendees also offered their mentorship services and vowed to volunteer with Defy, something the program is always in need of. During and after the events, multiple people offered to connect the men with various employment opportunities.
"I have such an amazing support system with Defy," Madrid said. "I wish I could say thank you. This achievement today is my thank you."
— Shay Castle, boulderbeatnews@gmail.com, @shayshinecastle
Want more stories like this, delivered straight to your inbox? Click here to sign up for a weekly newsletter from Boulder Beat.
Uncategorized Boulder business city of Boulder Dairy Arts Center Defy Colorado prison prison industrial complex recidivism
Journalist