City staff: Don't allow e-scooters in Boulder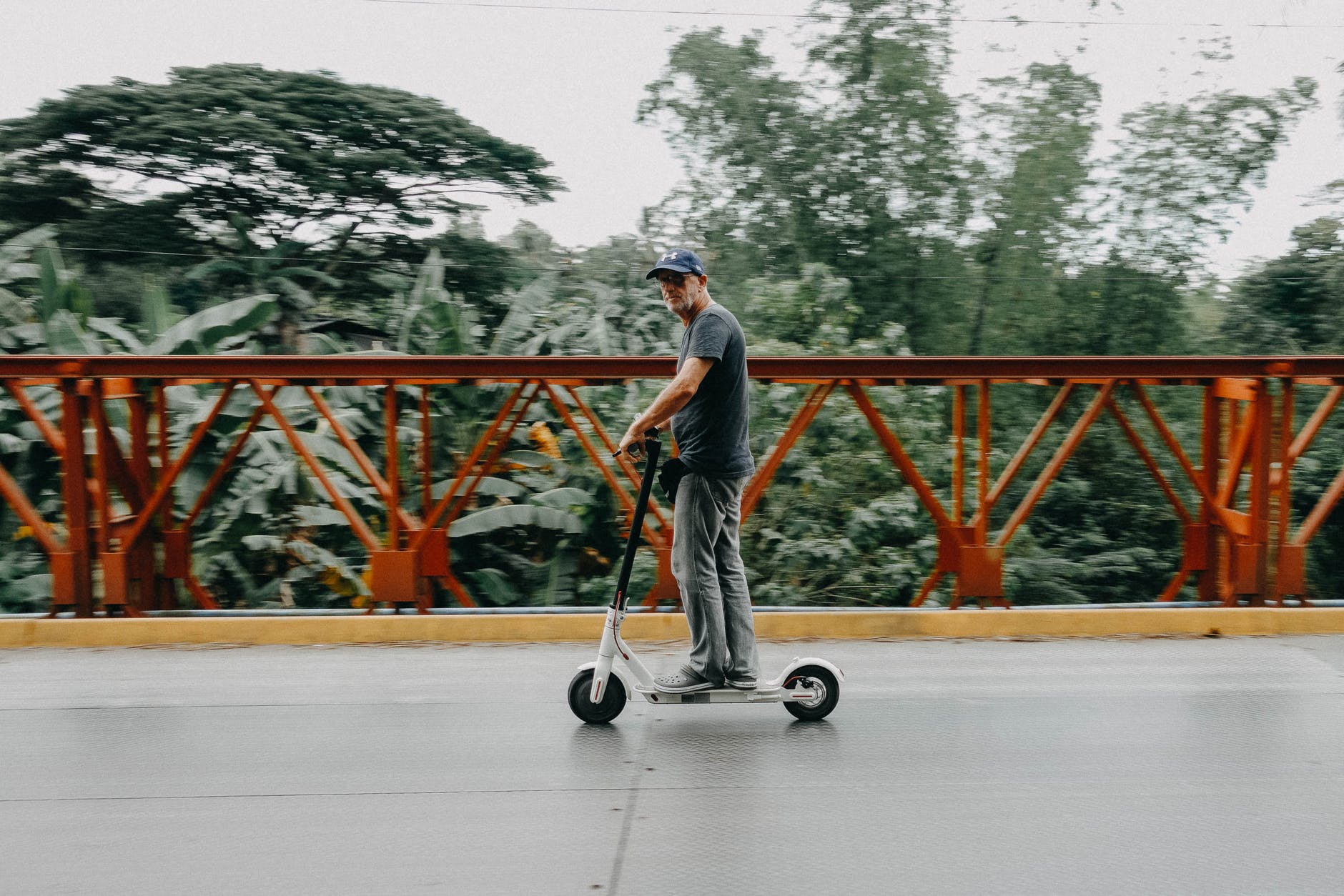 Saturday, Jan. 25, 2020 (Updated Feb. 1, 2020)
Boulder city staff are recommending that council's temporary ban on shared, rentable e-scooters become official policy, citing the danger of death and injury both to riders and impacts on other modes of travel. Some other groups, including the Chamber and some of the city's own boards and commissions, would like to allow scooter fleets on at least a trial basis in parts of town where other mobility options are limited.
City council will consider the recommendations at Tuesday's study sessionA council meeting where members deep-dive into topics of community interest and city staff present r..., the first consideration of e-scooters since a moratorium on issuing business licenses to scooter companies was passed in May. That timeout was recently extended through April to allow for the upcoming meeting.
No e-scooter business licenses were denied during the moratorium, according to staff. But none were granted either.
Companies "were not able to explain how they would be able to effectively operate a business model that discouraged the illegal use of the e-scooters on sidewalks, streets, and multi-use paths," staff wrote in pre-meeting notes to council.
Abandoned scooters have been haunting cities where the popular micro-mobility devices have proliferated. Singapore banned them entirely; France restricted them from sidewalks. Studies have cast doubt on the supposed environmental benefits, noting their incredibly short lifespan — 28.8 days, according to data from Louisville, Ky. — and displacement of less-impactful travel modes such as walking, biking and transit.
What is micro mobility?

According to Dictionary.com, the term "refers to the use of electronic scooters and bikes to travel shorter distances around cities, often to or from another mode of transportation (bus, train, or car)."
Staff also made these points in council's memo packet. An evaluation of reports from six cities found that less than half of scooter rides replaced trips that would have been made in cars.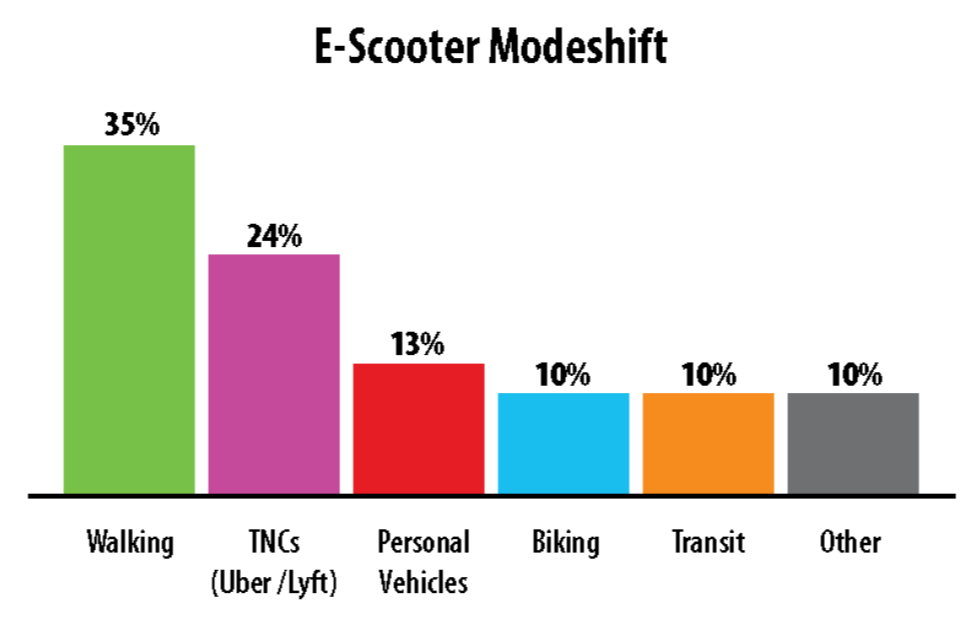 Those figures cast doubt on scooters as a first/last-mile solution to connect riders to buses or trains. In Denver, 19% of users reported taking an e-scooter to transit at least once a week; 44% of users reported not using transit at all.
The numbers were a bit better in San Francisco, where 27.5% of e-scooter trips were used to get riders to transit. An analysis of riding patterns there found that scooters generated four times as many transit trips as they replaced.
The biggest issue, for staff, seemed to be safety. E-scooters have a higher rate of injury than other non-car modes of travel, including e-bikes. Twenty-one people have died using e-scooters since 2018, staff noted, although some of those were due to drivers hitting scooter riders.
Helmet use is rare, perhaps accounting for the prevalence of head trauma. Alcohol also appears to be a factor, involved in 79% of injuries.
By the numbers: Injury and death

1 injury per 5,604 miles for scooters

1 per 235,000 miles for personal bikes

1 per 473,000 for shared bikes

1 fatality per 12.833 million scooter trips

1 fatality per 52 million  shared bike trip

40-67% of e-scooters injuries are to the head

Injuries decrease with subsequent use (29% of injuries were first-time users)

79% of injuries involve alcohol; 48% above legal DUI limit

Source: Austin Public Health, American Association for the Surgery of Trauma, Mineta Transportation Institute
Staff's conclusion was that e-scooters are not worth the risks, to riders themselves and to pedestrians, cyclists and those with disabilities. Introducing e-scooters would hamper Boulder's Vision Zero safe-streets goals rather than advance them, staff said.
"While it's entirely appropriate to point to other transportation modes that can also lead to personal injury or death, it's not appropriate to introduce another form of mobility that has far greater safety implications from a shared micromobility perspective," staff wrote. "By not recommending e-scooters as part of a Shared Micromobility Program, staff understands the potential perception of appearing non-innovative or being weary (sic) of experimentation. Staff, however, is a proponent for taking risks — albeit calculated ones. … E-scooter transportation technology is still new and appears to be maturing, or at least moving through its adolescence (sic) phase, but has not worked out many of the details needed to be a safe form of shared mobility."
Members of the public — reached through five city-led demonstrations and 700 Be Heard Boulder responses — tended to agree. There wasn't a majority, but 49% of respondents were not in favor of allowing e-scooters in Boulder; 37% were.
Favorability was highly correlated with age. When the city combined its responses with a CU questionnaire, the results flipped: 48% were supportive of scooters and 39% were not.  Among city respondents, those under 35 were more likely to approve of e-scooters. Incomes, too, were predictive of favorability, with the highest earners ($100,000-$150,000) showing the greatest disapproval (52%) and those making less than $25,000 having the highest favorability.
Using a e-scooter doubles support: 53% of respondents who had ridden one were in favor, compared to 22% of those who had not.
In other recommendations to council, a handful of groups felt that a pilot program limited to certain parts of Boulder was still worth exploring. They included three city boards and commissions: the Transportation Advisory Board, Downtown Management Commission and Boulder Junction Access District. They were joined in their support by two organizations not affiliated with the city, the Boulder Chamber and Community Cycles.
The groups most wanted to see e-scooters in east Boulder. In and around Flatiron Business Park. Gunbarrel and East Walnut Street were also suggested.
"Major employment centers … and many other areas throughout Boulder experience a lack of mobility options to either arrive to, or depart from … particularly if they are accessing those centers through regional transit stops," the Chamber contended. "For this reason, the Boulder Chamber advocates for full exploration of all possible opportunities to improve mobility for Boulder's workforce and residents, including extended pilot demonstrations, and see (sic) docked bikes and dockless e-scooters and e-bikes as a comprehensive set of innovative transportation choices that should be utilized in Boulder in a regulatory and responsible manner."
The Downtown Boulder Partnership wants to keep e-scooters out of downtown entirely, via virtual "geofencing" technology. The Parks and Recreation Advisory Board was most concerned with multi-use path users coming into conflict with scooter riders.
"Many people, including senior citizens, already feel intimidated and concerned" by cyclists and others on the paths, PRAB noted.
Staff suggested that Boulder instead focus on shared e-bikes. Personal electric-assist bikes have been street-legal since the early 2000s and recently allowed on the city's multi-use paths. City council in June 2018 passed regulations for shared, dockless bikes that includes a requirement that bicycles can be "locked to" a rack, something scooters can't do.
"Bike share is significantly safer than e-scooter share," staff wrote, "and poses a much lower risk to users, people with disabilities and other pedestrians. Bicycles … are a long-standing and proven form of active transportation. … E-bikes also provide the ability to transport goods and are generally better at handling rougher pavement conditions."
In addition to allowing e-bike companies to operate in Boulder, staff recommended additional investment in Boulder B-Cycle. Operated by a nonprofit, the brand could go bust by March without additional funding.
B-Cycle was saved from the brink once before. Boulder infused $80,000 in assistance when Kaiser Permanente pulled out as a sponsor last fall, preventing a November bankruptcy.

The bike share relies on sponsorship agreements as its primary source of funding. The city has contributed $65,000 annually since 2014, split between the transportation department ($50,000) and the Department of Community Vitality ($15,000), equalling 65 cents per ride. At current service levels, B-Cycle costs roughly $185,000 per year to operate.
Staff is recommending that the city and CU partner on increased funding of $275,000 annually, which will pay for the introduction of e-bikes. The university is on board to provide 40% of funding, with Boulder shouldering 60%. Students accounted for 42.5% of B-Cycle trips in 2019 (45,000 of 106,000).
B-Cycle by the numbers

300 bikes

45 docking stations

15,000 yearly users

100,000 rides annually

Nearly half of users take B-Cycle to public transit

35% replace car trips

Source: City of Boulder
A second council study session will be held to look at where bicycles, skateboards and other micro-mobility devices are allowed on sidewalks,. bike lanes and streets. That issue surfaced after a driver struck a cyclist in the crosswalk at Arapahoe Avenue and 38th Street. Bikes are not allowed on the sidewalk in that area, even though that stretch of Arapahoe does not have a bike lane.
Council asked for clarification on what modes of travel are (generally) allowed where.  A larger discussion on those guidelines should take place in the spring.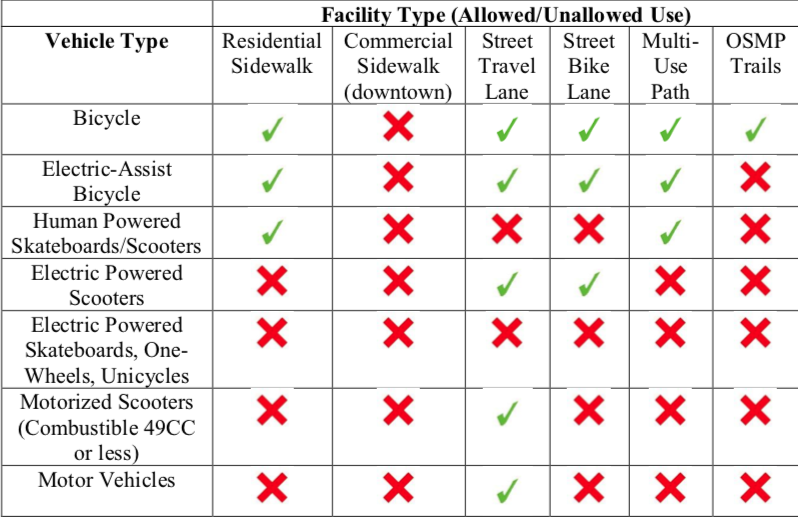 City Council meeting, 6 p.m. Tuesday, Jan. 28 1777 Broadway
Author's note: This article has been updated to reflect clarifying statements from transportation leaders that staff from multiple departments were involved in the recommendation against allowing e-scooters.
— Shay Castle, boulderbeatnews@gmail.com, @shayshinecastle
Want more stories like this, delivered straight to your inbox? Click here to sign up for a weekly newsletter from Boulder Beat.
Transportation American Association for the Surgery of Trauma Austin Public Health Be Heard Boulder bike share biking Boulder Boulder B-Cycle Boulder Chamber Boulder Junction city council city of Boulder Community Cycles CU Downtown Boulder Partnership Downtown Management Commission e-bikes e-scooter Flatiron Business Park fleet Gunbarrel injury Kaiser Permanente last-mile Louisville micro-mobility Mineta Transportation Institute moratorium Parks and Recreation Advisory Board safer streets San Francisco Singapore transit transportation Transportation Advisory Board University of Colorado Vision Zero walking
Journalist