Boulder city council gets back to business amid stay-at-home order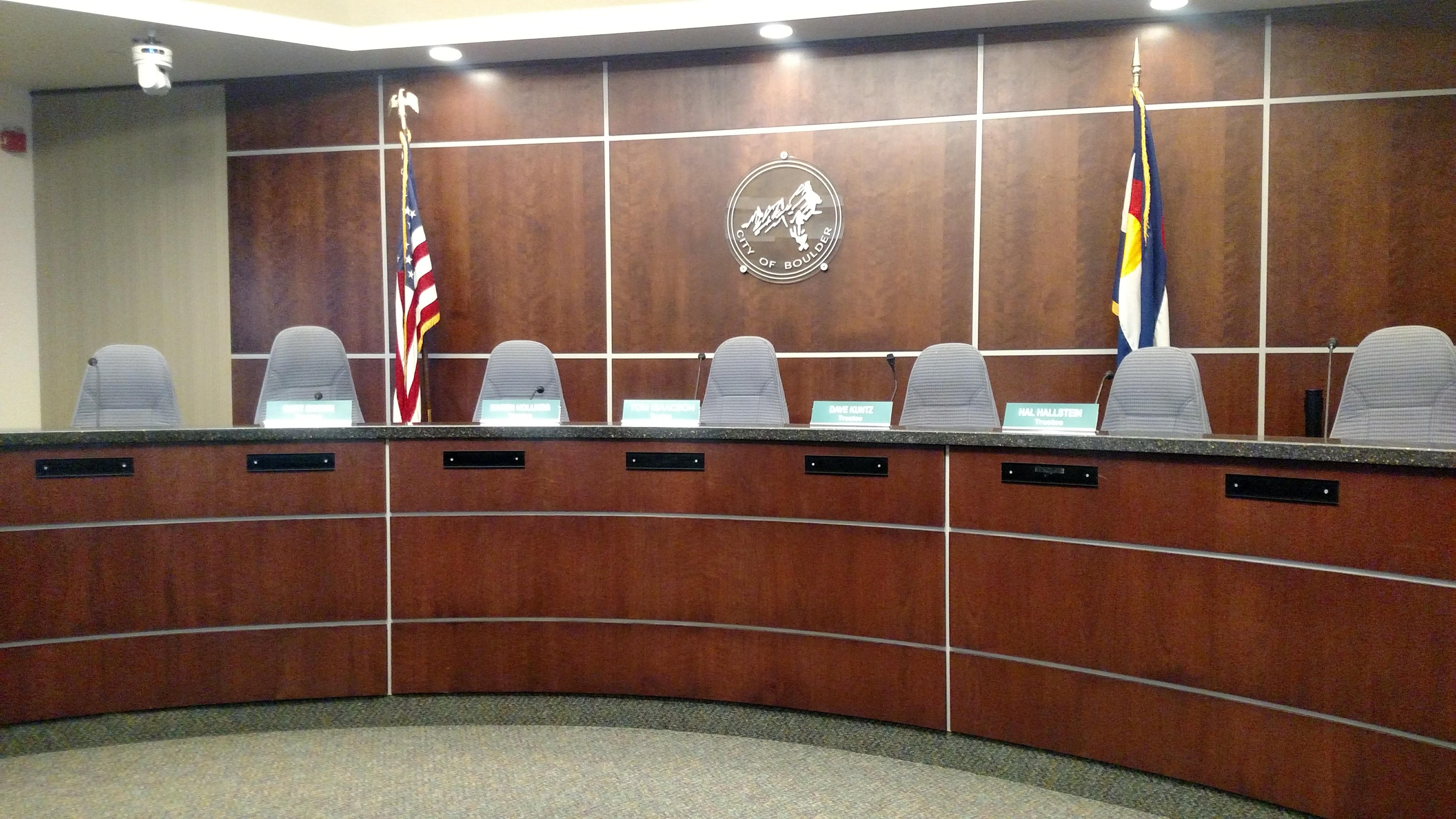 Monday, March 23, 2020
It won't be quite business as usual, but Tuesday will be the closest council has gotten since the outbreak of COVID-19 in the Boulder community. A fully remote meeting is scheduled, and there will be more on the agenda than pandemic.
Coronavirus will, of course, dominate the discussion, according to the agenda laid out by council's scheduling committee Monday morning. An update from available health officials and Boulder Community Health representatives will kick off Tuesday's meeting, followed by a look at financial and social impacts of the virus.
Council will address if and how to amend the stay-at-home order issued by City Manager Jane Brautigam on Monday evening. Brautigam said earlier in the day that council could change it at their discretion.
An overview of Tuesday's agenda:
'Rent holiday' possible
Members Adam Swetlik and Rachel Friend want information on efforts to help unhoused residents, Swetlik said. Public emails indicate shelters have been at or near capacity on recent nights.
There will be talk of protection for residential and commercial renters. Mayor Sam Weaver said he intends to bring up "the idea of a rent holiday," acknowledging that the issue is likely to be "divisive."
President Donald Trump suspended eviction of tenants from HUD housing and instituted a nationwide timeout on foreclosures for Fannie- and Freddie-backed mortgages. Governor Jared Polis said no state resources will be used for evictions and encouraged local governments to adopt similar measures. 
Boulder County courts have offered some de facto protections by stating it will not hear any new eviction cases, as have courts in Weld, Denver and Mesa counties.
(Disclosure: EFAA, for whom I work as a paid consultant, has requested council implement a three-month moratorium on evictions in Boulder. The organization's position was solidified after initial reporting on local consideration of eviction protections.)
Back to (regular) business
Tuesday's meeting will include non-COVID business for the first time since the last regular meeting on March 3. Council has indicated it will vote to schedule a review of design plans for the University Hill hotel, which Planning Board looked at on February 28. That vote was initially scheduled for the cancelled March 17 council meeting.
Other planned projects and discussions will be debated during Tuesday's meeting to determine what is worthy of council's limited time — flood work at CU South emerged as a likely priority — and what can be kicked down the road — a vote on a $2.1M prairie dog management plan seemed a candidate for postponement.
"Council will need to say what our priorities are," Mayor Weaver said. "We certainly don't want to distract anyone from (responding to) the coronavirus" which will become a standing item at all meetings for the foreseeable future.
Previously scheduled study sessions will be converted to special meetings so that council members can legally vote on any matters they deem in need of action.
Board and commission appointments could be made this Tuesday or next, depending on time. Meetings of those groups have been suspended through the end of March. Most aren't chomping at the bit to get back to work, Brautigam said, aside from the Open Space Board of Trustees and the Beverage Licensing Authority. Planning Board, which has authority over development projects, will need to reconvene quickly.
Petitions may get council boost
One March 31 agenda item seems set in stone: What to do about in-process petitions to place items on November's ballot? Two are currently in process, including a citizen effort   to end Boulder's march toward municipal electricity and a push to provide tenants with legal representation during evictions.
Signature-gathering have been suspended due social distancing measures. If the required 3,066 signatures aren't collected, the initiatives would not qualify for placement on the ballot.
But council can either pass the initiatives into law or order them to be put before voters, even if the signature threshold is not met. Organizers will have to demonstrate that there is "substantial support" for the initiatives for council to consider either action, City Attorney Tom Carr said. On March 31, members will discuss what that looks like.
Polis, via executive order, has allowed electronic signature-gathering for candidates. Several Boulder residents have emailed city officials to request online petitions for initiatives, a process that is underway but won't be ready until the 2021 elections.
Public participation in the pipeline
Staff is preparing to bring back public hearings and open commentDedicated time at the beginning of regular council meetings, where up to 20 members of the public ca... for the Apri 7 meeting. A contractor, Highlands Ranch-based Broadnet, has been hired to handle call-in speakers, according to Boulder Engagement Manager Sarah Huntley.
Rules for open comment will be amended to allow 20 speakers, though the lottery system will remain in place to determine who gets those spots in the event of surplus sign-ups. For public hearings, people will speak in the order in which they queue.
There is the problem that online and televised broadcasts of the meeting tend to lag behind real-time participation, which may create confusion for callers. Broadnet is tasked with managing speakers, alerting them when it is their turn at the virtual podium.
Additionally, Channel 8 "has purchased some equipment that could address that,"  Huntley said.
City council meeting 6 p.m. Tuesday, March 24. Streamed live online. Televised on Channel 8 and Comcast channel 880.
Author's note: This article has been updated to reflect the stay-at-home order issued after publication.
— Shay Castle, boulderbeatnews@gmail.com, @shayshinecastle
Want more stories like this, delivered straight to your inbox? Click here to sign up for a weekly newsletter from Boulder Beat.
COVID-19 Governance Adam Swetlik Beverage Licensing Authority boards and commissions Boulder Community Health Boulder County city council city of Boulder coronavirus COVID COVID-19 CU CU South Denver County EFAA Emergency Family Assistance Association eviction flood mitigation hotel HUD Jane Brautigam Jared Polis Mesa County Open Space Board of Trustees pandemic petitions Planning Board prairie dogs Rachel Friend rent Sam Weaver South Boulder Creek stay-at-home orders Tom Carr University Hill University of Colorado Weld County
Journalist