Boulder's roads, trails (mostly) spared from COVID closures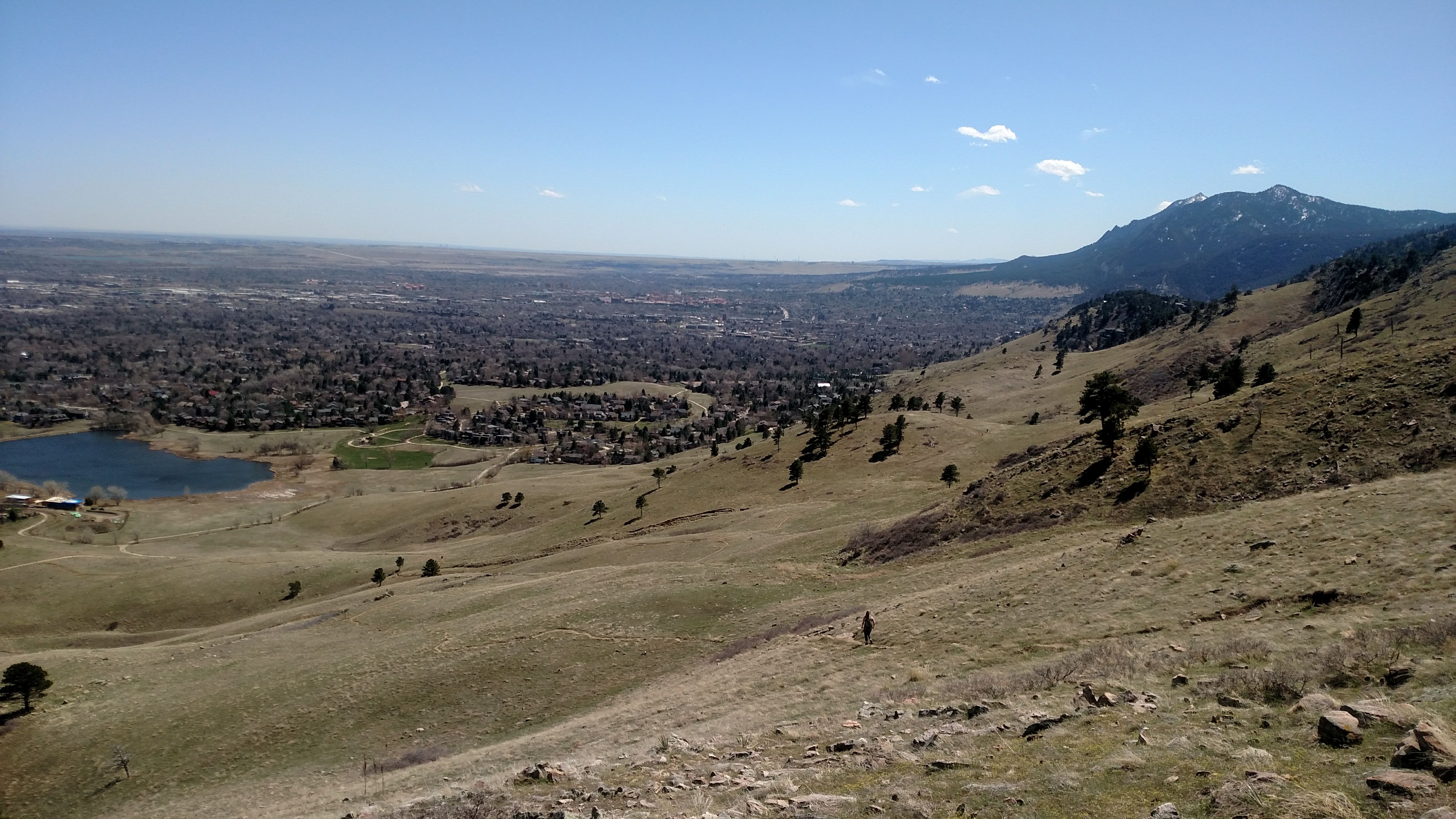 Friday, April 17, 2020
There will be no widespread closures for cars or people in Boulder due to COVID in the near future, council and staff decided this week. But shutdowns of popular open space spots might be in store during high-traffic times.
On the surface, the two systems are facing opposite issues. Streets are empty of cars and the trails full of people. But the two discussions dovetailed for precisely that reason: If open space became unavailable, residents might need roadways to recreate.
Flagstaff Road is the only one on the chopping block. Boulder County asked the city for help after overcrowding and vandalism at Walker Ranch. (Boulder is responsible for the road up the mountain while the county controls the open space there.)
OSMP Director Dan Burke didn't share a date for when the closures might start but said weekend and "targeted" dates and times were being considered. Local traffic, bikes and pedestrians would still be allowed.
Open space will stay that way
No neighboring open space systems are on the edge of complete closure. As with Flagstaff, Boulder is contemplating weekend and other targeted shutdowns at trouble spots; the Bobolink trail specifically was mentioned.
Mask use remains low, Burke said, particularly among young adults. Educational efforts are ongoing.
Hikers have mostly begun to keep their distance from one another, Burke said, after the implementation of one-directional travel and the posting of signage at more popular trails. As many as 90% of users were maintaining at least six feet of space on less-busy routes Burke said, though at more crowded spots, it was lower, between 70-75%.
With the good behavior, however, comes bad. Trails may be damaged by hikers stepping off-trail to maintain proper distance. Burke urged users to visit OSMP's trail map to find less-popular destinations. (The map also shows closures and trail widths.)
Read a play-by-play of Tuesday's open space discussion
Councilman Adam Swetlik questioned whether keeping trails in good shape is feasible given the constrained budget and furloughs of city workers. The open space department will do without nearly a quarter of its employees (22%) through the end of June, at least.
It will take some "reshuffling" of resources, Burke said. Other projects may be delayed as the focus shifts to maintenance.
Going off-trail is typically an ecological no-no. Burke didn't condemn hikers for it, acknowledging that proper spacing is more critical in this time of pandemic.
"We just don't want to create a trend," he said. "We just ask that when this is over, get back to staying on trail at all times."
But the best advice for how to recreate properly during this time, Burke said, is, "stay at home, first and foremost."
No road rebalancing
Burke was not the only one to suggest playing near where you live. Dr. Robert Vissers, CEO of Boulder Community Health, encouraged residents to "exercise on public streets that are empty right now," rather than venturing out to parks or trails.
That was the idea behind a recent push to close roadways to cars, making such activities safer. Dozens of cities across the country have taken those steps; Boulder's Transportation Advisory Board voted unanimously on Monday to pursue some closures.
But Boulder's rejection of the idea came down to budget. Staff and city council struggled to justify the cost of renting barriers for the limited benefit. People are already playing in the streets, they pointed out — streets that have 60% fewer cars on than normal, according to interim Transportation Director Bill Cowern.
The transportation fund — almost entirely reliant on sales and gas taxes — is projected to face revenue declines of $3.7 million, roughly 11%. It also has the least amount of cash held in reserve (5%) of any city fund; the minimum benchmark for adequate reserves is 15%.
"I'd like to preserve our resources for the things the community needs," councilwoman Mirabai Nagle said, in a forceful rejection of residents' advocacy that has become something of a hallmark of her time on council. "People need to realize this is a time of rationing."
"I'm sorry you've had to spend three weeks working on this," she said to Cowern, who has repeatedly insisted the department was too under-staffed and under-funded to pursue the project. "I'm pretty confused why we're still" spending time on this, Nagle said.
Proponents of the idea pushed back on Cowern's cost estimates. In a public email to council before the meeting, Community Cycles' Sue Prant asserted that a 60-day rental of enough barricades to cordon off 13th Street for seven blocks would run roughly $2,700; in estimates shared with council, Cowern said closing 15 blocks along 4th Street for a month would cost between $10,000 and $15,000.
Lower-cost measures could be substituted for rented barriers, Prant recommended, such as painted sawhorses and simple signs. City Manager Jane Brautigam argued that Boulder risks lawsuits if comprehensive solutions weren't implemented, which includes paying staff to "monitor" barriers, according to Cowern.
Read a play-by-play of the transportation discussion here
Council members again cited Boulder's abundance of parks and open space as a reason residents didn't need to recreate on city streets. Since they're not closing, street rebalancing lost what little appeal it had to the majority of members.
"I'm not sure what problem we're trying to solve here," Mary Young said. "I've seen virtually no traffic on streets like Iris, Arapahoe, Canyon, Broadway. … If the goals are to allow people to go out and exercise and be distant from each other, what I'm observing out there is completely amenable to that already."
She was "more intrigued" by the other pilot project Cowern proposed — shutting down two blocks of 19th Street near the Boulder Meadows mobile home community, for the low cost of $1,000 to $1,500 per month — because a planned park isn't complete yet, potentially creating issues of equity and access.
"Having streets for people is certainly a goal we should proceed with," Young said, "but at this point and time it just does not make sense."
Boulderites have apparently decided otherwise: At least one homemade barricade has popped up since council's decision on Tuesday.
— Shay Castle, boulderbeatnews@gmail.com, @shayshinecastle
Want more stories like this, delivered straight to your inbox? Click here to sign up for a weekly newsletter from Boulder Beat.
COVID-19 Open Space Transportation Adam Swetlik Bill Cowern Boulder Boulder Community Health Boulder County Public Health city council city of Boulder COVID COVID-19 Flagstaff Mary Young Open Space Mountain Parks pandemic transportation Walker Ranch
Journalist