Boulder Ballot Measures 2C and 2D: Xcel settlement and UOT extension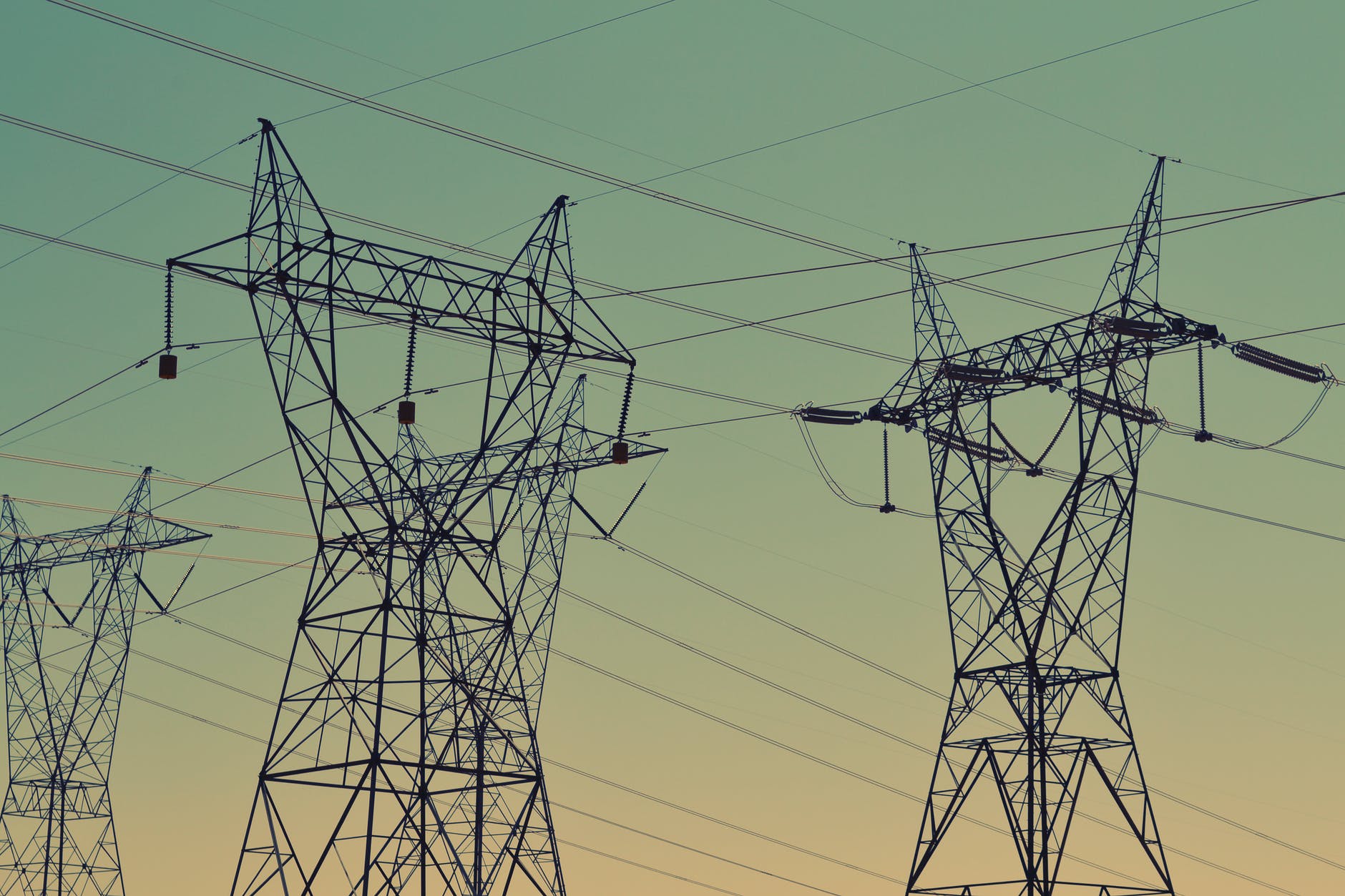 Official ballot language
(2C Public Service Company FranchiseA legal agreement between a power provider and customer (in this case, Xcel and Boulder) governing t...) SHALL THE CITY OF BOULDER GRANT A FRANCHISE TO PUBLIC SERVICE COMPANY OF COLORADO TO FURNISH, SELL, AND DISTRIBUTE GAS AND ELECTRICITY TO THE CITY AND TO ALL PERSONS, BUSINESSES, AND INDUSTRIES WITHIN THE CITY AND THE RIGHT TO MAKE REASONABLE USE OF ALL STREETS AND OTHER PUBLIC PLACES AND PUBLIC EASEMENTS AS MAY BE NECESSARY AS DESCRIBED IN ORDINANCEA piece of municipal (city-level) legislation. 8410?
and
(2D Repurpose the Utility Occupation Tax) WITHOUT RAISING THE TAX RATE SHALL THE EXISTING UTILITY OCCUPATION TAX, WHICH IN 2021 AND 2022 WILL BE IN THE AMOUNT OF $ 2,076,181, BE EXTENDED FROM A CURRENT EXPIRATION DATE OF DECEMBER 31, 2022 TO DECEMBER 31, 2025 AND BE REPURPOSED TO PAY ALL COSTS ASSOCIATED WITH THE FORMATION OF A MUNICIPAL ELECTRIC UTILITY AND TO BE USED TO FUND PROJECTS, PILOTS, INITIATIVES, AND RESEARCH THAT SUPPORT THE CITY'S CLEAN ENERGY GOALS IN THE CONTEXT OF THE CITY'S RACIAL EQUITY GOALS AND THE COMMUNITY'S COMMITMENT TO THE PARIS CLIMATE AGREEMENT, SUCH AS:
PROVIDING ENERGY-RELAED ASSISTANCE TO DISADVANTAGED MEMBERS OF THE COMMUNITY, INCLUDING SUPPORT FOR UTILITY BILL PAYMENTS AND ACCESS TO RENEWABLE ENERGY;

IMPROVING SYSTEM RELIABILITY AND MODERNIZING, AND SUPPORTING CLEAN ENERGY-RELATED BUSINESSES, INCLUDING, WITHOUT LIMITATION, NEW APPROACHES IN ELECTRIFICATION OF BUILDINGS AND TRANSPORTATION, ENHANCEMENT OF RESILIENCE;

IMPLEMENTING A PARTNERSHIP AGREEMENT WITH PUBLIC SERVICE COMPANY OF COLORADO; AND

INCREASING ACCESS TO ENERGY EFFICIENCY AND RENEWABLE ENERGY SOLUTIONS;





ONLY IF A MAJORITY OF REGISTERED ELECTORS APPROVE A FRANCHISE AGREEMENT WITH PUBLIC SERVICE COMPANY OF COLORADO AT THE NOVEMBER 3, 2020 ELECTION,




AND SHALL THE EXTENDED PORTION OF THE TAX BE SUBJECT TO THE SAME TERMS AND CONDITIONS AS THE ORIGINAL TAX AND ALL EARNINGS THEREON (REGARDLESS OF AMOUNT) CONSTITUTE A VOTER APPROVED REVENUE CHANGE, AND AN EXCEPTION TO THE REVENUE AND SPENDING LIMITS OF ARTICLE X, SECTION 20 OF THE COLORADO CONSTITUTION?
What it means
Should Boulder pause its efforts to buy Xcel's system and create its own electric utility, entering back into a franchise with XcelXcel Energy, a publicly traded utility company based in Minnesota. Energy, in exchange for certain agreements? (2C) Should Boulderites keep paying a portion of the Utility Occupation Tax, roughly $2 million per year through 2025, to fund projects meant to achieve 100% renewable energy and to help lower-income residents pay utility bills? (2D) 
If 2C doesn't pass, 2D will be null.
Additional reading
Xcel, Boulder settlement: What's in it?
Boulder 101: Municipalization
Who is supporting these measures
Boulder Chamber took an official position of support on 2C and 2D. IBM, Colorado Energy Office, Colorado Department of Health and Environment, Governor Jared Polis have expressed support in various forms.
The Committee for Boulder's Great Green Deal is campaigning for approval of the franchise/settlement agreements and extension of the UOTUtility Occupation Tax. The first part was initially passed in 2010 by voters, to replace the Xcel f.... The group is led by former Boulder Mayor Leslie Durgin and former city council member Andy Schultheiss, who was also chair of Open Boulder for three years.A statement of contributions and expenditures has not yet been filed; this article will be updated with that information.
Who is opposing these measures
Empower our Future, a group of local pro-muni residents that includes former city council members and backed by a number of organizations, including Eco-Cycle, New Era Colorado, PLAN-Boulder County and the local Sierra Club chapter.
Some of Empower's organizers also formed an official issue committee, No on 2C for Local PowerWhat the city of Boulder calls the muni. A statement of contributions and expenditures has not yet been filed; this article will be updated with that information.
Campaign spending
No on 2C has raised $34,566.58 to date and spent $22,099.67, according to campaign filings.
Committee for Boulder's Great Green Deal has raised $45,744.70 ($8,411.76 of which were in-kind donations) and spent $26,390.19.
New Era raised $1,212.07 for its Voter Guide ($199.02 in-kind) and spent $1,012.85. New Era was a pro-muni force in the 2017 vote to extend the UOT.
Franchise / Settlement
Why you might want to vote for this
A legally binding agreement with Xcel gets Boulder closer to its climate goals of having 100% of its electricity sourced from renewables by 2030. Xcel's own 2030 goal is related to emission reductions, which is not the same thing as renewables. The company should be at 65-70% renewables by then, officials say, though a detailed plan for how it will get there is not yet public (More on that later).
The company has promised to work on pilot projects to help Boulder close the gap and achieve its 2030 targets. It may require some extra funding from taxpayers (See UOT, below).
Settling with Xcel leaves the door open to resuming municipalization in the future, including several chances to opt out of the 20-year franchise agreement (by a vote of the people or council supermajority in 2023, 2025, 2026, 2031 and 2036). Some of those votes are tied to Xcel's performance on emissionsIn this context, the GHG that are released into the atmosphere from the burning of fossil fuels to g... reduction according to the below schedule; if targets aren't met, we can resume our fight to buy Xcel's physical system and run our own electric utility.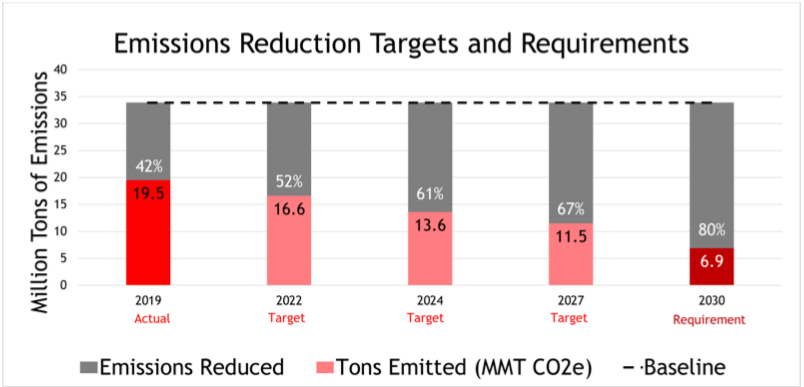 If we did so, the settlement caps how much we'd have to pay for that system (more below), freezes in place progress made so far and further limits what Xcel can and can't legally fight.
Boulder will get to participate in grid planning and other major decisions, via a three-body review, something city officials have been after for years. Xcel will share data we've never had before, such as reliability heat maps, company investments and returns in Boulder, resident participation in various programs, planning documents for the upcoming two years, and more.
Xcel has also agreed to jointly lobby the state government to overturn a rule limiting how much solar energy a property can produce. Passage isn't guaranteed, but state officials believe it's likely with the combined political will of the state's largest utility and one of its more powerful cities. Other efforts, such as electrifying buses, will get the one-two lobbying punch as well.
Why you might not want to vote for this
Though the settlement agreement provides Boulder a bigger voice than in the past, the city will have decidedly less control than if it ran its own utility. We'll more or less be stuck with Xcel decisions (and debt; see more below) and rates.
Sticking with Xcel also means that we're subject to their power sourcing: Wherever they get their energy, that's where our energy will come from. Critics of the deal argue that changes at the state level may soon give cities more flexibility in sourcing electricity. An Edie Hooton-sponsored bill introduced last year would allow municipalities to buy wholesale power from anywhere; it did not pass but is expected to be reintroduced. That would allow Boulder to meet its renewable goals without having to buy Xcel's assets.
Xcel's goals are not Boulder's. 65-70% renewables by 2030 is still a ways off from 100%. With our own utility, proponents argue, we could be at 90% renewables on Day 1, based on recent bids received by the city, and 100% by 2030. (This depends on stranded costsIf Boulder splits from Xcel, the company will have extra power on its hands that it intended for the..., which could keep Boulder buying from Xcel for a few years; see more below.)
There has also been criticism of the process. Both parties were brought to the tablePostponement of a motion, or a vote by councilman Bob Yates, who began meeting with Xcel's Alice Jackson in January and soon looped in Mayor Sam Weaver. City staff got involved in April and the deal was more or less finalized mid-August. It was very fast, City Attorney Tom Carr said Aug. 4 — "I would like a month to draft this agreement and we're doing it in a matter of days." — and details were being hashed out right up until city council finalized the ballot measures on Sept. 1.
Some worry that, in the rush, things are being overlooked.
Other considerations
There is still one big unanswered question: How much will it all cost?
To start it's own utility, Boulder will have to issue between $278.5 million and $424 million in debt to buy Xcel's physical system, replace/repair what Xcel needs to keep serving customers outside city limits and get the utility up and running.
The settlement deal caps acquisition costs at $200 million; without the deal, there's a $214 million limit, approved by voters. The eventual acquisition cost, if a settlement is not approved, will be determined by a court and could be higher or lower than either cap. A third-party assessment obtained by Boulder pegged the value of Xcel's system at $68.5 million, but Xcel rejected a series of offers, up to $94 million.
One big unknown, not included in the settlement deal and which could impact the viability of a utility, is stranded costs: What Boulder might owe Xcel for investments it made when it planned on keeping the city as a customer. A court will determine those if and when the city pursues municipalization in the future, and there are several ways to reduce what Boulder owes, including buying power from Xcel (which would lower the amount of renewable energy it gets).
City officials insist stranded costs could be as low as $0; Xcel says they could be as high as $350 million.
As for rates, Xcel files its plans for those with state regulators next year, so they're still unknown. Boulder is legally bound, via its charter, to provide rates that match Xcel's at the time of acquisition — but only on the first day the utility is operational. Thereafter, rates simple have to be "comparable" to neighboring utilities. What comparable means is not defined.
One non-cost consideration: The possibility of future challenges to the muniA utility that would be owned by the city of Boulder. Shorthand for municipalization, which is the p.... Mayor Sam Weaver — long a muni proponent — referenced this in his support for allowing voters to weigh the Xcel settlement: Better to get a good deal now than no deal in the next couple years if voters support a challenge or vote down the ultimate go/no-go once the full costs are known, he argued.
UOT
Boulderites have been paying the UOT since 2011. It has two parts: replacing the Xcel franchise fee that goes into the city's general fund — 3% of the revenue generated here, or ~$4.7 million — and a second, smaller portion that has paid for the legal and regulatory processes of establishing a municipal utility.
Both parts will automatically expire if voters approve the franchise and settlement agreements with Xcel. Council, by a 7-2 vote, placed on the ballot an option to extend the muni-funding portion of the UOT through 2025 (roughly $2 million a year) and instead apply it to projects that would help Boulder reach its goal of 100% renewables by 2030 and to help lower-income residents pay their utility bills.
Why you might want to vote for this
The extra money would help provide a stable source of funding to help ensure vulnerable residents don't get their power shut off. It's unclear what the demand might be; Xcel did not respond to questions regarding delinquent accounts. Boulder nonprofit EFAA through August provided $68,875 in aid for utility bills.
The bulk of the UOT extension could help achieve 100% renewable energy by 2030, though it's unclear if $6 million is enough to entirely close the gap between Xcel's goals and our own.
There's a possibility Boulder could be reimbursed for its spending in this area. Per the settlement agreement, the city could be reimbursed by Xcel for pilot programs or projects that are 100% funded by Boulder and then offered to other Xcel customers within 10 years. That reimbursement would be subject to PUCPublic Utilities Commission, Colorado's regulatory body for utilities such as water and electricit... approval.
Why you might not want to vote for this
It is more money from the taxpayers, during a time of economic uncertainty for many (which is why councilwoman Rachel Friend voted against the extension). 
Boulder doesn't have to invest anything. The settlement agreement dictates that Xcel will contribute to programs or projects that get Boulder closer to its renewable goals, and that both the city and Xcel seek alternative funding sources. 
But, as staff noted, reaching 100% renewable electricity is unlikely to happen without "substantial resources." So then the question for voters becomes: How much renewable energy is enough: The 65-70% we may achieve under Xcel alone? And is it worth it to spend ~$6 million for whatever progress we can make beyond that? 
The last few pieces of progress are the hardest and most costly to reach, as staff noted in a mid-2019 update on Boulder's goals: "While the pathway to achieving the Climate Commitment goals is technically feasible, each incremental reduction will be increasingly difficult, with costs and business models unknown."
More information
Have questions about these measures? Ask Boulder city staff — and see what others have asked — via this link (2C) and this one (2D) Note: Because of laws against election interference, city employees can provide factual information only, not analysis or opinions.
— Shay Castle, boulderbeatnews@gmail.com, @shayshinecastle
Want more stories like this, delivered straight to your inbox? Click here to sign up for a weekly newsletter from Boulder Beat.
Elections Municipalization Boulder Boulder Chamber city council climate goals Committee for Boulder's Great Green Deal elections emissions Empower Our Future franchise greenhouse gases IBM muni municipalization No on 2C for Local Power Public Utilities Commission renewable energy Sam Weaver settlement UOT Utility Occupation Tax Xcel Energy
Journalist