Boulder leaders struggle with when, how to get back to business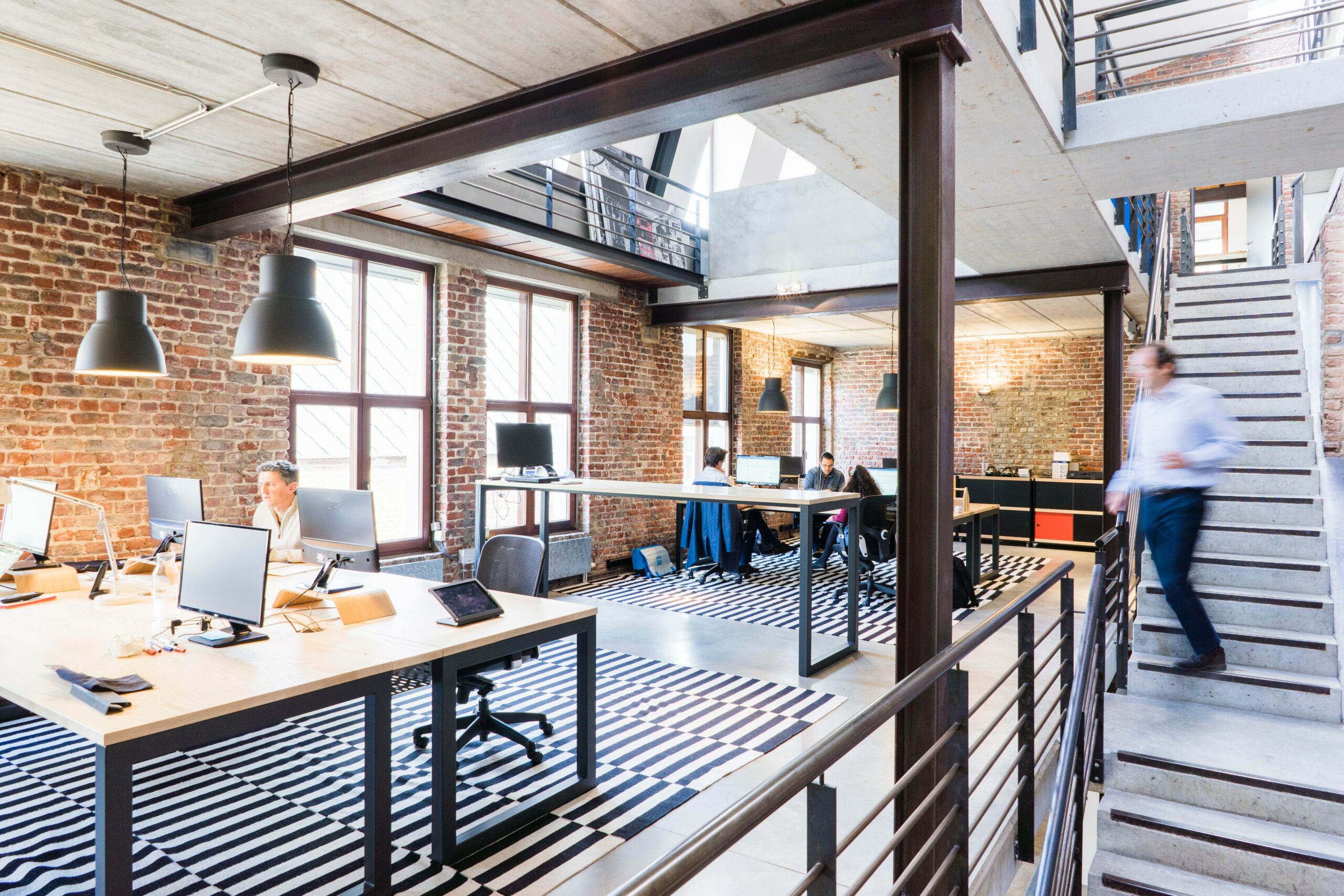 Saturday, May 15, 2021
Boulder city council will return to (mostly) empty chambers for in-person proceedings July 13. It was a decisive and enthusiastic call after 14 months of Zoom meetings, but there are still issues left unsolved: issues of accountability, safety, privacy, technology.
The struggle of local government reflects that in the wider business community, as leaders strive to balance employee expectations with the needs — or, some say, outdated norms — of the organizations themselves. As workers have grown accustomed to more flexible schedules, there may never be a full return to pre-pandemic conditions. The future is foggy, and the path to get there uncertain.
"It's unsettled right now," said John Tayer, president and CEO of the Boulder Chamber. "There's no textbook. We're learning as we're doing."
Hybrid hopes
Many workers are content to stay the COVID course. They have ditched dreadful commutes — the dreariest part of our days, according to experts — and swear they are as productive in their pajamas as when they were in the office. Some research backs that up; certainly, Americans logged more nights and weekends last year.
Others long for the return to socialization, an escape from tiny or crowded quarters. Most would like to see a future with more flexibility, where they can retain remote work days for at least part of the week.
A survey of 424 downtown Boulder business workers, conducted in April, found those same trends to be true locally, with most workers favoring a hybrid approach. More than a quarter wanted to remain fully remote, and just 14% felt full-time office presence was right for them.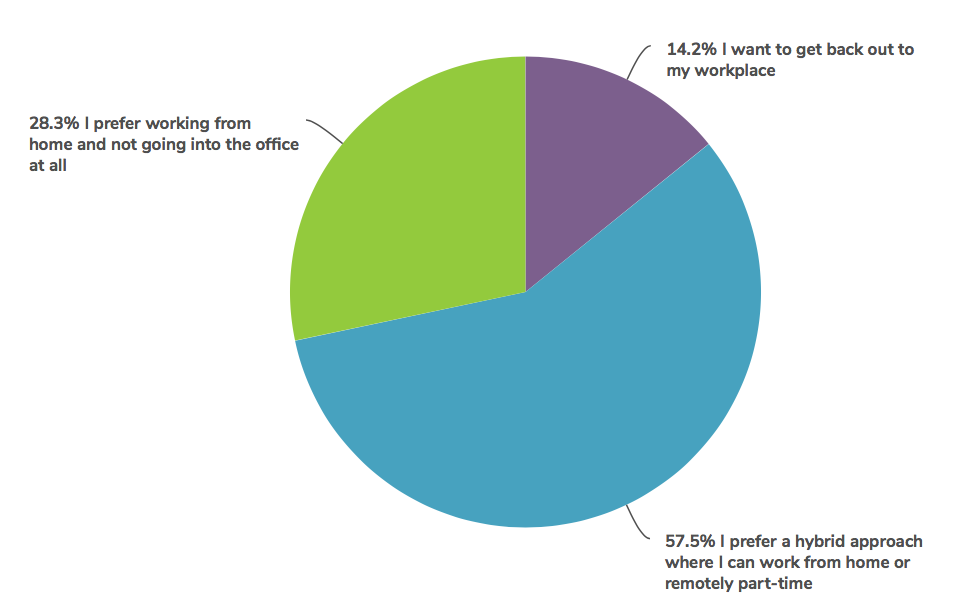 Whether their workplaces will accommodate those preferences remains to be seen. Some multi-national companies with a presence in Boulder have announced either fully remote (Twitter) or hybrid (Google) futures. But the majority of small, local operations that predominate the city's 7,000 businesses are still on the fence, weighing many factors.
"There are those workforce decisions that are playing into what the policies are going to be," the Chamber's Tayer said. "Everything from what are the rules around vaccinations and what are the liability issues that employers would face by bringing people back to the office." 
What Zoom lacks
Much of the recent news coverage seems to pit the interests of business owners against their employees. As The Atlantic's Amanda Mull wrote this week, "Employers are trying to figure out what they can get away with down the line, and workers are trying to figure out what they can demand."
In Boulder, there are concerns about losing valuable talent by forcing them back to the office, Tayer said. The pre-pandemic labor market was tight, and most of COVID's job losses were in low-wage sectors (retail, restaurants).
Despite the desires of their employees, many bosses continue to believe in the benefits of in-person work. Part of it is a reticence to accept that workers really are, well, actually working at home. But there are other advantages that have nothing to do with micromanaging, according to Chris Nelson, executive director of TGTHR (formerly Attention Homes).
"When you have a team approach and everybody's contribution is important, in my experience, it's really hard to get that in Zoom," Nelson said. Schedules don't line up, there aren't organic interactions or the chance to pop into someone's office to ask for their input — all the things that drive and aid collective problem solving.
"We've been in the office this week, we've solved problems that have been on our radar for months just by being able to go, 'What do you think about this?' There is no 'Hey, what do you think about this' with remote work."
TGTHR has started to bring workers back to the office while also being responsive to individual needs on a "case-by-case basis," Nelson said. He's very aware that childcare remains a challenge for many, and that not everyone can be vaccinated due to medical or religious reasons.
Nelson also realizes that what works today may not tomorrow. The conversation around what to do is ongoing and evolving.
"I don't think there's a single business leader who's not struggling with that," he said. "There's no answer."
'Reasonable' vaccine requirements
Council and critical staff will be the only ones to return in July; non-essential staff and members of the public will continue to participate remotely. That option will be open to other council members as well, up to three members per meeting. Each council member can attend up to four meetings per year via Zoom, rather than in-person.
Study sessions will stay fully remote, as will committee meetings. Boulder's boards and commissions will stay virtual until Sept. 7, at which time they can return in person or stick with Zoom. For now, council meetings will be the only proceedings to pursue a hybrid approach, while staff evaluates the expense and logistics.
Read a Twitter thread of Tuesday's discussion on resuming in-person city services
Elected officials were near-unanimous in their desire to meet in person — provided that everyone on-site is vaccinated.
"It seems like the scientific thing to do to have everyone coming to the meetings to be vaccinated," said councilwoman Rachel Friend. "And to role model that as well."
The city's human relations department has recommended against asking employees to disclose their vaccination status, according to City Attorney Tom Carr, but he advised council that such disclosures and requirements were probably OK, given that they follow current health guidance.
"I think you could ask," Carr said, "and I think you could say the only people in the room, at least for council and staff, have to be vaccinated. I think you're safe to require employees in a small room, especially in this circumstance, to be vaccinated."
Mirabai Nagle was the sole council member to dissent to vaccine requirements, because of the breech in privacy for employees and elected officials.
"I don't particularly agree with asking people," Nagle said. "Especially with the public positions that we're in, because if some people aren't and when the media, if the media gets ahold of that or the public gets ahold of that, and people are getting shamed… It's no one else's business if I got vaccinated or didn't get vaccinated."
Employers across the nation are testing the legality of vaccine mandates; CU will require all faculty, staff and students to be immunized for the fall semester. Arkansas recently banned employers from requiring a COVID vaccine; a similar effort by Colorado Republicans failed this week.
"The litigation hasn't even started on this issue," Carr said. "It will start soon, and we'll get more guidance from courts. I'm not aware of any cases where someone has sued claiming it was job discrimination to require vaccination. I think that suit would fail, but I can't predict 100% until a court does it."
Requiring vaccines to attend council meetings is "reasonable and certainly a defensible approach," he concluded.
Just shy of 70% of eligible Boulder County residents have received at least a partial course of the COVID-19 vaccine. In the spring survey of downtown Boulder workers, more than 90% said they have been or intend to be vaccinated. The remainder said they wouldn't (4.3%) or weren't sure (4%).
No drop in demand for office space
One early prediction that hasn't yet proven true is a mass exodus of businesses from pricey Boulder office space. Economic experts and even the city's own finance staff expressed trepidation that, given remote capabilities, employers would choose to forego one of the biggest business expenses: Real estate.
That simply hasn't happened, the Chamber's Tayer said.
"We're not, at this point, seeing a dramatic shift in that direction. There's a great deal of office activity occurring in Boulder and investment in facilities with less structured office spaces" that reflect the need to be nimble.
Tayer is hopeful the city will be as accommodating to changing office needs as it was to restaurants early on, cutting red tap for outdoor dining. The vast majority (78%) of Boulder businesses are very small (10 employees or fewer), lacking the resources and expertise to navigate permitting processes.
"That's a bottom-line or startup expense that many businesses can't afford," he said.
As of Sunday, Boulder County moves into Level Clear — no mandated restrictions aside from an indoor mask mandate that ends June 4. Governor Jared Polis on Friday ended statewide mask requirements. Boulder County quickly followed suit; local mask orders end Sunday.
Office workers matter deeply to Boulder's economy. Already, the city is recovering more slowly than most of Colorado due to the slow return of employees, students and tourists.
Just 18% of downtown employees were back at work full-time in April. A further 42% plan to return within the next six months. A full 26.5% of respondents said they will never again come back to the office on a regular basis: "Remote working will likely be permanent."
— Shay Castle, boulderbeatnews@gmail.com, @shayshinecastle
Want more stories like this, delivered straight to your inbox? Click here to sign up for a weekly newsletter from Boulder Beat.
COVID-19 Governance Attention Homes Boulder Boulder Chamber business City Attorney city council city of Boulder COVID COVID-19 CU Downtown Boulder flexibility Mirabai Nagle office space pandemic Rachel Friend remote TGTHR Tom Carr University of Colorado vaccination vaccine work-from-home
Journalist