Are Boulder's post-Marshall Fire rent hikes price gouging, or business as usual?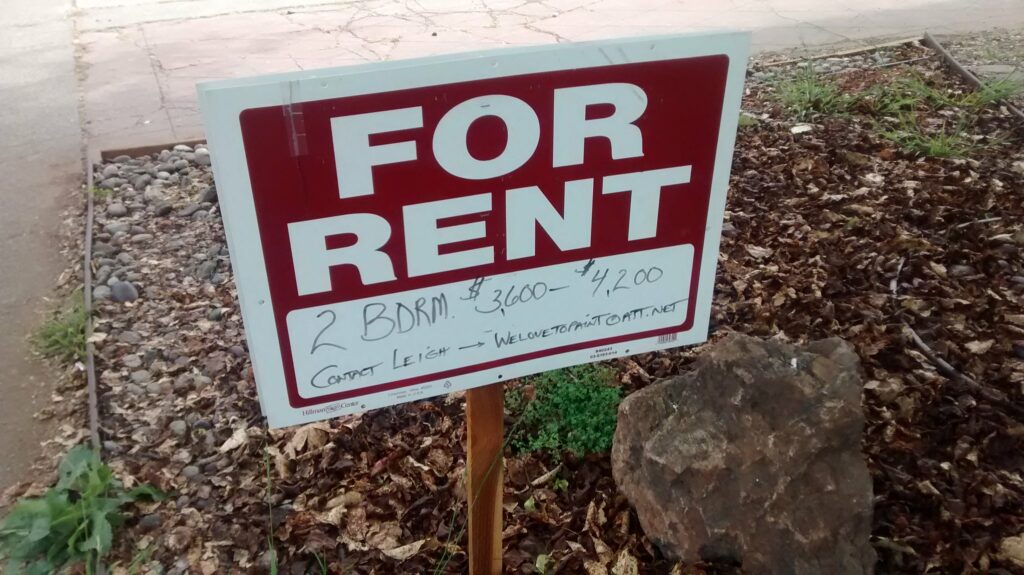 Saturday, April 16, 2022
Estelle Smith has been living in Martin Acres since January 2021, the first renter in a newly purchased home. Her rent has been raised exactly once: It went from $2,100 to $2,465 when a roommate joined her six months in, which felt "fair, in my opinion," Smith said.
So she was surprised when her landlord proposed a higher rate for later this year, once Smith and her roommate's lease was up: $535 more per month — a 22% increase.
It felt particularly jarring because Smith's landlord had recently sent an email to the Martin Acres list serve warning against price gouging in the wake of the Marshall Fire, which displaced thousands from their homes. 
"It just feels like she's taking advantage of the situation," Smith said. 
Smith is not alone in wondering if recent rent hikes are par for Boulder's highly expensive course — double-digit increases are nothing new, after all — or something more sinister. Price gouging for essentials after a natural disaster is illegal, as elected officials have repeatedly warned, yet there appears to be no real weight behind their words.
Property owners say they have received no guidance from the state on what is and is not an acceptable amount to raise rents, and state officials refused to answer questions about specific laws or action against alleged violators.
"It's basically saying, 'Please don't,'" said Caleb Dickinson, owner of Louisville-based Fox Property Management and a city council member there.
Market rules
Following the Dec. 30 Marshall Fire, every Boulder city council meeting began the same way: The mayor reminded residents that "Colorado law prohibits charging excessive prices for certain essential products, goods or services during a disaster period." Boulderites who believe they may have been victims of price gouging were encouraged to call the Colorado Attorney General or visit the website set up to report such practices: StopFraudColorado.gov.
The top of that site features a message about the Marshall Fire, which "create[d] fertile ground for fraudsters." A link invites users to learn more, including a one-pager on post-fire price gouging. Housing isn't mentioned.
Published guidelines simply list "building materials, consumer food items, emergency supplies, fuel, medical supplies, or other necessities" (emphasis added) as those for which undefined "excessive prices" cannot be charged without possibly running afoul of the law, passed during the pandemic.
Housing is covered by state laws against "deceptive trade practices," as Colorado Attorney General Phil Weiser made clear when he sent letters to online rental companies in January after "some landlords excessively raised their prices."
A press release put out the AG's office didn't include any specific definitions or even examples. No published materials provided by the state define price gouging as it relates to rent during a disaster; in non-crisis times, Colorado bans most forms of rent control.
"There's no clear rule," Dickinson said. "I can't find anything ironclad." 
Neither could BARHA, the Boulder Area Rental Housing Association. President Todd Ulrich said BARHA's attorney laughed when he asked about state law as it pertains to rental price gouging.
"There's no legal definition," Ulrich relayed. "At least not in state statute."
A spokesperson for the attorney general's office rescinded an offered interview with Boulder Beat and declined to answer specific questions about enforcement, definitions or guidance to property owners and renters.
"Given where we are in our review process," Emily Wenger wrote via email, "it would not be appropriate to discuss this issue at this time."
Wenger provided a link to the one-page advisory, which itself seems to indicate that there are no limits for rent increases.
Price gouging has not occurred, it states, if "sellers" (in this case, landlords) "can demonstrate that price increases were directly attributable to additional costs imposed by the seller's suppliers or other market conditions beyond the seller's control."
'Whatever they want'
With 1,000 homes destroyed by the fire, many more people were suddenly looking at the same small pool of housing — the perfect market conditions for rising prices.
Rents in Boulder County have risen 4.4% so far in 2022, double what they did over the same time last year. Seasonal increases — rents here typically fall in the winter and rise again in the spring — also started sooner in Boulder and Broomfield, said Rob Warnock, senior research associate for Apartment List.
"Boulder and Broomfield counties saw seasonal rent increases start about a month earlier," Warnock said, "and prices have gone up in those counties than in others."
It's impossible to say from this limited data that the Marshall Fire directly caused that increase, Warnock cautioned, but "the theory makes sense."
"Fires impacted both supply and demand: creating more demand by displacing households and reducing the supply of available housing by destroying them," Warnock said. "The theory stands that should have increased competitiveness, assuming folks are looking to relocate in the same community. The price changes are consistent with that."
Costs have gone up with inflation, so some amount of increase is justifiable. It will make it that much harder to prove price gouging — the onus of which is on the renter.
"People can certainly argue, 'My expenses went up, and I'm increasing my price,'" Dickinson said. "You have to prove otherwise. There's no way anyone is going to win one of these cases. They're not going to hire a lawyer and take on a business on something that is really legally complicated.
"People are going to get away with doing whatever they want."
Maximizing revenue
Ulrich, who also runs a property management company, said supply is improving as smoke- and water-damaged homes are restored to habitability. Second homeowners have also offered up empty homes to victims. Some property owners have actually had to lower rents, after first trying to raise them, he said.
Dickinson wrote a letter to his clients, shared with Boulder Beat, warning them against asking for much-higher rents and suggested increases of 0-5% for renewing tenants and up to 8% for properties with turnover.
"If we attempt to maximize your revenue this summer," he wrote, "we could potentially raise rents on all properties by 15-30%, which would certainly put both of us in legal peril as we would displace hundreds of families and be unable to rationalize that increase. 12.5% can be enough to file a complaint, and we don't want to be anywhere near that line."
Those numbers were based on independent research about price gouging of other items like water in past disasters, Dickinson said. He and Ulrich were not aware of any guidance from the state to landlords or property managers on what does or doesn't constitute price gouging.
Ulrich has his own definition, following the famous maxim about obscenity: "You know it when you see it."
Instances of true price gouging were pretty rare, Ulrich said. Most of Dickinson's clients "responded positively" when he suggested that they "do (their) part by ONLY increasing our rents by a fair and reasonable amount."
Smith found kindness, too, from neighbors and friends she shared her saga with. She was able to negotiate with her landlord for a smaller monthly increase of $285, or 11%. But the experience still soured her on Boulder.
"I knew it was going to be expensive, but I kinda thought the people were going to be better," she said. "It really feels like people care a hell of a lot more about maximizing their investments than they do about impacting people's lives."
Though it worked out for her to stay in her house, Smith knows that, come next year, the expected rent is $3,000 a month. And she'll be back in the same place: Looking for an alternative in a market where prices only ever go up.
"There's a lot of energy and support for people who lost their home in the fire," Dickinson said. "There isn't going to be the same emotional or monetary support for people who are getting priced out of the market a year later."
— Shay Castle, @shayshinecastle
Help make the Beat better. Was there a perspective we missed, or facts we didn't consider? Email your thoughts to boulderbeatnews@gmail.com
Housing Attorney General Boulder city of Boulder housing inflation Marshall Fire price gouging rent tenant
Journalist