Boulder asks judge to dismiss ACLU suit over camping ban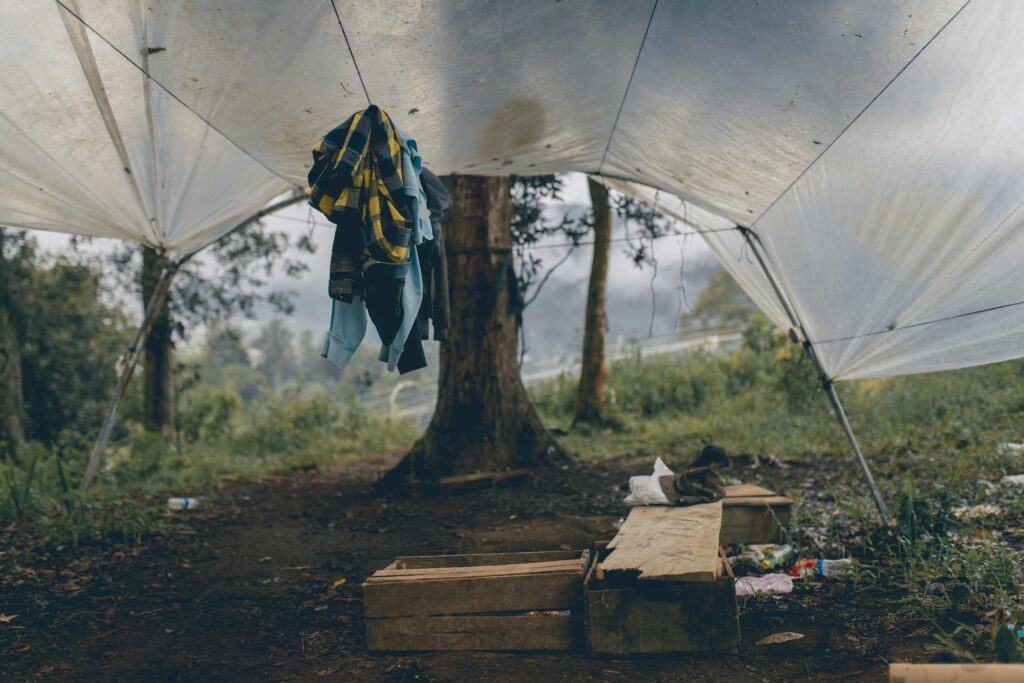 Friday, June 24, 2022
By Alexis Bernthal
bernthala@lopers.unk.edu
Lawyers for Boulder on Friday asked a judge to dismiss a lawsuit the city is facing over its ticketing of unhoused people living in public spaces. In filings, the city and their legal team argue they are not criminalizing the status of being homeless but are instead legally regulating behavior that is necessary to keep public lands open, clean and safe.
"The city must take into account the possibility of more or less permanent tent cities being established on public land," the motionFormal proposal calling for a vote to dismiss reads. "The existence of such communities would not only deprive other citizens of the use of occupied public lands but would raise the potential for public health problems that would arise if the city became host to entire communities disconnected from the city's water and sewer systems and without trash collection service."
People behind the lawsuit, along with other advocates for the unhoused, contend that without enough shelter and services, people have no choice but to sleep outside. They highlight diminished and inadequate services, arguing that Boulder should instead focus on expanding proven pathways out of homelessness.
"To me, the whole debate of whether camping should be banned or not isn't the issue," said Scott Medina, director of community relations at Boulder Bridge House, a nonprofit that helps unhouse individuals through social enterprise like its Ready to Work program.
"It should be, Are there ways for people to get out of homelessness? This lawsuit is indicating that no, there are not enough adequate services."
Living outside not illegal, city argues — blankets are
Colorado's American Civil Liberties Union (ACLU) in late May filed suit, seeking to overturn City of Boulder OrdinanceA piece of municipal (city-level) legislation. BMC Section 5-6-10, commonly known as the camping ban. The camping ban prohibits individuals from occupying areas or residing temporarily on public or private property. Boulder's tent ban is also targeted by the suit.
The lawsuit uses the phrase "blanket ban," because Boulder's ordinance penalizes anyone who uses any form of shelter: blankets, sleeping bags, tents or other coverings. City attorneys pushed back on that phrasing: the ACLU "recharacterize[d]" the camping ban, they wrote in last week's motion to dismiss.
The law does indeed ban the use of blankets, which the city noted later while countering the ACLU's claims — based on a previous court ruling — that ticketing people who have no choice but to sleep outside is cruel and unusual punishment, barred under the Eighth AmendmentChange made to existing documents, resolutions, or ordinances.
"Spending the night sleeping in public bundled in warm clothing is permitted, so long as the person does not use shelter," lawyers wrote. Thus, the camping ban "does not criminalize homelessness, rather it regulates certain conduct — sleeping outside overnight with shelter."
Dan Williams, an attorney for the plaintiffs, said it was "disappointing" that the city "is taking the position that charging unhoused people criminally for taking basic precautions to prevent injury or death during bad weather is anything other than cruel and unusual punishment and a violation of basic human rights guaranteed by our State's constitution.
"The City and the Police Chief's callous policies toward unhoused people have caused far too many injuries — and even death — over the last several years, and it is time they are held to account."
Service providers sound the alarm
The lawsuit comes after the number of shelter beds was cut in half as the city focuses on housing as a permanent solution to homelessness. Boulder has housed a lot of people: more than 500 since late 2017, according to city data.
Regardless, only a fraction of people receive housing.
"The fact is that we've had a dramatic decrease in sheltering beds and we're only housing roughly 11% to 13% of the total homeless population," said Jennifer Livovich the founder of Feet Forward, a nonprofit providing peer support to individuals experiencing homelessness. Livovich is a plaintiff in the ACLU lawsuit against the City of Boulder.
"The majority of people aren't even in a contingent of housing."
Simultaneously, the Boulder Shelter for the Homeless, which is the city's only source for general emergency sheltering, indicated earlier this year they are shifting focus away from sheltering and instead towards housing. Providers worry this could leave unhoused residents with even fewer options than before.
Melissa Green, the CEO of the Bridge House, wrote in a recent guest opinion for the Daily Camera, "If the Boulder Shelter for the Homeless is not willing or able to provide the full extent of resources this city needs, then the city should acknowledge that and move on."
"Let the Boulder Shelter for the Homeless focus on Permanent Supportive Housing and let the city finally put funding into necessary resources."
Expansion and enforcement
Bridge House and other providers in January advanced a "Vision Zero" for homelessness, highlighting the importance of additional shelter beds as the shelter consistently filled up. The city did add some hotel stays for overflow, but dozens of people were still turned away. 
Many requests from providers, and the needs of the homeless, remain unmet, advocates say.
"I am a plaintiff because I am hoping the lawsuit will bring about meaningful change," said Lisa Sweeney-Miran, executive director of Mother House, which helps individuals who identify as women, transgender, or nonbinary. "If the city wants to focus on solutions, one thing that would be ideal would be to spend more money on social workers and social providers instead of police forces."
The current city council has been more receptive to expanding services — they prioritized a day shelter, planning for which is underway — but removal of camps and ticketing of unhoused people has continued. The previous city council allocated $2.86 million toward encampment removal, without measurable success so far. 
Boulder has continued to defend the practice of banning and removing tents and camps, citing the public health risk. Encampment presents challenges such as fire danger; human waste feeds algae and bacteria, which threatens to contaminate waterways. A city clean-up team has collected 66.5 tons of debris from encampments so far this year. 
Moreover, officials argue that the camping ban offers a useful point of intervention with homeless individuals. Individuals can have low-level charges dropped when they go through the municipal court's community court system in exchange for working toward housing; 192 cases have been dismissed so far for 79 individuals.
ACLU's lawsuit involves three plaintiffs who cannot access emergency shelter. One has dogs, another was banned due to conduct and a third works at a local fast food restaurant; his shift ends after the shelter closes for the night. 
In filings, attorneys wrote that Boulder Shelter for the Homeless is "not an agent of the city" and therefore, shelter policies are unrelated to the city's actions. 
Boulder Shelter is a private nonprofit, but it contracts with local governments for sheltering, outreach and navigation services, and receives funding from the city. 
The ACLU and other plaintiffs have until Friday, July 8 to respond to Boulder's motion to dismiss. 
Shay Castle contributed reporting. Disclosure: Shay Castle volunteers at Feet Forward's weekly outreach events. Interviews with Feet Forward and other providers were conducted by Alexis Bernthal.
Help make the Beat better. Was there a perspective we missed, or facts we didn't consider? Email your thoughts to boulderbeatnews@gmail.com
Homelessness ALCU Boulder Boulder Shelter for the Homeless Bridge House camping ban city council city of Boulder Feet Forward homelessness Mother House unhoused
Journalist