Guest opinion: Despite national setback, we're commemorating Roe in Colorado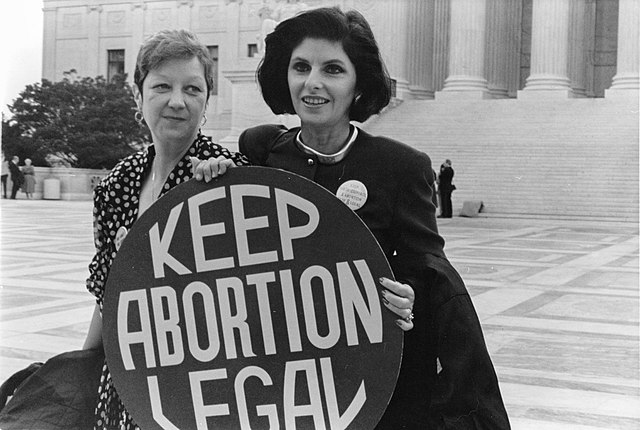 Friday, Jan. 20, 2023
By Debbie Pope, Kelly Baden and Andrea Steffes-Tuttle
States like Colorado are embarking on their first state legislative session since the devastating June 2022 decision by the U.S. Supreme Court to overturn Roe v. Wade, the 1973 decision that recognized our constitutional right to abortion care. On January 22, 2023, we'll mark the 50th anniversary of the historic Roe decision, support ongoing efforts to ensure Colorado is a safe place for people all over the country to get the healthcare they need, and raise the alarm about the devastating impact of overturning Roe on women and families everywhere.
For nearly 50 years, the right to abortion was recognized as essential for our health and our lives. The majority of Americans have consistently shown support for this legal right. Despite this, we've experienced relentless attacks on reproductive rights, with state legislatures passing 1,381 abortion restrictions since 1973 and creating a veritable obstacle course for patients and providers.
While we know that Roe v. Wade is important, its existence alone was never sufficient to ensure people could access the health care they need and deserve. Without the national protections afforded by Roe v. Wade, though, we find ourselves in a crisis of our rights and health.
Abortion is now illegal in 12 states, and wait times for the procedure in states where abortion is legal are long, complicating the timeliness of this healthcare. In some states, abortion technically remains legal, but multiple barriers to care remain; Arizona, for example, has not fully banned abortion but has made it harder to get by requiring a mandatory 24-hour waiting period, two trips to a clinic (which increases cost and stigma), unnecessary requirements on who can provide abortion care and in what kinds of facilities, and more.
These barriers to accessing reproductive healthcare mean that more people are relying on Colorado to fill in the gaps. Organizations like the YWCA are working to increase awareness by organizing marches, and groups like Cobalt, COLOR, Boulder Valley Women's Health Center and Planned Parenthood are working to support in-state and out-of-state patients in getting the care they need.
YWCA Boulder County's mission is to eliminate racism and empower women. Our pillars include racial justice, empowerment and economic advancement for women, and health and safety for women and girls. It is critical for women to have access to reproductive health care and overall decision-making over their bodies and lives. We also know this is a racial justice issue, because many of the women who face the largest health care access disparities are women of color. We want to ensure that women and people who believe strongly in reproductive and human rights are able to know how to take action and be able to connect together.
The crisis we're experiencing nationally shows that we must move beyond just restoring Roe v. Wade. As we continue to navigate our current abortion care crisis created by the Supreme Court and anti-abortion politicians, we aren't settling for just legality: We are aiming for abortion justice.
New research shows that there were 10,000 fewer abortions nationally just in the two months following the overturning of Roe v. Wade, meaning that people in states that banned abortion may not have found the money, time and information needed to travel out of state for their care.
Importantly, the existence of medication abortion — a safe, FDA-approved method of ending a pregnancy with a series of pills — and of online pharmacies and expanded telehealth structures means that some people were able to safely end their pregnancy without leaving home, even if they live in a state that banned abortion. In this new post-Roe reality, we must work to ensure states can't prosecute or jail pregnant people for self-managing their abortions and that medication abortion remains accessible everywhere.
Here in Colorado, our elected officials have heard us, the voters, loud and clear. When abortion's legality has been directly on the ballot, we Coloradans have demonstrated our strong commitment to freedom, justice and autonomy. In 2022, Colorado enacted the Reproductive Health Equity Act to enshrine the right to abortion into state law, while clinics throughout our state served patients from Texas, Louisiana and other hostile places.
Just because abortion is protected in Colorado right now doesn't mean those rights aren't at risk. There is still work to do.
Opponents of abortion aren't backing down on their extremist attacks in Colorado and around the country. They're pushing city councils like Pueblo to ban abortion; they're creating hostile environments in hospitals and exam rooms by preventing doctors from doing their jobs and harming people miscarrying wanted pregnancies; and despite a clear message in the midterm elections that voters disagreed with the Supreme Court's decision to overturn Roe, the new Congress decided to fast-track a national abortion restriction.
Representatives like Judy Amabile have suggested that they are interested in a bill to refer a measure to the ballot to amend the state constitution to enshrine the right to an abortion. As voters, we need to support our legislators working to protect our rights to reproductive health care. Another way Coloradans can support reproductive health care rights is by donating to organizations working to provide care to patients.
We've barely begun to grapple with the generations-long effects of turning the clock back 50 years. As we mark the first Roe v. Wade anniversary that we're not celebrating, we invite you to recommit to building a world where our health and rights are valued and respected.
Debbie Pope is CEO of YWCA Boulder County. Kelly Baden and Andrea Steffes-Tuttle are members of the YWCA Boulder County
Advocacy Committee. Steffes-Tuttle is also a member of the Boulder Beat Opinion Panel
Opinion abortion abortion access abortion rights Boulder County Judy Amabile Roe v. Wade YWCA