Boulder releases $514.8M budget for 2024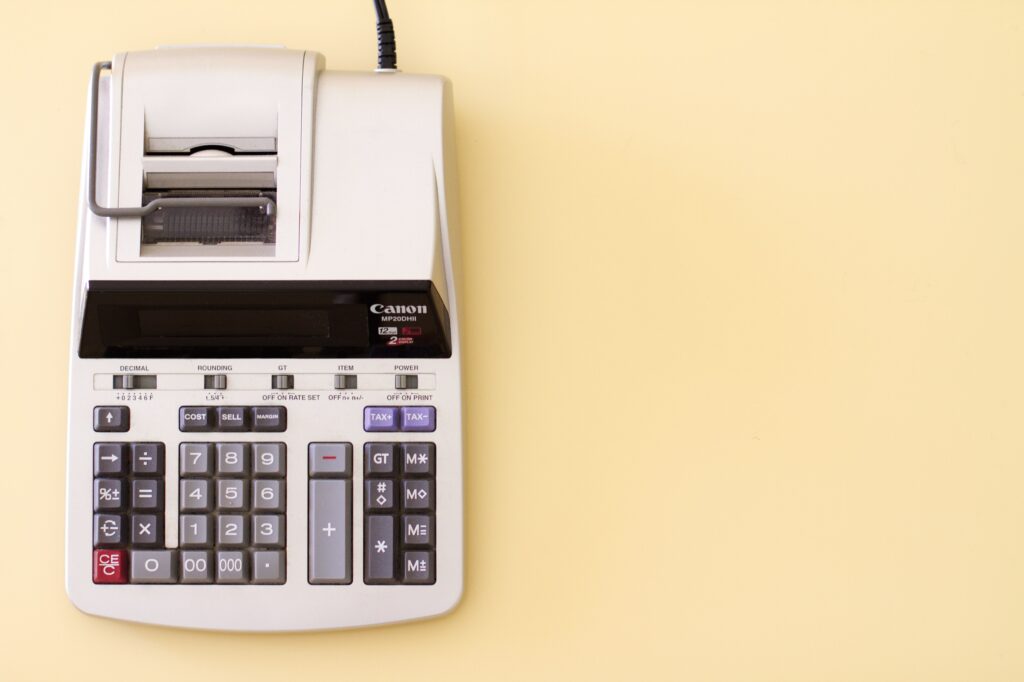 Saturday, Sept. 2, 2023 (Updated Friday, Oct. 5)

The City of Boulder on Friday released a $514.8 million spending plan for 2024. While technically smaller than 2023's budget, the decrease is due to a shift in budgeting for utilities projects.
Actual city spending — as measured by the operating budget and, particularly, the general fund — grew by 5.5% and 4.1%, respectively. The total budget includes $21.1 million in new spending, and came with a familiar warning that sales tax, the main source of revenue, will continue to dwindle as Boulder's population shrinks and ages.
City Manager Nuria River-Vandermyde, in her budget message, acknowledged this financial reality.
"The availability of library budget resources and additional property tax revenues are balanced by slowing sales and use tax revenue growth, uncertainty around overall economic conditions, and our responsibility to fulfill many existing commitments," she wrote. "We need to examine all our work with a critical eye and continue the approaches we started last year to budget for resilience."
The 2023 budget was already revised when 2022 sales tax came in lower than expected, and the $13 million freed up by the creation of a library district was quickly allocated to the city's unfunded priorities.
Sales tax is still the largest source of city revenue, accounting for 48.7% (excluding utilities). Property tax, the second-largest source of revenue, is making up an increasing share.
Below, find the highlights from the 2024 recommended budget, and links to the city's interactive budget tool.
Learn more
Main budget page

Key facts (Where the money is coming from and where it's going, how many employees Boulder has, etc.)

More on sales tax and property tax (How much businesses and homes pay, where each $1 goes, etc.)
City council will get its first look at the budget at a September 14 study session. An October 5 public hearing is planned; if significant changes are made to the spending plan, a second public hearing will be held October 19.
2024 total budget: $514,763,120
– Operating: $374,062,199
– Capital: $140,700,921
Full-time employees: 1,511.63
General fund: $196,145,996
The general fund is the single biggest pot of discretionary money; that is, revenue that doesn't have to be spent on a specific thing. It pays for the bulk of the city's operations, from the administration to police and fire. Many departments are solely or majority funded by the general fund.

Speaking of money… This news doesn't write itself. Throw us some cash if you've got it, so we can keep this community news source free for all.
What's different from last year?
Total budget: -0.15% (2023 approved: $515,518,843)
– Operating budget: +5.5% (2023: $354,680,236)
– Capital budget: -12.5% (2023: $160,838,607)
General fund: +4.1% (2023: $188,400,343)
Full-time employees: -28.46 or -1.8% (2023: 1,540.09)
Explore the 2023 budget: stories.opengov.com/cityofboulderco/published/pdIs2G3DD
Unlike operating budgets — which generally increase each year, except in times of economic decline —  the capital budget fluctuates year to year to reflect the schedule of various projects. Boulder plans its capital projects in five-year increments; the next batch includes:
– $37 million to replace fire stations #2 and #4. That figure is likely low, given that Fire Station #3 cost $32 million.
– $1.2 million for a refresh of the Pearl Street Mall ahead of its 50th anniversary in 2027. The downtown parking district will contribute funds.
– $51.5 million for an energy-efficient retrofit of East Boulder Community Center
– $18 million for "design and scoping" of the Civic Area, Phase 2
What new stuff is the city spending money on?
In total, staff reported $21.1 million in new spending on a variety of programs and staff. Some of the revenue comes from newly extended and/or expanded taxes, like the Climate Tax; other money was freed up by the creation of a library district (the city no longer has to pay for those services or employees).
Some examples of new spending:
– $18.3 million for infrastructure at Alpine-Balsam. The city purchased the former hospital site in 2018, and will use it as western hub for government services as well as the largest single affordable housing project in Boulder to date.
– $8.3 million for cost-of-living increases to city employees and contractor wages and an adjustment for hourly workers to reach a living wage, something the city committed to in 2016. That includes $489,000 to raise wages to $22.44 per hour for 121 city staff and six current service contractors. Police and fire employees wages increased 3.5% and non-police and fire union workers got a 3.25% raise, for a combined $3.6 million. Merit raises totaling $4.2 million were given to non-union workers.
– $11.6M for a homeless day services center. ($10M from capital fund, $1.6M from general fund for ongoing expenses) Boulder last had a day shelter in 2017. It was closed in a shift to a countywide, consolidated strategy.
– $1.5M for wildfire resilience, including a new equity-focused grant program and money to implement Community Wildfire Protection Plan. Revenue comes from the _ aforementioned Climate Tax.
– $1.4M for CARE, a non-police response team to handle mental health or other non-emergent 911 calls. The city received a $471,000 state grant to set up the team. The city is also funding a co-response team with police.
– $820,443 to expand the city's encampment removal approach. This is the second expansion of the initially 18-month pilot; $1,285,589 in new spending was approved last year, on top of the $2.7 million initial investment. The total 2024 budget for encampment removals is a little over $3 million
– $100K for more housing vouchers. Boulder's housing initiatives are typically funded from two places: the general fund and the affordable housing fund, which gets revenue from fees charged on new development (among other sources, like grants).
Learn more about new spending: stories.opengov.com/cityofboulderco/published/Kt9QS499c
City Council also added the following spending:
– $500,000 for increased pavement maintenance and pothole filling. Transportation staff noted that contractor availability and lack of maintenance on state highways had more to do with road conditions than lack of money, but that more funds would help. This money came from within the transportation fund.
– $103,000 to boost pay for downtown ambassadors to $20-$21 per hour, paid for by downtown parking revenues.
– $30,000 to improve lighting in cycling underpasses, also paid for from the transportation fund.
– $10,000 for Boulder's Community Connectors, who serve as liaisons between the city and under-served communities.
Read a thread of City Council's Oct. 5 discussion
Another way of looking at new spending is new employees. Overall staffing is  lower than last year, due to 86 library workers being employed by the new district. That was offset by the addition of 33.5 new full-time positions:
– Open Space + Mountain Parks: 12 FTE (9% increase)
– Utilities: 5 (2.8%)
– Transportation + Mobility: 4.5 (4.8%)
– Climate initiatives: 4 (22%)
– Parks + Rec: 3 (2%)
– IT: 2 (3.6%)
– 1 each to Facilities + Fleet (1.9%) Planning + Development Services (1%) Police (0.35%)
Where does the city's money go?
Along with tracking spending changes year-over-year, it can be helpful to look at each department's share of the total budget, and of the general fund — and how that changes over time, too.
From 2023 to 2024, Parks + Rec, Open Space, Planning, Facilities + Fleet, and Housing + Human Services (slightly) increased their share of the budget, as did general governance (which includes the city attorney and manager's offices, IT, human resources, etc.)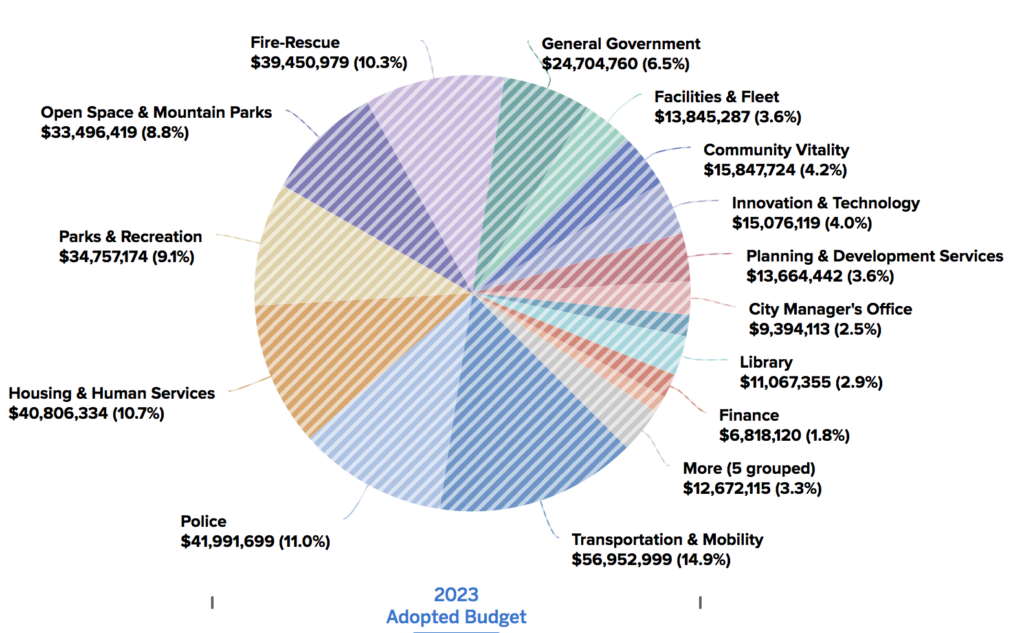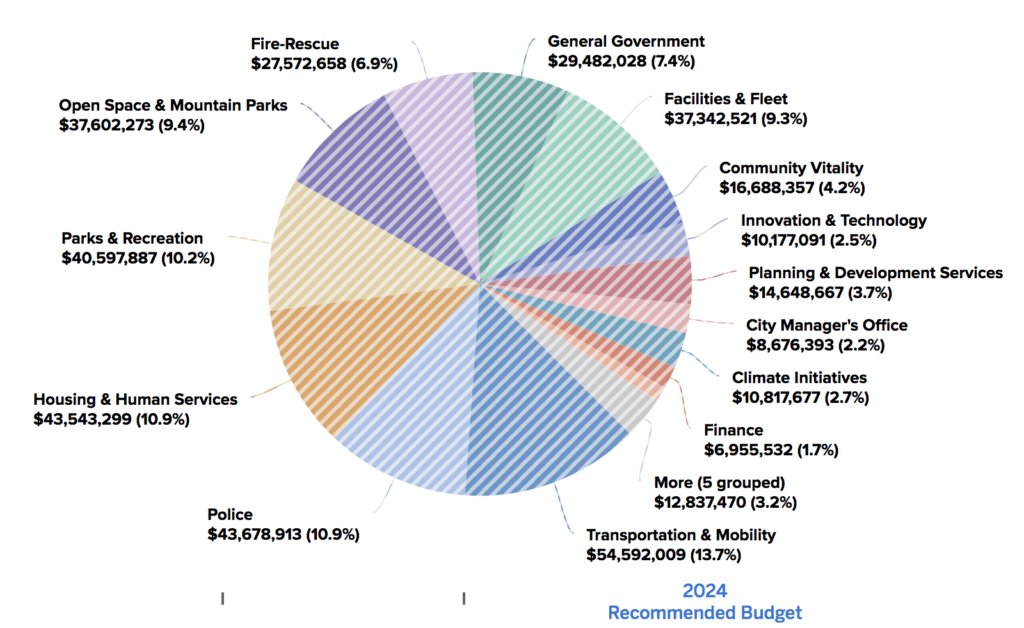 However, many of these departments are funding through dedicated revenue — Open Space, for instance, is 100% funded by sales taxes earmarked for open space purposes. So it's also helpful to look at where discretionary general fund dollars go. Where does the city spend the money it can spend on anything?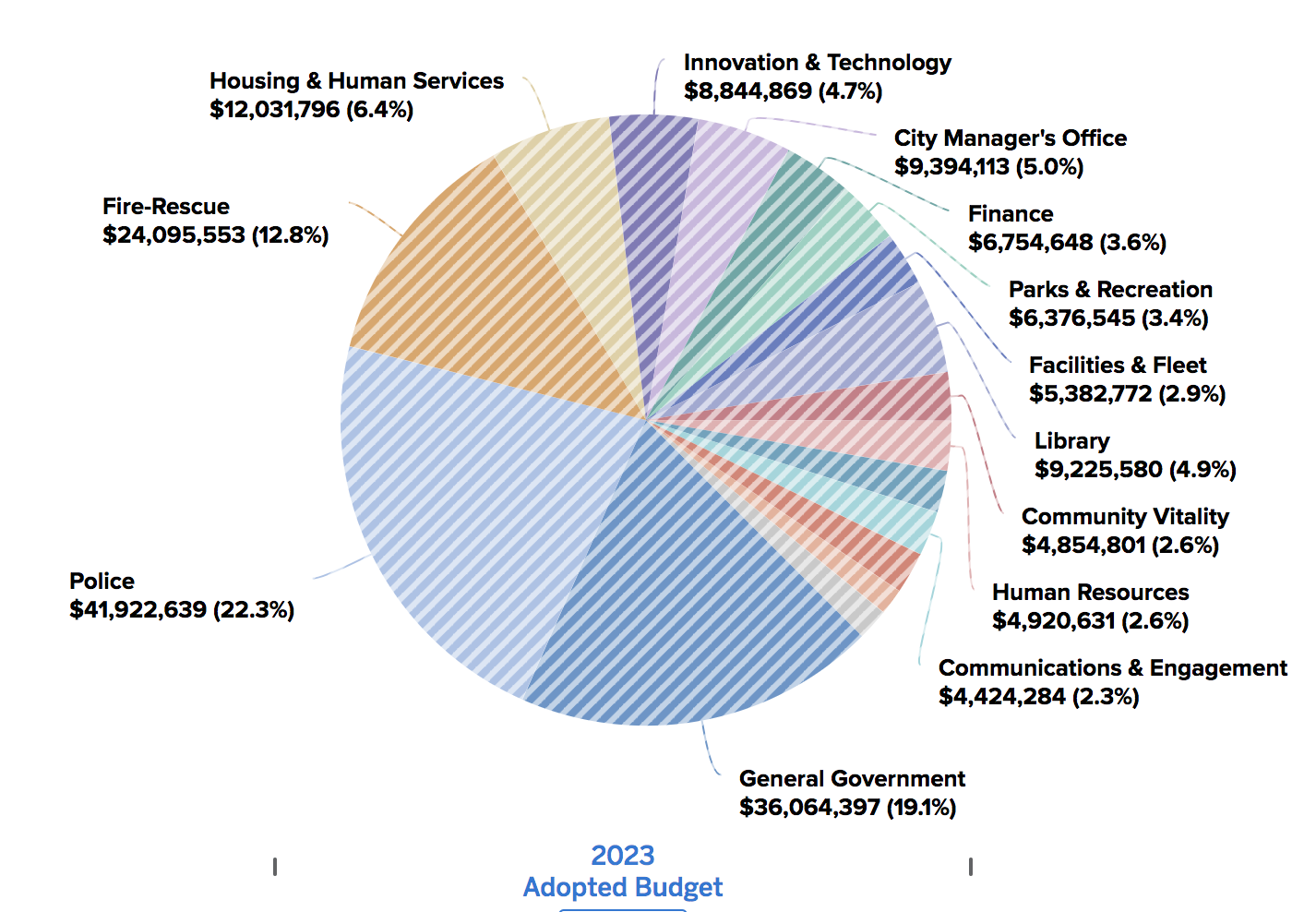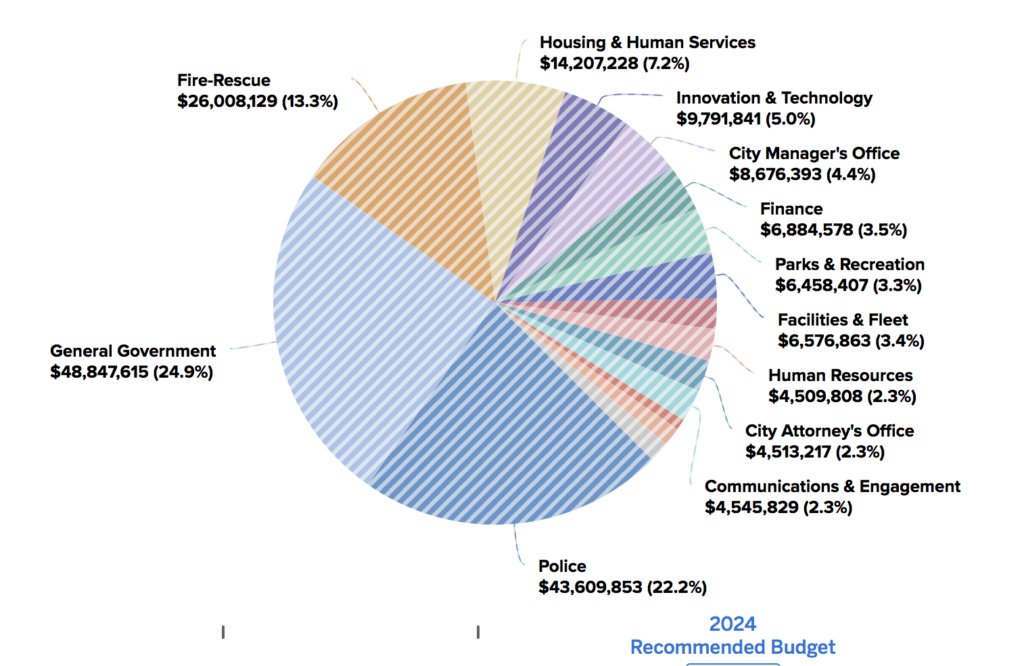 Here we see an increase in General Governance, Housing + Human Services, Fire and IT. For the first time, police were no longer the biggest general fund expense; general governance was.
Why is utility spending excluded?

In reporting the budget, staff presents spending with and without utilities. That's because the utilities department is funded by fees they charge for services — the bills you pay the city each month for water and sewer, etc. Whereas most other departments are funded largely by taxes.
Staffing is also a good way of seeing where the city's money goes. Staffing needs vary based on the functions of each department: emergency services need employees to cover shifts 24 hours a day; community vitality handles parking throughout the city; city council has a sole employee, an assistant.
2024 recommended staffing by department
Police: 282 full-time employees
Utilities: 180.85
Parks + Rec: 151.5
Open Space: 145.6
Fire-Rescue: 142
Planning: 97.65
Transportation: 97.6
Housing + Human Services: 66
IT: 57.2
Facilities + Fleet: 52.9
Finance: 48.15
Community Vitality: 46.25
Communications: 29.35
Human Resources: 27
City Attorney's Office: 26
Climate Initiatives: 22
City Manager's Office: 19.73
Municipal Court: 18.25
City Council: 1
This article has been updated with additional information about increased wages for city staff.
This article has been corrected to reflect two reporting errors by city staff: The police budget and the increase in encampment removal budget.
— Shay Castle, @shayshinecastle
Help make the Beat better. Was there a perspective we missed, or facts we didn't consider? Email your thoughts to boulderbeatnews@gmail.com
Budget affordable housing Boulder budget city council city of Boulder finance general fund homelessness property tax revenue sales tax taxes
Journalist