Boulder adds 179-acre open space property eyed since 1967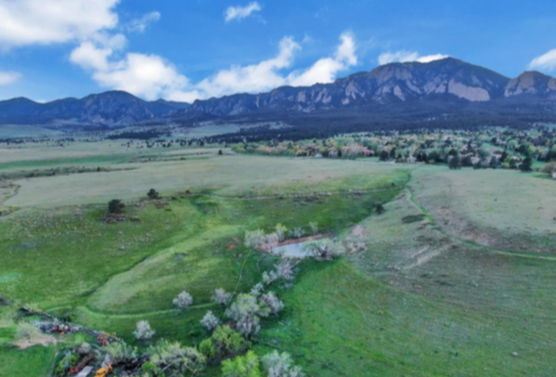 Thursday, Dec. 19, 2019
When Boulder created its trailblazing open space program in 1967, it came with a list of properties that were considered the highest priority for preservation. Shanahan Ranch, 179 acres south of town, was on that list. Tuesday night, a unanimous city council authorized its purchase for $8 million, finishing a chapter that was first written 52 years ago.
Shanahan Ranch is one of Boulder county's oldest, having been homesteaded in 1863 by the great-grandfather of the three siblings who today own and manage the ranch. Water rights on the property date back to 1862.
The city made numerous attempts to protect the land. In 1985, when the area was tapped for redevelopment into a golf course and several homes, a development rights agreement was put in place; in exchange for $1.986 million from Boulder, the Shanahan family agreed to keep owning and working the land, as well as handing over some mineral rights and 1.5 shares of South Boulder and Bear Creek Ditch. (More then 300 adjoining acres were spared through an outright acquisition by the city.)
Though a development rights agreement is similar to today's conservation easements, it lacks the same protections, leaving Shanahan open to development and drilling, for instance. Boulder kept attempting a purchase, going under contract in 2008 before the Great Recession scuttled the deal.
Since 2008, the property has been listed for sale multiple times; Boulder has been in "on-and-off negotiations with the Shanahans, Open Space Property Manager Luke McKay relayed Tuesday night.
"Considering that history, it's staff's opinion that this is the city's final opportunity to acquire and preserve this property," McKay said. "It's often said that the opportunities to acquire and protect land that has been in the same family for generations are often once-in-a-generation. And based on our experience, it's rare to get a second opportunity with the same generation."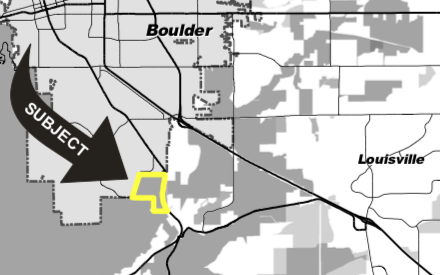 Shanahan Ranch is valued for its high-quality tall grass prairie and likely added into the Colorado Tallgrass Prairie State Natural Area. The prairie serves as habitat for several "declining" songbird species, according to staff notes. Also, "at least two very large" northern leopard frogs have been spotted in one of the property's ponds.  The native amphibians are being threatened all along the Front Range by an invasive relative: the American bullfrog, the Times-Call reported in July.
The properties remaining water rights and half of its mineral rights are included in in the purchase. However, the eastern half of the site has another mineral rights owner: the Colorado State Land Board.
Officials have been unwilling to sell the rights in the past and are unlikely to change their minds, McKay testified. There are no active leases for oil and gas drilling activity in the area, and interest is unlikely given the topography, according to staff.
Boulder is all-in on the property for nearly $10 million. The purchase is eating up much of the existing acquisition dollars; the fund for such purposes has been reduced as the department shifts from buying land to maintaining it. The 2020 acquisition budget, for instance, is $700,000, Open Space and Mountain Parks Director Dan Burke said, versus $5.4 million in 2018.
The vast majority of desired lands have already been brought into the OSMP system: the city is roughly 80-85% towards its goals, staff shared earlier this year. Voters overwhelmingly passed ballot issue 2H in November, a sales tax extension that was billed as a way to pay for deferred maintenance. But the language doesn't preclude the funds from being used for acquisitions.
Nonetheless, land buys will become more rare in future years, as staff and council members noted Tuesday.
"This is the last year of our acquisition plan update," Burke said. "This is kind of the culmination. … (We're) moving into the Master Plan era."
"I think the five risks that are pointed out are risks we'd probably
"This would be kind of the last hurrah with the current … approach," councilman Sam Weaver said.
The Shanahan siblings will sign a 5-year lease to continue existing agricultural uses on the site while OSMP works out its own management plan. Councilman Aaron Brockett added a friendly amendmentAn amendment that all council members agree enhances a document, resolution, or ordinance. Like regu... to the vote that the analysis period "dovetail" with the lease term so both wrap around the same time.
Lynn Shanahan, one of the ranch's three owners, took to the podium after council's vote. He was moved to tears as he expressed his regret that the land would leave the family.
"Well, it's been a long time going through this," Shanahan said. "I should be happy but I'm not. I'm not. (If it) weren't for my brother and sister, it wouldn't've been for sale. I hope they can work it out."
— Shay Castle, boulderbeatnews@gmail.com, @shayshinecastle
Want more stories like this, delivered straight to your inbox? Click here to sign up for a weekly newsletter from Boulder Beat.
Journalist