City attorney finalists navigate Boulder politics, policy questions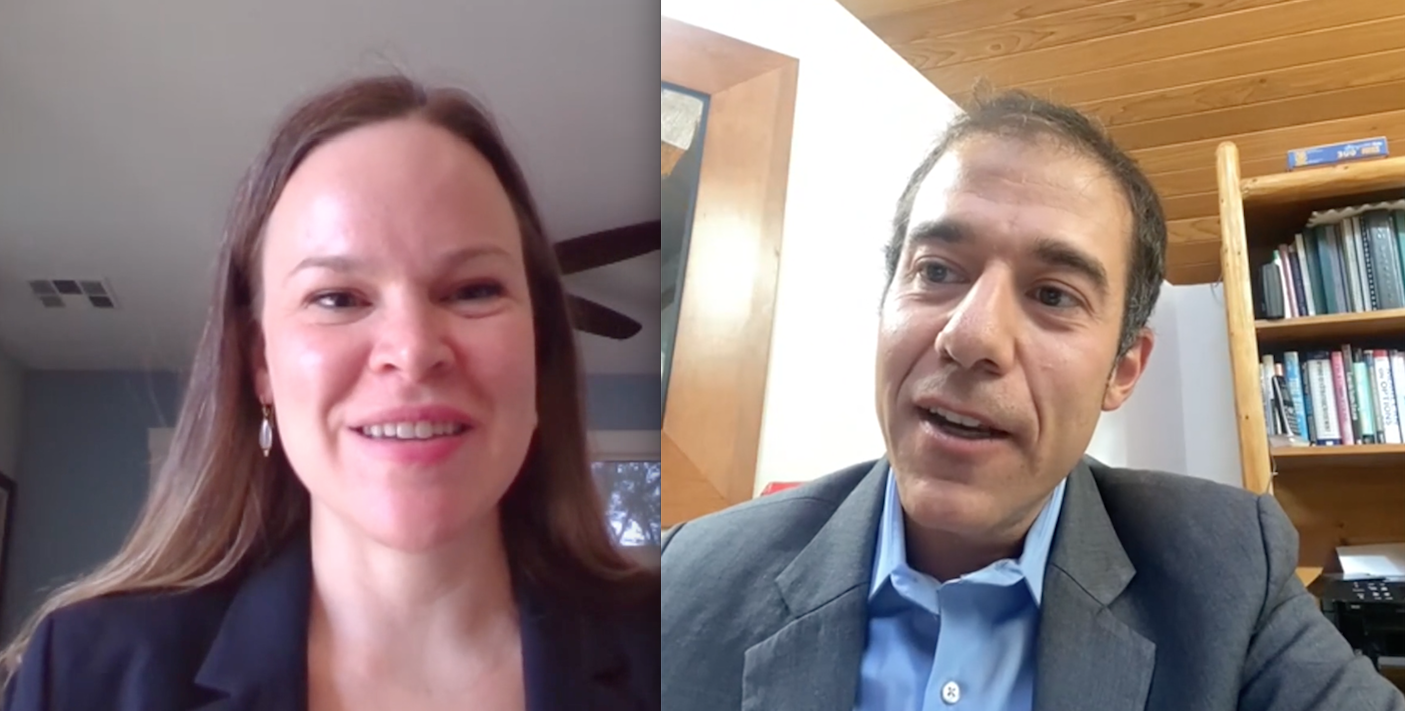 Wednesday, June 23, 2021
Two attorneys vying for one of Boulder's top jobs this week answered residents questions in a virtual meeting that was the first chance for Boulderites to see the candidates and learn more details about their work lives. City news releases announcing the lawyers' selection didn't contain resumes or head shots, unlike in the recent process to find a new city manager.
Adam Mingal, general council for Washington, D.C.'s department of aging, and Breena Meng, an assistant city attorney from Chandler, Arizona, were chosen as finalists from among 12 applicants. The job drew much less interest than Boulder's hunt for a city manager, filled by Nuria Rivera-Vandermyde last month. Both positions are chosen by council members, and both turned over in the span of months when Jane Brautigam and Tom Carr — who'd held the jobs for more than a decade each — left the city.
The city attorney's role is quite different than the city manager's, as HR director Jen Sprinkle reminded participants at Monday's meeting. Neither set policy, but the city manager has more of a role in implementing and influencing it than an attorney, who advises on legal matters, defends the city in lawsuits and prosecutes violations of the city's laws.
Read: Local Gov't 101 – Who's in Charge?
"It is not as appropriate to ask candidates specific positions on issues," Sprinkle said. "It might be more appropriate to ask their experience advising others on these types of issues or writing ordinances pertaining to these types of topics."
Politics and policy
Engagement Manager Sarah Huntley rephrased audience-submitted inquiries to reflect that guidance. Nonetheless, the candidates managed to make some of their views known.
Mingal said much of his work has been about "supporting vulnerable groups," revealing that he has a brother with a developmental disability. "I've always been amazed by power of the law to create more opportunity for marginalized populations," he said.
In response to a question about the city attorney's role in addressing rising crime — crime has actually fallen in early 2021, Police Chief Maris Herold revealed Tuesday, though property crimes remain elevated above five-year averages — Mingal responded, "There's a very real concern" that Boulder's camping ban may "perpetuate a cycle of homelessness" by enforcing "so-called poverty crimes."
Asked about addressing recidivism as a prosecutor, Mingal referenced the police confrontation of Zayd Atkinson in 2019 that sparked a movement to reform civilian oversight of the police department and said it was necessary to "learn from past missteps" such as this one and "look at opportunity to fund mental health," restating the high rate of mental illness among unhoused individuals.
"There's a role of the city attorney to take a look at the punitive nature of some crimes and potentially reform places in the city where we see inequity." Still, he added, it's "important to enforce the laws on the books. … It's important to separate how I feel about something on a policy standpoint vs. how I see something from a legal one."
Meng did not reveal as much about her personal views, offering shorter and less-specific responses.
"I'm known for being candid, to the point, efficient," she said. "Folks can probably see a little bit of that in my answers tonight."
When asked about racial equity, Meng said that the role of a city attorney "is not to get convictions. The role of a prosecutor is to do justice. To the extent there are communities that are disproportionately affected (or) a focus on crime that affects a segment of the population in a separate way, the role of the prosecutor may be to dismiss cases. And I would be OK with that."
She advocated for separate courts to handle specific populations, such as veterans or those struggling with mental illness, and acknowledged the sometimes societal causes of certain crimes. "What we know from the evidence is that when we address some of the core issues, sometimes the crime, the behaviors go away."
The best equity and inclusion efforts are ones that get diverse involvement early, Meng said.
"Unfortunately, diversity and equity issues are sometimes a checkbox at the end of a project. That's backward. If they have a role to play, they should be at the tablePostponement of a motion, or a vote as well."
Big cities, same issues
Of the two, Mingal appeared more familiar with Boulder's specific issues. Unprompted, he offered details about the CU South petition and annexation process, sharing that his negotiations as city attorney would depend on the outcome of November's election with regard to that citizen initiativeProcess through which a citizen can enact legislation, via a petition and significant community endo....
However, Meng seems to have done more of the day-to-day work of a municipal attorney. She has experience with affordable housing, elections and intergovernmental agreements. In Chandler, she's responsible for legal matters of the fire department, transportation and neighborhood resources (which often involves code enforcement) and advises three boards and commissions: human rights, housing/human services and neighborhood relations.
Making sure "the business of the city is done well" has been the focus for "the vast majority of my career," Meng said.
One area of unfamiliarity for Meng is land use — a big deal in Boulder. It's unclear if Mingal has worked on land use issues; he was not asked that question. He did tout experience in crafting contracts and legislation, engaging stakeholders and leading litigation and negotiation during his time with the city of Washington, D.C. as well as the Department of Justice.
"I was drawn to local government because of its connection to the community," Mingal said, as well as his "shared values" with Boulder.
Both attorneys come from cities significantly larger than Boulder. The District of Columbia, population ~700,000, has been (unsuccessfully) considered for statehood many times over the decades. The city has dedicated staff for all sorts of causes and populations. Minghal himself has worked in the departments of aging, for-hire vehicles and disability services.
Chandler, Arizona, is a city of 250,000. Meng previously worked in Gilbert (243,254) but also in small Winslow (9,476) Arizona. Her work in those towns involved code enforcement and advising the police department.
She has ties to Colorado, graduating from the University of Denver law school. Meng worked for Arapahoe County during the trail for the Aurora theater shooter.
"I have a wide experience with Colorado law," she said. "I'm looking to grow and come back home to Colorado."
A finalist will be identified when city council returns from summer recess on July 12. The next city council meeting will be Tuesday, July 13, with a public hearingScheduled time allocated for the public to testify or share commentary/input on a particular ordinan... on redevelopment of Diagonal Plaza, an update on attempts to help nonprofits and small businesses afford office space and a check-in on council's workplan.
— Shay Castle, boulderbeatnews@gmail.com, @shayshinecastle
Want more stories like this, delivered straight to your inbox? Click here to sign up for a weekly newsletter from Boulder Beat.
Governance Adam Mingal Arizona attorney Boulder Boulder Police Department Breena Meng Chandler City Attorney city council city of Boulder civil rights code enforcement courts crime disability services equity fire homelessness housing law lawyer Maris Herold mental health municipal prosecutor transportation Washington D.C.
Journalist