Bedrooms petition makes Boulder ballots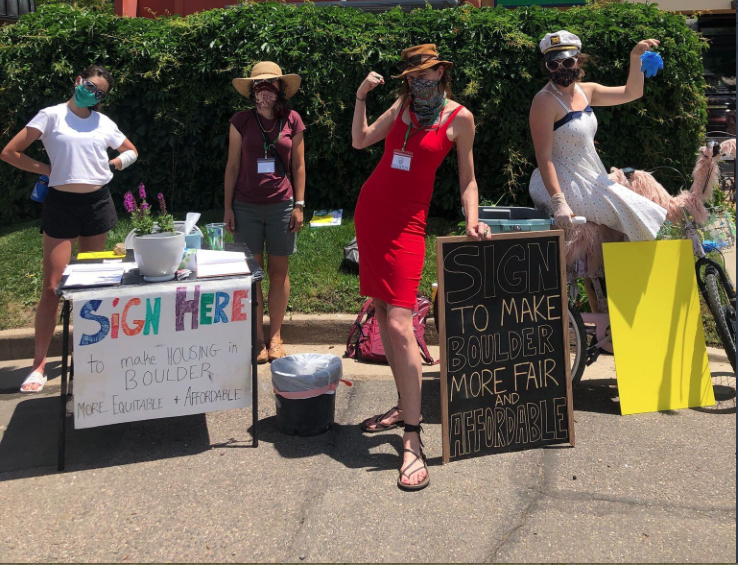 Friday, June 18, 2021 (Updated Monday, June 21)
Inaccurate guidelines from the city. A mid-year rule change. Hostile elected officials. A lawsuit, appeal and state Supreme Court inaction. The very rough rollout of a first-of-its kind online petitioning system.
Oh, and a once-in-a-generation pandemic.
All these obstacles have been bested by Bedrooms Are For People as, over the last two election cycles, they and their hundreds of volunteers attempted to change Boulder's rules on unrelated persons living together. This fall, they'll face their final test: The voters of Boulder.
That's after the news this week that the campaign officially qualified for the ballot as the first (and so far only) petition to use Direct Democracy Online. The city verified all 3,525 signatures collected virtually, according to campaign organizers.
"They were hard to get, but they were all valid," said Chelsea Castellano, co-organizer of BAFP. "I'll give it to the system."
'System on top of a system'
Overall, the campaign isn't that complimentary of Boulder's $500,000 online petitioning system, which debuted this year mere weeks before Bedrooms' petition went live. Issues immediately surfaced.
As of May 11, 373 people attempted but were unable to sign, then-City Attorney Tom Carr said last month. Bedrooms claims its own records reveal more than 1,000 unsuccessful signers.
"The system is not perfect," Carr told city council at a May 25 meeting. "I wish it worked better. The world we live in is not perfect." 
Some problems — identified by Bedrooms' early testing — were resolved, but others required "hundreds of hours" of volunteer time to overcome, according to BAFP organizer Eric Budd. Canvassers went into public armed with QR codes and attempted to solicit signatures. The campaign followed up with each and every person who started but couldn't complete the process, calling or sending texts and emails.
As councilman Aaron Brockett said May 25, Bedrooms "built a system on top of a system to make it work."
That's not a realistic option for most campaigns, Budd said. "We had a big team. All volunteer, but we have communications professionals, campaign professionals, software professionals. 
"I can't think of another team in Boulder that would be able to be successful in an online system."
Two other groups ran petitions this year, opting for pen and paper. One, regarding the annexation of CU South, was successful and will be alongside Bedrooms on the fall ballot; the other has been given 10 days to gather additional signatures.
Learn more about Fur-Free Boulder and Let Boulder Voters Decide on Annexation of CU South
Bedrooms shared its experience with city officials, and hope the information will be used to make improvements. Already, elected officials asked that future petitions be allowed to turn in both handwritten and digital signatures in time for the 2022 election.
"If we don't fix it, I don't know if another campaign will ever use it," Castellano said. "That would be a poor investment if we were the first and last campaign to use it."
Facing the issue
Mostly, though, BAFP is ready to move on from online petitioning. In an April interview, Budd and Castellano said they were tired of talking about the stress of gathering signatures. They are ready to move on the meet of the issue: Whether or not the city should change it rules on unrelated adults living together, known as occupancy limits.
In keeping with federal fair housing practices, Boulder places no prohibitions on family members living together. Unrelated adults, however, are limited to 3 or 4 per house, based on the density of the area.
The city's code includes detailed definitions for accepted familial relationships, including married couples and domestic partnerships, which must be registered with the city to count. There are even rules pertaining to the number of people that constitute a domestic partnerships (two) and how quickly a new partnership can form after a previous one has been dissolved (90 days).
The Bedrooms measure would replace this system with a simple rule tied to home size. Occupancy would be equal to the number of bedrooms plus one. So a four-bedrooms house could accommodate five unrelated adults.
"At a fundamental level," Budd said, "people should be allowed to share housing." 
It's a timely topic. Denver recently expanded its own rules (though a citizen ballot initiative is seeking to overturn the change), and a group of students in Fort Collins is fighting to do the same. The states of Oregon and Washington banned local laws limiting occupancy based on familial status or makeup.
Colorado Governor (and Boulderite) Jared Polis asked that cities suspend such limits during the COVID-19 pandemic to prevent evictions due to over-occupancy as a means of ensuring people stay housed. Boulder declined.
The petition has met with resistance, mostly from homeowners concerned about overcrowding and its attendant trash, noise and parking problems. Those issues are particularly prevalent in areas with large student populations, like University Hill. Limits like Boulder's are common in college towns.
Proponents of change have long argued that parking, trash and noise should be dealt with through better enforcement of existing "nuisance" ordinances, rather than criminalizing common living situations. Some progress is being made on that front after the Uni Hill riot earlier this year: City council has indicated it will beef up nuisance ordinances citywide, possibly later this year or next.
That may go a long way toward assuaging opposition. So, too, may the results of a study from Denver which found that higher occupancy limits do not necessarily result in higher occupancy. Regardless of regulations across 30 cities — where the highest allowed occupancy was eight unrelated persons — average household size remained between 2 and 3.
Big problem, simple change
If not, supporters have plenty of other arguments in their pocket: Personal liberty (occupancy limits prevent even private homeowners from living with who they want) equity (younger and lower-income residents are more likely to live with roommates, and enforcement of occupancy is complaint-based, possibly resulting in discriminatory reporting) changing trends (people are getting married later or not at all and sorting into non-traditional family structures or relationships) and a nod to common sense (many people are living illegally already), not to mention Boulder's ongoing housing crisis.
"This is just one slice of the problem," Castellano said, "but we have to solve one slice at a time. It's one of the issues that is currently hurting the most people on a day-to-day level that we can resolve by a simple policy change."
Boulderites seem to agree. In a survey commissioned by former city council member and Better Boulder board member Jan Burton, 75% of respondents said they would vote for BAFP if it were on the ballot today. Of those, 71% were a definite yes and 28% a probably yes.
Castellano and Budd said they were pleased but not surprised by the results.
"People don't realize how big of a problem this law does create for people," Castellano said. "A lot of people have been affected by this. It's not surprising to us that it shows up in that survey. But it feels good for other people to see that."
The city will firm up fall ballot content with an Aug. 17 public hearingScheduled time allocated for the public to testify or share commentary/input on a particular ordinan.... Council members can suggest amendments to the Bedrooms Are For People initiative that, if agreed to, will be put to voters in lieu of the original measure. That happened last year with Our Mayor, Our Choice, which — despite being caught up in the same deadline drama and rule change and securing fewer signatures than BAFP — was placed on the ballot via 5-4 decision. Councilman Bob Yates, a Bedrooms opponent, was the deciding vote.
Budd isn't sure the campaign will accept any tweaks. After five years of work — the idea was first floated in 2016 — two election cycles, a combined 8,700 signatures and countless revisions to the proposal, "we consider ourselves the experts."
Author's note: This story has been updated to correct that the Fur-Free Boulder petition was not sufficient to make the ballot, but may achieve the required signatures after a cure period.
— Shay Castle, boulderbeatnews@gmail.com, @shayshinecastle
Want more stories like this, delivered straight to your inbox? Click here to sign up for a weekly newsletter from Boulder Beat.
Elections Aaron Brockett Bedrooms Are For People Boulder Direct Democracy Online City Attorney city council city of Boulder Colorado Colorado Supreme Court COVID COVID-19 CU Denver direct democracy election eviction Fair Housing familial status Fort Collins governor Greeley homeowners housing Jared Polis lawsuit occupancy occupancy limits online petitions Oregon pandemic petitions renters tenants Tom Carr Uni Hill University Hill University of Colorado Washington
Journalist