Steve Rosenblum wants to move past Boulder's baggage. Can he overcome his own?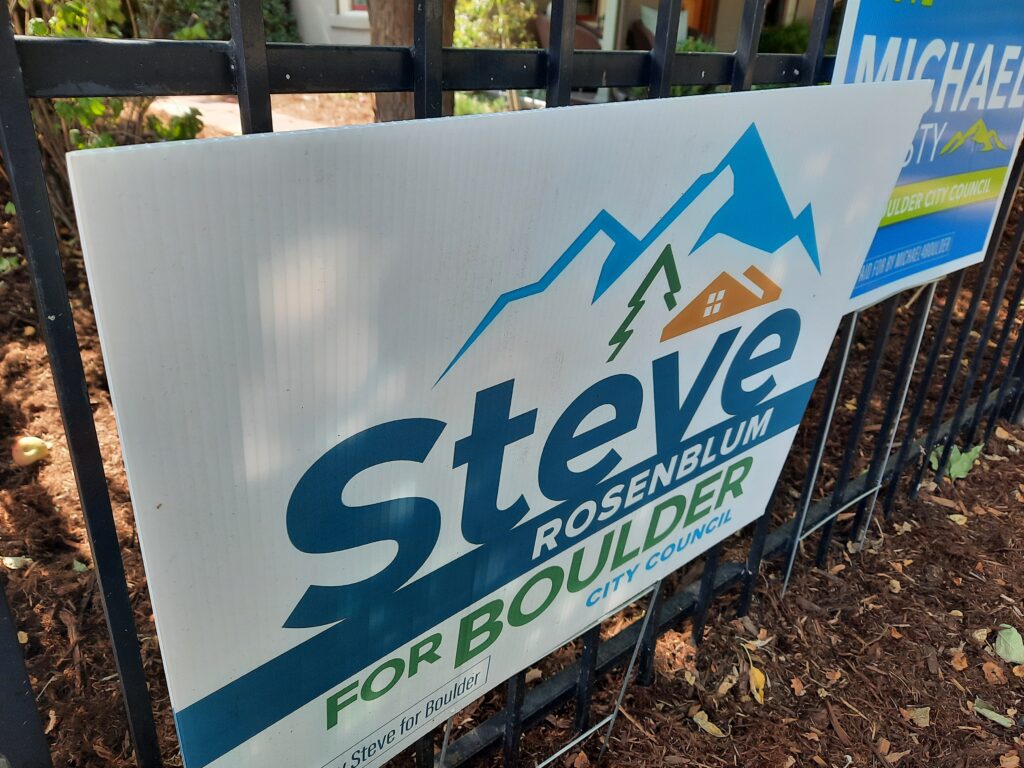 Friday, Oct. 1, 2021
Steve Rosenblum is at a distinct disadvantage in his bid to join Boulder's city council. None of the nine other candidates has had their private conversations made public for all to see. 
Rosenblum is an active member of the group Safer Boulder whose Slack messages were leaked last year. Boulder Beat, in partnership with Boulder Weekly, reviewed and reported on more than 1,000 screenshots and organizing documents.
The content of the leaked messages undercut or directly contradict Rosenblum's public statements about housing, homelessness and the importance of elevating public rhetoric. 
For example, in screenshots reviewed by Boulder Beat, Rosenblum:
Rosenblum has apologized to Friend for some of his tweets aimed at her (his Twitter profile was switched from public to private shortly before his candidacy was announced). In an interview, he said, "I was focused on Rachel because she was the one, the only one, on Twitter saying we need to defund the Boulder Police Department. I stand by it. I think that's bad policy. 
"I'm not going to back down on standing up for our community."
In an interview, he defended some statements and said others were taken out of context. He answered three questions about specific issues and posts before declining to discuss the Slack leaks further. 
"Everything you're discussing was private communications," he said. "How would you like it if everything you've ever said in private was stolen?"
Rosenblum said he "abhorred" the more hateful language used by other members but did not view it as his job to confront or correct them. (He did push back on a couple occasions, once warning a peer not to "paint with too broad a brush" when characterizing unhoused people.)
"I didn't view it as my role to constantly police people's language, even though I attempted to," he said. "People were very upset about what's going on in the community. They were expressing their frustrations in what they felt were private communications, and it wasn't my role every single time someone said something inappropriate to say, 'Hey, don't do that,' because I wanted to use my time or more productively."
Rosenblum sent the following statement via email, in response to follow-up questions after an interview:
"I am in favor of affordable housing, which Boulder and most of the Front Range desperately needs. That is in no way to disparage the works that homeless shelters, group homes, nor the houses of faith that take in the homeless during the winter months do. They are all a blessing to this community. But we need more affordable housing and I'm looking forward to using my experience and working on a policy level to address it. 
"The Slack channel, like all of your own personal private texts and PMs, is in no way political organizing. The contributors to the Slack channel were not vetted; all were welcome, even people we disagreed with. 
"Safer Boulder as a genuine organization (even with our own differences within) I'm proud to lay claim to. I want Boulder to be safe. I want it to be safe for residents who own or rent homes, I want it to be safe for the commuters who come here for work or tourism, and I feel strongly that I want the unhoused to be safe from harm. I'd like to help them find safer housing solutions. I also want them to get treatment for their disabilities or addictions if they have either.
"There is no part of my platform, my history, my own family or my thought process that would encourage racism, police brutality, or harassment of the unhoused."
Rosenblum said he knew he would likely face questions about the Slack messages, the contents of which were leaked several months before he declared his intent to run. Knowing the information was out there, he decided it was still worth it to run.
"I'm hoping I can make some real progress," he said, "not just bringing people together, but using my experience to actually dig down into policy and break the gridlock."
"I feel like a fresh face without the baggage of the past."
Endorsed by
Forward Boulder

Safer Boulder

PLAN Boulder

Think Boulder

Together For Boulder

Advocates for Clean Teens
Priorities
Public safety

Creating the housing mix we need 
Why you might want to vote for Rosenblum
At his firm, Rosenblum is in charge of "real assets" — that is, investing in physical things like real estate, infrastructure and energy. He also invested in a housing project for low-income older adults and formerly unhoused individuals, giving him direct experience.
As such, he is well versed in housing, and his most innovative ideas are in this area, one of grave concern and need in Boulder.
There is an element of boldness to Rosenblum in his willingness to say things that might be unpopular. Those who agree with him on homelessness might be grateful for his outspokenness. And at an Aug. 25 candidate forum, he dared to suggest the re-"right-sizing" of Folsom, an attempt to add a protected bike lane that was quickly undone in the face of public pressure — something seasoned elected officials have been loath to touch since the debacle.
Rosenblum met and spoke with the press (beyond Boulder Beat) about the release of his private communications. Granted, they were leaked before he chose to run for city council, so he should have expected to face questions. But that he did not refuse to answer questions or grant interviews speaks well of his willingness to engage with the media, one of the chief ways elected officials are held accountable by voters.
Why you might not want to vote for Rosenblum
He may have answered questions about the leaks, but Rosenblum did so with much hostility and not much remorse. (This could also be viewed positively, as Rosenblum standing by his actions and statements.)
Even beyond the leaks — in fairness, a difficult circumstance that no other candidate is facing — Rosenblum doesn't take criticism well. He is argumentative to the point of being combative, never admitting fault.
There's also a touch of hypocrisy to Rosenblum. His website reads "I prefer delivering positive messages," and at an Aug. 25 candidate forum, he vowed "transparency" and to "elevate the rhetoric."
Rosenblum's own actions don't necessarily match his promises. Aside from the Slack messages, he said at that very same forum that the University of Colorado was holding a gun to the city's head in negotiations over CU South. (Rosenblum defended this statement as "an analogy of the situation.")
Then there is the housing project Rosenblum touts on his website as having successfully housed formerly homeless individuals. In leaked Slack messages, Rosenblum refers to this in far less glowing terms, describing how three tenants "placed via the Colorado Coalition for the Homeless immediately began to terrorize the other tenants" and damage the newly remodeled housing. 
"Now, despite them never paying a single dollar of rent, which was subsidized, 95% through housing vouchers, it will take me months in court and thousands of dollars to evict them," he wrote. "Via their free attorneys provided by legal aid, they will all file discrimination lawsuits against me, which will lead to more legal fees and further delay eviction. All the while they remain at the property and make life hell for the rest of the tenants And (in) the process destroy the apartments I just spent months of time and thousands of dollars renovating."
Rosenblum did not see his dual presentation of this housing project as hypocritical. He defended his experience — objectively an extremely challenging, costly and time-consuming one — as adding valuable perspective.
"I understand the challenges landlords face" in providing housing, he said, "and the challenges the unhoused face in getting into housing."
Rosenblum on the issues

Housing

Rosenblum would like to see more diversity of housing types, including duplexes in single-family neighborhoods. To ensure that more affordable housing is built, he would like to see a housing tax implemented. (Boulder County last tried to implement such a tax in 2009; it was rejected by voters. Another tax was being discussed before COVID.)

It's also important to make the approval process for housing quicker and less costly, Rosenblum said. He suggested a development czar to oversee changes.

"We would never ever touch Boulder," Rosenblum said, referring to the investments his company makes. "Because it would take six or seven years to get a project approved, $7 million or more going through entitlements only to have it denied at the last minute.

"Very few investors are willing to take that risk."

Rosenblum would first look to reform open space requirements: Depending on what part of the city a building is in, a certain amount of "open space" — parks, balconies, plazas, etc. — is required per housing unit, which limits how much housing gets built overall and drives up the size (and, therefore, price) of those homes.

Rosenblum would like to offer a cash-in-lieu option for required open space. The money could be paid into the parks department, which has millions of dollars in needed maintenance. 

Homelessness

Rosenblum supports removal of homeless encampments from city land, and expanding drug addiction and mental health treatment. Those are the two populations he believes are not well-served by the city's current services.

Despite writing that he is "a full-on NIMBY for" permanent supportive housing (housing combined with support services, mostly commonly used for formerly unhoused individuals) in the Safer Boulder Slack, Rosenblum now supports housing first for most of the homeless population. 

"Some people just aren't ready for even individualized living," he said, and meth users provide a danger to neighbors. "For most people, housing first is wonderful. Other people need different solutions."

As for the change in position, Rosenblum said he simply learned more since that time, causing him to support housing first and permanently supportive housing.

Aside from the harsh rhetoric documented on the Safer Boulder Slack, Rosenblum also repeats claims on his website that have been thoroughly debunked by experts. Namely, characterizations of unhoused people as resistant to services — rather than having services that don't fit their needs or have high barriers of entry — and that Boulder should stop providing emergency services because it will attract uhhoused people to the city. 

People experiencing homelessness do travel regionally, experts say (for example, from Denver to Boulder) but the "magnet theory" does not hold nationally. Most unhoused people are homeless in the area where they were last housed; Boulder County's own data bears this out, with Denver the third most-common reported place of residence (after Boulder and Longmont) among unhoused residents.

However, this regional movement does speak to the need for better regional cooperation and funding, which Rosenblum also advocates for.

Budget

Rosenblum would like to see elected officials spend more time with the budget. 

"I am shocked at how little time the council spends digging through" spending, he said. "That should be two or three months of work; that's the biggest job" they should have.

As for spending itself, Rosenblum is a fan of reallocating spending rather than pursuing new revenue (aside from the aforementioned affordable housing tax). He suggested "planning" as an area where "we spend too much."

He would also shift, over time, how much of Boulder's budget goes into dedicated funds: In 2020, 62% of all city dollars were tied to specific departments, projects or programs.

More flexibility would help the city adapt to changing conditions and coming crises, Rosenblum said. "We need to take the handcuffs off."

Transportation

Rosenblum believes that providing more housing, particularly along transit corridors, will help ease pressure from in-commuters. But more robust bus service is needed as well, he said.

Bus rapid transit lines are already planned for the two corridors Rosenblum mentioned specifically: Diagonal Highway and Arapahoe. But he would prefer to see Boulder leave RTD and set up its own local or regional transit system.

To help reduce the amount of driving in town, Rosenblum supports raising parking prices, adding protected bike lanes and subsidizing the purchase of e-bikes instead of just electric automobiles.

"We need to use carrots and sticks, not just punish people," he said. "We have got to face the reality that some people are going to have to use cars at certain times.

"We just have to continue to shift the balance."

CU South

Rosenblum said at an Aug. 25 candidate forum that public safety is the first priority of government and he trusts city council to negotiate an agreement. 

However, he also said CU has not been a good negotiating partner and that the city shouldn't "negotiate with a gun to its head."

Library District

Rosenblum supports efforts to form a district, though he is still assessing the economics. He would support fewer services in the new district if it resulted in lower property taxes; again, that opinion is subject to further analysis.
— Shay Castle, @shayshinecastle
Want more stories like this, delivered straight to your inbox? Click here to sign up for a weekly newsletter from Boulder Beat.
Help make the Beat better. Was there a perspective we missed, or facts we didn't consider? Email your thoughts to boulderbeatnews@gmail.com
Elections Boulder Boulder Beat Boulder Weekly candidate city council city of Boulder Daily Camera election Forward Boulder FRWRD Boulder homelessness PLAN-Boulder RTD Safer Boulder Steven Rosenblum Think Boulder Together for Boulder
Journalist