Joseph's ascension to state house sets up 11-month vacancy on Boulder City Council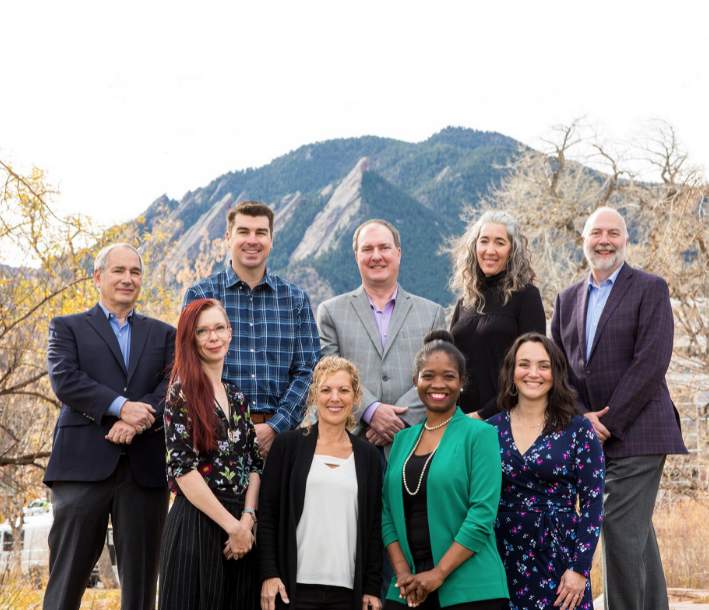 Saturday, Nov. 12, 2022
After three years on Boulder City Council, Junie Joseph will next year ascend to the Colorado House after securing the District 10 seat on Election Day. Her promotion will leave a hole on Boulder's city council until the next election in 2023.
Joseph handily defeated Republican William DeOreo 88% to 12%. DeOreo used anti-immigrant speech to criticize Joseph immediately after she entered the race.
Joseph came to the Democratic nomination in an unusual way. Longtime Rep. Edie Hooton in late July announced she was withdrawing from the race to spend more time with her family — after her win in the Democratic primary. (Her husband, Jim Hooton, spent the last several months organizing unsuccessfully against Ballot Measure 2E to move city council elections to even years; 62.5% of voters approved it.)
A committee of 62 Boulder County Democrats selected Joseph from among six challengers, including Joseph's peer Mayor Aaron Brockett. A handful of area legislators have thusly made their way to the Colorado statehouse, including Boulder's KC Becker, Jonathan Singer and Mike Foote.
In a Wednesday interview, Joseph said it will be "bittersweet" to leave Boulder's city council, where she was elected in 2019, making history as one of the few students and renters to ever serve on the legislative body. She will make history yet again as a representative: the first Black woman to represent Boulder.
Joseph is the only person of color currently serving on Boulder City Council.
City council has been "a good, collegial experience for me," Joseph said. "I feel bad that I'm leaving as well — the people did put me in there for four years. I did not take that lightly.
"I'll still be serving the people of Boulder. They voted for me to join the legislature," which works closely with council members, she said. "Even though a lot of the legislation is statewide, you want to impact your community first. That's where people vote from."
Joseph's absence will leave city council with just eight members. It's happened before, most recently when Jill Grano left in early 2019 to work for then-newly elected congressman Joe Neguse.
While Grano departed just one year into her term, Joseph has only one year remaining. She intends to stay through the end of the year; council's last meeting of 2022 is December 15.
"I think it's very important that I stay through December (to not) break the continuity of council," Joseph said. "I don't get sworn in until almost the second week of January, so it's a no-brainer for me to stay until then."
Grano was also on the other end of a 6-3 slow-growth majority. Joseph is part of a six-member Progressive majority, though alliances on this council have been diverse. An eight-member council sets up the possibility of tie votes. In that event, measures and actions cannot move forward, which is why legislative bodies most often aim for an odd number of members.
That deficit may become important as council looks to take up a number of housing and zoning reforms next year, including changes to rules for Accessory Dwelling Units, work on occupancy limits and density regulations. Also on the docket are ever-divisive work on homelessness and police reform.
Joseph has been a reliable voice in favor of expanding homeless services, which sometimes finds her in the minority on city council. Her departure may alter those discussions as Boulder looks to set up a day shelter / navigation center next year.
She was also one of three council members to vote against a controversial agreement between Boulder Police Department and the Federal Bureau of Investigations. While she has expressed appreciation and support for police officers, she has remained critical of potential systemic racism within policing overall and BPD specifically. A new police department master plan is set to be approved next year.
Her absence may be felt as the city works on an agreement with the likely-to-be-formed library district next year, though five remaining council members are supportive of the district.
At the statehouse, Joseph, a family law attorney, said she intends to work on children's rights and environmental causes. 
"I'm excited, I'm grateful," Joseph said. "My hope is to learn the job quickly so I can be as effective as I can.
"Hopefully I do good work that helps a lot of people in Boulder and Colorado. They are my boss, ultimately." 
— Shay Castle, @shayshinecastle
Help make the Beat better. Was there a perspective we missed, or facts we didn't consider? Email your thoughts to boulderbeatnews@gmail.com
Elections Governance Boulder city council city of Boulder Colorado House of Representatives District 10 Junie Joseph state legislature
Journalist