Boulder parents push for encampment-free 'safe zones' around schools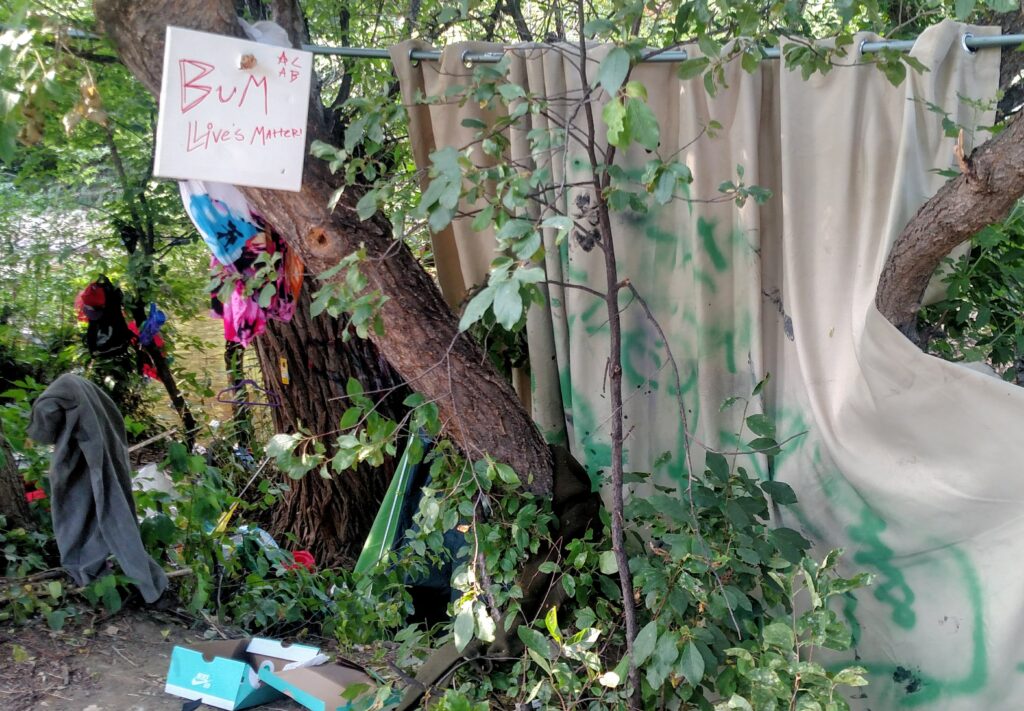 Monday, February 6, 2023
A group of parents and residents are asking the city council for an exemption to Boulder's policy of notifying unhoused people 72 hours before removing their belongings. The exemption would apply within a 500-foot radius of schools and, they argue, stop the harassment, drug use and crime that are plaguing the area around Boulder High School.
The idea has been circulating for at least several weeks, with at least one council member raising the issue to city attorneys. Beginning last and over the weekend, Boulderites began emailing city officials en masse, with several people using a form letter, to request "safe zones."
"I am part of the Safe Zones 4 Schools Initiative which represents a group of parents who are concerned about the lack of safety surrounding our schools," the form letter reads. "We are requesting that the City establish a 500 ft Safety Zone around school properties to create a buffer for our children from the illegal activity occurring in our public spaces." 
"There is precedence for treating school zones with a higher level of care. For example, liquor stores and dispensaries can't be within 1,000 feet of a school. If we feel that it is necessary to distance our children from legal sales of alcohol, then surely we can agree that they should be able to get to school without witnessing meth use and stepping over hypodermic needles."
As noted in the letter, the city's ordinanceA piece of municipal (city-level) legislation. prohibiting "activities of daily living" on public property — commonly referred to as the camping ban — does not include language related to providing notice. It is the city's practice to let inhabitants know of plans to remove encampments 72 hours before clearing them.
In 2021, a legal settlement required the city of Denver to give one week's notice before removing encampments. Courts in other states have issued similar rulings, and local governments around the country require 72 hours notice prior to encampment removal.
These rulings and practices may guide Boulder's policy, councilman Bob Yates said.
"At least in my time on council, we've never adopted a three-day rule," Yates said. "Enforcement is between the city attorney and the cops."
Yates and councilwoman Tara Winer were approached by a group of "mostly Boulder High School parents" and asked to explore the origins of the three-day notice rule, as well as inquiring with city attorneys about possible school safe zones.
"I've dutifully done that," Yates said. Winer deferred questions to Yates.
Parents' analogy to alcohol and drug laws near schools may not be apt, as the sale of such items is not a constitutionally protected right. Per the Fourth AmendmentChange made to existing documents, resolutions, or ordinances, protection against unreasonable search and seizure is, as is the right to due process under the Fourteenth Amendment. Those rights have been found to apply to people living in tents by numerous rulings, including in Colorado courts.
"I'm sure there's lots of legal reasons that is problematic," Yates said of the proposed safe zones. "I have to believe there's good legal reasons why three days (notice) is a good idea. I don't know why it would be a good idea in certain zones and not in others."
Boulder's city attorney's office declined to comment, citing attorney-client privilege in providing legal advice to council members.
Boulder Valley School District is aware of parental concerns with encampments, a district spokesperson said. 
"The encampments and the activity is outside of school district property," Randy Barber wrote in response to emailed questions. "BVSD personnel regularly patrol the Boulder High School boundaries to ensure the safety of students and staff on campus. When our team or members of the Boulder High community spot concerns, they are relayed via the City of Boulder's reporting tool or 911, if it is a life safety or criminal issue.
"We are in touch with our counterparts with the City of Boulder and have forwarded concerns on to them, as well as advocating for student safety."
The idea of safe zones was broached at a meeting about unhoused high-utilizers of the criminal justice system, held in late January. After remarks from city and county officials, attendees were broken up into three groups: Business involvement, high utilizers and schools.
"How do we make sure there aren't encampments, that we have a special designation of schools to make sure they're safe from everyone, but especially this group" of high-utilizers? organizer Chris Drummond said, as a guiding question for the school groups. He also mentioned a "couple of school advocacy groups here that are working on this."
In the schools group, parents swapped stories of their children being verbally and sexually harassed by residents of the encampments, offered drugs or physically threatened. Several parents said their children no longer feel safe walking or biking the multi-use paths to school. 
These experiences and concerns were mirrored in emails sent to Boulder's elected officials and city leadership. (All emails sent to city council or staff are public record.)
"Our kids deserve to walk, bike and scooter their way to school free of fear," read an identical letter sent by at least two community members. "My son will be attending (Boulder High) next year, and I am already tired of getting first-hand accounts of harassment, drug-pushing and threats made towards BHS students."
"I became involved when my kids started refusing to ride their bikes on the public paths to schools because they had both been lunged at, harassed, menaced and offered drugs by unstable individuals living in the tents in our public spaces," wrote Jennifer Rhodes, who has spoken publicly about her concerns and organized a petition to increase police presence in and around schools.
Rhodes did not respond to multiple requests for comment. 
Boulder's camping ban has been in place since the 1980s, with occasional halts in enforcement; most recently, during the COVID-19 pandemic. In April 2021, city council OK'd spending $2.7 million on a new removal and deterrent strategy that includes a dedicated police unit and in-house encampment removal team. A further $1.3 million was approved in the 2023 budget to continue and expand what was supposed to be an 18-month pilot, despite its failure to reduce the number of encampments.
Criminalization of homelessness — including camping bans and encampment removals — are widely recognized as counterproductive to ending homelessness. At the same time, Boulder and other cities have argued camping bans and enforcement of them are essential to protecting public safety, given the drug use, criminal activity and untreated mental health issues that are often present in encampments.
Under the city's removal protocol, encampments near schools are prioritized for removal, said Joe Tadeucci, head of Boulder's utilities department. Encampment removal teams are housed in the utility department given their frequent location along city waterways.
"It's one of the highest if not the highest," priorities to remove encampments near schools, Tadeucci said. While removals around Boulder High have been successful, he noted that an area known as the Arboretum — near Boulder High's football field — remains "a hot spot."
The presence of encampments along the multi-use path are one of the reasons Sara Mitton said she no longer feels comfortable walking or biking from her University Hill home to downtown. She reported being chased and yelled at.
"I've been riding the Boulder Creek path since it started," Mitton said. "What we've seen over the last two years has been horrific, coming down from the Hill on the path. I can't imagine what the kids do."
Although her children and grandchildren do not live in Boulder or attend BVSD schools, Mitton said she was motivated to email council because of her own experiences, and those of other parents.
"I know what it could have been and was for my kids," she said, "and these students don't have the same opportunities. I can't imagine letting a kid ride to Boulder High on a bicycle anymore."
Bryan Toronyi, whose son attends Boulder High, is not part of the official parents' group or groups advocating for a safe zone, but he does want some action to be taken. His son has not had a negative incident, but based on the experiences of others, Toronyi still does not want his son spending time by Boulder Creek.
There are "things that don't need to be seen by kids," he said, like drug use, violence and people experiencing mental health crises. "Those types of things are keeping us from being in that general area."
The high amount of emergency calls emanating from the area — as reported by Police Chief Maris Herold at a recent PTA meeting — should be an alarm to city leaders that something should be done, Toronyi said. Whether that involves encampment policy, private security or police presence is not his call. 
"I'm not trying to be an expert on resolving the situation," he said. "Something has to be done before it gets worse."
Author's note: This article has been updated with additional quotes from parents of Boulder High students.
— Shay Castle, @shayshinecastle or on Mastodon at toot.bldrweb.org/@shayshinecastle
Help make the Beat better. Was there a perspective we missed, or facts we didn't consider? Email your thoughts to boulderbeatnews@gmail.com
Homelessness Bob Yates Boulder Boulder High School Boulder Valley School District BVSD camping ban city council city of Boulder encampments homelessness parents Tara Winer unhoused
Journalist