How (some) council and mayoral candidates are lining up on (some) issues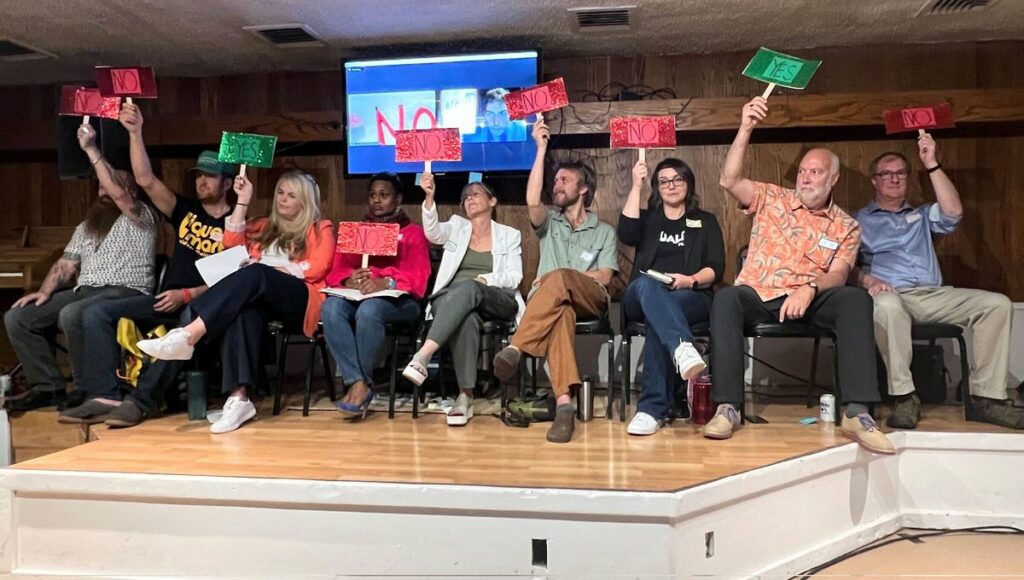 Friday, June 23, 2023
Raucous Caucus returned to an in-person format Wednesday night, and with it the little touches that set the event apart from other political forums — sparkly paddles, quirky questions and lots of boos from the crowd.
Candidates won't officially be candidates until early August. Some may still drop out if they don't secure endorsement by one of Boulders' two principal political blocs. But eight have so far stepped up to run for city council:
Justin Kalvin, manager and bartender at the iconic Sundown Saloon on Pearl Street. He wants to elevate the voices of renters and service/low-wage workers who are not represented on the majority homeowner and white-collar city council.
Waylon Lewis, Buddhist, Trident Cafe super-fan and founder/publisher/owner of Elephant Journal. He talked about his frustrations with the cost of living in Boulder and the inability of local government to make progress.
Jennifer Robins, a real estate consultant and mom "who wants to make the city better for my family and yours" via "safe spaces, mental health services and leadership opportunities" for youth ages 12-18.
Taishya Adams, former member of Boulder's Police Oversight Panel. She wants to see "community-led" and more collaborative local government that prioritizes the people it represents.
Tara Winer, the only incumbent seeking re-election (for a council seat). "It's my job to balance the needs of everybody in the community," she said. "I commit to listening to everyone. I will always consider those ideas."
Aaron Neyer, engineer. His focus is on improving relationships. "I think what we need more than anything is really meaningful, inclusive and engaging dialogue."
Ryan Schuchard, transportation wonk (he's a member of Boulder's Transportation Advisory Board). His platform is (unsurprisingly) transportation and climate heavy, advocating for a "dramatic" expansion of transit and infrastructure for people to "walk, bike and roll."
Silas Atkins, paraeducator at Boulder Valley School District and previous resident of the city's affordable rental program. "I'm very much aware of what it costs to live here, what it takes to be here."
Mayor Aaron Brockett and sitting city council members Bob Yates and Nicole Speer are running for mayor in Boulder's first direct election for that post, using a new method: ranked choice voting.
Though there was (per usual) much grumbling about the use of Yes/No paddles to answer questions — "I'm horrified," Lewis said — the lightning round questions also offer perhaps the clearest sense of candidates' policy positions.
Here's what we learned from three lighting rounds of yes/no questions:
Housing
Everyone but Yates and Robins support state action on housing that would override local control (such as the failed land use bill from this session, SB213, which Boulder was alone in supporting as a municipality).
Support for rent control (which also failed to pass the state legislature this year) was unanimous among candidates
Yates, Brockett, Winer and Robins opposed removing "familial status" as a determination for how many adults can share housing (Winer expressed much confusion over the question, despite council's recent work on the issue.)
Homelessness
Nobody supported ticketing unhoused people for sleeping outside when no shelter beds are available (something the city is currently being sued over). Winer waffled a bit on this one, too (and was booed for her indecision), but later said that she meant to answer no.
Everyone but Yates and Robins supported the use of designated, safe encampments as part of a comprehensive strategy to address homelessness
Despite their continued support for and funding of encampment removals, Brockett and Yates joined the majority of candidates who said the practice is not an efficient use of resources to address homelessness. Only Robins thought they were (Winer, predictably, waffled)
Policing + Oversight
Asked if the Police Oversight Panel should have more authority in disciplining officers, Yates and Robins said no. Everyone else answered yes. (Winer later clarified in a tweet: "a little more, but not much more."
Winer, Brockett, Yates and Robins believe the police budget is not too high; everyone else answered that it was
Wages + Taxes
Everyone supported a higher minimum wage "of at least $17.29" per hour
Every candidate but Atkins would support a tax or fee specifically to fund transit. In his closing remarks, Atkins explained: As someone who works a low-paying job, "I don't have the ability to support" this financially. He also doesn't "believe in individual taxes and fees to pay for things. We should share the burden."
Atkins was joined by Adam in opposing a tax increase to fund the arts, a likely ballot measure for this fall
Everyone but Robins supports a living wage for city council members. (Currently, they make about $12,000 per year. A ballot measure for higher pay will likely be brought forward next year)
Transportation
Everyone but Winer signaled support for eliminating parking requirements for housing development
Winer also stood alone in opposition of re-closing West Pearl to car traffic (well-trod ground for this city council)
Demographics
Kalvin, Adams, Neyer and Atkins are the only candidates who rent, rather than own their homes. They would join a council of all homeowners, as Junie Joseph (the sole renter at the time of her election in 2019) is cycling off council in November
Two additional candidates (Brockett and Winer) have lived in multi-family, attached housing in the past decade
Yates and Robins were registered Republicans as of 2017, but have since switched their affiliation (Robins to Democrat, Yates to unaffiliated). Kalvin is also an unaffiliated voter. (City council elections are non-partisan.)
The Thread Reader is broken, but you can see a full live-tweet of this event here.
Find the start of the Lightning Rounds here, here and here, and the mayoral q+a round here.
One correction: Robins was not an organizer of the Safe Zones 4 Schools petition, though she does support it. I also added into the story information and quotes from Lewis' and Robins' intros that I missed in the thread.
— Shay Castle, @shayshinecastle or on Mastodon at toot.bldrweb.org/@shayshinecastle
Help make the Beat better. Was there a perspective we missed, or facts we didn't consider? Email your thoughts to boulderbeatnews@gmail.com
Elections Boulder Boulder Progressives budget city council city of Boulder crime elections homelessness housing land use mayor police oversight policing ranked choice voting Raucous Caucus transportation
Journalist