From the Opinion Panel: City of Boulder sued over blanket and tent ban
Wednesday, June 22, 2022 
Recently the ACLU of Colorado sued the City of Boulder related to its blanket and tent ban which are designed to allow police to give tickets for people sleeping outside. The ACLU calls these laws unconstitutional, while the city maintains their use to manage homelessness in public spaces. What is the path forward for Boulder?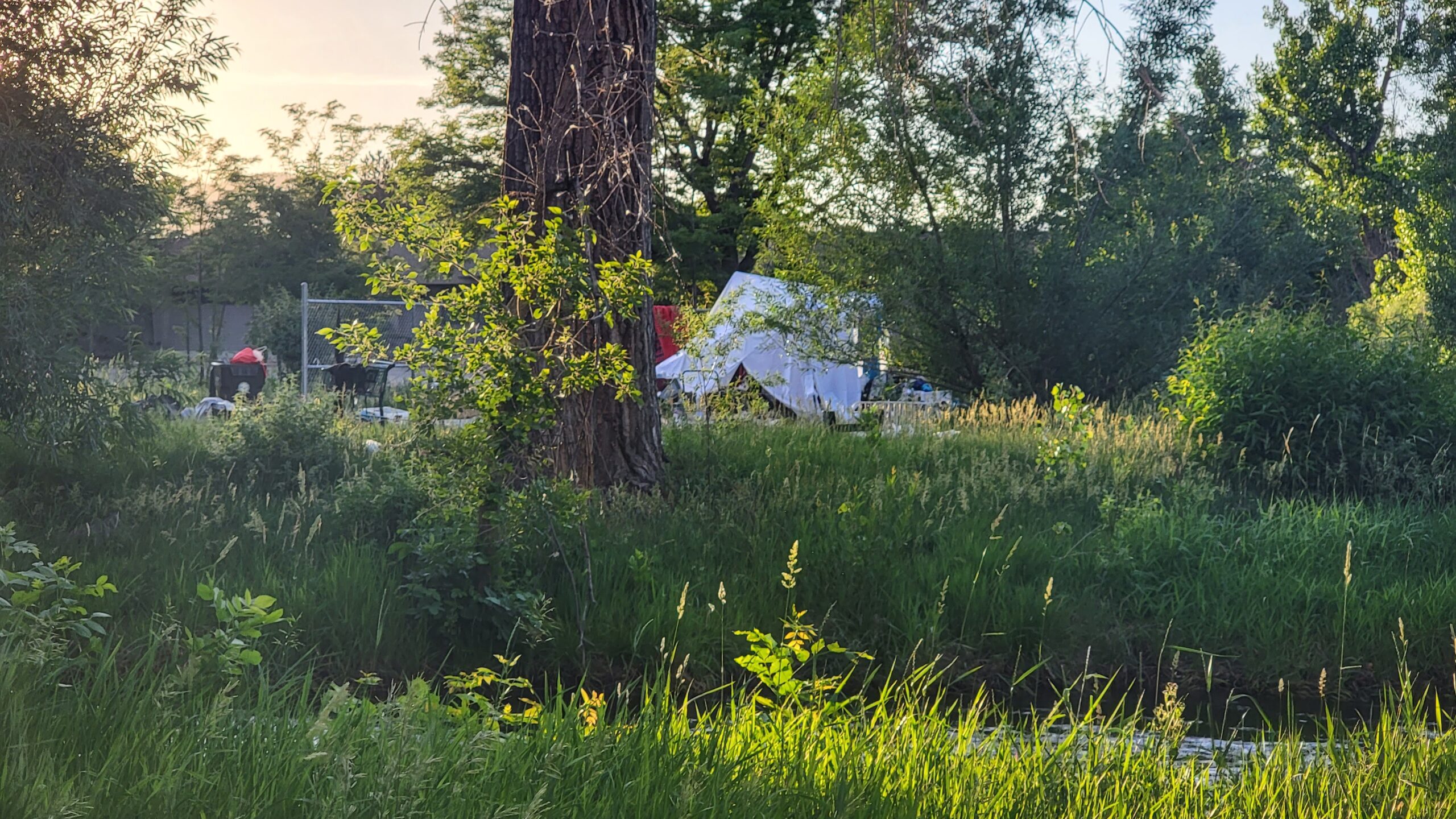 Fred Hobbs: Lawsuit demonstrates our interconnectedness
There is a Zulu proverb called Ubuntu, which Archbishop Desmond Tutu described as, " … the essence of being human. Ubuntu speaks particularly about the fact that you can't exist as a human being in isolation.
"It speaks about our interconnectedness … we think of ourselves far too frequently as just individuals, separated from one another, whereas you are connected and what you do affects the whole world."
The concept of Ubuntu demonstrates why the news that the ACLU has instigated legal action against Boulder to fight the city's blanket-and tent-ban is so welcome. The lawsuit embraces the idea of interconnectedness in a real and meaningful way (albeit with a unique American twist involving our legal system). 
Criminalizing homelessness — and make no mistake, Boulder's blanket-and-tent ban criminalizes homelessness — separates "us" from "them." There are already proven solutions to homelessness, solutions that recognize the inherent value in every human, regardless of whether they have a place indoors to sleep at night. The ban is not one of them. 
There are many reasons a person may become homeless. It could be a lack of affordable housing, a need to flee an abusive relationship, struggles with illness or disability, or facing an insurmountable personal hardship. These are the sorts of challenges most of us either have, or easily could have, faced to some degree in our lifetimes. 
If we can recognize ourselves in the faces of Boulder's homeless population, then we can also recognize that we don't need to cling to tired, ineffective and barbaric ways of "addressing" homelessness such as the blanket-and-tent ban. 
All Boulderites, from the person living under a bridge in Central Park to the person living in the biggest mansion in our city, deserve better. Hopefully the ACLU lawsuit will force our city to choose a more compassionate path that acknowledges our shared humanity, our Ubuntu.
Fred Hobbs is Director of Public Relations at Imagine!, which serves individuals with disabilities living in Boulder and Broomfield counties. More about Fred.
 
Nikki Rashada McCord: Liberal Boulder's camping ban criminalizes bootstrapping

The high cost of gas is causing Garrett to weigh which expense to prioritize — fill up his car or pay his rent? What if Garrett combines the expenses of rent and transportation and lives in his car, just until the price of gas drops or until his employer gives him a cost of living adjustment?
Not so fast, Garrett, you innovative thinker! Living in your car parked on a street without the permission of the property owner violates the city's camping ban. While Garrett thought he was pulling himself up by his bootstraps, the city says this behavior is criminal! (Editor's note: There are multiple city laws that prohibit living in vehicles, separate from and in addition to the prohibition on camping.)
The American Civil Liberties Union of Colorado (ACLU) is suing the city, claiming Boulder's camping ban is unconstitutional. As cited in BMC 5-6-10-d, "camp means to reside or dwell temporarily in a place, with shelter, and conduct activities of daily living, such as eating or sleeping." The ACLU is relying on a 2018 ruling that "held that cities cannot enforce anti-camping ordinances if they do not have enough homeless shelter beds available for their homeless population."
Our enterprising bootstrapper is not homeless! He pays cost-burdened rent. He has a job, a car, and a child enrolled in Casey Middle School. But paying for both transportation and housing is unsustainable at his current salary. If he paid a slightly lower rent in a city outside of Boulder, his transportation costs would increase and his child would be uprooted from their school community. What happens to Garrett if each party prevails?
If the ACLU prevails, 
the city will need to work with the nonprofits that provide shelter beds and convince them to increase the number of beds to meet demand (the city does not run a homeless shelter), or;

the city will need to start providing shelter beds to meet the demand, or;

the city will need to rescind the camping ban. 
If the city prevails, they will not be compelled by the court to increase the number of shelter beds. Garrett will need to make more money to afford rent and transportation, try his luck car camping, occasionally incurring citations, or get out of town. 
Are you one paycheck away from being Garrett, juggling paying your expenses because costs are rising faster than wages? If, or when, you are forced to walk a mile in Garrett's boots, which policies will serve you best until you can get back on your feet?
Nikki lives in Boulder and firmly believes red chili should not contain beans. More about Nikki.
 
Teddy Weverka: Keep the camping ban
Boulder is a leader in spending on the homeless. The ACLU lawsuit reminds us that we can do even better. But the camping ban should stay.
There are more than 440 homeless people in Boulder. The people in our homeless population are there due to a range of circumstances. Some are down on their luck, some are drug addicted, and some mentally ill. Among single adult homeless, about half are newcomers to Boulder.
Boulder provides for those who are down on their luck. For those who aren't newcomers, we provide shelter and a path toward stable housing. This serves well those who desire a transition to stable housing. For those who have little or no connection to Boulder, and those who aren't ready or accepting of this kind of help, Boulder already does a lot with temporary housing.
Occasionally the shelter is full. Those we have turned away have to sleep somewhere. The ACLU lawsuit points out that we can't cite people for doing something when they have no other choice. The lawsuit asks us not to enforce the camping ban "when they cannot access indoor shelter." The ACLU is right. At minimum, we must notify police when shelters are full and turning people away. On the days the shelter is full, we must prohibit our police from issuing camping citations.
We can do more than the minimum by improving our supply of both long term and short term housing. There were two days last year when our shelter turned away as many as 12 people. We should expand the shelter by a dozen more beds. Eight percent of Boulder housing stock is permanently affordable; our goal is 15%. We could accelerate this goal to get more people into stable housing more quickly.
We should not drop the camping ban. We want to keep our parks safe and welcoming for all. The parks are not designed for camping, a use that conflicts with the intended use of our parks.
Teddy Weverka lives in Boulder where he enjoys practicing science and photography and keeping backyard chickens. More about Teddy.
 
Jake Brady: Treat the root cause of homelessness, not the symptoms
The answer is simple: The camping ban has done nothing to address homelessness in our community and should be taken off the books.
The modern homelessness crisis extends far beyond our city and much further back in time than the past few years. Boulder and the county as a whole have had some amount of success since a regional housing-first approach was implemented in 2017, as is evidenced by the fact that more than 500 individuals have been placed in homes since then.
The list of failures reads much longer. In 2010, the county set a goal to end homelessness in 10 years. Instead, HUD point-in-time counts of homeless individuals has continued to grow, reaching a record-high near 700 in 2020. Between 2010 and 2014, Boulder issued 1,767 camping ban citations — more than 14 other Colorado cities combined. During the same window, Boulder's homeless population increased in size and the city spent nearly $1 million on policing, adjudication and incarceration related to the ban.
City officials tell us that they are following an evidence-based approach. Here is what the data actually say: 
Housing affordability and income inequality are two of the top drivers of homelessness. Criminalization does nothing to address the issues underlying homelessness, nor does it improve public safety. Boulder has a housing waitlist with hundreds of names on it, and our mental health and addiction treatment system is woefully underfunded. Our services structure is byzantine, our minimum wage is inadequate, housing is unaffordable for many, and safe injection sites are outlawed. Addressing these problems — preferably with regional and state coordination — would be a much more effective use of our time and money than criminalization.
Providers have been telling the city what they need for years. For the nearly $3 million that Boulder allocated to camping ban enforcement, we could have instead hired a dozen new Housing & Human Services employees, or opened a new service hub and day shelter, or funded thousands of nights of hotel stays, or housed roughly 90 individuals. In contrast, increased enforcement of the camping ban has not reduced the number of encampments or crime reports in the past year.
You cannot impose "law and order" without justice. No society that deems itself civil should accept our horrific levels of inequality or our treatment of the homeless. We fail to address the root causes of homelessness at our own peril.
Jake Brady has rented in Boulder since 2017. He aspires to a world with more worker power, stronger tenant protections and ubiquitous public housing. More about Jake.
Opinion BBOP Boulder Boulder Public Library city of Boulder library district opinion panel opinions & perspectives property taxes taxes