Boulder Police Oversight Panel reaffirms appointees, setting up showdown at city council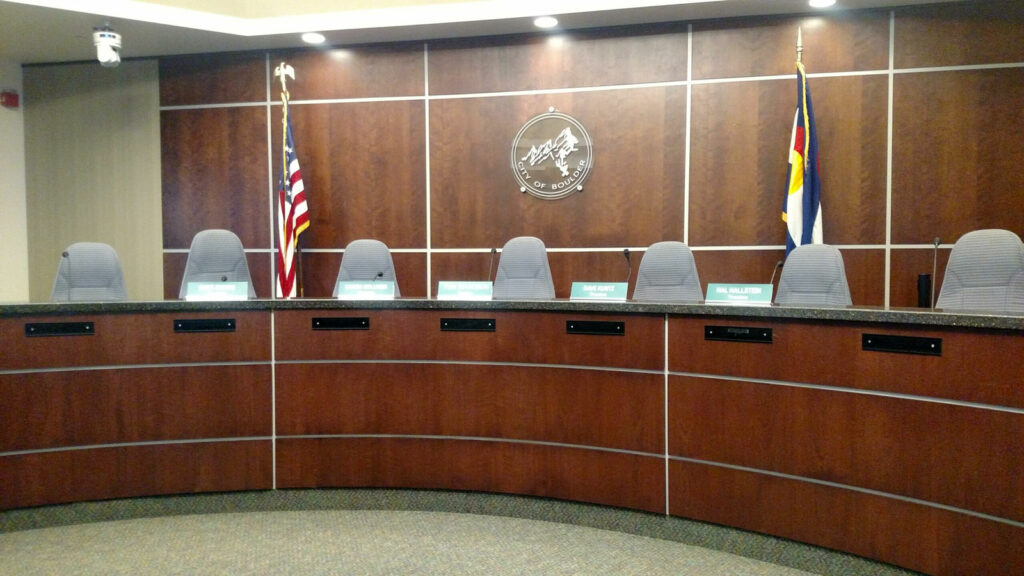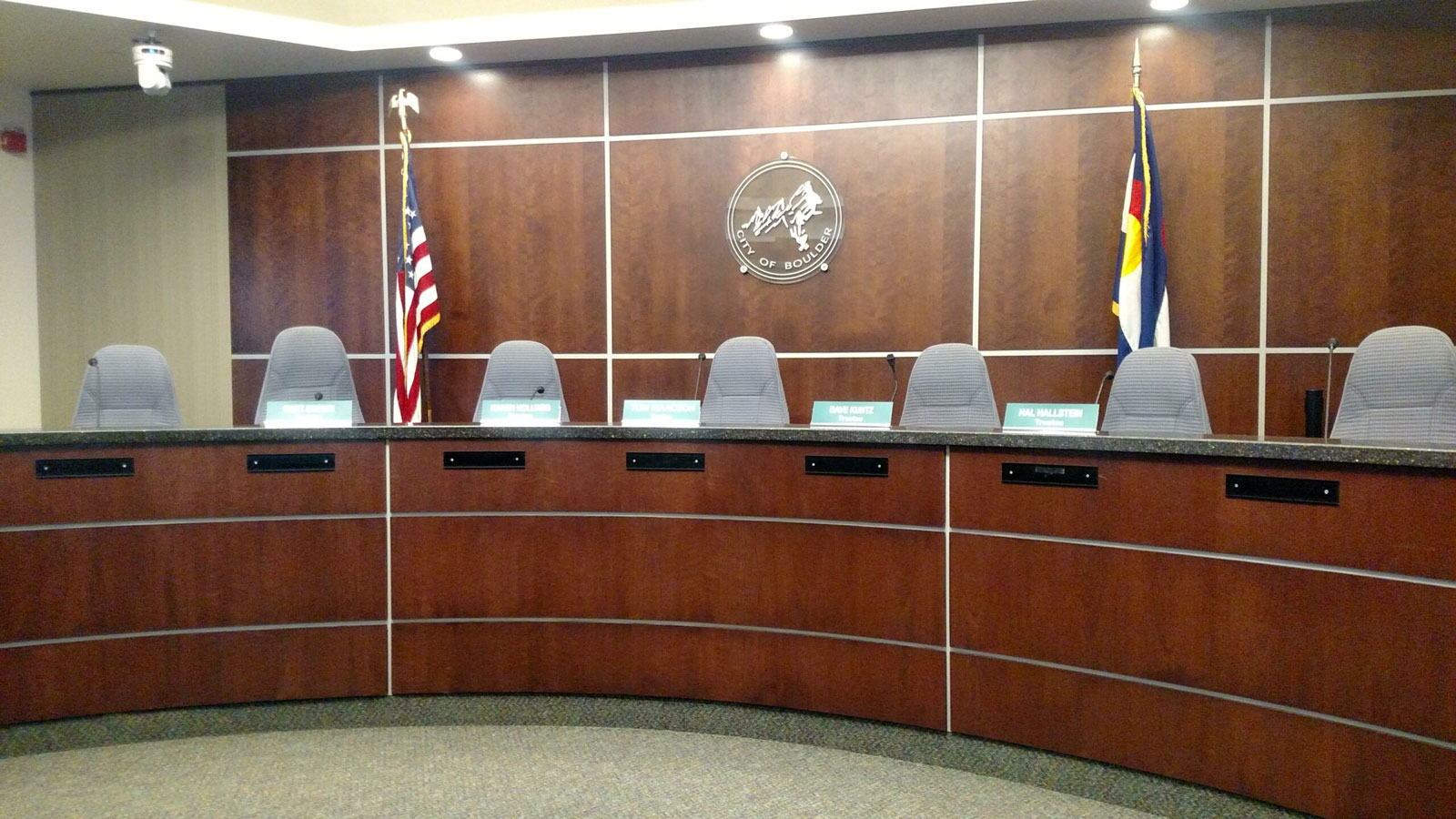 Saturday, Jan. 14, 2023
Members of Boulder's Police Oversight Panel, tasked with picking new panelists, have reaffirmed their decision to appoint two people that drew criticism and protest from the police chief and pro-police community members. The recommendations now head back to city council for approval or rejection — setting up council's first potential exercise of authority over the civilian group meant to act as a check on police power.
Approval runs the risk of angering the city's police chief, Maris Herold, and her supporters, who feel that residents with staunch anti-policing views have no place on a body that helps to decide on discipline for individual officers. Rejection would essentially suspend the panel's operations, members said this week, and earn the ire of those who argue the police department should not be able to pick its own watchdogs.
At the heart of the controversy lies the question of which voices and viewpoints are appropriate in debates over policing and reform — and who should or shouldn't make that call.
Opinions abound
The Police Oversight Panel was established in early 2021 following the armed confrontation of a Black Naropa student by several officers. Selection of new panelists falls to representatives from area nonprofits — this year, the local NAACP and El Centro Amistad — and current panelists.
The first round of POP appointees sailed through city council without comment, as did the addition of two members last year. This year's round of appointees, however, drew swift opposition.
On the list were Lisa Sweeney-Miran, who runs a nonprofit that aids unhoused mothers and an emergency shelter for women, transgender and other gender non-conforming residents; and Sam Zhang, a PhD student and leader of the employees' union at University of Colorado.
At the Dec. 15 meeting where council first declined to approve recommended panelists, Sweeney-Miran's social media posts and involvement in a lawsuit against the city and police chief Maris Herold were discussed. (Sweeney-Miran has declared her intention to withdraw from the suit if appointed to the POP.) One community member spoke against Sweeney-Miran, calling her unfit and biased, and several more emailed elected officials. (That speaker, Jennifer Rhodes, did not respond to a request for comment to elaborate on her concerns.)
No one spoke publicly against Zhang, but an open records request revealed at least one email to city council in which he expressed support for "reallocating funds away from policing, toward emergency mental health response, social services, and other preventative public health measures."
A copy of the email, obtained by opponents to Zhang's appointment, was shared with Boulder Beat along with screenshots of Sweeney-Miran's tweets. In one, she recommended a book discussing abolition of the police; others criticized the use of an armored truck to conduct a police operation in a residential neighborhood.
Sweeney-Miran, who also worked to remove police officers from public schools, acknowledged that the has "objected to specific actions," but believes she is more than capable of fairly evaluating the actions of individual cops.
"As someone who passed the bar, I'm well suited to do this," she said. "The goal is for the police to have zero incidents (of misconduct). We would all love a day where there is no concern about police in our community. The easiest way to achieve that goal is to have folks who are taking that seriously."
As for the book recommendation, which she stands by, "that makes me a reader, not an abolitionist."
Zhang, in response to an emailed request for comment, wrote that "it would be undesirable for the city to reject potential POP members simply for holding informed opinions on the future of policing. Instead, the community needs people who are willing to apply a critical and open
mind toward police (mis)conduct, which necessarily involves combining the evidence of each case with the deep history of racism and policing
in the U.S.
"I believe that I can offer this, and the selection committee has agreed."
Role of the panel
Per council's request, the selection committee shared its criteria and scoring rubric for all 57 applicants. Preferred candidates belong to demographics that have historically been negatively impacted by policing — Black, Indigenous, Latinx, Asian, Pacific Islander, Person of Color; experience of homelessness; LGBTQ+; differing abilities; low socioeconomic status; incarceration history — or show "affinity for or engagement in grassroots organizing, social justice work [or] anti-racism practices."
The committee also required knowledge of the history of policing and the criminal justice system, "awareness of the covert and overt racism in the context of policing or overpolicing," and "awareness that the mission of community-led police oversight is police accountability."
"If police were reliably accountable and transparent," notes shared with council read, "there would be no need for community-led police oversight groups across the country."
These requirements are, to some, outside the scope of the POP, which is to provide an independent, outside-the-department look at alleged misconduct by police officers.
"The panel's role is not to look at policing in a systemic way," Boulder Police Chief Maris Herold said in a brief interview this week. "The panel's role is to look at specific facts and circumstances and then recommend corrective action or discipline; that is it.
"The panel cannot be worried about the systemic issues of policing," Herold restated multiple times. "That is another role in society that plays out in other ways. That cannot happen at the panel."
Herold made clear that she would not speak to any individual appointee, but her concerns also clearly demonstrate a fear of panelists who don't believe in policing as necessary to society. Such beliefs are antithetical to respecting "the due process rights of police officers" under investigation. Already, Herold has expressed that the POP should learn more about police unions and their role in helping cops keep their jobs, even after wrongdoing.
"It doesn't mean to me that people can't be critical of the police; I think that is a fine concept to be critical of the police," Herold said. "I think the question has to be asked, Can you be fair and objective, and can you follow due process and can you follow the rule of law? Can you look at a set of facts objectively?"
Allowing abolitionists on the panel "would be very similar to if we put a person that thinks the police can do no wrong," Herold said.
'Police choosing their own panel'
Defund the Police and Abolish the Police are two movements that have become flashpoints in nationwide debates over policing. Beyond the slogans, what they really mean is somewhat debatable: Some adherents do believe in a police-free society; others argue the real goal is fewer police (not none) and increased investment in non-police solutions to societal ills like homelessness, drug addiction, mental health, unequal access to education and opportunity, and a lack of affordable housing — principles Boulder's elected leadership has espoused and pursued.
Learn more: Abolish the Police, explained. Vox
The deep roots and recent offshoots of Abolish the Police. Politico
Regardless of the ideology, Herold and Sweeney-Miran agree on one point: The panel is not the venue to pursue the kind of sweeping, systemic change that such activists hope for.
"The POP is not taking about larger, nationwide policy issues," Sweeney-Miran said. "I don't think abolition is even related" to their work, so debating whether or not it's appropriate for a panelist to hold such beliefs is "a nonsense starting point."
She believes the root of opposition to her appointment is an attempt by police and their political allies to exercise control over their overseers.
"If this was a national headline you were reading some other place," she said, "it would say, 'Police choosing their own panel.' It's just patently ridiculous."
To what degree Herold's concerns motivated community and council members is unclear. Open records requests show at least council member, Matt Benjamin, contacted Herold to discuss the POP ahead of the Dec. 15 meeting. That meeting was called off by Benjamin after his fellow councilman Mark Wallach moved to postpone approval of the panelists.
City council was also contacted by members of the Boulder Police Foundation, a group that "exists to raise funds and to allocate those funds in support of the mission of the Boulder Police Department focused on supporting Public Safety and community welfare," according to the organization's website. BPD deputy chief Stephen Redfearn is listed as a board member and liaison to the department.
An email thread flagged Sweeney-Miran's appointment as potentially damaging to the police department, with the potential to trigger Herold's resignation. The POP has already negatively affected department morale, Foundation members alleged.
Of the eight people included in the emails, three declined to speak with Boulder Beat for this article. The other five did not respond to requests for comment. The Foundation website was updated to include a list of board members following calls and emails to individuals included in the emails.
Herold has twice before spurred community members to take political action around policing issues, opposing state legislation that would have ended cash bail and changed arrest standards, and encouraging residents to ask that city council authorize resuming removal of homeless encampments.
In response to questions about the email thread and claims therein, a BPD spokesperson wrote, "Chief Herold has not spoken with community members about this topic and is not considering resignation." Via the spokesperson and again in an interview, Herold expressed her support for the POP.
"I do value the panel," she said, "and I want them to be seen as very legitimate."
Chief is final authority — for now
The police chief and the POP have, for the most part, been in alignment on handling misconduct and implementing policy changes, as panelists acknowledged in a November 10 meeting. Where they have split is over the issue of officer discipline; most recently, the panel recommended that five officers be fired after detective Kwame Williams failed to properly investigate more than four dozen cases over three years.
While the POP can make recommendations, ultimately discipline authority resides with the chief. In this case, Herold allowed one supervising officer to retire by resignation, and one- to five-day suspensions for Williams and four supervisors. Williams was moved to another department.
"Because of my role as police chief, I have to be overly cautious with officers' due process rights, their legal rights," Herold said in a Wednesday interview. "Sometimes (the panel and I) will disagree on things. Up until very recently, this has worked very well. This has been a wonderful collaboration, a wonderful relationship."
Yet multiple panelists have hinted at their discontent. Martha Wilson, a founding POP member, resigned in part because BPD did not initially disclose the number of improperly handled cases. During Sweeney-Miran's interview, panelist Sarah Hoult said the POP was "disappointed" at the "barriers" it has encountered. Other members have said they are reluctant to speak publicly about their work, fearing legal action from officers or the city itself, which can be legally and financially culpable for cops' misconduct.
City officials promised reforms to allow POP to speak more freely, as well as larger changes to the ordinanceA piece of municipal (city-level) legislation. that grants the panel authority. During Wednesday's public forum, the three finalists for Boulder's independent monitor position said adding a layer of authority above and beyond the chief was an option other cities employ.
"All the boards I've ever worked with have an appeal process," said Cathy Rodriguez, a compliance manager with Colorado's Peace Officer Standards and Trainings department.
"I do understand the chief of police in many oversight panels or processes is the final authority, but I've seen others (where) the chief is not the final authority," Rodriguez said. "It would be something to consider to change the charter and the appeal process; whether that is city manager or city council or some other body, I don't know. It's something that should be considered, especially in really serious misconduct cases."
"To what extent it should exist here is not clear," said Mac Muir, previously an investigator for NYPD's civilian review board, while Gina Torres, a former police officer and current police monitor in Albany, NY, added, "Having the ability to appeal is something that I think is necessary to this, especially if the chief, who is looked at as supportive of police, is the one making that final (decision).
"There needs to be a formal process beyond there with other stakeholders."
'Keep this work going'
An independent monitor works with the POP to review investigations and complaints, make policy and training recommendations, and advise on department practices. Boulder's first monitor, Joey Lipari, left his post in September.
A new monitor should be in place within 4-6 weeks, equity manager Aimee Kane said at Thursday's POP meeting. The panel has been working with interim monitor Florence Finkle since Lipari's departure.
Also Thursday, Kane shared that the selection committee "all reaffirmed that is the panel slate they wanted to present to council."
The POP hopes to continue working uninterrupted, co-chair Daniel Leonard said — but that depends on whether or not council approves the new members. The terms of two current panelists, Taishya Adams and co-chair Ariel Amaru, expire February 8.
"We will lose quorumNumber of council members who need to be present in order for council to make a decision. In Boulder... on Feb. 8 if we do not have those new panelists seated," Leonard said. "We're really hoping city council is going to come through for us and keep this process and this work going."
One appointee, Talithia Cason, did withdraw, with first alternate Mylene Vialard moving up to take her place on the panel. Arlette "AB" Barlow joined the list of four alternates.
— Shay Castle, @shayshinecastle or on Mastodon at toot.bldrweb.org/@shayshinecastle
Help make the Beat better. Was there a perspective we missed, or facts we didn't consider? Email your thoughts to boulderbeatnews@gmail.com
Police Abolish the Police abolition accountability Boulder city of Boulder cops defund the police homelessness independent monitor Maris Herold Police Chief police misconduct police officers Police Oversight Panel police reform policing unhoused
Journalist