6C: Library district formation and mill levy tax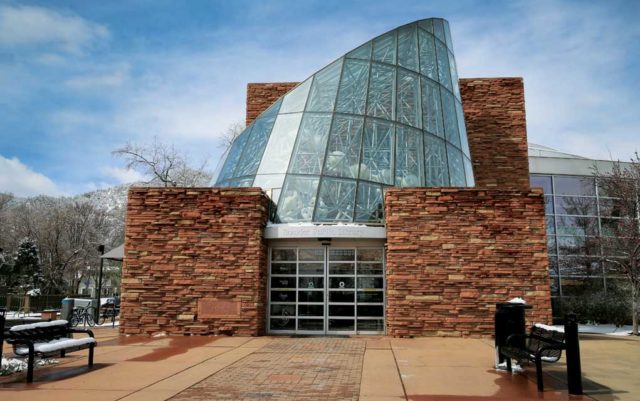 Saturday, Oct. 15, 2022
Read all Boulder Beat's Election 2022 coverage — y en español
What's on the ballot?
SHALL THE BOULDER PUBLIC LIBRARY  DISTRICT TAXES BE INCREASED $18,780,000  ANNUALLY FOR COLLECTION BEGINNING IN  2023, AND BY SUCH ADDITIONAL AMOUNTS  RAISED ANNUALLY THEREAFTER BY AN AD  VALOREM PROPERTY TAX MILL LEVY IMPOSED  AT A RATE OF 3.5 MILLS TO PROVIDE  FACILITIES AND SERVICES WHICH MAY  INCLUDE: 
RESTORED AND IMPROVED LITERACY  PROGRAMS, INCLUDING PARTNERSHIPS  WITH SCHOOLS TO REACH UNDERSERVED  STUDENTS AND STUDENTS WHO FELL  BEHIND DURING THE PANDEMIC;

ADDITIONAL FREE AND SAFE PUBLIC  SPACES FOR COMMUNITY MEETINGS,  WORKSHOPS AND PROGRAMS;

UPDATED AND IMPROVED COLLECTIONS  OF BOOKS AND MATERIALS, INCLUDING  BILINGUAL MATERIALS AND DOWNLOADING  OF E-BOOKS, MOVIES, AND MUSIC;

EXTENDED HOURS AT ALL EXISTING  LIBRARIES AND A NEW BRANCH LIBRARY IN  GUNBARREL;

EXPANDED ACCESS TO STEAM  PROGRAMS, MAKERSPACES, AND FREE  INTERNET FOR YOUNG PEOPLE,  UNDERSERVED COMMUNITIES AND  SENIORS;

IMPROVED MAINTENANCE, CLEANLINESS,  SAFETY, AND SECURITY AT ALL LIBRARY  FACILITIES; 
AND SHALL THE DISTRICT BE ENTITLED TO  COLLECT, RETAIN AND SPEND THOSE  REVENUES IN ADDITION TO ANY OTHER  TAXES, FEES OR OTHER REVENUES OF THE  DISTRICT, NOTWITHSTANDING ANY  LIMITATION OR RESTRICTION OF ARTICLE X,  SECTION 20 OF THE COLORADO  CONSTITUTION, OR WITHOUT REGARD TO THE  5.5% PROPERTY TAX REVENUE LIMITATION OF  SECTION 29-1-301, C.R.S., OR ANY OTHER LAW,  AND SHALL THE DISTRICT BE FORMED?
What does it mean?
The Boulder Public Library is currently the responsibility of the City of Boulder. This would create a library district whose sole purpose is to run the area's libraries. It would be funded by a 3.5-mill property tax (more on that later).
What's a library district?
Similar to school districts or the Regional Transportation District, a library district is its own government entity/taxing district. Like RTD or school districts, library districts have their own boards of trustees and can ask voters directly to raise or lower taxes, in addition to governing the daily operations of the library system.
There are 57 library districts in Colorado, including two in Boulder County (Nederland and Lyons). 
Where does the library get its money now?
From the city of Boulder. In 2023, 83% of the library's budget will come from the city's General Fund and 17% will be from the Library Fund, which gets its money from two sources: a 0.333-mill property tax — the city's oldest — dedicated specifically and solely to the library, and grants from the Library Foundation. 
If voters approve the library district and Ballot Question 2C, that property tax will be repealed and the money no longer collected. In 2023, that is about $1.4 million.
–> Read: 2C – Repeal of Library Commission and Tax
Although the city pays for most personnel and operating costs, the private nonprofit Library Foundation funds nearly 90% of the programs the library offers, and the equivalent of one full-time employee (split among part-time positions at the BLDG 61 makerspace and Carnegie Library for Local History). Foundation-funded programs include children's story time, summer reading, adult literacy and financial literacy programs, and more.
The library's 2023 recommended budget is $11.067 million. There is an additional $4.65 million in administration costs — attorneys, payroll, etc. — not included in the budget, because these services are provided to multiple city departments. 
Where would the library get its money under a district?
From the aforementioned property tax, levied on every property within this area: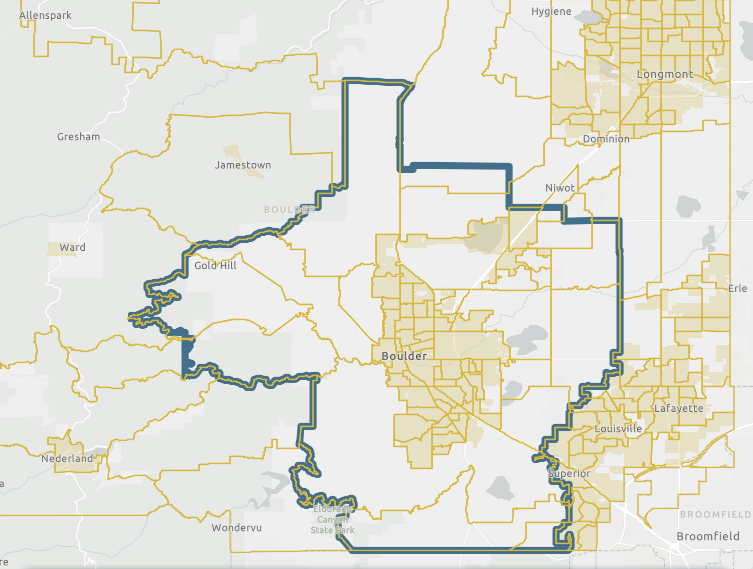 The tax as proposed would generate approximately $18.78 million in its first year. 
Who would run it?
Per state law, a five- to seven-member board of trustees appointed by Boulder City Council and Boulder County commissioners. 
Subsequent boards will continue to be appointed by city and county elected officials. This could take the form of recommendations from the library board, with council and commissioners giving the final OK, or with council and the commissioners handling the entire process, from recruiting to recommendation and approval. 
That detail will be worked out if and when a library district is formed. 
How much are taxes going up?
You can see how much you'll pay for a particular property (based on 2022 assessments) via this interactive map, searchable by address: https://experience.arcgis.com/experience/8f0fafc66c7f4d0e9aba1084e37de9b7 
The property tax will be 3.5 mills for properties in the above area. For properties in the city of Boulder, it will be 3.167 mills, once the 0.333-mill dedicated library tax is repealed. 
That's roughly $25 per $100,000 value of residential property in the county, or $22.65 per $100,000 of residential property in the city of Boulder (again, assuming repeal of the dedicated library tax). 
Commercial properties will pay more due to Colorado's Gallagher AmendmentChange made to existing documents, resolutions, or ordinances: $101.50 per $100,000 of assessed value outside the city of Boulder or $91.84 per $100,000 of value within the city of Boulder. 
Note: This is on the assessed value of a property — that is, the taxable value — not the market value, or what it could sell for. (More on taxes below)
Things to consider before you vote
We're starting with the assumption that libraries are a public and social good — a premise that is well supported and which you presumably share (or you wouldn't need to read this to help you decide whether to fund them). 
This article is primarily an exploration of the pros and cons of funding and governing the library via a library district. Questions to consider as you contemplate how to vote are: Is the library in need of more funding or different leadership, and is a library district the best way to achieve those goals? 
Why you might want to vote for this
The library commission in 2018 identified a district as the most sustainable funding mechanism, though a district has been discussed numerous times since at least 1984. The idea of a district has been included in three master plans for the library — in 1995, 2007 and most recently 2018, when the commission made a strong recommendation for a district as a means of addressing longstanding budget needs.
That's primarily because a district would be funded by property tax, a much more stable source of funding than sales tax. As demonstrated during the pandemic, revenue from sales tax falls when the economy slows. 
Because the bulk of library funding comes from Boulder's general fund and the greatest source of general fund money comes from sales tax, this has resulted in steep cuts during economic downturns. In 2020 mid-year budget cuts related to COVID, the library lost 72% of its staff and $2 million of its budget, one of the hardest-hit departments. Its 2021 spending was reduced by 15.6% compared to the previous year, and staffing was reduced by 14.3%.
As city revenue recovered, library branches in south and north Boulder remained closed due to a lack of funding. They were reopened in late 2021, more than 18 months after the main library resumed operations. All branches are still offering reduced hours and the Carnegie Library is still closed to the public due to a lack of staffing.
Proponents also argue that a nearly countywide property tax will include more of the library's users, about a third of whom live outside the city of Boulder, which will again make the funding of the library more equitable. The county used to contribute to the library budget, based on the number of users living in the county, but stopped in the 1970s.
Regardless of where the money comes from, the library will need more money to be fully operational. Patronage continues to grow — the library added more than 38,000 cardholders between 2010 and 2019, a 40% increase  — and staffing/spending has not kept pace.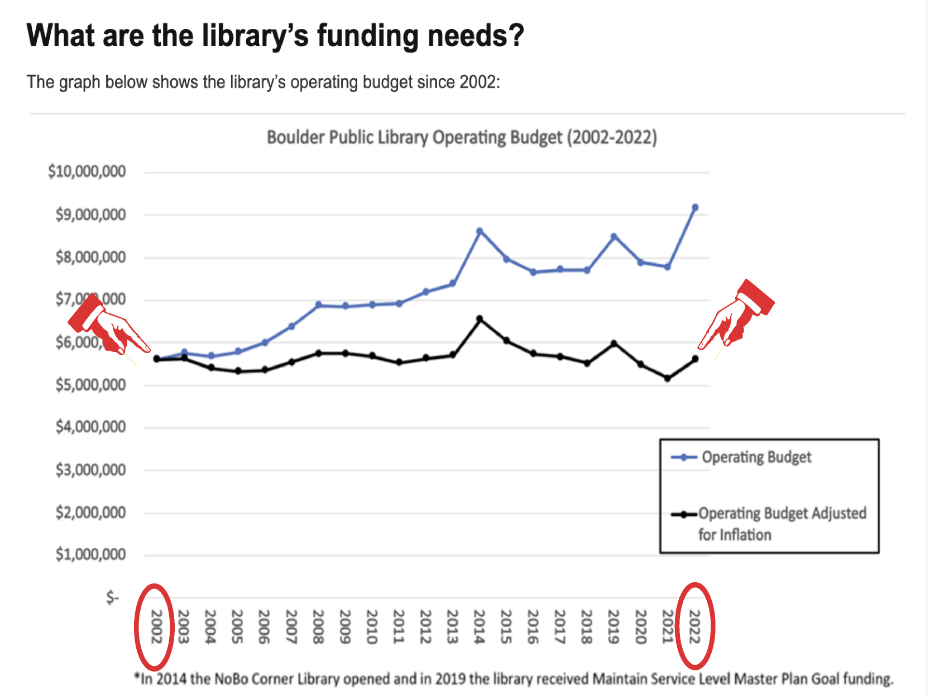 As mentioned above, all locations are operating at reduced hours, Carnegie is available by appointment only, the Bldg 61 makerspace is open just 2.5 days per week, the adult literacy program Boulder Reads is operating with half staff, most Canyon Theater programs have not returned, and there are fewer staff to assist in with essential library functions.
There's also a $2.3 million maintenance backlog (as of 2021).
A library district would generate enough money for these and additional services, such as a long-promised Gunbarrel branch.
There is not adequate money within the city budget to fully fund these services for the library. Or, rather, while the money may be there, there are many departments, programs and priorities competing for it. Boulder has many unfunded projects, maintenance needs and goals, which will cost tens if not hundreds of millions of dollars (more on this later). 
While many of Boulder's pressing needs — housing, transportation, homelessness — receive (admittedly inadequate) funding from the state and federal governments, there is no such equivalent for libraries. They are a local service and require local funding.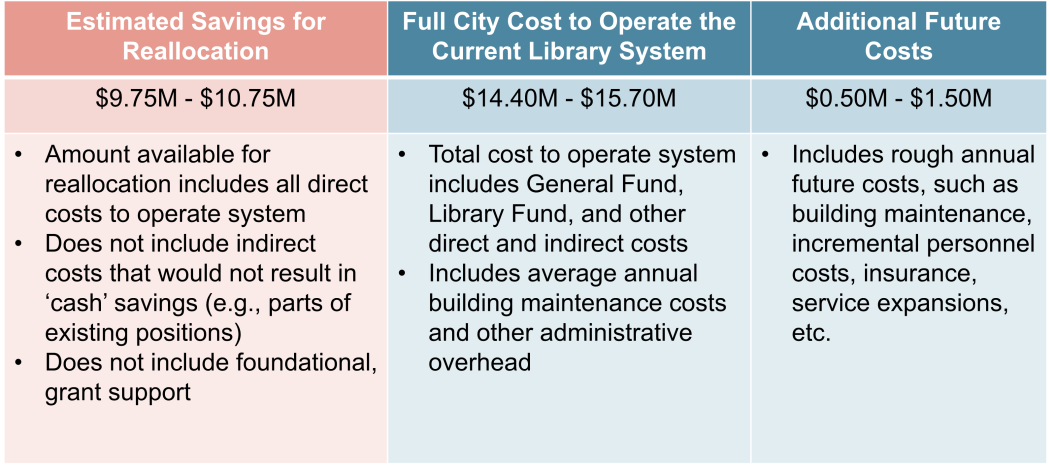 A library district would free up about $10 million in city spending for other needs. The city could choose to return that to taxpayers, though it is unlikely to do so.
Funding the library to this level is a policy choice for city council members: There will always be competing priorities, other things to spend money on. A library district would ensure money goes to the library.
Why you might not want to vote for this
This is a sizable tax increase, particularly for businesses (which is partly why the Boulder Chamber has opposed the district). 
The library district would add to property taxes (all figures are estimates):
Residential
City of Boulder

$104 per year on a $500,000 home

$208 per year on a $1 million home

Outside Boulder

$115 per year on a $500,000 home 

$230 per year on a $1 million home 

Commercial
City of Boulder

$442 per year on $500,000 of commercial value

$884 per year on $1 million of commercial value

Outside Boulder

$488 per year on $500,000 of commercial value

$976 per year on $1 million of commercial value
Tying this amount of money to the library may cut into citizen support for future tax measures and funding needs. 
There are multiple departments within Boulder with maintenance backlogs, and the housing, transportation, homelessness and climate crises will likely only become more expensive with time. (However, as mentioned above, state and federal funding for these areas has increased somewhat in recent years.)
Because the city of Boulder is unlikely to return much or most of the tax money it currently spends on the library — aside from whatever rebates or grants it offers, which have notoriously low participation rates — Boulder residents will be paying more for the library than they are today. 
Residents will be getting more library and other government services in exchange; the money now being spent on the library will go to other things. We don't know yet what those might be.
Elected officials have promised a "robust" public process, but it's a bit of a blind leap for voters. Because the money is already coming in, city leaders don't have to ask voters for permission on how to spend it; that power ultimately rests with them.
Some critics have argued against an additional layer of government, as the district would be another entity with taxation powers. The board of trustees would not be directly elected — the way RTD and school board members are — but appointed by elected officials. That's how library commissioners are chosen now, but the commission lacks the power the trustees will have; notably, the power to ask voters for money.
Other things to consider
Still to be determined is who will retain control of the library buildings themselves. A majority of city council favors a long-term lease to the district, similar to leases with other institutions like BMoCA. Regardless of who owns them, library property will still be used for library purposes.
Who is supporting?
This measure was placed on the ballot via citizen petition. Boulder Library Champions has been advocating for a library district since 2019. The leadership of the Library Champions includes former members of the city's library commission and Library Foundation board.
As of Oct. 18, Boulder Library Champions has raised $98,328.79 (including $23,215 in contributions left over at the beginning of the 2022 election cycle) and spent $96,732.30. Because Boulder Library Champions has been an official organization since 2019, the reports include contributions and spending from 2020 to 2022 — not an apples-to-apples comparison to organizing efforts by the recently formed opposition.
Disclosure: One of the current organizers of the Library Champions, Andy Sayler, was a major donor ($5,000) to Boulder Beat in 2021. Boulder Beat did not speak to Sayler for this piece, and has had no communications with Sayler regarding the district or his involvement with the Library Champions. Boulder Beat learned of his role while viewing campaign finance records online, many months after his contribution to the Beat.
The following organizations have endorsed 6C:
Boulder Area Labor Council, AFL-CIO
Boulder Progressives
Boulder SURJ (Showing Up for Racial Justice)
Bridge House
Colorado Working Families Party
CU Boulder College Democrats
El Centro AMISTAD
ELPASO (Engaged Latino Parents Advancing Student Outcomes)
Mile High United Way
NAACP Boulder County
Progressive Democrats of America
View a full list of endorsements
Who is opposing?
Keep Our Libraries, formed by ex-Boulder City Councilwomen Lisa Morzel and Crystal Gray, is officially opposing 6C. As of Oct. 18, Keep Our Libraries has raised $19,386.84 and spent $11,398.18
The following organizations are opposed to 6C:*
Boulder Chamber
View a full list of endorsements
*Note: Keep Our Libraries does not list organizations on its endorsement page, so this list may be incomplete
— Shay Castle, @shayshinecastle
Elections Library Boulder city of Boulder elections library library district taxes
Journalist