Councilwoman Nicole Speer is tired of 'nibbling at the edges' of Boulder's big problems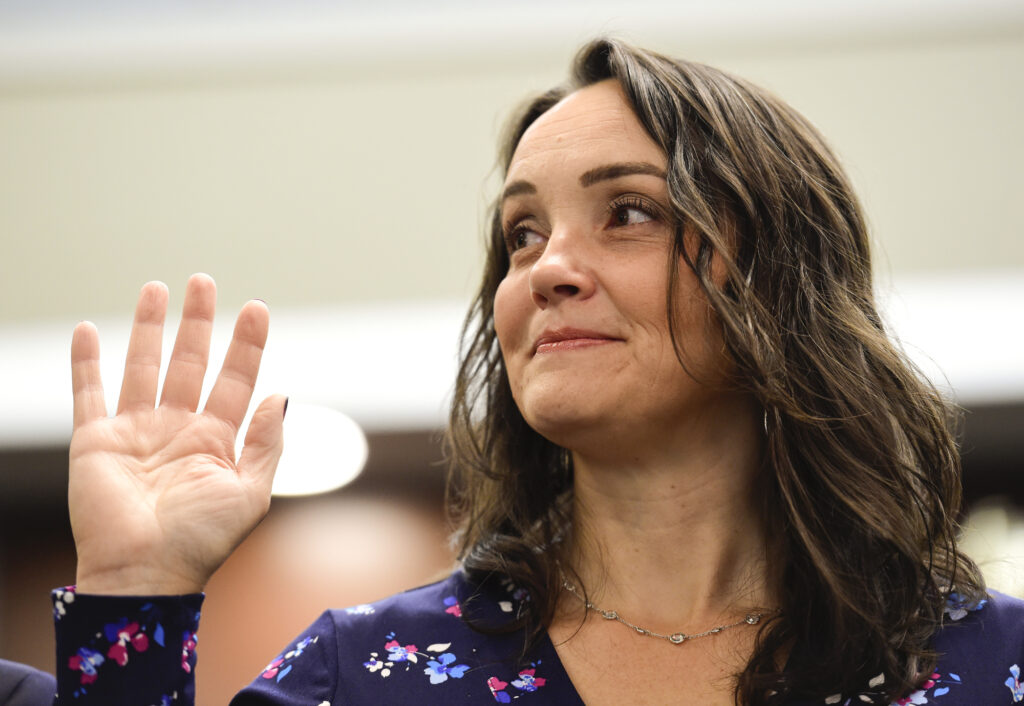 Monday, Oct. 2, 2023 (Updated Oct. 6, 2023)
Halfway through Nicole Speer's first term, she and her City Council colleagues have completed eight of their 10 priorities plus a handful more they put in the proverbial parking lot, unsure if they'd have time or resources to address them. 
Speer could be happy with these accomplishments (past councils have been patchy when it comes to checking off their to-do lists), and she is. But not completely. She's not campaigning on what she's done, but on how much there is left to do.
"I look at where our city is right now," she said. Historic demand at food banks, "record level of evictions, home prices higher, no closer to reducing car dependence, businesses who can't hire staff because they can't afford to live here. Even homeowners are at risk, because people on fixed incomes are struggling with how much property taxes have gone up. There's a lot of people who are not better off now than they were in 2015."
In fact, she said, "it feels like many of these things are getting worse."
That's why she decided to run for mayor, despite (or perhaps because of) the fact that her two main competitors have a combined dozen-plus years of experience more than she.
"We're still in that status quo of nibbling around the edges of issues," she said. "It's time to try something new."
That "something new" will be familiar to those who watched Speer on the 2021 campaign trail: empowering people to "create change" and getting more voices at the table. Two years of governing have only firmed her resolve that inclusive leadership is essential.  
"Part of the reason we are where we are is that one perspective has been dominating our policy making and decision making for so long," Speer said. "Until we break away from that in a way that really builds trust with people in the community, so they feel safe sharing their perspectives, so they feel that it's a good investment of their time — why would they keep doing that if nobody is going to listen? Especially folks from marginalized groups, where it's more emotional labor" to show up and speak out.
The recently beefed-up nuisance ordinances (rules for things like trash, noise, parties, etc.) were one example. Speer was the lone vote of dissent, a place she has often found herself. 
"Students said they had not been included in a meaningful way, and yet they are disproportionately the people who are getting those violations," she said. "They are also experiencing issues from neighbors having parties at 2 a.m. Without having students be part of the solution, we were not going to find it. 
"If you want to solve a problem, you get the people closest to the problem in the room." 
What do her colleagues say?
Of all the mayoral candidates, Speer's colleagues say she is the least collaborative. Some members say she has worked with them, but most do not.
Her peers' annoyance with Speer is often palpable to close watchers of City Council. Many report feeling talked down to and frustrated by her dogmatic approach to issues. (Read Speer's response to this feedback below)
This news doesn't write itself. Throw us some cash if you've got it so we can keep this community news source free for all.
Has she accomplished what she said she would when elected?
Speer feels Boulder has made admirable progress on her two 2021 priorities: housing and diversity, equity and inclusion.
"I'm really proud of how many new people are getting interested and feeling like they are included in city government," she said. "A lot of that work comes from staff and [community] connectors, but I've also been making an effort to go and find the people who are not listened to and build relationships with them.
"High school students, college students, seniors, workers, hourly workers, professional workers, parents, childless people — there are people spanning this huge range that are interested in getting involved in a way that I haven't really seen before."
What Speer is most proud of from this term (so far): 
Moving City Council elections to even years

Day services center for the unhoused (still in progress)

Incorporating equity into planning for flood mitigation. "I didn't have much to do with it except voting for it. We completely transformed how we do flood mitigation by including social vulnerability rather than just property value in determining what we are prioritizing. That's going to change how we do things for years to come."
Speer's biggest regret from this term: 
Like Mayor Aaron Brockett, Speer regrets how the council handled the controversial appointment of new police oversight panelists. Speer wishes she had called for a vote in December, rather than allowing council to ask the selection committee to reaffirm its picks.
"I can't say what it would have done, but if we had just had an up-or-down vote that night, it would have provided clarity as to what the next steps are," she said. "There would have been an ability to move on from there. We got involved in a monthslong ordeal that was really traumatic and hard for a lot of people in the community."
Speer also regrets her decision to "go along with" supporting the outdoor dining pilot program, which she "didn't love." "There might have been different ways we could have used those funds to support businesses," she said.
What Speer wants to do with her next term (Top workplan priorities):
Raise the minimum wage

in Boulder to meet or exceed Denver's wage of $17.29 per hour and include cost-of-living adjustments every year. The wage would start on Jan. 1, 2025 (as dictated by state law).

Put a measure on the 2024 ballot to pay councilmembers a living wage

. The wage would be determined by a working group that includes the Community Connectors-in-Residence, the Human Relations Commission and community groups whose members have typically been excluded from serving on city council. In addition, identify procedural changes that limit the work required by council members to no more than 20 hours/week (e.g., shorter, policy-focused meeting packets, streamlined meetings, fewer committee requirements).

Demographic data

. Prior to the Boulder Valley Comprehensive Plan update, work with the State Demographer's office and regional planning organizations such as the Denver Regional Council of Governments to understand the ways Boulder's population will change in the next 30-50 years due to shifting demographic trends (such as significant aging of our population and the looming higher education enrollment cliff), migration patterns (such as the potential for mass migration due to the climate crisis), natural disasters, and mass disabling events (such as the COVID-19 pandemic). These demographic changes will significantly impact our future water, housing, transportation, agricultural, workforce, energy, and social needs. The next comprehensive plan update should begin with a clear understanding of the future we are building toward. 
Why you might want to vote for Speer
Speer is remarkably principled: What you see is what you're going to get. She votes her values consistently, regardless of popularity or peer support.
While she doesn't have leadership experience on City Council, she does run a lab at CU with a staff of 12.
Why you might not want to vote for Speer
Speer's commitment to her values can be viewed positively and negatively: She sticks to her guns in a way that voters who are aligned with her ideals may find refreshing. But she can also struggle to compromise (which, again, can be positive or negative, depending on your values). On a nine-member council that could limit her effectiveness (and some say it has).
Speer is aware of her peers' frustration.
"I know they are tired of hearing me talk about equity," Speer said. "I get that. We are eight white homeowners — we have to talk about equity. It has to be in everything we do."
Speer insists that she does compromise and collaborate, and has built "what I consider functional working relationships with most of my colleagues on council." 
She has been chastised for elevating personal struggles with her fellow elected officials to the public sphere, remonstrations she acknowledges but ultimately rejects. 
"Part of the culture change is getting people to talk to each other about their issues," she said. Doing so in the open models positive conflict resolution for the community, she believes, and helps create a culture of safety for marginalized council members.
Other considerations: Speer, 46, will remain on City Council if she does not win the mayoral seat. Her term expires in 2025.
Speer on the Issues
Housing and Development
"We're in this position right now because of decades of policy that was not providing enough housing to meet the needs of the community," Speer said. "We need to be creating more density now, and we also need to be providing more support to people to be able to afford the housing that's here."
That includes a higher minimum wage, but also funding social services with money directly from the companies that she says are causing the problems. Speer is again proposing a head tax on corporations, an idea that didn't make the cut for the 2022-2023 work plan.
"A lot of companies, especially big companies that have more minimum wage hourly jobs, we're subsidizing them," she said. "Because they are not paying their workers enough money to live here, we are having to take money from our city budget and put it into rental assistance, basic guaranteed income pilot program, eviction prevention."
Speer is still working on the specifics, but she likes the idea of tying a graduated tax or fee to worker pay and rights: "If the difference between your top salary tier and lowest paid worker is 100 times or less, you get this percentage off your head tax. If you allow your employees to unionize, you get this percent off.
"We could have a menu of things for them to choose from," she said.
She supports a staff plan to study possible fees on large, luxury home remodels that replace more modest dwellings. A past City Council rejected a cap on home size after debating it for years. 
"I think we don't get enough money from folks who buy a $2 to $3 million house, then spend $2 to $3 million renovating it, typically making it bigger," Speer said. "If people want to do that, cool, but how are we accounting for what that's doing to housing in the community, because you now have a 5,000-square-foot home that two people are living in when you could have been doing five 1,000-square-foot homes? They're taking that housing out of the market for 50 years." 
"To me, it really is about this redistribution of resources and wealth in this community, which is not just a Boulder thing. It's a world thing. But we can start to work on and fix it here."
Voting record

May 17, 2022 — Speer voted to approve the East Boulder Subcommunity Plan, which includes allowances for 5,000 more housing units

Dec. 15, 2022 — Speer voted to annex 6500 Arapahoe, owned by Boulder Valley School District, for eventual use as a modular home factory.

April 20, 2023 — (Informal vote) Speer voted to endorse SB213, state legislation to require cities of a certain size to allow more housing, overriding local control of land use.

May 1, 2023 — Speer voted to ease rules for accessory dwelling units, allowing more and bigger dwellings

Aug. 17, 2023 — Speer voted to raise occupancy limits (rules on how many unrelated adults can live together) to five people per household citywide.

Sept. 7, 2023 — (informal vote) Speer did not support moving forward with changes to rules for middle-income affordable housing, because it might results in fewer affordable rentals.

Sept. 21, 2023 – Speer approved new regulations to allow increased density and promote construction of smaller homes, including allowing duplexes and triplexes in single-family neighborhoods if current density regulations are followed.
Homelessness
Speer is optimistic about new resources coming online, like the day center, addiction treatment and recovery options, and respite care for recently hospitalized unhoused individuals. Boulder still needs housing options for people trying to overcome substance abuse, she said, and to increase its financial support for programs like rental assistance to prevent homelessness in the first place. 
"Housing prices continue to go up," she said. "Unsheltered homelessness will continue to go up as well."
She is also encouraged by discussions happening at higher levels of government. 
"The county is going to start having some of these conversations." In the Denver Regional Council of Governments, "we are starting to talk about homelessness at a regional level, because everybody is dealing with it. The state is doing some of this work.
"No one city is going to be able to take it on their own."
Voting record

Sept. 28, 2023 — (Informal vote) Speer did not support establishing a sanctioned campground, tiny home village or other "safe outdoor space" for people experiencing homelessness.

Oct. 5, 2023 — (Informal vote) Speer supported directing staff to continure work on establishing a sanctioned encampment for the unhoused

Council has not had many formal votes related to homelessness during Speer's tenure. Informally, Speer has opposed the expansion and funding of a pilot removal strategy that includes an in-house removal team and dedicated police officers. (See Budget voting record)
Public Safety, Policing and Oversight
Speer is pleased with the implementation of stratified policing, which includes using data to identify hotspots that become focus areas for interventions such as increased patrols, environmental design changes, etc. The model has resulted in noticeable improvements, Speer said, but there are still many areas where public safety can be increased — ones that don't necessarily involve police.
"How are we working to protect undocumented people in our community, especially from unscrupulous employers [or] landlords? How are we protecting young women from sexual assault? I want to broaden our definition of safety."
Council often hears about crime, particularly as it relates to unhoused people. But that's not reflective of what harms kids most, Speer said.
"If you look at the top things that are harming our children, it is their peers, it's abuse within their homes, it's poverty, it's family homelessness. It's parents who can't be there because they're working three jobs. It's living in housing that is unsafe, it's working in unsafe environments" and walking or biking on unsafe streets. 
"That's part of safety, too."
As for the Police Oversight Panel, Speer believes that community trust has been broken in recent months, with the debacle over the appointment, then removal, of a controversial member, followed by a work stoppage of remaining panelists. 
"One of the things council can do is to help community members understand what is and is not possible in the context of employment law and union contracts," Speer said. "What are the changes we can make in the constraints we are operating in? What are changes we need to push at the state level?"
At the Raucous Caucus candidate forum, Speer answered "Yes" to two lightning-round questions: "Is the police budget too high?" and "Should the Police Oversight Panel have more authority in disciplining officers?"
Voting record

Feb. 1, 2022 — Speer opposed Boulder Police Department entering into an agreement with the FBI designating an officer to a joint terrorism task force.

Jan. 26, 2023 — Speer voted to accept the recommendations of a selection committee for new members of the Police Oversight Panel, over the objections of the police chief, police union and some community members.

May 1, 2023 — Speer opposed removing Lisa Sweeney-Miran from the Police Oversight Panel after an investigation found that she demonstrated an anti-police bias for her public criticisms of police.

June 22, 2023 — Speer voted to place a moratorium on review of new complaints by the Police Oversight Panel, providing legal cover for the group's strike in protest of Sweeney-Miran.

September 7, 2023 – Speer voted to adopt the Reimagining Policing plan.
Budget
It's not the council's job "to say X amount of money should be spent on this thing or Y amount should be spent on that thing," Speer said. "We shouldn't be saying, 'No, this program doesn't need this $10,000; that should go over here.' 
"We are supposed to be setting direction. 'This is the  North Star. Now all of you who are out doing it should be letting us know where it's going to have maximum impact for these goals we set.'"
The best opportunity for elected officials to influence city spending, Speer said, is the "long-term financial strategic plan," which "the next council will have a big say in setting."
That, she said, includes becoming less reliant on sales tax, which fluctuates with the economy, and moving toward outcomes-based budgeting.
"We're not going to have money to do all the things we need to do," she said. Having "key performance indicators so we can see what's having a big impact on housing affordability, climate adaptation, racial equity" will help with those difficult decisions.
Speer would also like to "find more money for social housing or affordable housing."
Voting record

July 14, 2022 — Speer voted to endorse the ballot measure creating a library district to be funded by a dedicated property tax.

Oct. 6, 2022 — Speer did not vote to approve the 2023 recommended budget, objecting to the expansion of an encampment removal pilot project.

(Informal vote) Speer voted to exempt menstrual products and diapers from sales tax 

Aug. 3, 2023 — Speer opposed advancing to the voters a ballot measure that would extend a 0.15% sales tax, splitting the revenue evenly between the city's general fund and arts/culture programming.

Aug. 24, 2023 – (Informal vote) Speer voted to accelerate work on pursuing a higher minimum wage, continuing the planned implementation timeline of Jan. 1, 2025, and join Boulder County in pursuing a wage increase on Jan. 1, 2024.
Transportation + Parking
Speer wants to see the city's focus on its Core Arterial Network continue and expand. She'd also like to see a greater emphasis on fixing potholes and keeping walkways clear of vegetation in the summer and snow and ice in the winter. 
As for transit, although more funding and services are coming from RTD, Speer believes relying wholly on the district to meet Boulder's needs is unwise. 
"We need to think about the needs of our region and how we can connect with other municipalities in the coming decades," she said. "If we really want to drive public transportation, we need to create more density, because it's not financially viable to have a lot of transit in places that don't have a lot of people."
Speer also wants Boulder to adopt universal design standards that would cover everything from signage to lighting to shade trees and be designed for all modes of travel and mobility levels. 
"It's creating walkways, streets, pathways for people with vision [and] hearing impairments [and] sensory processing disorders, mobility devices, making more green, more benches for people to sit.
It's a place where a lot of different city goals come together," she said. "What it takes into account is not just, can someone who uses an assistive device use this, but it's targeted to make people feel comfortable with moving through these spaces. It's having trees and plants to dampen noise, it's making sure there are benches frequently available, or seating for people to rest and sit if they need to. 
"We are seeing a rise in the number of people over 65. We need to think about how we change the design now for the people who will be here in 30 years."
At the Raucous Caucus, Speer said she would support a city tax or fee to fund transit, and that she would support the removal of parking minimums for housing development 
Good news takes time. This profile reflects hours of work: interviews, searching records, attending public events. If you value this in-depth information, consider paying for it.
Other votes

NUISANCE ORDINANCES / QUALITY OF LIFE
Sept. 1, 2022 — Speer opposed expanding Boulder's noise ordinances to daytime hours because university students felt they were not meaningfully engaged in the process.

Feb. 16, 2023 — Speer voted against strengthening "nuisance" ordinances — laws on things like weeds, trash and noise largely aimed at reducing conflicts with students and homeowners on University Hill (though the laws apply citywide).

MISCELLANEOUS 

June 7, 2022 — Speer voted to approve a suite of gun control legislation, including raising the age of purchase from 18 to 21 and banning assault weapons.

June 21, 2022 — Speer opposed extending the historic landmark of the bandshell to include the entire downtown Central Park.

May 18, 2023 — Speer voted to approve the Upper Goose and Twomile Canyon Creeks flood mitigation plans.

June 1, 2023 — Speer voted to allow e-bikes on certain open space trails.
This article has been updated to include council votes taken after publication.
— Shay Castle, @shayshinecastle
Elections Boulder city council city of Boulder elections mayoral election Nicole Speer ranked choice voting
Journalist